"Colefax and Fowler on acid" is how House of Hackney was described when it first burst onto the British design scene, in 2011 — and with good reason. A champion of maximalism in what was at that time a largely minimalist world, the fledgling brand offered fantastical wallpapers, sumptuous fabrics and playful accessories layered so daringly and intensely that it caused quite a stir. Fast-forward a decade or so, and the company has gone from strength to strength, thanks to an ever-expanding collection of high-quality British-made products and a set of social and environmental values that have earned it the prestigious B-Corp certification.
"When we first launched, there was a real focus on Scandi design, and everyone, including us, was living in white boxes," recalls Frieda Gormley, who founded the business with her husband, Javvy M Royle. "We found ourselves in this very sterile environment at what was politically and economically quite a bleak time in the UK. What we wanted was color, pattern and to really bring nature into our home. But at one end of the market was IKEA, and at the other were the kind of traditional wallpapers and furniture our parents were buying."
Desperate for beautiful, well-made products, they created the designs themselves. Thus was born the House of Hackney, named after the East London borough where Gormley and Royle lived. The couple drew on a rich melting pot of inspirations, including Victorian-era palm houses, their urban neighborhood and the iconic William Morris. 
"Back then, we were working in fashion and design, and from speaking to friends in similar industries, we definitely sensed a new mood coming through," says Royle. "In magazines, people like photographer Tim Walker were bringing this very irreverent British energy to shoots. It was playful, with a unique wit that we wanted to embody. For us, the aim was to create products inspired by the past juxtaposed with the present — things that felt modern with just a touch of nostalgia."
Right from the start, the pair knew they needed their heritage-inspired range to be made in the UK. With no little black book of suppliers, they embarked on a six-month road trip around the British Isles in search of craftspeople with whom they could collaborate. "It was so exciting to discover factories that had been family run for generations — ceramics in Stoke-on-Trent, for example, and weavers in Lancashire and Suffolk," Gormley says. "Almost thirteen years later, we've forged important relationships with those people and grown together. They're very much part of our family."
In a market flooded with the cheap and disposable, they were also keen to promote the idea of future heirlooms and products that were made to last. "But we didn't want things to be too exclusive," Gormley says. "So, we lowered our margins a little in order that people could save up and invest in pieces that would stand the test of time."
With no physical shop or showroom, they shot photographs and presented the designs to buyers in their own Victorian house, swathing the living room and bedrooms in layer upon layer of bold and botanical prints. "Something we realized early on is that if you get the tones right, you can just keep going," says Royle. "In nature, where layers and patterns are really intense, a harmonized palette will pull everything together. So, we enveloped everything in print, which created this magical, cocooning feel." 
There followed a boutique on London's Shoreditch High Street, which in 2022 was upgraded to House of Hackney at St. Michael's, a four-story flagship showroom in a former clergy house that's a five-minute walk from the busy Old Street underground station. The building is set up as a home, its gothic architecture and stained-glass windows providing an ideal backdrop for the ever-evolving collection, with each room featuring an edit of products for visitors to see and touch.
Today, the couple continues to embrace the more-is-more concept. And the influence of nature on their work and, indeed, their own interiors has become even more pronounced since they moved their family to the Cornish countryside in 2019. They now occupy Trematon Castle, an ancient property that boasts a medieval keep, a 13th-century gatehouse, a nine-bedroom 19th-century mansion and an extraordinary garden. Originally planted by renowned landscape designers Julian and Isabel Bannerman, the grounds have been lovingly updated by Gormley and Royle. With fragrant blooms, wild borders and romantic meadows, it's a magical, otherworldly setting.
It's fitting, then, that in 2023, the company is focusing on an initiative that Gormley and Royle are calling the Year of the Garden, a series of projects with an emphasis on both nature and sustainability that includes an exclusive partnership with 1stDibs. "We've always been huge fans of the platform, and the fact that it connects the dots between craftsmanship, exceptional quality and reuse is really in line with our ethos," says Gormley. Along with an edit of core House of Hackney items, including wallpapers, textiles, rugs, lamps and furniture, the 1stDibs collaboration has Gormley and Royle curating a selection of vintage pieces, several of which have been given a new lease on life with vibrant House of Hackney fabrics.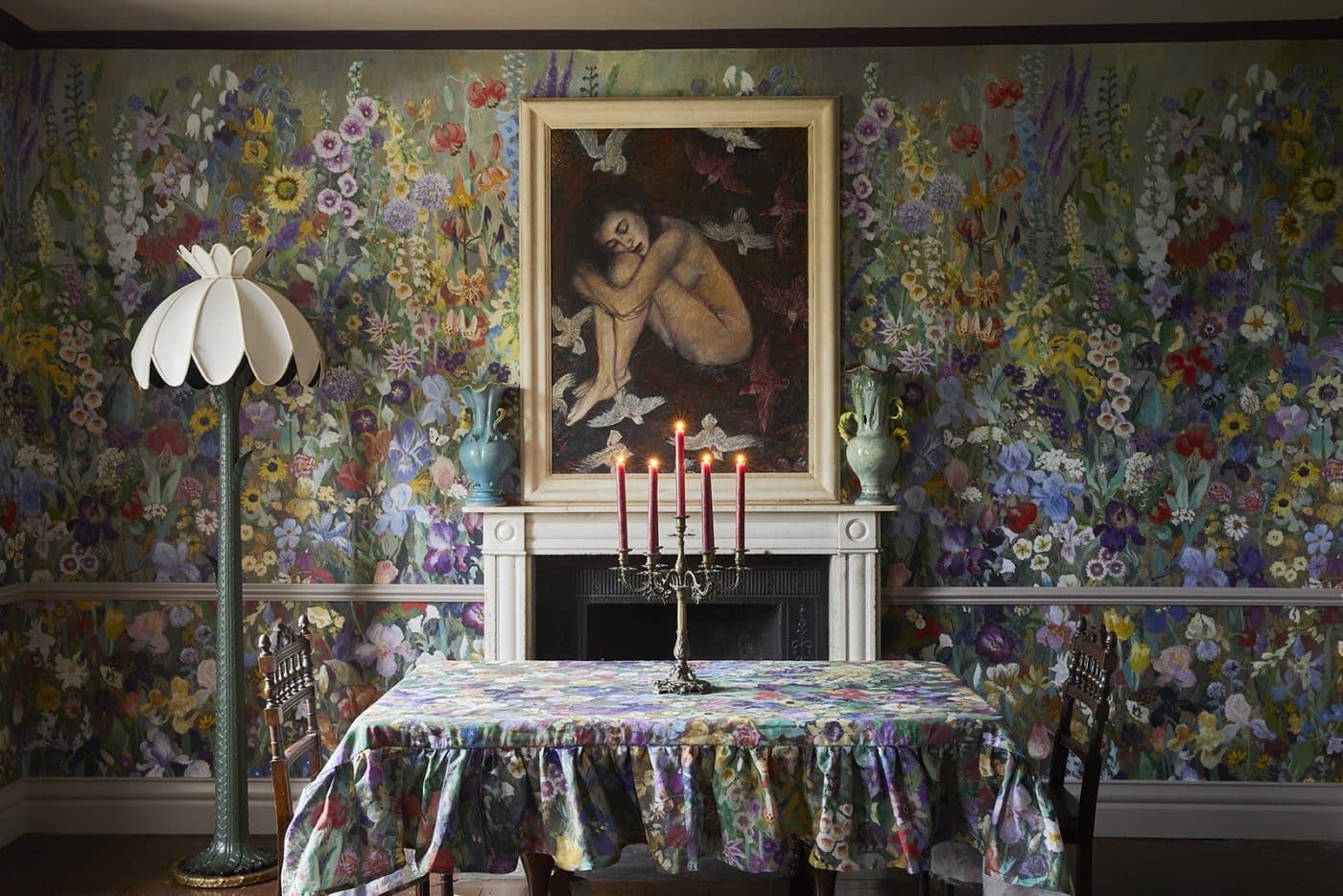 "The theme of the collection is Super Bloom, so we wanted to create real 'living' rooms and bring the outside inside in a fantasy way that's postmodernist and poppy," says Gormley. "It's an aesthetic we haven't played with much, so it feels very thrilling."
Largely 1970s Italian designs, the pieces have been sympathetically refurbished where necessary and upholstered in lively jacquards and velvets. "There are Amanta lounge chairs by Mario Bellini for B&B Italia, for example, that we've reworked in our Persephone woven jacquard," says Royle. "They're simple, modular and can be positioned side by side or used as singular chairs. I love how versatile they are, as they can be mixed and matched or color blocked."
Also in the collection are a towering 1980s daffodil lamp by Peter Bliss and a chair and couch by Tobia Scarpa. "We love the idea of juxtaposing postmodernist shapes with our flower fabrics," Royle adds. "They're beautifully made and now future proofed for another thirty years."
A continuation of the couple's ongoing mission to connect people with the great outdoors, the project also reflects their dedication to bringing maximum joy into people's homes. "We don't look at trends, but we do stay close to nature, and we're quite tucked in to that," says Gormley. "It's exciting when people are playful with decorating and just want to have fun with it."