December 4, 2022When Simon Stewart, the owner of the Charles Burnand Gallery, in London, saw the work of Reynold Rodriguez for the first time, he was — as the Brits say — gobsmacked. The wood-and-plaster pieces "were so distinctive," he says, "I just couldn't forget them. They were everything I appreciate in design." Among their best qualities was a touch of surrealism. One piece is titled "The table that dreamt it was a lamp" — and looks it.
Stewart reached out to Rodriguez, a lifelong resident of Puerto Rico and a graduate of the Rhode Island School of Design, via Instagram and asked whether he had a UK gallery. When Rodriguez said he didn't, Stewart started a conversation that led, three months later, to a deal giving the Burnand Gallery exclusive rights to market the artist's work worldwide.
Last month, after almost a year of preparation, Stewart opened a show of 14 new pieces by Rodriguez, the first exhibition at the gallery's recently acquired space in Fitzrovia and the first solo show in its 13-year history (Stewart started Burnand, named for his grandfather, in 2009).
The fact that Rodriguez had tried to pursue a career as a furniture designer 20 years earlier but was unsuccessful didn't faze Stewart. "Sometimes," he says, "the world isn't ready for what an artist has to offer."
When his first furniture foray didn't work out, Rodriguez established an architectural-millwork company in San Juan. But 20 years later, the world seems ready to embrace his more artistic side. Thanks in part to Instagram, Rodriguez notes, "people are more appreciative of things they might not have been so conscious of before."
Stewart, too, has changed with the times. Until recently, his main focus was his firm's Design and Production Studio, through which architects and designers commission custom pieces from the 20 or so makers he represents. "If someone says they're working on a hotel lobby and want something in cast bronze," Stewart explains, "I'll pair them up and facilitate the collaboration" — and, sometimes, the fabrication as well.
His stable includes some artists who are themselves interior designers, like Mia Jung, the director of interiors at Ike Kligerman Barkley, and Alexandra Champalimaud, who runs a busy New York firm but also takes commissions through Burnand. Champalimaud recently completed what Steward describes as "a quite exquisite settee" for the lobby of Claridge's Hotel. Its wooden seat is upholstered in a handwoven alpaca bouclé, and its back and legs are covered in black mica. "We found a way in our workshop to bend the mica around compound curves," says Stewart, who takes pride in helping artists realize their visions. Indeed, it was seeing Champalimaud's pieces that persuaded Rodriguez to work with Stewart. "I am fascinated by that 'How in the world did they make that?' quality," he says.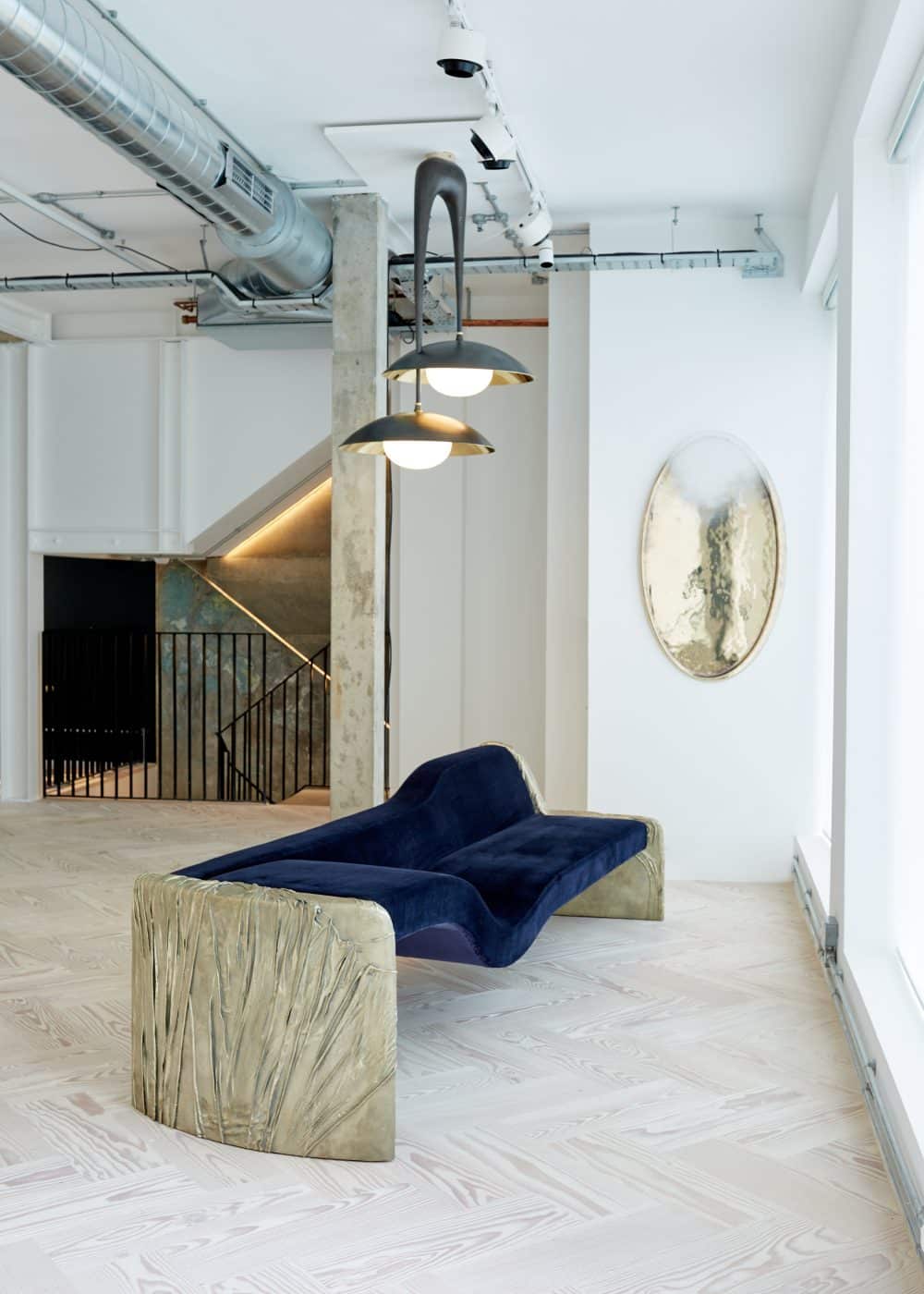 Also in Stewart's roster is French artist and designer Pierre Bonnefille, best known for his gorgeously patinated bronze furniture and "paintings." Burnand's second-ever solo show, opening next September, will feature a new line of cast-glass and -bronze furniture by Bonnefille. "He's letting others take his original molds and create pieces for him," says Stewart, describing that as a sea change for the artist, whose works were always one-offs. Because they'll come from molds, he adds, "the texture of each piece will be exactly the same, though Pierre will have a hand in creating the patina."
One of Burnand's youngest artists is 26-year-old metalworker Callum Partridge, whose home and studio are in Southwest England. "His sense of form is incredible, and his handling of metals is mind blowing," says Stewart. "But he was making small pieces — jewelry and cutlery. In my opinion, this was an artist who could go on a journey to a larger scale." So, with the gallerist's encouragement, Partridge is now making furniture. "I'm commissioning pieces for myself," notes Stewart. "That's how strongly I feel."
Also designing for Stewart's company is Stewart himself. His work (including a light fixture made and named for Amy Lau) tends to involve mica, a material he has experimented with for years. Stewart spent 17 years as a freelance musician, playing clarinet and saxophone "for all the major orchestras," he says. When he decided to make a career change, he followed his mother into design. Cathy Stewart had arranged the flowers in the windows of Liberty of London for years before being lured away by private clients like Elizabeth Taylor. Arranging flowers expanded into decorating, and she developed "quite a cult following," her son says. In 2000, she decided to open a "lifestyle store" and brought him along on her first buying trip. "From that moment I was hooked," he recalls. Over the years, his mother's North London store morphed into his central London gallery, with Stewart in charge of product and his partner, Michael Totten, doing the numbers.
Right now, the numbers look good: Rodriguez's pieces are attracting buyers to the Fitzrovia space. But Stewart won't let collectors take the work home right away. "I curated the show quite carefully," he explains, "and I want people to see it intact before we start dismantling it."
After attending the opening in London, Rodriguez returned home to Puerto Rico to work. Thanks to the success of his millwork business, he could afford to try something new. And when the pandemic came along, he suddenly had time — "a commodity," Stewart notes, "a lot of people don't have." Rodriguez had found a sprawling studio space in an old brewery in San Juan's Santurce neighborhood. It was so inspiring, he says, that "as soon as I opened the door, it was the end of my career doing millwork and the beginning of my career as an artist." He quickly earned fans, like New York designer Joe Nahem, who calls him "a design master and a delight to work with."
Rodriguez suffered through Hurricane Maria, which devastated the island in 2017, including knocking over untold numbers of trees. Some of these were tropical hardwoods planted under the supervision of Frank H. Wadsworth, a midwestern botanist who moved to Puerto Rico in 1942 to help establish a lumber industry there. The industry never took off, but many of the trees thrived until Maria uprooted them. Rodriguez gathered as much of the wood as he could fit inside his studio, almost immediately using some of it for small pieces like chairs and lamps. He is also planning to make larger pieces, including tables and consoles, from the lumber. "It afforded me a luxury others don't have," he says of this literal windfall.
But not everything Rodriguez needs is that easy to get. After the hurricane and COVID disrupted supply chains, he couldn't obtain Hydrocal, a gypsum plaster he uses for much of his work. As an alternative, he thought of dental plaster, which, he says, "due to the essential nature of the material, is vastly better supplied. I was able to source it easily. It has become my secret weapon." He has employed it for lamps, consoles and chaise longues, as well as hybrid pieces — a chair that becomes a table, for example. "It really is a limitless material in terms of form and process," Rodriguez notes.
The dental plaster is very, very white, which Rodriguez likes. But he has also experimented with embedding burlap in it and leaving some of the rough fabric exposed. "I tend to polish things over and over. My go-to finish is perfection," he says. "Leaving things raw is a big sacrifice for me. But a good sacrifice." He adds, "The process never ends."
Simon Stewart's Quick Picks