July 9, 2023Good news: You don't need a passport to access the kind of coveted antique jewels that you might find in the famous shops and salons along the Ponte Vecchio in Florence. That's the beauty of Italian jeweler Bernardo Antichità. Occupying a location on the storied bridge since its founding, in 1870, the family-owned business sells its one-of-a-kind European gems on 1stDibs as well.
Although specializing in the finest examples of antique gioielli from the 18th, 19th and early 20th centuries, including the Art Deco period, the owners of the venerable firm clearly have a particular penchant for pieces made using old-world techniques, whether micromosaics, Roman antiquities or more recent creations by Bulgari or Buccellati.
Given the company's location, exceptional jewels — from Italian-made gold chains and cuffs to delicate Georgian-ERA treasures glistening with old-mine–cut diamonds — are never in short supply. "Being on the Ponte Vecchio in Florence, which was the cradle of the Renaissance, certainly helps us find rare jewels, but surely the most important thing for us is the contacts and ties our family has built up over generations in this business," says manager Duccio Bernardo, who co-owns the firm with his parents, Caterina Pasquinucci and Fabio Bernardo, and whose great-great-grandfather, Adolfo Melli, laid the groundwork for the firm's international success. "Our collection is further enhanced by purchases made through our researchers, who work to source jewels from international auctions and important private collections across Europe."
With such an abundance of riches within reach, how do the specialists prioritize one acquisition over another? "Our goal is always to look for unusual jewels that have a story to tell and have the quality of an heirloom to be handed down to future generations," says Bernardo. "When we buy a piece, the most important thing to consider is the quality. Our motto is l'arte va pagata, which essentially means that goldsmithing is an art in all respects and should be treated as such. Even in ancient times, there were good goldsmiths and lesser goldsmiths. Therefore, when you find a high-quality jewel, it costs more. And it's worth more."
Here, Bernardo tells us what he loves most about antique jewelry and highlights some of the most fascinating pieces in his firm's collection.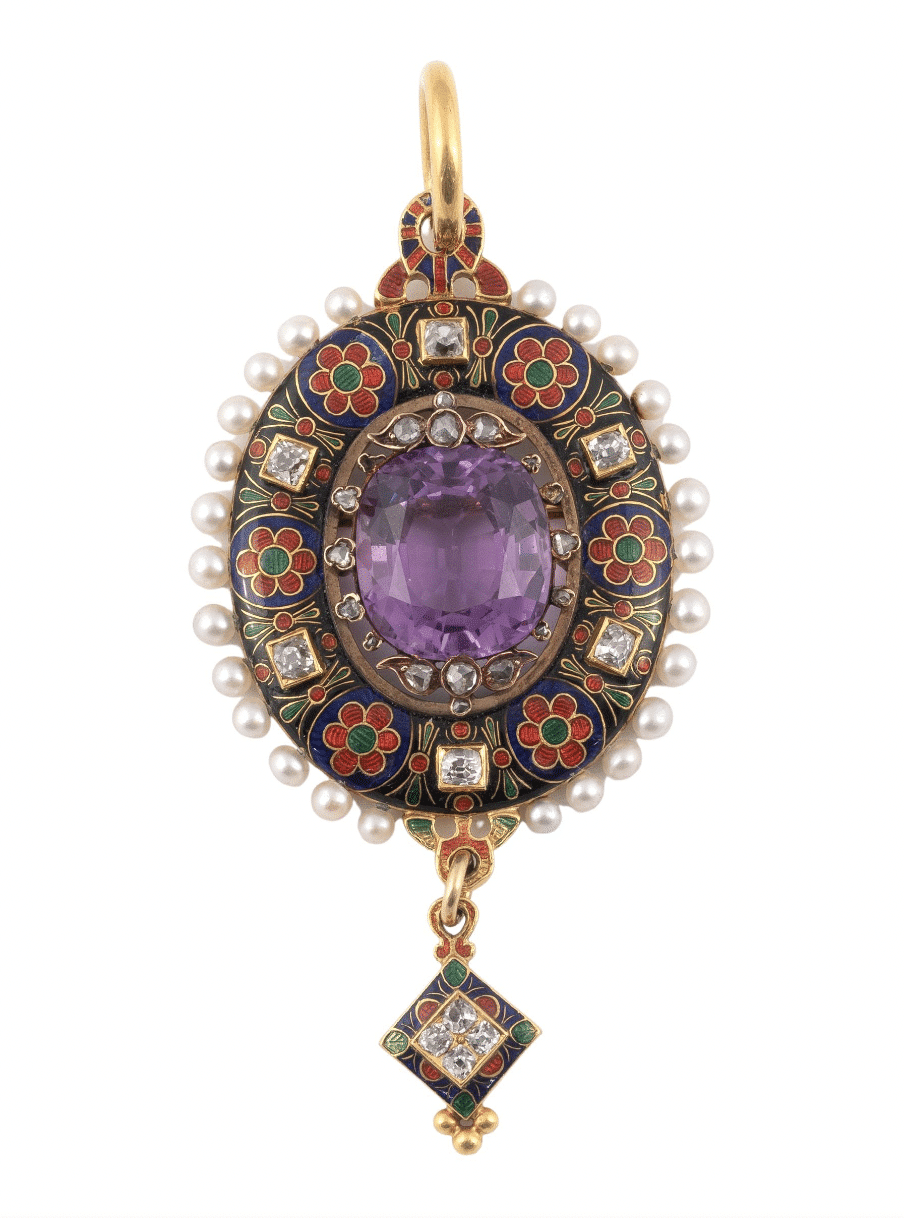 Your inventory includes quite a few jewels that you would describe as museum quality. What does that mean to you?
With late-eighteenth-century to early-nineteenth-century jewelry, it's the high-quality workmanship, extreme attention to detail and rare materials, such as stones from old mines and natural sea pearls. All of this makes certain jewels true museum-quality pieces — they are beautifully and remarkably preserved, as well as emblematic of the period.
Let's talk cameos, which are clearly a passion of yours. What distinguishes the antiques from those that are being produced today?
Whether a cameo depicts a mythological scene, a profile of an emperor or a portrait of an important lady or gentleman, its quality is determined by its details — for example, the execution of the hair or the hands, the figure or the bust.
A cameo is like a sculpture. If you compare an ancient sculpture with a modern reproduction, the ancient one will always have a different charm. Antique cameos were handcrafted by real artists, and the difference in quality is quite clear. The modern ones are mostly done with pantographs [machines that use templates to do the cutting or engraving], which totally eliminate the handmade aspect of a cameo. They are made in a series and are identical in all respects.
You will never find two identical antique cameos — you can find the same subject but will never see the same details. Also, the modern cameos that I see are done on shell, and the most valuable cameos are on hard stone, such as agate, jasper or carnelian.
Tell us about a recent acquisition that you and your team are really excited about and what makes it so special.
We have recently purchased an important collection of Roman micromosaics from the eighteenth and nineteenth centuries, of very high quality. Roman micromosaics are made up of colored glass tesserae — very small tiles — often glued onto copper bases.
The smaller the tesserae, the better the quality of the image depicted — and the rarer the jewel. The representations can be varied, but the most frequent and sought after by collectors have architectural, floral or animal themes.
I see a lot of skulls in your collection. What is their history and symbolism?
The skulls you see are memento mori [jewels or tokens meant to remind the wearer of their mortality]. In the past, we had some from the sixteenth and seventeenth centuries, but the ones we have now are from a modern collection by Gaetano Chiavetta, an Italian goldsmith who specializes in producing jewels in very limited series with ancient techniques, such as the use of fired enamels.
Why should jewelry enthusiasts consider buying vintage or antique instead of new, especially when in shopping districts like the Ponte Vecchio?
There are many reasons: The fact that an antique jewel is truly unique and cannot be reproduced. The fact that an antique jewel is really made by hand from start to finish, as opposed to modern jewelry, which is sold as handmade but in reality is often made by casting or through three-D printing and only finished by hand. Or the fact that an antique jewel is a piece of history, a piece of Florence.
In some cases, customers know at the time of purchase that they will hand the jewels down to future generations, and I think this is wonderful.
Duccio Bernardo's Talking Points