October 24, 2021In a side street close to the Paris flea market — or Les Puces, as the French call it — is a flat-roofed, rather austere-looking gray cube of a house with bars across the windows. That is where sisters Karine and Virginie Glustin spent their early years. One half served as the family home; the other, a garage-like space, was used back then by their father, Serge, to trade in English antiques. A door off the living room connected the two. "That way, our parents could work and keep an eye on us at the same time," explains the wonderfully voluble Karine.
The Glustins moved to a home in Paris's tony 16th arrondissement in the mid-'70s, but they have kept the house to this day. "We're very attached to it," says Virginie, Karine's junior by two years. "That's where everything started for us."
Filled with a treasure trove of objects ranging from a huge 18th-century giltwood mirror to a sleek 1970s Italian orange sofa, its 5,400 square feet now function as an overflow for their three-story gallery, located at the entrance to the Marché Dauphine, one of the 15 constituent markets of Les Puces.
When they discovered their flagship address some 20 years ago, it was in a state of advanced decrepitude. "The staircase didn't even go up to the top floor," recalls Karine. Today, it is decorated in the style of a classical Parisian mansion, with Versailles parquet flooring, marble fireplaces and elaborate wood paneling, and has become a go-to resource for many of the world's top decorators, such as New York's Tony Ingrao and Dallas-based Deborah Walker.
"The Glustin clan embodies the soul of the flea market — Virginie and Karine are the hottest dealers in town," enthuses Lebanese-born Aline Asmar d'Amman, whose projects have included the renovation of Paris's Hôtel de Crillon and the Michelin-starred restaurant Le Jules Verne, perched on the second floor of the Eiffel Tower. She says she goes to their gallery for "distinctive design pieces with a soul and a unique presence."
Another fan is interior designer Penny Drue Baird, whose firm, dessins, llc, has offices in both Manhattan and the French capital. "What sets Glustin apart is their one-of-a-kind furnishings, the emphasis on the insolite [unusual] and the pure fantasy and whimsy," she says.
On a recent Sunday, among the items on the gallery's ground floor were a couple of bulbous 1970s fiberglass armchairs, a pair of curved-oak sofas designed in the 1960s by Guillerme & Chambron and a credenza made from crackled concrete, rock crystal and brass by contemporary artist Erwan Boulloud. The gallery's displays change weekly, and the Glustins are in a state of constant evolution. "Their taste is forever changing," says the Georgian-born interior designer Irakli Zaria. "You never know what you're going to find."
There are, however, a few constants. When it comes to vintage offerings, they have a love of 1970s design, a penchant for glitz and glamour and a preference for unusual finds over signed pieces. "We've always had an instinctive approach," says Karine. "We simply buy what we like."
The sisters also offer a collection of their own limited-edition designs, as well as items they develop especially for the gallery in collaboration with artists whose work is characterized by a mastery of fine craftsmanship, like Boulloud and GEOFFROY NICOLET. "Erwan makes furniture like the cabinetmakers of the eighteenth century," says Virginie. Boulloud, for his part, recognizes that the Glustins have transformed his career. "They're constantly pushing me to find new ideas," he declares.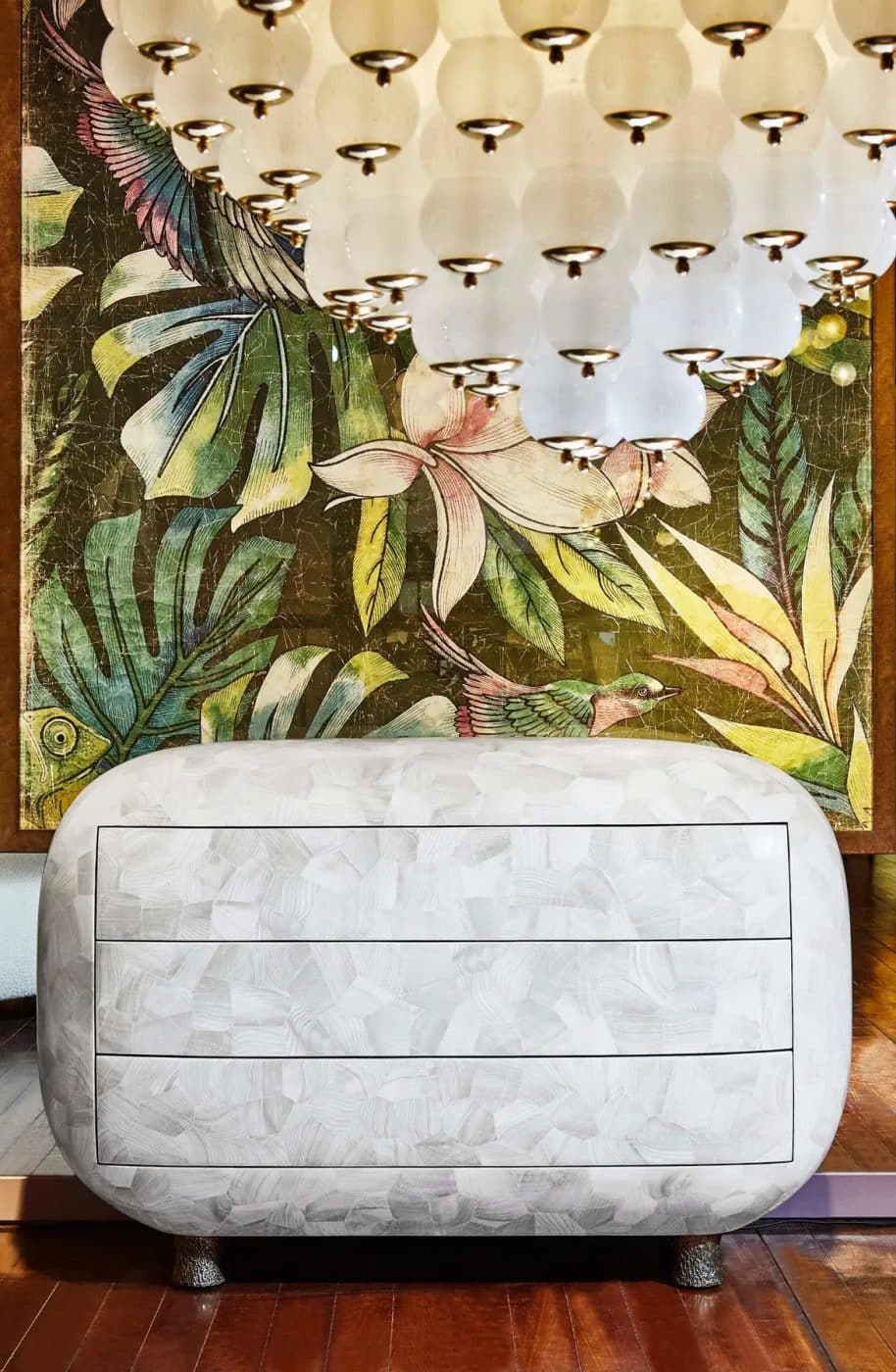 The sisters' appreciation of traditional savoir-faire can be traced back to their paternal grandfather, a fine carpenter who both restored antique pieces and created cabinets of his own. He opened a stand at Les Puces in the early '60s and was quickly joined by Serge, who for decades not only sold out of the annex to his home but also had his own boutique at the heart of the flea's Marché Vernaison. "The world of our childhood was quite magical," recounts Virginie. "The strongest memories are of our grandfather's workshop, with the smell of varnish and wax."
"The flea market was completely different back then," recalls Karine, with a hint of nostalgia. "It was much more ramshackle. The stalls were open to the elements, and there was no heating. In the winter, our feet would freeze."
Despite the physical challenges, neither sister ever considered a different professional path. By their early 20s, each had set up shop at Les Puces, joining forces with their father two decades ago to open their current gallery.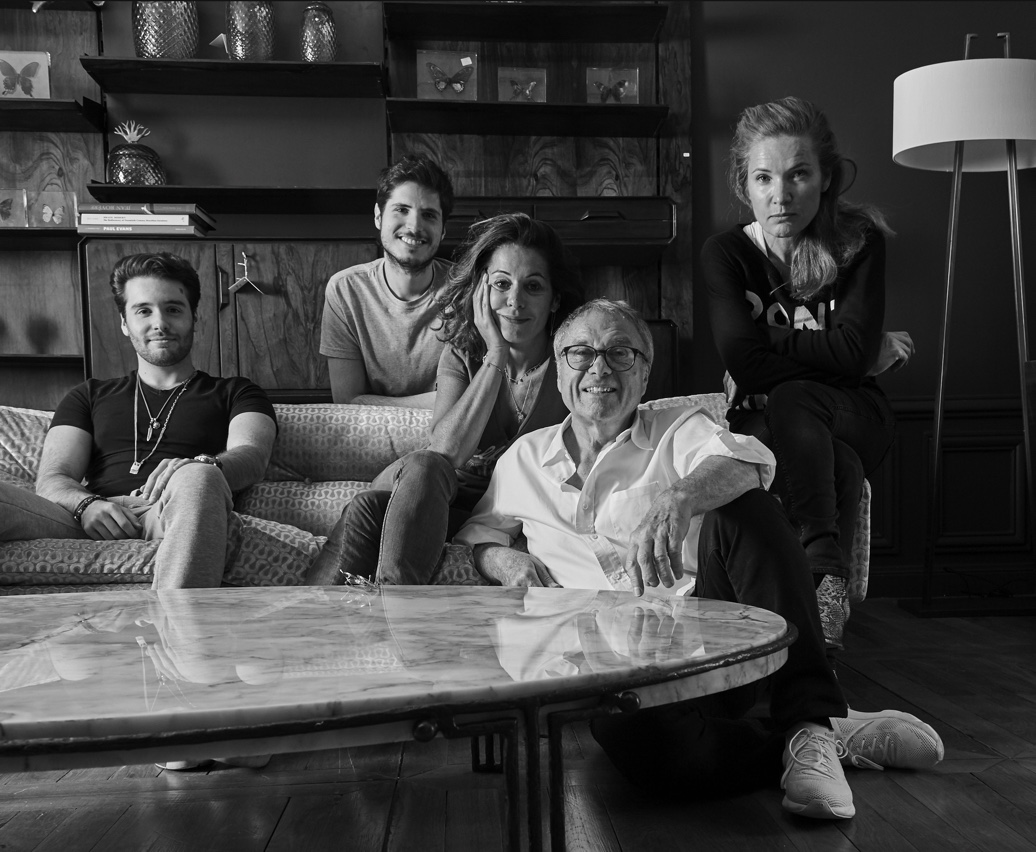 Initially, the space specialized in antiques of the 18th and 19th centuries. "We adore the quality of that period and love gilding, bronze and marquetry," says Karine. But as tastes changed, so did they. Eight years ago, they started turning their attention almost exclusively to the decorative arts of the 20th century. "We didn't know that much at the beginning," admits Karine. "We simply set out to propose something a little different."
When asked for the most outstanding pieces they have handled over the years, they cite architectural elements rather than furniture, such as a room of 19th-century wall paneling from a Parisian townhouse in what they call a "Marie-Antoinette palette" of blues and yellows and a 15-foot-long plaster panel depicting a landscape in Nice that was initially conceived for the Palais de la Méditerranée, one of that city's grand hotels.
One thing the Glustins are not into is minimalism. "Our style is not to have just one piece in the middle of a room," says Virginie. And if there is something they love more than anything else, it's acquiring new inventory. "You never know what you're going to find," says Karine, with a sparkle in her eye. After focusing almost solely on the 20th century for the past several years, they have recently started dabbling again in older items, such as an 17th-century Japanese chest with legs sculpted in the form of dragons' heads.
Their passion for the decorative arts, whatever the period, seems to have been passed down to the next generation. Karine's son Ilan works with them in the gallery; one of Virginie's children, Ruben, has opened his own boutique at Les Puces specializing in lighting. And although their 81-year-old father decreed six months ago that he was retiring, he's still very much a constant presence. "I actually think he'll never stop," says Karine. "For more than sixty years, the flea market has been his life."
Karine and Virginie Glustin's Talking Points