April 23, 2023Daniel Boddam's parents are both architects, and like many architects' children, he grew up with classic modern furniture: tables and chairs by Eero Saarinen, Charles Rennie Mackintosh and Josef Hoffman, among other icons, carried from house to house like precious cargo. "By the time I was fourteen," he remembers, "I was adamant that I was going to be a furniture designer." And since all the furniture designers he admired were architects, that meant he was going to go to architecture school. 
Now 44 with a thriving architecture practice in his native Sydney, Boddam hasn't forgotten his original ambition. Indeed, over the past 10 years, he has been spending more and more time on furniture, "for the joy of designing things and putting them out in the world," he says. He began selling his pieces directly to interior designers in 2016. Now, many of them can be purchased on 1stDibs. They reflect Boddam's love of natural surfaces, which he feels have a calming effect. Choosing materials like cork, oak and American walnut, he stays away from glossy finishes. "I don't really like shiny things in my work," he explains.
When Anthony Wyer, a Sydney landscape architect, decided to convert an old warehouse into his firm's new headquarters, he turned to Boddam, a friend and frequent collaborator. Wyer wanted the interiors to have a domestic feeling. That means, for example, that the conference room looks like a dining room. Boddam made its table from large pieces of elm found at an old saw mill in Melbourne, using the shou sugi ban (wood-burning) method to join the pieces. He then created legs of rammed concrete to add to the rustic sensibility. The chairs, meanwhile, are American walnut, a material that's "readily available in Australia," he says. "There is a strong demand for it here as it has superior grain, coloring and workability." The chairs' shape was influenced by the work of Sergio Rodrigues and other Brazilian modernists.
Boddam's mother was born in Venezuela, which gives him a feeling of closeness to Latin America. "The way art and architecture were intertwined there helped spark my curiosity for my craft when I was young," he says. One of his most distinctive designs was inspired by a visit to the famous stepped pyramids of Chichén Itzá, on Mexico's Yucatán Peninsula. The resulting pyramidal table base is seen in a hallway nook in walnut, with a brass center pole supporting a walnut top.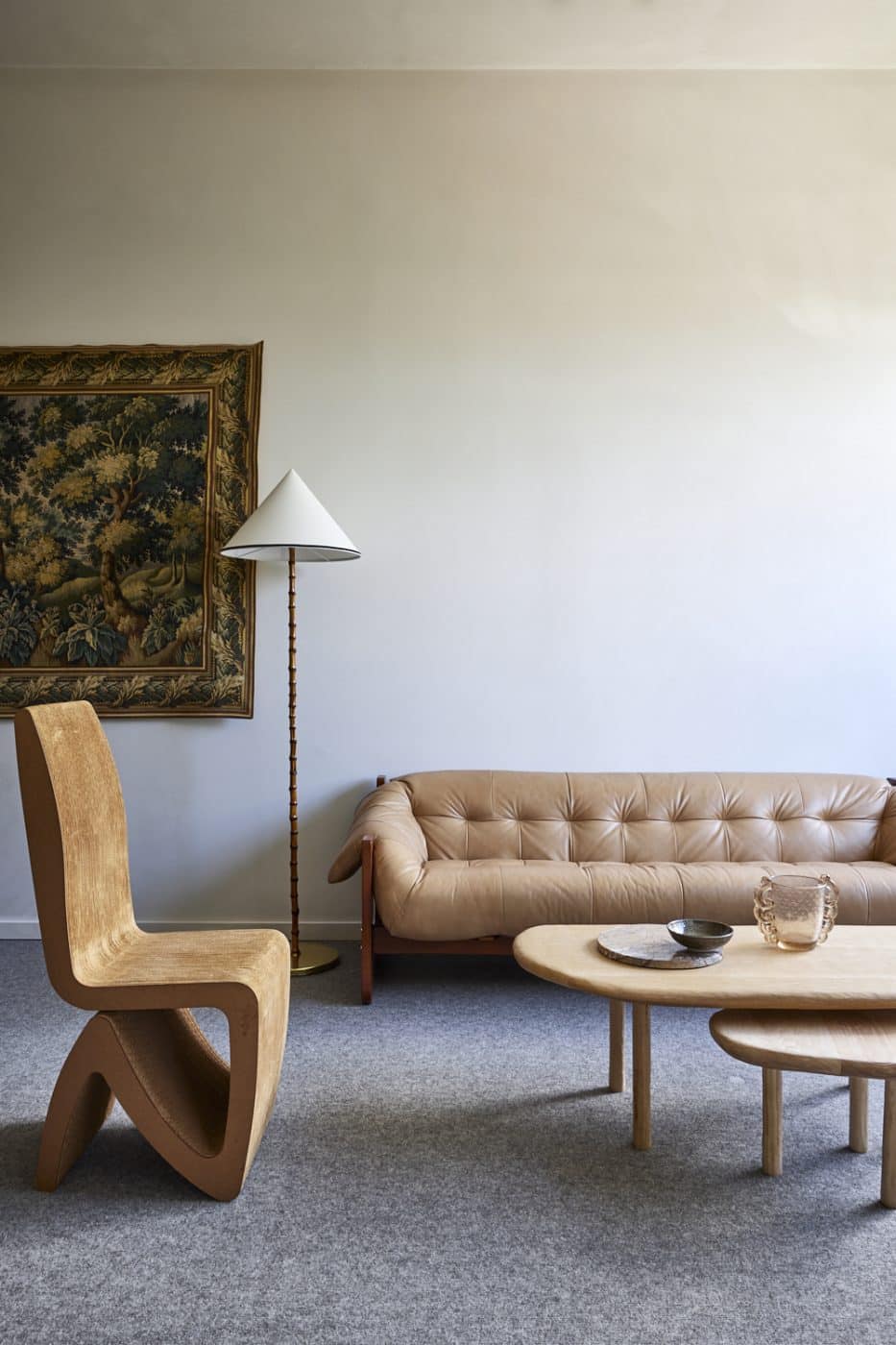 Boddam's Wave sofa is the focal point of the office "living room." Its shape is "soft and organic, like a rolling wave," says the designer, who divides his time between Sydney and Byron Bay, a beach town at Australia's easternmost point. Fittingly, the sofa is paired with his Pipi coffee table, made of American walnut but modeled on something very Australian: the pipi shells commonly found at Byron Bay's Tallow Beach. One side table is a cylinder of concrete, pressed into a mold to create a marbleized effect; the other is travertine with carefully sculpted edges.
Alongside Boddam's own pieces, the room showcases local art and decor, including the rug, which Boddam says softens the room and anchors the furniture. The walls are limewashed.
Boddam custom designed a massive American-walnut desk for Wyer's private office. Seating includes a quilted leather sofa, a corrugated cardboard chair by Frank Gehry — another architect-cum-furniture designer Boddam admires — and his own Booham chair, in oak with a seat upholstered in Fabio bouclé from Warwick.
Boddam also designed a unisex bathroom with a pair of concrete pedestal sinks and a kitchenette with countertops of stainless steel, which he made sure was brushed, not polished, given his feelings about shiny things.
The building has several small "breakout spaces" for one-on-one meetings or Zoom calls. On a recent morning, Boddam was in one of these, sitting on his walnut-and-rattan Lina chair (named for the Brazilian designer Lina Bo Bardi) at a concrete pedestal table. In Wyer's design studio, Boddam nested computer screens in wooden niches with cork accents.
Most of Boddam's furniture is made in New South Wales. But he has been expanding into the American market. He has located a manufacturing facility in California that meets his requirements, and he is thinking about setting up a "gallery-style showroom" in New York. (It helps that his mother-in-law, photographer Anne Geddes, known for shooting babies against elaborate backdrops, lives in Manhattan, where Boddam and his wife visit at least once a year.)
What does an Australian designer with roots in Venezuela bring to the American market? Boddam's Sydney–Byron Bay lifestyle translates into pieces that provide "a distinctive sense of calm and well-being via design," he says. "If you're looking for furniture with an understated and casual ease in both personality and style, I fill that niche."