Any mention of Yves Klein is likely to evoke visions of blue. But behind his trademark hue was a complex quest for a pure art form. This search, which originated with monochrome canvases, eventually led Klein away into highly experimental territory. Throughout his short-lived career in Paris, spanning the 1950s and early '60s, he toyed with performance, sound, empty space, trying to capture the intangible energy of art.
Klein's experiments were tethered to a worldview rooted in his love of judo and interest in Zen Buddhism, together with elements of Catholicism — all combining to imbue his work with a kind of mysticism. It is therefore surprising that, in 1961, just when his work was dissolving almost entirely into the realm of the immaterial, he opted for something more grounded, laying out designs for his now-iconic coffee table.
Entering the interiors landscape, Klein reimagined his textured monochromes as functional objects, in a sense pulling them off the wall and adding legs. The structure he conceived resembles a sandbox: a large rectangle with shallow sides that securely hold a small amount of raw pigment. As part of his research, he fabricated two prototypes with wooden frames layered with pigment. Their open tops were meant to be sealed with a protective glass covering, but this element was left unfinished when Klein died of a heart attack in 1962. The designs were patented, and a year after Klein's death, his widow, Rotraut Klein-Moquay, began overseeing the production in France of an open-edition table based on them.
The table as we know it is a sleek plexiglass case supported by stainless-steel legs and bursting inside with color: gold leaf or pigment powder in pink or International Klein Blue. "The fascination with the box shape and the materials used were typical of the time," says gallery owner David Gill. Gill notes that Klein's foray into furniture is echoed in the work of other artists, like minimalist Donald Judd, who started turning his box sculptures into furniture in the early 1970s.
The table's simple geometry might make it timeless, but it is the color that makes it unique to Klein's vision. The three hues offered link back to his pictorial language. For Klein, blue was the ultimate color because it represented limitless space, recalling the expansiveness of the ocean and the sky; pink stood for blood but also for fire, symbolizing energy; and gold represented the sun.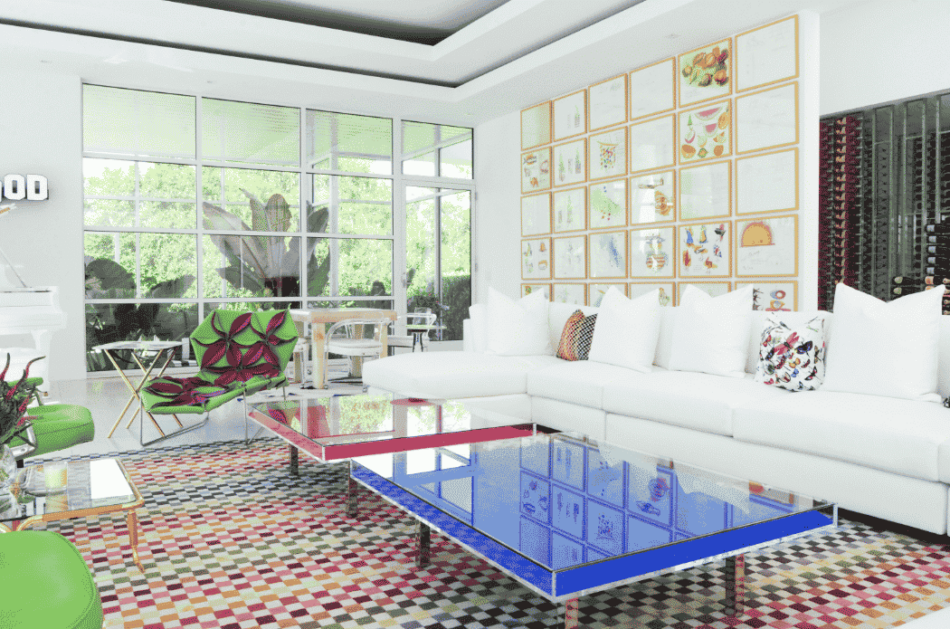 When imagining any of these three in an interior space, one might erroneously think that a sober setting is required, but decorators and dealers who work with the table find that it suits a variety of settings. Sasha Bikoff, who chose a pair for a Bridgehampton interior — one in blue and one in pink, to "create a juxtaposition between masculine and feminine elements" — says that "by connecting the dots with color, the tables are able to shine."
Klein may not have intended the installation of the table to be a performance, but it does require a certain finesse. The piece is shipped from France in parts and then assembled in situ by a trained hand. Gill says the installers he works with are gilders, restorers or artists who are practiced in handling the potent pigments and sometimes-finicky gold leaf. With the pigments, the trickiest part is raking it properly to achieve a topographical effect, whereas with the gold leaf, the goal is to create "a density that looks almost magical," says Gill.
The Yves Klein Archives work with only a small number of dealers. But the fact that it is an open edition keeps the table available in the primary market to new collectors interested in getting their hands on a piece of Klein's enduring genius. The archives ensure that the market is never flooded by carefully limiting the number of examples produced each year, mostly to between 40 and 60.
There is a pervasive misconception that tables produced earlier are worth more than new ones. In fact, they are equal in value. Only two vintage tables exist: the prototypes Klein made himself, which are owned by the estate. Rebecca Kong, cofounder and CEO of Artware Editions, the archives' primary partner in the U.S., cautions buyers to be wary when purchasing at auction. "The dates are always a little weird, and sometimes it looks like there may be a vintage table that was made in 1961," she says, noting that because of this misinformation, "people will spend twice as much at auction as they could buying an original." She stresses, however, that for investment-minded collectors, the table is a savvy purchase. Unlike most furniture, which depreciates once it leaves the showroom, the Klein table rises in value.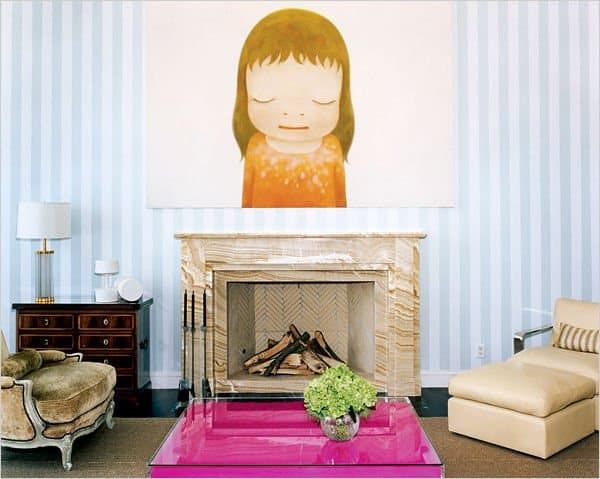 A puzzling questions remains: Is the table art or design? Although Bikoff, Gill and Kong generally agree that it should not be thought of as an overly precious object, it hovers between the two fields because of the source of its creation. That said, Kong is adamant that "the table is a work of design, and that this is how Klein's estate sees it," noting that it is always sold in design, not contemporary-art, auctions. However you categorize the piece, one thing is evident: The ineffable quality that Klein sought enlivens the table with its freshness.