Hans J. Wegner Lounge Chairs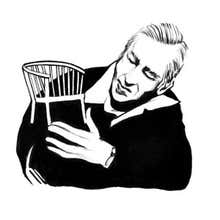 Danish, 1914-2007
Best known for his chairs and seating pieces — though a master of many furniture types like sofas and tables — Hans Wegner was a prolific designer whose elegant, often ebullient, forms and devotion to the finest methods in joinery made "Danish Modern" a popular byword for stylish, well-made furniture in the mid-20th century.
Wegner considered himself a carpenter first and a furniture designer second. Like his peers Arne Jacobsen and Finn Juhl, Wegner believed that striking aesthetics in furniture were based on a foundation of practicality: a chair must be comfortable and sturdy before it is chic.
In keeping with that tenet, several of Wegner's best chair designs, seen in dealer listings below, have their roots in traditional seating forms. The Peacock chair (designed in 1947) is a throne-like adaptation of the Windsor chair; pieces from the China chair series (begun in 1944) as well as the 1949 Wishbone chair, with its distinctive Y-shaped back splat, are derived from 17th-century Ming seating pieces, as is the upholstered Ox chair (1960). Wegner's comfy Papa Bear chair (1951) is an almost surreally re-scaled English wingback chair.
Wegner's most representative piece, the Round chair (1949), gained a footnote in political history when it was used on the TV stage of the first Kennedy-Nixon debate of 1960. That chair, along with Wegner's more bravura designs, for example the 1963 Shell chair, with its curved surfboard-shaped seat, bring a quietly sculptural presence to a room.  Wegner was a designer who revered his primary material — wood — and it shows. His wood gathers patina and character with age; every Hans Wegner piece testifies to the life it has led.
Hans J. Wegner lounge chairs for sale on 1stDibs
The lounge chairs by Hans J. Wegner are available for sale on 1stDibs. These distinctive objects are often made of
wood
and designed with extraordinary care. In our collection of Hans J. Wegner lounge chairs there are many options to choose from, although
brown
editions of this piece are particularly popular. We have 234 vintage editions of these items in stock, while there are also 81 modern editions to choose from. Many original lounge chairs by Hans J. Wegner were created in
Scandinavian Modern
style during the
20th century
. If you are looking for additional options, many customers also consider lounge chairs by
Fritz Hansen
,
Arne Jacobsen
and
Ib Kofod-Larsen
. Prices for Hans J. Wegner lounge chairs can vary depending on size, time period and other attributes. The price for these items starts at
$1,416
on eBay and tops at
$85,000
, while pieces like these can sell for
$5,502
.
Creators Similar to Hans J. Wegner
Questions About Hans J. Wegner Lounge Chairs
1stDibs Expert

March 22, 2022

Whether or not the Wegner shell chair is comfortable is largely a matter of personal preference. Wegner did design the dramatically curved seat and gently tapered back to properly support the contours of the human body. On 1stDibs, shop a range of Hans Wegner chairs.