In the many years since he established his architecture practice on eastern Long Island, New York, Blaze Makoid has designed dozens of photogenic houses. But when the New York Times called him, IT WAS TO TALK ABOUT HIS BOAT, It's Just Lunch (named for the dating service that introduced Makoid to his wife, Tracy Mitchell, the executive director of Sag Harbor's Bay Street Theater).
Makoid, who knew nothing about boats before moving to Long Island when he was almost 40, designed the 26-foot, dual-console outboard himself. "It was great to be able to research something new from top to bottom," says the somewhat nerdy, six-foot-five-inch architect.
Makoid collaborated on the vessel with Vanquish Boats, using its center console model, which he describes as "very workmanlike, reminiscent of a 1950s Chris-Craft," as a prototype to which he made both practical and aesthetic improvements. Boat design is an area where every millimeter counts, requiring the kind of focus Makoid loves.
Indeed, Makoid began his career, as so many architects do, designing kitchens and bathrooms, which are all about the details. "You learned where to put a coat hook, how to position a soap dish," he says.
One of his first clients was eyewear designer Robert Marc, who is used to working in microns and who shared the young architect's detail-consciousness. (When Makoid designed a kitchen for Marc, they stipulated that the manufacturer not put its monogram on the stainless-steel countertop, which led to something of a dustup.) The architect, now a devotee of Robert Marc eyeglasses, says Marc's "way of looking at things made me better at what I do."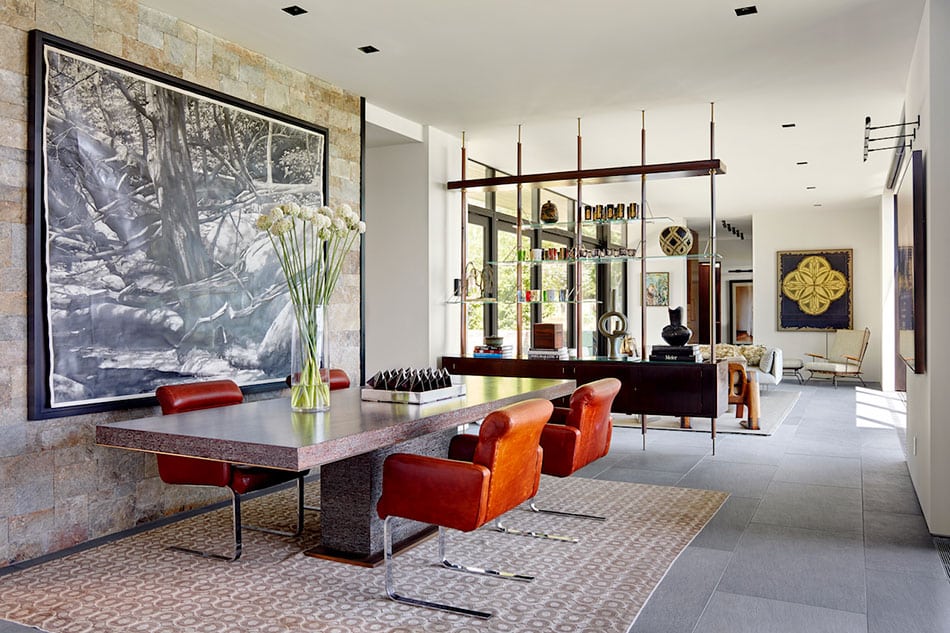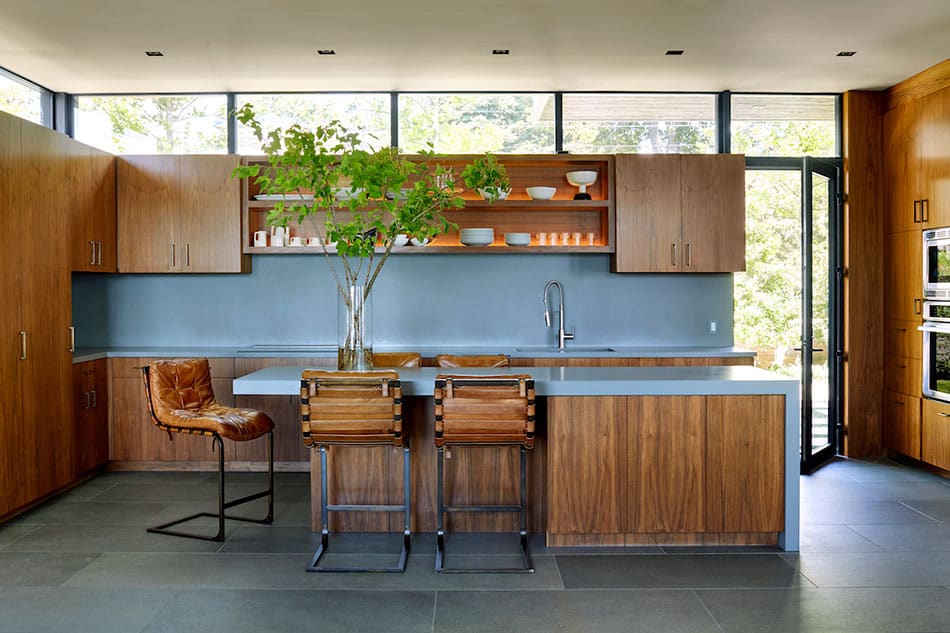 So there's probably nobody more surprised than Makoid by the size of the residences he's worked on, including a 12,000-square-foot home on the ocean in Southampton. He explains, "This is a legacy house, which might transition from the clients to their children sometime down the road, and we try to design it with that flexibility."
Blaze Makoid's Home Design Makes Large Spaces Feel Intimate
It's important to Makoid to make even massive houses "feel intimate," he says. One way he does that is by breaking large volumes into smaller ones, which are often linked by passageways in contrasting materials. His goal, he says, is to "erode the perceived size of the building." The alternation on the exterior of a Makoid house between, say, glass and stone or wood and metal contributes to this gentle camouflage.
Makoid also makes volumes seem smaller by dematerializing their exteriors. To do that, he employs the obvious devices, such as glass doors that slide into pockets. But he also makes a practice of bringing exterior materials into each home's interior design — a stone wall, for example, might appear to continue through a floor-to-ceiling window — to blur the border between outdoor and indoor zones.
Making his houses appear smaller on the outside still leaves the problem of what to do inside. If it's open plan, a big space on one level can "start to feel like a furniture showroom," Makoid observes. To avoid that, he says, "we might vary floor heights, or we might slide one of the components, like the dining area, forward or backward, so it's not just a big rectangle." (That results in the syncopated shapes of many Makoid houses, with rectangular volumes darting in and out, sometimes crossing over and under one another.) And if there's a deck outside the house, he'll work with the landscape architect to lower it a bit, "so you're not just looking at another mass of furniture through every window."
Another solution is to employ interior furnishings that rise to the level of architecture, something he did particularly well in a house for his close friend interior designer Jon Vaccari.
At the time he commissioned the waterfront residence, Vaccari owned an antiques store in New Orleans. Among his wares was a set of carved wooden panels from the 1970s by the artists Gruppo NP2, of Torino, Italy, and they decided to make these a focal point of the large living area.
Later, Vaccari found an early 1950s Italian shelf system that both men agreed would make a perfect room divider. Makoid modified the plans to fit those elements, ensuring that the home's interior design wouldn't feel brand-new, as if ordered out of a catalogue.
When he can, Makoid designs smallish houses, like his own relatively modest, 2,900-square-foot residence on the water. Makoid, Mitchell and their daughter moved there from a larger house a few miles inland. "We traded volume for location," says the designer, who can see his boat from his living room windows.
Makoid's Start in the Design World
Makoid studied architecture at the RHODE ISLAND SCHOOL OF DESIGN. After graduating, he worked for New York architect/developer Cary Tamarkin, whose office was in Boston at the time, and then became design director of the Philadelphia office of the Hillier Group, which specializes in educational and institutional buildings.
When Makoid met Mitchell, who was also living in Philadelphia, she had a cottage in Bridgehampton, and he began spending weekends there. Soon, two Hamptons couples had hired him to do small renovations. Figuring he had enough work to last a year, Makoid and Mitchell, by then his wife, took a chance and moved to Long Island full-time.
Makoid founded his firm, BMA Architects, in 2001. Since then, he and his partner, architect Glen Cordova, have expanded to designing homes in other destinations, such as Miami, Jackson Hole and Lake Tahoe.
Blaze Makoid in the Hamptons and Beyond
Within a few years of moving to Suffolk County, Makoid was one of the leading designers of modern houses in the Hamptons, competing for jobs with BATES MASI, SAWYER/BERSON and STELLE LOMONT ROUHANI ARCHITECTS, among other Long Island practitioners. Asked what distinguishes his work from theirs, he points to his commitment to attuning his houses to their environment.
A prime example is the 6,000-square-foot year-round house Makoid designed on a slope near Lake Tahoe. The outdoor spaces he created there weren't afterthoughts but specific responses to the setting.
"The public spaces migrate around the house," Makoid explains. "When you're eating breakfast outside, you're on the east side, allowing morning light to warm you up. Then, there's an outdoor living room with a two-sided fireplace. It's on the south side, where a canopy shelters you from the harsh midday light. And on the west side is a terrace with a fire pit where you might gather at dusk. It makes the house like a sundial in a way."
For that house, constructed in a natural palette of stone and cedar, Makoid worked with the interior designer John Giacomazzi. "I would say ninety percent of the time we work with interior designers," says Makoid, who has often collaborated with DAVID SCOTT (and has designed Scott's own home in Sag Harbor). But the relationships with interior designers typically start early in the process, and Makoid provides much more than a bare envelope.
In the Tahoe residence, he covered the outdoor fireplace in raw steel and an indoor fireplace, in the adults' "cocktail room," in a taupey gray marble.
Like most Makoid houses, that one has a flat roof, a hallmark of MODERNISM. Makoid isn't dogmatic, however. "Sometimes, we're approached by clients for whom a pitched roof connotes shelter, home, a connection to history," he says, adding, "You can still do a beautiful modern house with a peaked roof. I don't think the two are mutually exclusive."
One of Makoid's projects consists of three small shingled volumes arranged in a C-shape around a courtyard. But the pavilions, rather than resting on the ground, are raised up on a glass platform, which contains the living-dining room. It "blocks winds coming off the bay, so the owners can be outside even in the colder months," Makoid explains. "Yet they can see right through the glass." That's typical Makoid-ian ingenuity.