The Hermès Birkin is less a handbag than a design object. Coveted by collectors around the world, Birkin bags are not merely worn. Instead, they're collected.
The bag is named after French actress and singer Jane Birkin, who played an integral role in its conception. Sitting next to Hermès's chief executive Jean-Louis Dumas on a flight to London in 1981, Birkin's weekend tote spilled her belongings on the plane. Witnessing Birkin's luggage mishap, Dumas set out to design a durable and dynamic leather bag for her.
Since its first appearance in 1984, the Birkin's popularity has skyrocketed, due in equal measure to its deft, hand-crafted construction and its exclusivity. Handmade in France by a fleet of lifelong Hermès craftsmen, one bag can take several days to complete. Accordingly, prospective Birkin buyers often must endure a lengthy waiting list for their dream bag.
Apart from their iconic shape, Birkin bags are also defined by a vast range of leathers and skins whose individual characteristics determine how a bag hangs, ages and weathers damage. Scroll down to read the official 1stdibs field guide to Birkin leathers.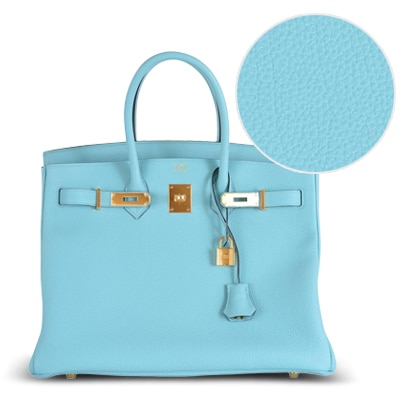 The most popular Birkin leather, Togo is celebrated for its soft feel and grain size. Introduced in 1997, this natural-grained male calf leather gained fans in large part due to its fine, anti-scratch quality. Appearing both embossed and raised, the lightweight Togo holds its shape and nicely reflects light.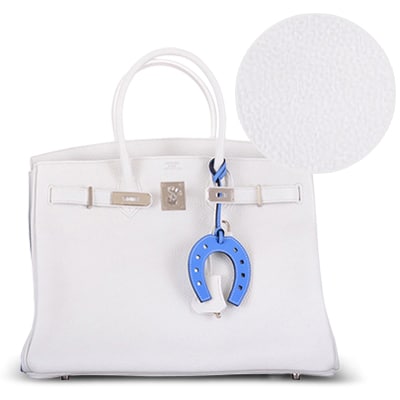 Also referred to as "Veau Taurillon Clemence," this sumptuous male cowhide has a large yet shallow grain that adds a matte effect to the material. Anti-scratch like Togo, Clemence was first used by Hermès in the mid-1980s.
---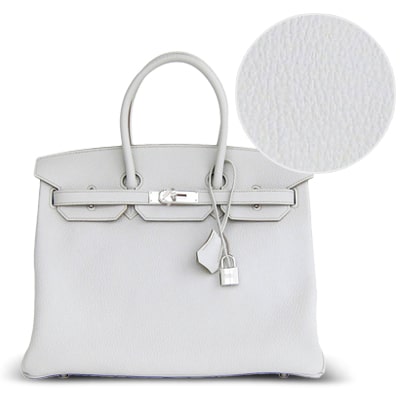 This waterproof natural-grained male calf leather is surprisingly soft and has a recognizable matte texture. More durable than Togo or Clemence, Fjord is one among the heaviest Hermès leathers. It also possesses an easy-to-spot wide, flat grain and vertical veining.
---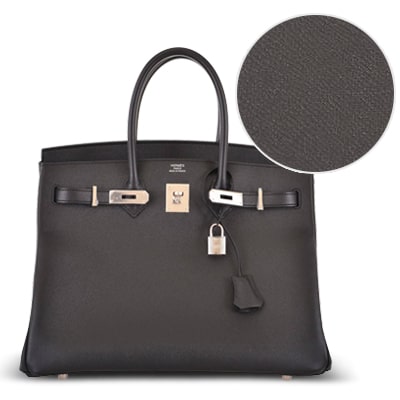 Extremely popular, this processed male calf leather is employed in many Hermès products. Introduced in 2003, Epsom features a pressed pattern that is embossed onto the leather. With a stiff quality that keeps the bag rigid, Epsom is easy to clean.
---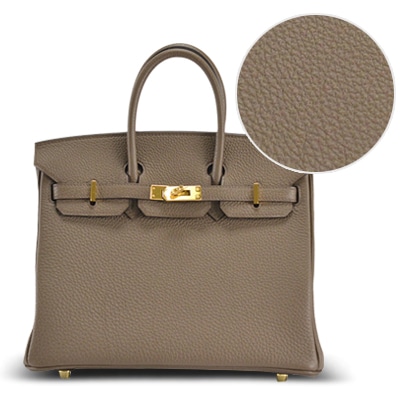 Vache Trekking Leather
A popular male cowhide with a comparatively fine press, Vache Trekking is mainly — and fittingly — used to construct handbags. Available in only limited colors, this leather transitions and darkens over time. Considered a classic since its debut in 2009, the delicate untreated Vach Trekking is an Hermès exclusive.
---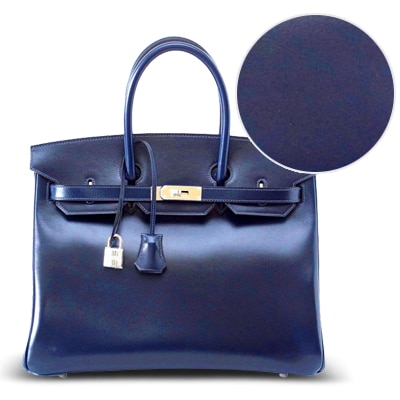 Much like the Birkin itself, this smooth male calf leather also has a namesake: the 1890s English shoemaker Joseph Box. The oldest Hermès leather, Box Calf features a trademark polish that never fades, created by a proprietary, secret process that cannot be duplicated. Developing an elegant luster with time, the leather ages well.
---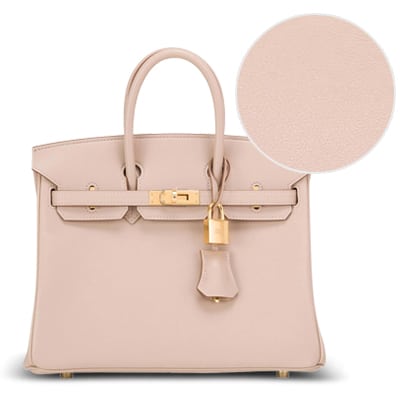 When debuted in 2006, many collectors remarked on this male calf leather's smoothness. With its softness and fine grain, Swift takes to any color favorably.
---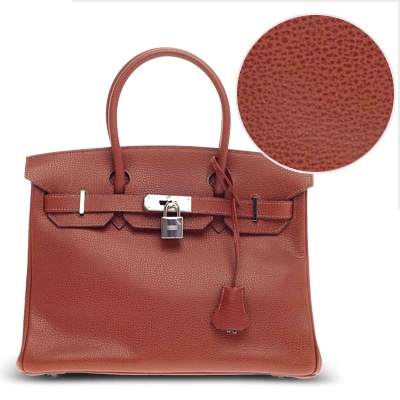 Available only in natural and black shades, Vache is one of those skins that matures and changes with time. Delicate and light when new, Vache is so hardy that craftsman depend heavily on this material.
---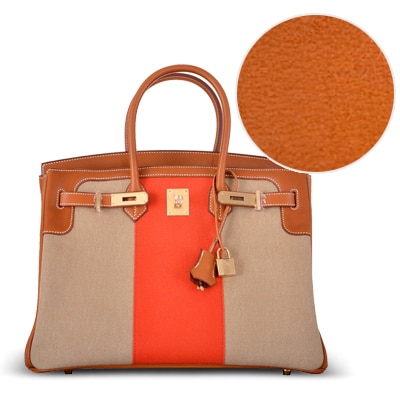 Buttery smooth, this fine male calf leather matures with time. So sturdy that it is also used to construct saddles, Barenia is typically seen in natural colors (but other shades are available on occasion). With the suppleness of the leather, some bags will begin to lose shape, becoming less structured.
---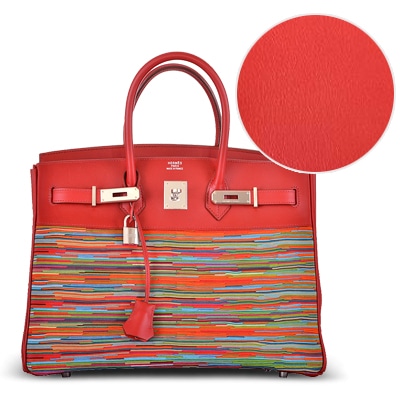 Named for Chamonix in Monte Blanc — a resort in the Alps near the junction of France, Italy and Switzerland — this skin is regarded for its softness. Despite its suppleness, Chamonix is also quite hardy.
---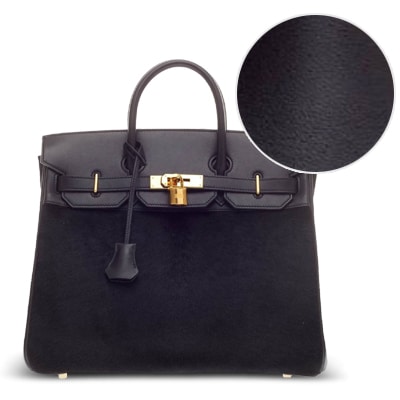 Notable for its softness, Evercalf boasts an incredible texture that patinas and grows more luxurious with time.
---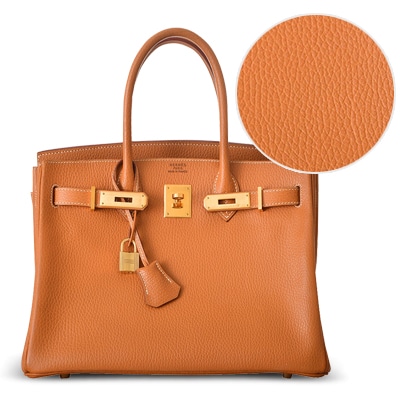 Known for its pressed processing, this male calf leather is from the Ardenne region, which spans from Northern France to Southern Belgium. While discontinued, Ardennes remains a popular choice for collectors of vintage Birkins.
---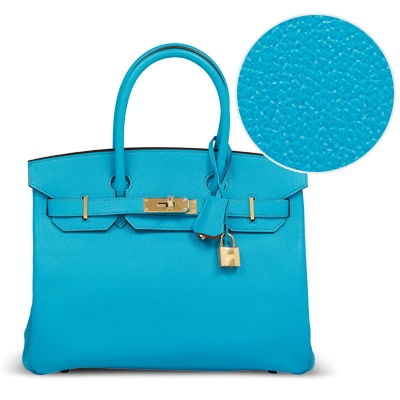 Introduced to the Birkin line in 2002, this male mountain goat leather is known for its fair softness and grain size. Since large-scale mountain goat skins are rare, Chevre Mysore is developed mainly for smaller items like the Birkin 25.
---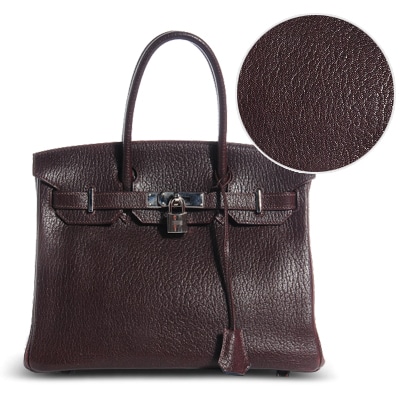 Chevre Coromandel Goatskin
While featuring a less defined grain, the Chevre Coromandel still retains its softness. In addition, this male mountain goat leather has a charming luster and unique press.
---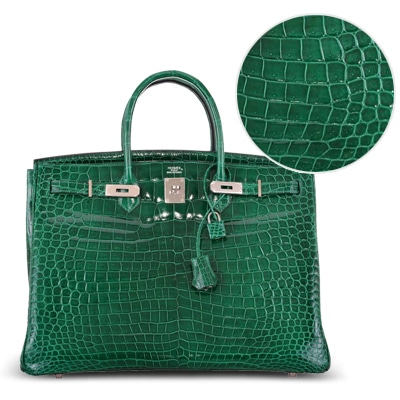 An extremely popular exotic leather derived from crocodiles farmed only in particular regions of the globe, Porosus crocodile skin is polished using a specialized Hermès technique. Denoted by a circumflex stamped near the Hermès logo, bags with this leather should always be protected from moisture. Each Porosus skin has unique characteristics, adding to its value.
---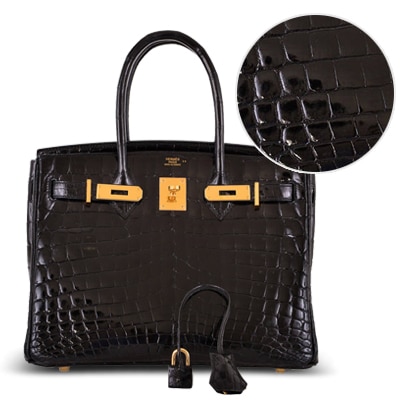 Renowned for its large grain, Niloticus crocodile is sourced exclusively from crocodiles in the African Nile River region. With its unmistakably shiny finish, the skin is marked with an umlaut symbol to identify quality. If protected from the rain, bags remain luminous and lustrous.
---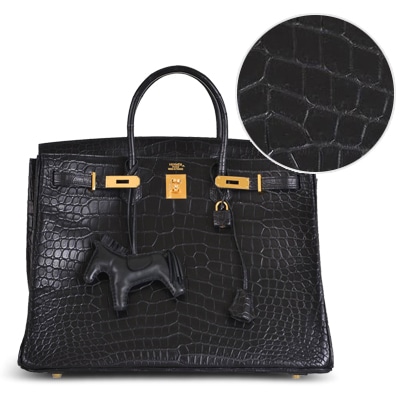 Treating, preparing and processing this highly polished skin requires a specialized process involving wool felt and specifically constructed machinery. The technique works best one crocodiles from Asian salt water regions.
---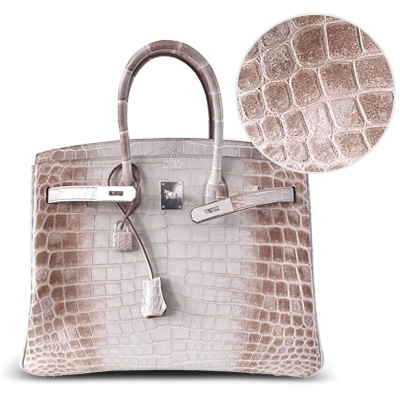 Matte Niloticus Crocodile Skin
Using crocodile skin harvested from the Nile, this material is end-treated with a special matte-ifying process. Due to this treatment, this skin is especially delicate — owners should be cautious to keep their bag from harm, as the damage is often permanent.
---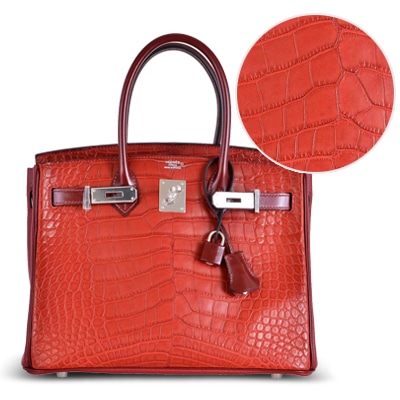 Harvested primarily by independent hunters in the United States, matte alligator skin is created using a trademarked Hermès technique. The matte finish takes perfectly to alligators from the Southern region. Differentiated with a square logo, this leather's scale patterns are unique, making these bags highly desirable.
---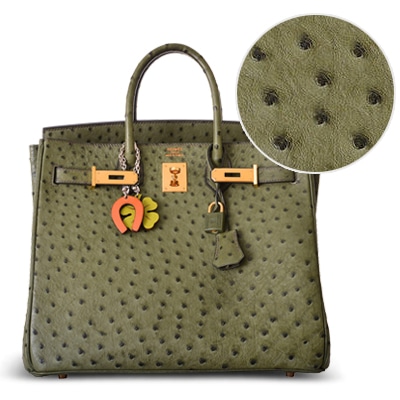 Ostrich Leather
Mainly from South Africa and Australia, this exotic leather is notorious for the bumpy, dot-like pattern formed by the bird's quills. This popular leather is used by Hermès craftsman in everything from bags to accessories.
---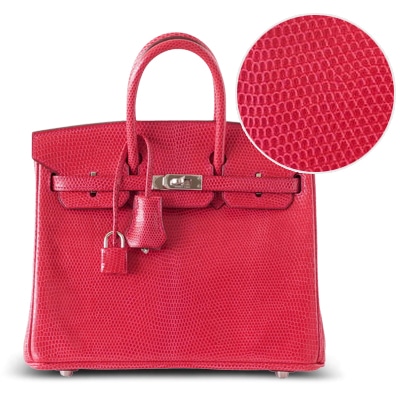 Harvested in Southeast Asia, this leather is characterized by gorgeous organic spots. Lizard skin Birkins are among the most coveted Birkins — the scarcity of large-scale lizard skins makes these handbags extremely rare.