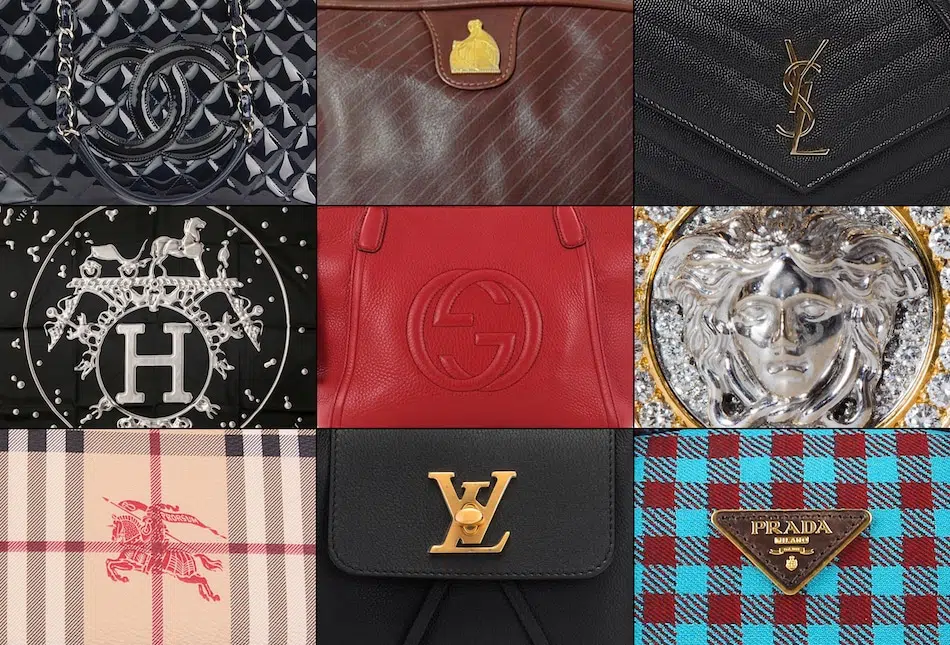 In the brand-centric world we live in, some believe that wearing the logo of a luxury fashion house signifies sophistication and success. It's the outward marking of one's sartorial tribe, and it can reveal hints about the wearer's values and aspirations, as well as her (or his) personal style.
Today, when a young fashion designer debuts a first collection, the creation of a killer logo is top of mind, along with a savvy branding and marketing strategy. But it wasn't always this way.
Some of the world's most iconic fashion brands didn't even have logos until years after they launched. Many of these emblems were created organically and tell as much about the history and evolution of the brand as do the clothes themselves.
Here, we present nine stories behind the logos of top luxury fashion brands.
---
Chanel
The Chanel logo was designed by Coco Chanel herself in 1925 and remains unchanged to this day. Though it is arguably the most recognizable symbol of all the major fashion brands, there's a veil of mystery shrouding the famous double Cs of the Parisian fashion house.
Some claim that the design comes from an insignia on the Château de Crémat, a vineyard villa in the South of France where Chanel stayed at while doing research in the nearby perfume capital of Grasse.
Others say it is derived from the quasi-Celtic interlocking stained glass window design at the Aubazine Chapel, which housed an orphanage where the designer spent part of her youth. Still others insist that it's the amalgam of Chanel's initials with that of her lover and business partner, Arthur "Boy" Capel.
Above: Chanel small lambskin LED Boy bag with rainbow hardware, 2017
---
Versace
When deciding on a logo for his sultry, shimmering new couture line in the late 1970s, Gianni Versace settled on the ultimate symbol of fatal attraction: the mythological Medusa.
Her monstrous appearance and deadly gaze, after all, were bestowed upon her as punishment for her original entrancing beauty, which angered the goddess Athena. In describing her brother's bold choice for the logo, Donatella Versace has said, "When I asked Gianni why he chose Medusa's head, he told me he thought that whoever falls in love with Medusa can't flee from her."
The gilt gorgon head famously worked its way into Versace's personal realm, as well, appearing as a door knocker at his Milan home and throughout his palatial Miami villa.
Above: Versace black embellished swimsuit with gold medusa, 2010
---
Gucci
It's difficult to determine an exact date for the creation of the Gucci logo. What is known, however, is that the double Gs are undoubtedly the initials of Guccio Gucci, who founded the company in Florence in 1921, and were most likely adapted into the logo by his eldest son Aldo.
Though they were created decades earlier, the doubles Gs only became a signature of the brand in the 1960s and '70s, under the direction of Aldo's son, Paolo Gucci, when he applied them to the brand's sought-after bags and put them on clothing for the first time.
The highly adaptable letters sometimes appear facing right, sometimes inward, and at other times with flowery flourishes thanks to the latest designs by Gucci's latest creative director, Alessandro Michele.
Above: Gucci by Tom Ford black leather boots, ca. 1999
---
Louis Vuitton
Perhaps no other insignia has been re-worked as often — and as imaginatively — as the interlocking letters and fleurettes signifying Louis Vuitton. The famous LV monogram was first used in 1896 as part of an initiative by Louis Vuitton's son, Georges Vuitton, to prevent counterfeiting of his coveted new line of travel trunks. It's one of the earliest examples of fashion branding.
In the 120-plus years since its inception, the logo has been manifested in myriad imaginative expressions, from the graffiti version of the monogram — a 2001 collaboration between designers Stephen Sprouse and Marc Jacobs during the latter's tenure at the brand — to the floral-shaped heels of current creative director Nicolas Ghesquière's Spring/Summer 2015 boots.
Above: Louis Vuitton Trunks & Bags multicolor coin keychain, 21st century
---
Yves Saint Laurent
Yves Saint Laurent's vertical YSL logo had a resurgence in the 2000s, thanks to then–creative director Stefano Pilati's designs and advertising campaigns that put the logo front and center. (He famously posed supermodels like Claudia Schiffer alongside life-size logos.) But the design goes back to 1961, when graphic artist Cassandre, who had made his name designing for publications like Harper's Bazaar, conceived it.
When Hedi Slimane took over in 2012, he opted for a new name and a new logo. The ready-to-wear line would became Saint Laurent Paris (referred to as "Saint Laurent") in a simple capitalized, Helvetica font. The updated logo harks back to the Yves Saint Laurent's Rive Gauche line from 1966, while the vertical logo is now used to differentiate the haute couture line.
Above: Yves Saint Laurent gold leather heels, 1970s
---
Prada
In 1919, six years after its founding, Prada distinguished itself as the official supplier of the royal family of Italy. As such, the company was given special permission to use the traditional Savoy coat of arms and figure-of-eight knot, which remains on its logo to this day.
However, when Miuccia Prada, the youngest granddaughter of company founder Mario Prada, took the reins in 1978, she decided to stir things up. Inspired by the hardware on her grandfather's trunks, she printed the Prada insignia on a signature triangular metal badge, introducing it in the mid-1980s on a black nylon bag, which made both the bag and the newly fashioned logo instantly synonymous with the Prada brand.
Above: Prada "Vichy Check Jacquard" bowler bag, 2013
---
Burberry
Despite its early associations with Polar expeditions and military fatigues of the British armed forces, the history of Burberry's logo is decidedly equestrian. The Equestrian Knight logo was trademarked in 1909 but appeared for the first time around 1901, accompanied by the Latin word Prorsum meaning "forward." This was fitting for a brand like Burberry, whose patented weatherproof gabardine fabric was first used by real-life adventurers, aviators and military men.
Above: Burberry zip around wallet, 21st century
---
Hermès
Another equestrian-themed logo is that of Hermès, although this one is more deeply linked to how the brand got its start. That is: creating saddles, harnesses and other high-end equine paraphernalia at a time when horses were still the preferred mode of transport.
When the leather maker set up shop in 1880 at its Parisian flagship store on rue Faubourg-Saint-Honoré, it wasn't because it was a chic shopping district, but instead because it was strategically positioned close to the Champs-Elysées stables.
While transportation by horse was fading from fashion by the early 20th century, Hermès decided to elaborate on its equestrian connection in order to identify with the elegant world of jockey clubs and the society life surrounding them. Based on a gouache drawing entitled Le Duc Attelé by Alfred de Dreux, the horse and carriage Hermès logo was officially trademarked in 1945.
Above: Hermès VIF Argent silk scarf, 2007
---
Lanvin
In 1897, eight years after moving to Paris and founding her eponymous fashion house Lanvin, Jeanne Lanvin gave birth to her daughter Marguerite Marie Blanche, who would become the fountain of inspiration behind her mother's creativity and, ultimately, part of the fashion house's logo.
Based on a 1907 photo taken of the mother and daughter, dressed in matching outfits at a costume ball, the logo was developed by illustrator Paul Iribe in 1923.
Above: Jeanne Lanvin book, 1988
(Article reviewed on the 30th of September, 2020)