In the world of fashion, the man of the moment is Alessandro Michele, the creative director of Gucci. Since he was unexpectedly given the stylistic reins of the Italian fashion house three seasons ago, he's staged a revolution by scrapping the brand's hyper-sexy jet-set vibe for a nerdy, flea-market-romantic, gender-bending cool. Even more radical, he's refused to introduce new trends each season, offering up instead more and more splendidly confounding clothes. These strangely alluring mash-ups of style, color and pattern speak not of fantasy but of the reality of the current day, with all its attendant issues and individual personalities. How has this rebellion been received? It's sparked a buying frenzy among the fashion faithful. Rather astonishingly, Michele has put Gucci back on the map by breaking all the rules.
Martina Mondadori Sartogo, the editor and founder of the cult interiors journal Cabana, has been among those transfixed by Gucci's transformation. Last summer, when perusing the brand's Instagram feed, she spied an image of a delectable candy-pink georgette dress with the iconic double-G buckle and read the quote from Michele in the caption: "All of our Gucci symbols tell the beauty of belonging. It's like being part of a tribe, a tribe of those who love beautiful things." In those words, she recognized a kindred spirit, because loving beautiful things is what Cabana is all about. "It's the raison d'être of the #bigcabanafamilytree," as she puts it.
---
"All of our Gucci symbols tell the beauty of belonging," Alessandro Michele wrote on Instagram. "It's like being part of a tribe, a tribe of those who love beautiful things."
---
And as sumptuous and refined as her magazine is, it's also a manifesto for an aesthetic insurgency against the next big thing in interior design, against the minimal, the expected, the gleamingly new. Cabana is instead about the magic of atmosphere, aesthetics inspired by the classics and Italian art history, interiors where old and new are assembled to reflect the loves, lives, interests, soul and history of a person or a family, not a stylist.
This is precisely the vision she encountered when she next discovered @lallo25, Michele's personal Instagram account. A favorite of fashionistas, it's a dizzyingly gorgeous feed of vignettes from his Rome apartment and his weekend refuge in the picturesque crumbling hill town of Civita di Bagnoregio, along with images of Renaissance paintings, dolls' heads, religious statuary, old charms, antique textiles, flora, fauna and ancient churches discovered on weekend wanderings. Like Cabana, this digital mood board pushes boundaries by mixing genres and details of different buildings to conjure a reverie of timeless beauty that is nevertheless contemporary.
A collaboration was clearly fated. Michele agreed to help Mondadori Sartogo conceive and curate a photographic portfolio of his native Rome, shot by photographer Guido Taroni, for Cabana's Spring/Summer 2016 issue and to allow the use of three Gucci fabrics for the magazine's cover — but she wanted more. Since 1stdibs celebrates every new issue of the magazine with a Casa Cabana online pop-up shop, Mondadori Sartogo and Michele created a special 500-copy boxed edition of the Rome-centric issue, which also includes an expanded Taroni portfolio and special fabric covers, to sell exclusively on the site.
She had another merchandising idea, too: a limited-edition series of chairs, produced by Gucci and based on the charming Chiavari seating that was part of Michele's set design for the season's September runway show, which the designer staged in a disused train depot in an industrial quarter of Milan. Those chairs were the show's only furnishings, save for an assortment of Victorian-style screens covered in the collection's patterned fabrics and a striking floral carpet based on Gucci's Herbarium print, bordered by coiling coral snakes — a favorite creature in the menagerie Michele has introduced to the fashion house.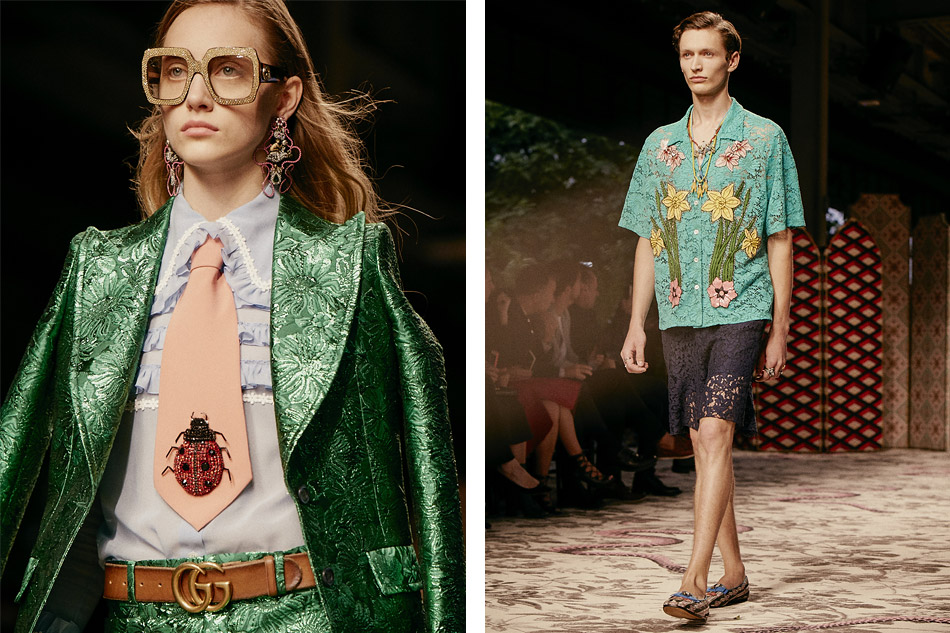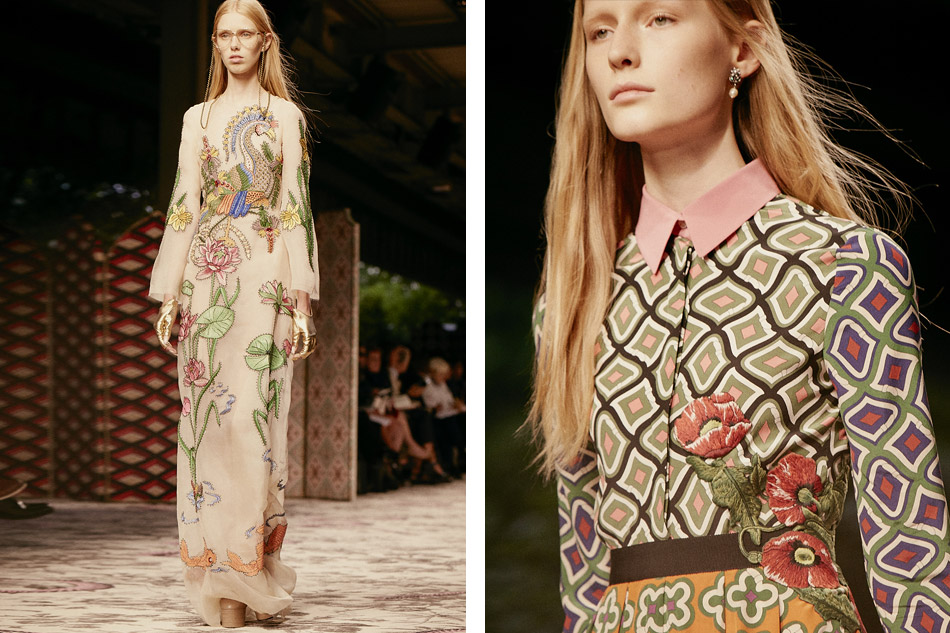 Within a few weeks, Michele responded to Mondadori Sartogo's proposal with the design of six Cabana/Gucci edition chairs, each upholstered seat covered in the Herbarium print and featuring an embroidered appliqué of a different creature from the Gucci menagerie: a rabbit, a bird, a tiger, a honey bee and two different snakes.
With these exclusive limited-edition seats and the Roman portfolio in the magazine's latest issue, Michele has extended his bewitching renegade aesthetic to the wonderful world of Cabana.