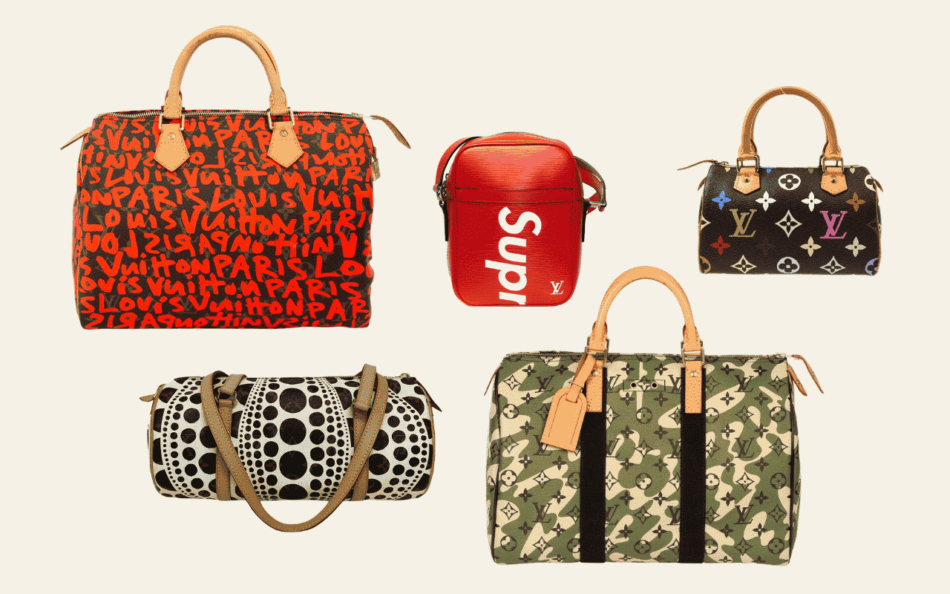 Once upon a time, Coco Chanel designed costumes for Serge Diaghilev's avant-garde Ballets Russes, Surrealist art graced the cover of Vogue, and Elsa Schiaparelli, the couturier who considered herself an artist first, collaborated with Jean Cocteau and Salvador Dalí.
Marc Jacobs knows this history, and in his early days as creative director of Louis Vuitton, when he was still feeling his way as a New Yorker in Paris, it stirred his imagination. "I started to think in romantic terms," he later explained to Interview magazine, "and I always thought back to the time of Schiaparelli and Chanel and Cocteau, when all of these creative people seemed to be doing things together, . . . and fashion and art had a dance, you know?"
Jacobs wanted to dance that dance, too, and partnered with his own, contemporary set of unconventional creatives. In doing so, he "set forth the motion for all of the street x luxury collabs we are seeing today," says Steven Bond, director of fashion seller CRTBLNCHSHP (formerly Carte Blanche). "It influenced future designers to include art and street sense in their designs, adding elements of cool street style and edge to classic collections. It brought the art and fashion world closer together and opened up doors for artists and street-wear brands in the luxury market."
Ultimately, Jacobs's urge to "do things" with other creators gave a glorious but slightly dusty old ship a fresh patina. Collaborations became a big story. In fact, Vogue covered Vuitton's first collab with Stephen Sprouse three times in one season — unprecedented before or since.
This cooperative model has become a mainstay of the brand, whose creative partners have ranged from artists Richard Price, Jeff Koons and Urs Fischer to fashion icon Grace Coddington. And the legacy is being carried on by Virgil Abloh, who took over as men's artistic director in 2018. His first collab in his new role, in 2020, was with Japanese designer Nigo, of A Bathing Ape.
Here, we look at four of the most influential Louis Vuitton collabs.
---
Steven Sprouse
While visiting his friend French singer/actress Charlotte Gainsbourg, Jacobs noticed an old Vuitton trunk, its canvas painted over in black with the color wearing away in places. Although he'd been told in no uncertain terms that he was never to mess with Vuitton's logo, the transformed trunk sparked a thought.
"I had this idea to kind of deface the monogram," he said in a 2013 interview. "I wanted to do that with graffiti, which to me was always a kind of defiant act, a rebellious act and an anarchic act — but also something that creates . . . a new meaning."
Jacobs knew just the person he wanted to work with. Designer and artist Steven Sprouse was an influential presence in the downtown New York City scene of the 1970s and '80s. He dressed singer Debbie Harry, and "along with friends like Steven Meisel, Anna Sui and Terry Toy, ruled the bathroom at the Mudd Club," says Jessica Glasscock, professor at Parsons School of Design, referring to the gritty performance venue frequented by downtown artists and musicians.
Jacobs knew Sprouse and admired him. "There was hearsay that Jacobs would not do graffiti without Sprouse," says Glasscock. "Sprouse, as a designer, would have been very familiar with this idea of collaboration," she adds. "He had done collaborations as far back as the 1980s with Keith Haring and with Andy Warhol."
It was through his collab with Vuitton, however, that he became a fashion immortal. The resulting limited-edition handbags, sporting Day-Glo graffiti, debuted on the Spring/Summer 2001 runway and were an immediate hit. In 2009, Vuitton released a tribute collection (Sprouse died in 2004) that featured two of Sprouse's favorite versions — in a rose print and in a leopard print.
---
Murakami
The first Louis Vuitton x Murakami bags appeared on the Spring/Summer 2003 runway, accessorizing a parade of Peter Pan–collared day dresses in pastel duchesse satin. The bags were instant icons. "Girl nation was thrown for a loop," Vogue reviewer Sarah Mower noted at the time. Soon enough, the excitement went international. Sales and waiting lists grew, as did sightings of celebrities carrying the new "it" bag.
Its origin was simple enough. After attending a Murakami show at the Cartier Foundation, in Paris, Jacobs asked himself, "I wonder if that guy would ever be interested in collaborating on something for Vuitton?"
He sent an email to the Japanese Pop artist, and soon, the two were brainstorming ideas for combining "the spirit of Takashi and the history of Vuitton." The Monogram Multicolor they came up with was dubbed by Vogue the "defining collaboration of the noughties."
"Louis Vuitton very rarely launches collaborations more than once," says Reece Morgan, head of operations for fashion and accessories source Xupes. "But the beauty of the relationship with Murakami is that they have provided us with iconic collections from Louis Vuitton that will live on for a lifetime."
Later collections included the Cherry Blossom, in 2005, and the Monocamoflauge, which launched in 2008 with a retail price of around $1,500. "This [Monocamoflauge] Speedy 35 now resells for more than $9,000, 13 years on," says Morgan. "Quite the investment."
Although the Vuitton x Murakami collab ended in 2015, interest in the fruits of the partnership remains strong. According to Morgan, "With Y2K fashion and the Paris Hilton era having a resurgence, we are seeing increased demand and receiving lots of requests for Multicolor bags."
---
Yayoi Kusama
By the time Louis Vuitton x Kusama was unveiled, in 2012, Jacobs had become less rebellious. Yayoi Kusama, age 83 at the time of the launch, is an artist who deals with obsession, often expressed through her favorite graphic form: polka dots (or "infinity nets," as she terms them). A longtime Kusama fan, Jacobs saw the collab as an opportunity to share her vision with a wider audience. "For many people who don't look at art or go to galleries," he told Vogue at the time, "there will be a new venue, a new place to see this work and to come to appreciate it through the eyes of Louis Vuitton."
This was Vuitton's biggest launch to date, timed to coincide with Kusama retrospectives at Tate Modern, in London, and the Whitney Museum of American Art, in New York. The collection went beyond handbags, with skirts, tops, shoes and scarves also getting the red-dot treatment. And don't forget real estate: Across the globe, Vuitton store exteriors were swathed in polka dots, while windows and interiors became alternative universes where visitors could enjoy Kusama's "world that never ends," as Vogue put it in a 2012 profile of the artist.
"This kind of collaboration is fashion looking outside of its own myopic ideas — deciding on a length of a hemline, for example," says Glasscock. "It can shake a house up a little bit to be a part of someone else's world building. For example, Kusama benefited from this collaboration in a tremendous way, and it also expanded the reach of Vuitton's work."
---
Supreme
Louis Vuitton and Supreme have both always operated with an absolute understanding of their customer. In the 19th century, Louis Vuitton created a waterproof canvas to protect the valuable contents of trunks used for intercontinental train travel. In the 20th century, Supreme founder James Jebbia hung merch on his first store's walls instead of the selling floor, so his customers could skate in, unobstructed, from the street.
For many years, these two worlds — luxury and street — were totally separate domains. But a bridge joining them developed steadily during the first decades of the 21st century. Vuitton x Stephen Sprouse edged the legacy brand toward the street, while Supreme's 2012 collaboration with Comme de Garçons married street cred to high style.
Around 2016, rumors started. Jebbia was spotted in the first row at a Vuitton menswear show. Could it be? Could it be? It could. The collab hit the runway in 2017. "Come all ye hypebeasts," announced Office magazine. "Today's Louis Vuitton Fall/Winter menswear show featured official Supreme x LV items, and the internet is freaking out."
"It was very exciting to see a subversive American street-style brand collaborate with an established high-fashion French brand like Louis Vuitton," says Airee Edwards, owner and founder of Agora Vintage. "I think it proves how far American taste and style has come."
Sales demonstrated the allure of the pairing: LVMH reported a 23 percent increase in profits in the first half of 2017, which it credited to the Supreme collab. Hardly surprising, as the hoodies, T-shirts, leather goods and general assortment of items that made up this pinnacle of all drops sold out immediately.