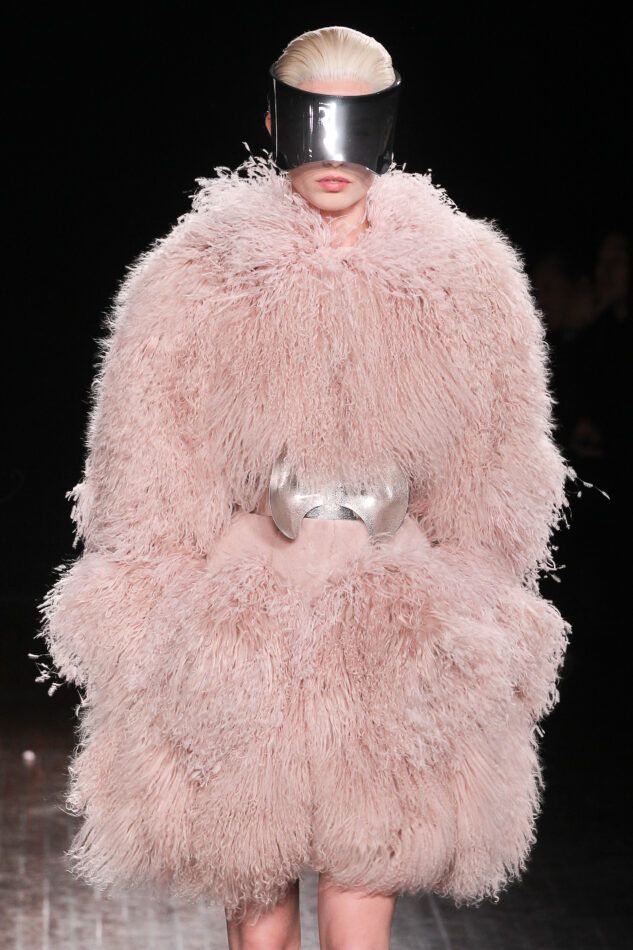 It may seem overdramatic to consider an item just over a decade old a relic of a bygone era. Still, with Sarah Burton stepping down after 13 years at the helm of Alexander McQueen, this exceptional McQueen pink fur coat can be seen as emblematic of the sensational beginnings of her custodianship of the brand. Besides, such a fabulous piece calls for a bit of drama.
When Alexander McQueen, the legendary provocateur of British fashion, died in 2010, there was much speculation about what would become of his brand, which had been such a revolutionary force in the industry. "Lee" McQueen was disruptive, shocking and uniquely brilliant, possessing a dark creativity that altered the course of fashion forever, and his sudden passing created a seemingly unfillable void.
Sarah Burton was quickly appointed as the brand's new creative director — though not without some apprehension. Burton had proved her talent, starting as an intern at the house in 1998 and ascending through the ranks to work directly alongside its founder. But McQueen's genius was irreplaceable, and whoever succeeded him would be subjected to close scrutiny. Burton's first solo collection made clear that she was up to the task, conveying her mastery of the sartorial codes she had learned from her predecessor, now with a distinctly female perspective.
For the Autumn/Winter 2012 presentation, she offered a glimpse of the future through an array of dynamic gowns and coats that appeared to float down the runway, demonstrating an unrivaled manipulation of luxe materials like mink, ostrich feathers and Mongolian lambswool, all of which adorn the exquisite dusty pink coat offered on 1stDibs by London-based dealer One of a Kind Archive. "Burton successfully continued McQueen's legacy of combining artistry with fashion, and this coat exemplifies that fusion," says One of a Kind Archive's founder, Jefferson Ihenacho, "It captures the essence of McQueen's theatricality while embracing modernity, making it a coherent addition to Burton's vision for the brand."
Theatricality is expressed in the commanding volume and movement created by the coat's unique blend of exotic plumage and furs, while the sculpted metal belt that cleaves through the sumptuous fibers is distinctly modern, evoking the mid-century abstract forms that dominated postwar British sculpture. The design strikes a delicate balance of hard and soft textures, reinforced by the futuristic face visor shown on the runway, which luckily accompanies this piece. "It represents a harmonious blend of innovation and tradition," Ihenacho says of the outfit, "mirroring the values that have made McQueen an iconic name in fashion."
After 26 years with the house (a staggering tenure in the fashion world), Burton has left a secure legacy, and her vision is now ingrained in the McQueen brand. Burton for McQueen will join Galliano for Dior and Ford for Gucci in the pantheon of iconic designers leading esteemed fashion houses. And astute collectors will no doubt covet Burton's masterful creations for McQueen, which are, in their own right, irreplaceable.