"It was a name that sounded so sweet, so seductive," says Lady Gaga as Patrizia Regianni, the murderous ex-wife of Maurizio Gucci, in the new film House of Gucci — referring, of course, to her husband's firm. "Who wouldn't kill for that?"
She would, and she did. That is the story told in Ridley Scott's sprawling drama of family mayhem. But how, we ask, did Gucci become a name worth killing for? After all, just over a century ago, Guccio Gucci was simply a guy with a dream. More to the point, though, he was a savvy guy with a dream.
When he opened his first leather goods store, in Florence in 1921, Gucci applied to his new business the insight into the rich and famous he had gained while working as a porter at London's elite Savoy hotel. Seeking to capture the hearts and lira of wealthy travelers, he spoke to them in a visual language he knew would appeal: that of a moneyed equestrian. Thus were born the codes of the house of Gucci.
To those who care (and even to many who don't), the Gucci symbols are recognizable at a glance. They have become the foundation of the brand, indicators of status and style that have nurtured the mythos of that "sweet and seductive" name. Although we can't say that Patrizia would have played nice if there had never been a Gucci loafer to enhance the mystique, we can certainly wonder.
Below, we explore the origins of the codes of Gucci.
---
GG Logo
Consider the GG logo an expression of filial pride. When Aldo Gucci joined his father's business, in the 1930s, it had no easily identifiable logo. So, he set about designing one. Unveiled in 1933, his creation is composed of two interlocking capital Gs, his father's initials, one of them upside down.
Some interpret the design as a variation on double loops of the infinity symbol, while others see in it the simple geometry of Bauhaus, the design movement that prevailed at the time. The function of the logo was also "likely to distinguish and elevate the new materials (like canvas and canapa) that they used due to leather shortages," says Maureen Leto Brewster, a PhD candidate at University of Georgia.
---
Gucci Diamante and the GG Canvas
In the 1930s, embargoes against Mussolini's Italy caused shortages of all kinds. For Gucci, this meant a scarcity of leather. Survival demanded creativity, so the brand innovated, using canapa, a specially woven hemp that was strong enough to use for luggage.
To make the fabric Gucci, it was produced with a pattern of small interconnected diamonds outlined in brown against a tan background, known as Gucci diamante. In the 1960s, this design was printed on canvas with the GG logo added, resulting in the iconic GG canvas still used today.
---
House Web Stripes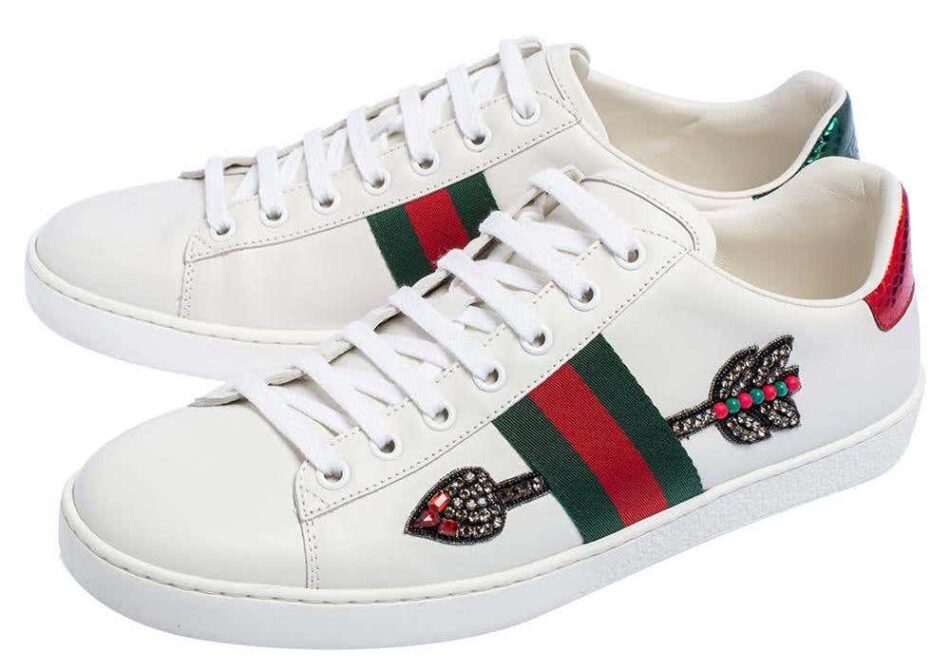 The red-and-green Web stripe was introduced in 1951, after Gucci opened its first store in Milan. The form has an equestrian inspiration, recalling the girth straps used to secure a horse's saddle.
The colors are said to have been chosen to reflect either the colors of Italy or the green of the English countryside and the red of British fox-hunting jackets. By now, though, they're just the colors of Gucci.
---
Horsebit Hardware
Another reference to the brand's equestrian history, the double-ring-and-bar Horsebit has become synonymous with Gucci. Since its debut, on the loafer, the now iconic symbol has appeared on every imaginable accessory, adopted and adapted by the firm's creative directors.
Tom Ford, for instance, reimagined it as a sexy low-slung belt, worn by Madonna when accepting an MTV video music award in 1995. Frida Giannini used it in jewelry and chain purses. And Alessandro Michele, in the new Beloved line celebrating cherished designs of the past, recently brought back the Horsebit 1955 shoulder bag.
---
Flora Print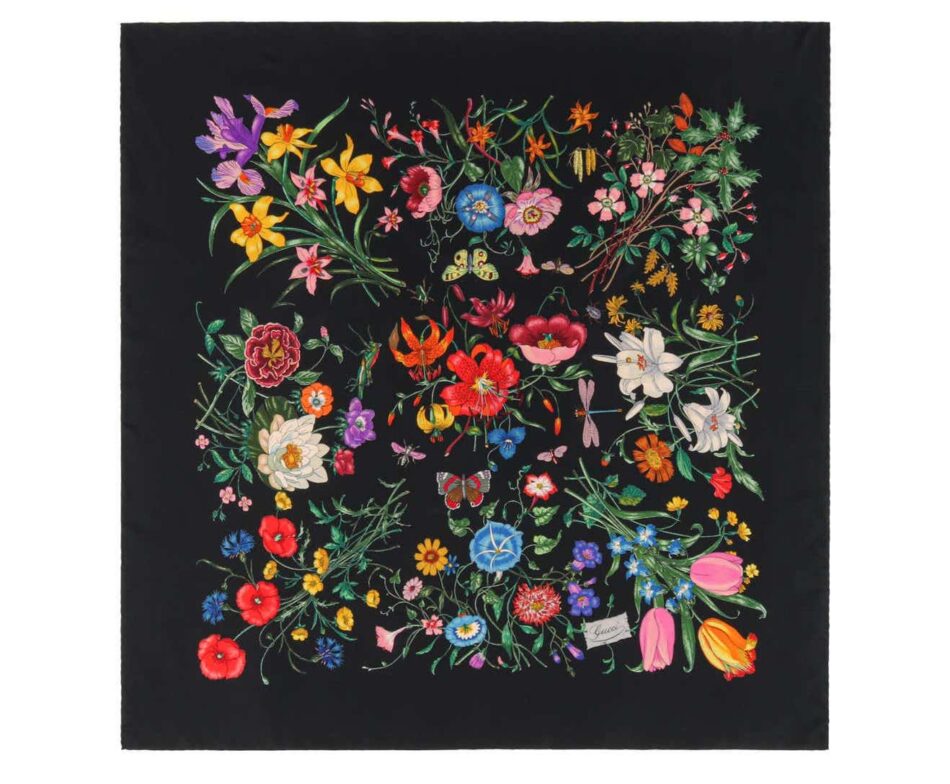 The Flora print owes its creation to Princess Grace of Monaco. In 1966, she popped by the Milan store to purchase a Gucci bag, and Rodolfo Gucci decided to show his appreciation of her patronage with a gift to go with her purchase.
So, he asked illustrator Vittorio Accornero to design a silk scarf fit for royalty. The resulting floral pattern, using 37 colors, was resplendent with daffodils, poppies, butterflies, dragonflies and beetles.
---
The Bamboo Bag
In the aftermath of World War II, Gucci found a solution for problematic leather shortages: bamboo from Japan. The reed was easily available and could be formed into clever little horseshoe-shaped handles. It took 13 hours to make one Bamboo bag. But the slow process paid off.
The purse, which launched in 1947, became Gucci's first "It" bag, seen on the arm of such stars as Elizabeth Taylor and Grace Kelly — not to mention Vanessa Redgrave, in Michelangelo Antonioni's Blow-Up.
---
Loafers
According to legend, during a trip to the United States, Aldo Gucci noticed that a lot of men there wore loafers. It was 1953, and big money was to be made from Americans, especially Americans who sought a bit of that ineffable European sophistication. So, upon his return, Gucci instructed his craftspeople to get working on a loafer and, for a touch of equestrian appeal, to put a horse's bit on it.
This was Gucci's first use of the Horsebit as a decorative element. The loafers became a hit among the world's most stylish men, including John F. Kennedy, Clark Gable and Cary Grant. The shoes are now in the collections of institutions like New York's Metropolitan Museum of Art and MoMA.
---
Jackie Bag
This classic hobo was initially named the Fifties Constance. When, in the early 1960s, style icon Jacqueline Kennedy Onassis was seen sporting the bag, you can just imagine the discussion around the Gucci dinner table: "Constance who?" It was quickly, officially (and wisely) rechristened the Jackie bag.