While her eponymous firm is based in New York's tony Gramercy Park, designer Fawn Galli brings international flair (as well as whimsy) to her interiors. And that should come as no surprise, given her background: She grew up in Mendocino, California; lived in Paris for two years in the early 1990s; called Madrid home in 2002 and 2003; worked for a year after that in Christie's European furniture department, in New York; and currently lives in a townhouse in Brooklyn's Carroll Gardens.
"I always draw from all these influences," says Galli. "The raw nature of rural California, the refined decorative detailing of Paris and the artistic and cutting-edge energy of New York have allowed me to create stunning and magical interiors that are both one-of-a-kind and built around the client."
Having cut her design teeth under the tutelage of such masters as Robert A.M. Stern and Peter Marino, Galli went on to launch her own business in 2007. Since then, her residential interiors have been featured in Domino, House Beautiful and New York Cottages & Gardens. (The last magazine showcased an apartment inside Central Park West's Langham building that she designed from top to bottom, including a peacock feather–covered lampshade she created with the help of a glue gun). Galli is as spirited as her most memorable rooms. Here, she talks to 1stdibs contributor Susanna Salk about what's made her the designer she is today.
---
Tell me about where you're from. Why did you leave?
I was born in Mendocino, California. My parents lived there until I was seven years old, and, then, in 1976, we moved to a farm in upstate New York — trying to replicate the rural West Coast landscape we had left behind — because my mother was from the East Coast and wanted to be closer to her family while she was raising children of her own.
You lived in Paris for several years and now call Brooklyn home. How do both cities affect your work?
After attending college at Northeastern, in Boston, I moved to Paris for two years to take classes in decorative arts at the Louvre. I lived in the 7th Arrondissement, which really integrated me into the spectacular architecture and history of the city. The mixture of the historical neighborhood, charming boutiques and classic design energized me in a very creative way. This combination of these elements and the seduction of a life in the decorative arts made me decide to become a designer.
Paris has really given me the love of beauty, but New York gives me the energy and opportunity to create it. New York is a special city unlike any other I've lived in. People are willing, and want, to take risks with their interiors here.
You like to use animals in many of your projects. Why is that?
Growing up in the natural settings of California and upstate New York really instilled in me an appreciation for the natural world that always surrounds us but is oftentimes forgotten when we live in cities. Where I lived with my family, we were surrounded not only by plant life, but many creatures, too, from lambs and goats to the wildlife that roamed the forest. I try to bring some of this experience to all my projects, to give my urban interiors a more organic vibe. Recently I was able to incorporate into a home a Louis XVI fireplace chimneypiece carved in Breche violet marble and adorned with many natural elements, including lions' heads and floral embellishments. I love placing decorative sculptures of birds, life-size deer, pigs and bunnies in unexpected places. I feel these add a playful touch and help to make the space more livable.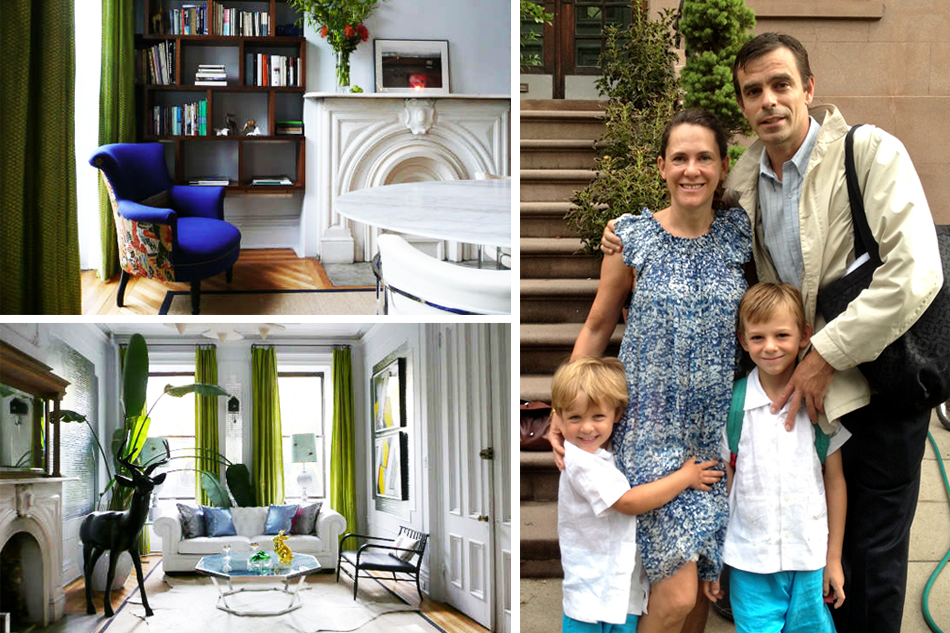 You worked for the legendary Peter Marino. What'd you take away from that experience?
I worked for Peter from 2000 to 2001. During this time, I was really able to learn about artisans as artists, including metal workers, potters and fabric designers from all over the world. Peter works at a very high and discerning level and can create many styles beautifully. The care, refinement and attention to detail that he invests in selecting each piece will always stay with me.
Many describe your work as having a fairytale-like quality. What was your favorite fable or children's story growing up?
My favorite was C.S. Lewis's The Lion, the Witch, and the Wardrobe, although I loved all the rest of the "Chronicles of Narnia" series, too. I like creating an atmosphere that transcends the collected pieces in the room. Taking five pieces that, from the outside, are unrelated but beautiful on their own, and then creating a relationship between them that builds a mood that overshadows the individual parts is my end goal for any project. One of my favorite spaces to date that I was really able to draw inspiration from the "Narnia" series for is a project in Greenwich Village. The client had a beautiful painting, Hide, by Bryan LeBoeuf, which we placed above a console table and adjacent to birch-effect wallpaper. To blur the line between reality and fantasy, we took the woodland theme of the painting and placed acorns on the table below it, making you feel as if they tumbled straight out of the frame.
You worked on the apartment of Robert A.M. Stern, who was your boss at the time.
When he became dean of the Yale School of Architecture in 1998, he asked me to design his New Haven loft in three months — the timeline was accelerated to have it completed before the school year began. Robert wanted to express his depth of knowledge in design through the decor in his apartment. His goal was really to create a party space within his loft for professors and students, to foster an environment for his monthly salons. He has a romantic, passionate and academic relationship with history, architecture and New York. I really wanted to convey this by using a combination of classic mid-century pieces by Jean Prouvé, Mies van der Rohe and Eames, and then pairing these with new classics by contemporary designers, like the Campana Brothers. The final result was a comfortable and dynamic space reminiscent of an updated version of a Gertrude Stein salon, energized by Pop and contemporary art. It was an honor and a great learning experience both to work for him and be his decorator.
What's the most underrated design accessory?
A large, 10-foot-tall palm tree can transform any space, regardless of the decor, into an exotic one, especially in the middle of a jungle of concrete and steel. The most interesting thing about using large-scale botanical elements indoors is that they are ever changing.
If you could create a room for anyone in history, who would you pick and what would it look like?
I would design a room for Yves Saint Laurent, keeping '70s Parisian glam at the forefront of my mind — wild, yet refined, with vibes reminiscent of Bianca Jagger riding a white horse into Studio 54. The room would be built around Saint Laurent's bird bed from Les Lalanne. A mixture of vintage, new and old-world pieces would swirl together to create something timeless, yet cutting edge. It would be perfect for large and wild parties or small and intimate gatherings, and it would fill each guest with a sense of wonder and enchantment.
---
Fawn Galli's Quick Picks on 1stdibs