August 21, 2022"Too many cooks spoil the broth" goes the old adage. That can certainly be true when it comes to creating a home, which may involve an architect, an interior designer, an art adviser, a builder and countless subcontractors. It's a process in which poor communication, differences of opinion and inconsistency of approach among the many "cooks" can wreak more havoc than a burst pipe.
Edo Mapelli Mozzi has solved this problem. A dozen years ago, he set up his London-based development and design business, Banda, to combine all these services under one roof.
The entrepreneur — who married Queen Elizabeth II's granddaughter Princess Beatrice in 2020 — saw, and continues to see, an opportunity in seamlessly blending disciplines, from the financial and logistical through to the artisanal and the creative.
His studio does curatorial work, too. Mapelli Mozzi's team assembles rich and eclectic mixes of furniture, lighting and art, most of it from the 1950s onward. "To create spaces that are distinctive, it's important to find pieces that tell a story," he says.
The result is a refreshing aesthetic bursting with character and invention.
Following his university studies in Edinburgh, Mapelli Mozzi started working in property development, soon realizing the benefits of bringing design in-house. Today, even as Banda takes on increasingly large-scale projects, the team has maintained the individualized, bespoke approach with which it was founded.
This one-stop shop doesn't adhere to a single signature house style but rather to a variety of aesthetics borne out of a collaborative process. This ethos leads to the creation of appealing interiors marked by signature doses of playfulness and plenty of pleasant surprises.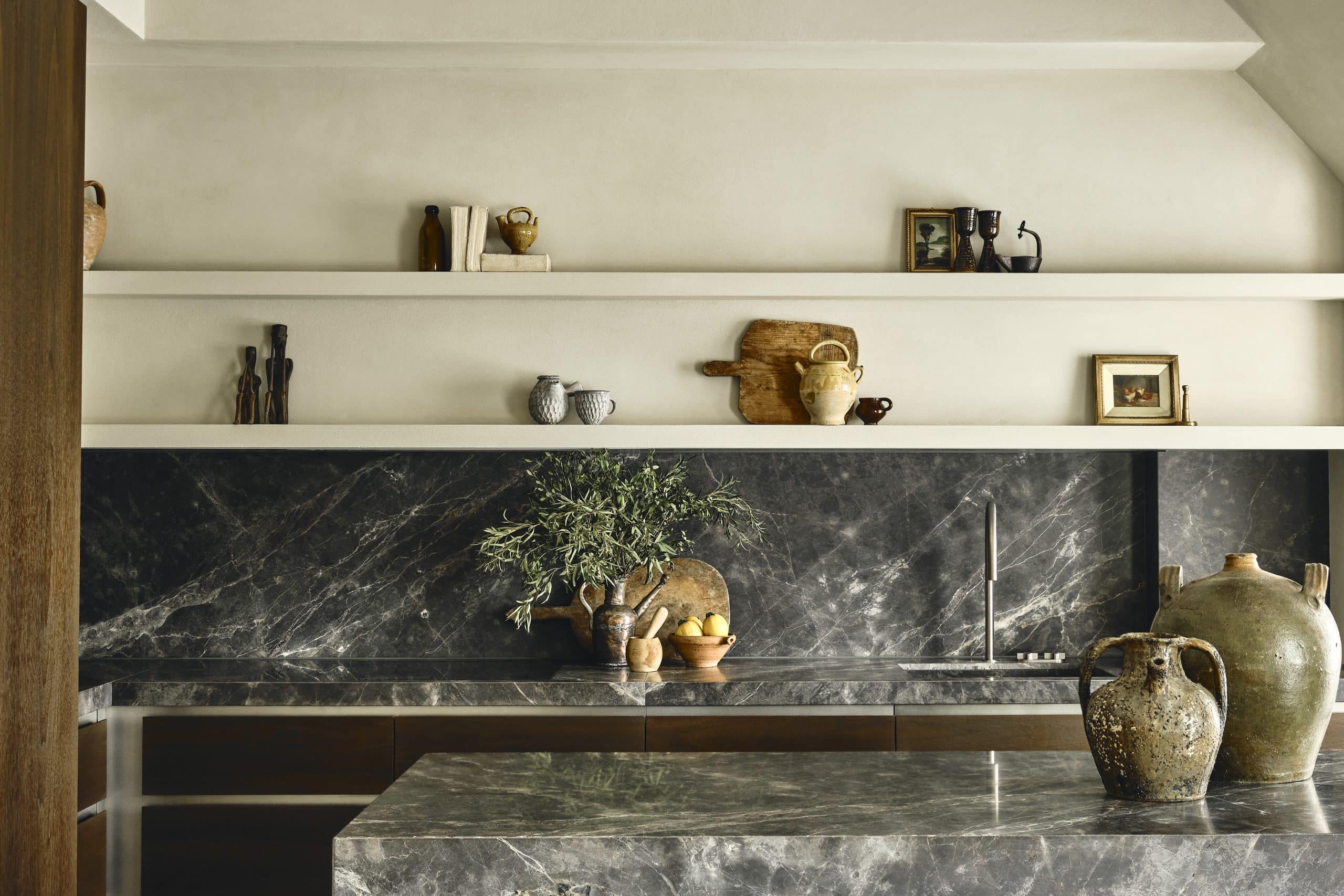 One such surprise enlivens a 2,300-square-foot central London penthouse, where a lofty roof extension constructed using rustic beams transports you straight from the Bayswater neighborhood to the Tuscan hills. "Having recently spent time in Italy, I was inspired to create a 'farmhouse' look," says Mapelli Mozzi. "More than ever, a feeling of escapism and a sense of calm are something we try to manifest within our spaces."
An emphasis on texture is evident throughout the apartment, where oak, linen and marble furnishings contrast beautifully with walls finished in a tactile, sustainable plaster made of unfired clays, sand and pigment.
"It's rare to find such a rustic interior in a city penthouse, but the juxtaposition works so well," Mapelli Mozzi notes. "We couldn't have done it anywhere else in the building because it's landmarked. But the penthouse is a new-build addition, so we had complete freedom. There's a tangible sense of calm here. It was the perfect space to bring in something unexpected."
Furniture and artwork are similarly distinctive. At the center of the main living space sits a sculptural table by Tuomas Markunpoika finished with Moroccan tadelakt plaster. On the wall is an abstract painting by Hayden Alexander, while curvaceous sofas are paired with armchairs by the Brazilian designer Joaquim Tenreiro. In the adjacent dark-gray-marble kitchen are chairs by Pierre Jeanneret.
Banda's innate versatility means that no two projects are the same. An elegant, 1850s three-story stucco townhouse the studio recently designed in London's Notting Hill, for instance, has a much richer feel. There, "bolder colors bring a sense of joy and a maximalist approach," says Mapelli Mozzi. "That was something we were keen to experiment with."
Featuring soothing backdrops of earthy terracotta, bronze, mustard and green hues, the beautiful spaces — some large, some cozier, all perfect for family living — eloquently demonstrate the art of "zoning." Banda used design to clearly delineate areas dedicated to dining, cooking and working within an open-plan arrangement.
"Now more than ever, our homes are a sanctuary from the outside world," says Mapelli Mozzi. "But they're also somewhere we share with family, where we work, exercise and eat. Never has a home had to be so multifunctional."
Like the Bayswater apartment, this townhouse impresses with an array of aesthetic surprises, not least a Meltingpot dining table made from reclaimed plastic by Dirk van der Kooij The monumental, dramatically cantilevered Calacatta Oro kitchen island is overseen by a tubular bronze pendant by Allied Maker, while in the ground-floor library, fluted walnut paneling and bookcases serve as a foil to a beautifully crafted bentwood and cane armchair by Ward Bennett.
In another project, this one a sprawling one-story apartment in a landmarked West London building, Banda's laid-back and serene scheme tells a different story.
"The home has a feminine and delicate intent, with layers of creams and pinks to give a soft feel," says Mapelli Mozzi. "We sourced a variety of contemporary pieces and vintage finds that sit alongside custom furniture designed for this space."
The chairs in the refined dining room are dressed in an inviting Rose Uniacke peach wool, and a textural Dedar bouclé covers a bench. A triangular pendant light from Allied Maker, meanwhile, hangs over a round travertine coffee table by Oliver Gustav in the middle of the living room. The peaceful main bedroom is home to a clean-lined French iron four-poster, draped with ivory-hued hangings, and a magnificent elm-wood desk by Danielle Siggerud.
Going forward, Banda's focus for the rest of 2022 is mainly on private clients, with around 40 projects in the pipeline around the world, including commissions in New York, San Francisco, Doha, Lake Como, Paris and London.
A recently opened Manhattan studio is helping the firm look after its global docket. "It's an exciting time for Banda, as we're building momentum in the U.S.," says Mapelli Mozzi. "We've always had so much support there, and that's grown exponentially over the last two years. We want to be able to embrace the demand for the Banda style and ethos.
"We have done London projects for a lot of American clients who now want to collaborate stateside," he continues. "And we love working with that history."
Edo Mapelli Mozzi's Quick Picks