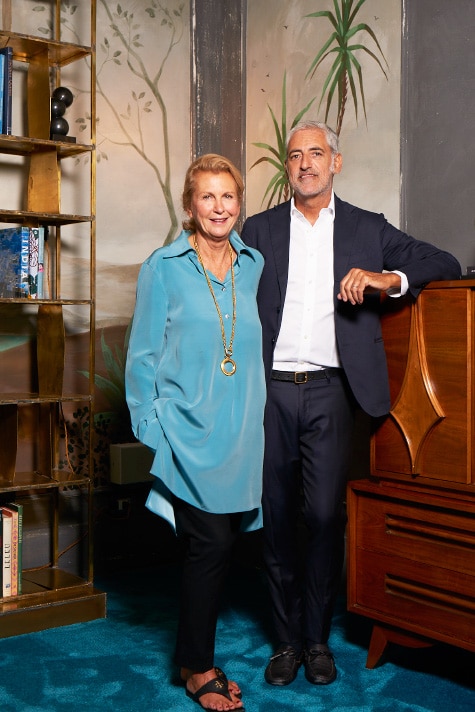 Inside a stately Florentine palace, once owned by the younger brother of Napoléon I and overlooking the river along the Lungarno Corsini, is a shocking juxtaposition. The interior space is decorated with ornate French Gothic Revival–style moldings — surprising amid the Italian Renaissance surroundings of Florence — and houses a collection of covetable vintage furniture, Brutalist sculpture and contemporary pieces curated by husband-and-wife team Alessandra Tabacchi and Franco Mariotti, founders of Flair.
A few years back, the owners of the trailblazing gallery had an equally showy spot on the roundabout at Piazza Goldoni. But, they say, the Frenchness of the new space, including the soaring ceilings capped with decorative molding, helps to exalt their collection of design pieces to the level of fine art.
Mariotti, a native of Florence, studied interior design and cut his teeth as a visual merchandiser in Milan for such brands as Ralph Lauren and Gucci. He and Tabacchi, who worked in the Gianfranco Ferré and Missoni showrooms in Milan, met in that city. They bonded over a shared love of design and, after marrying and moving in together, began amassing an eclectic collection of antiques and vintage decor for their home, with an emphasis on French furniture from the 1920s.
After moving to Florence in 1998, they bit the bullet and opened up shop — and the interiors world took notice. Within a year, the couple's status as tastemakers solidified when Elle Decor editor-at-large Carlos Mota approached them to feature their home in the magazine. What he documented was one brief moment in a constant flux, as diverse pieces like a parchment chest of drawers by R & Y Augousti, a modernist zinc-slab dining table and a late 19th-century Ethiopian chair moved freely from home to gallery and back again.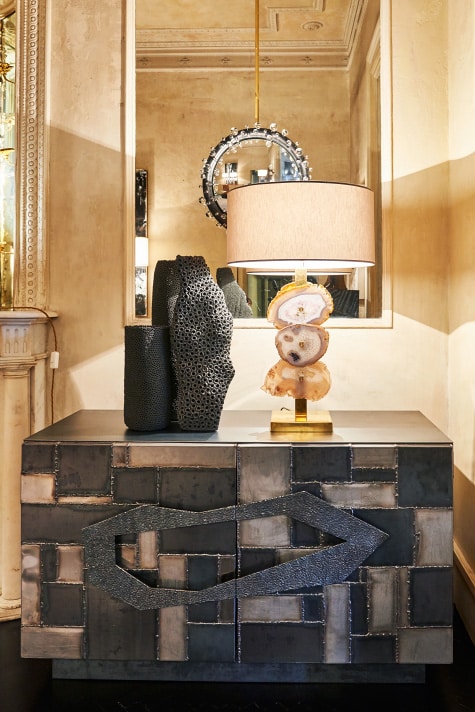 Since then, the pair's taste has evolved, but their reputation for fearlessness in their field is ironbound. They aren't above reupholstering a collector's quality Marco Zanuso armchair in a loud print from an Italian fashion house or repurposing a sculptural panel by French artist Roger Desserprit as a finish on a custom cabinet. The two pride themselves on bolstering the local artisan community by commissioning such unique pieces as well as collaborating on a limited line of bespoke furnishings they label Flair Edition.
Designer Michele Bönan turned to Flair for a 1950s Italian mid-century floor lamp, a black monochrome artwork by Marco Croce and an array of zebra-skin furnishings to outfit the first iteration of the JK Place hotel in Florence, and he continues to source from the gallery for new JK locations in Paris, Milan and Miami. The couple's trademark style can also be spotted in the recently rebranded hotel Portrait Firenze — run by the Ferragamo family and located just a few doors down from Flair on the Lungarno — where the entire lobby is outfitted with sideboards, tables, lamps and sculpture from the gallery.
Tabacchi and Mariotti can usually be found in their luxurious space, consulting with an interior designer on the perfect piece for an important client. Recently, the couple opened the gallery doors to Introspective, to discuss the state of the design world and Flair's place in it.
In what direction do you think design is moving? How will Flair adapt?
Mariotti: The world is moving in an ever-more personalized direction, into niches. Interior designers come to you for your point of view, your style. Over time, ours has become more and more Brutalist in spirit. We aren't looking for streamlined perfection but, rather, pieces that speak to who we are.
It seems that artisan-made has become a buzzword for everything from honey to leather goods to coffee tables. You currently collaborate with Florentine artisans on your Flair Edition pieces. What do you think is the future for artisans working in Italy?
Mariotti: Florence is well-known for its artisan community. It's incredibly important to keep that heritage alive. But helping to develop the work of artisans and to push their work forward so that it evolves is the key to progressing while still respecting — and not being stuck in — the past.
Meet the Couple behind the Chicest Franco-Florentine Design Gallery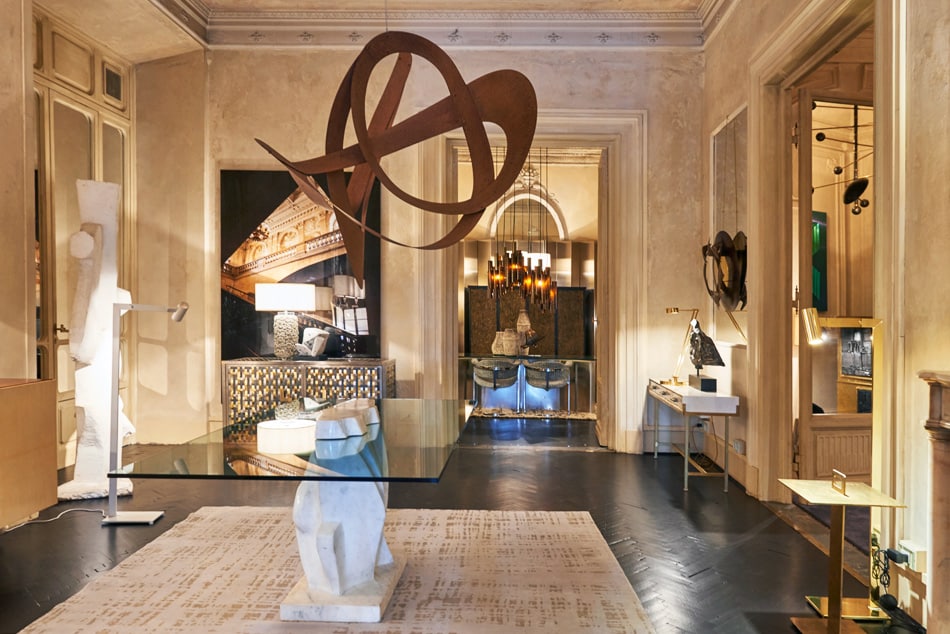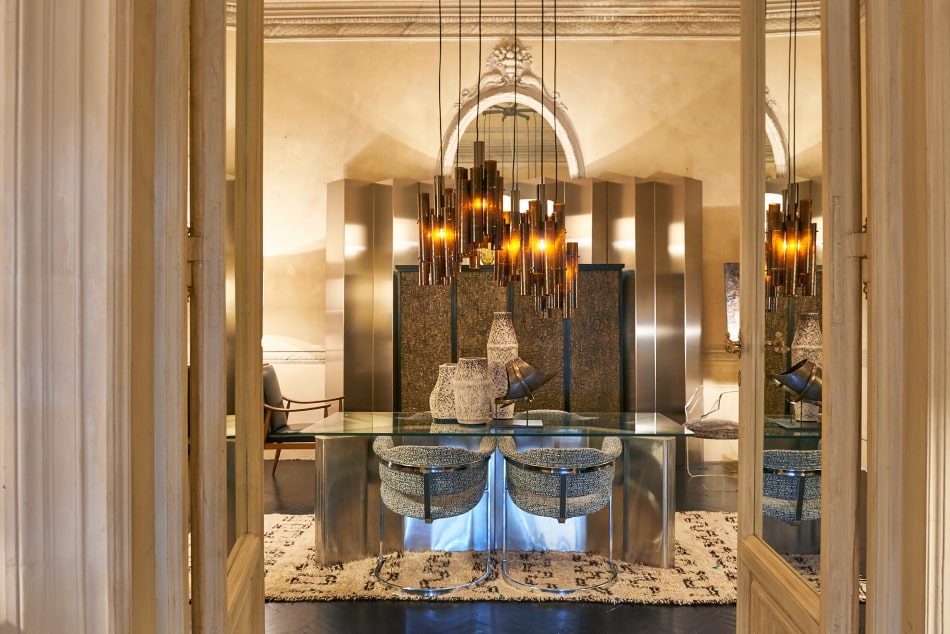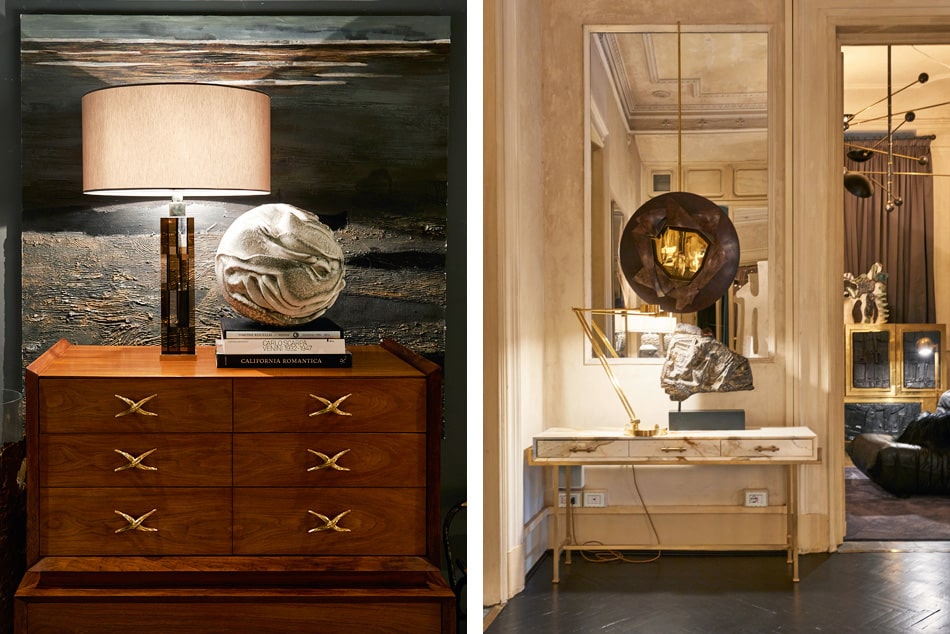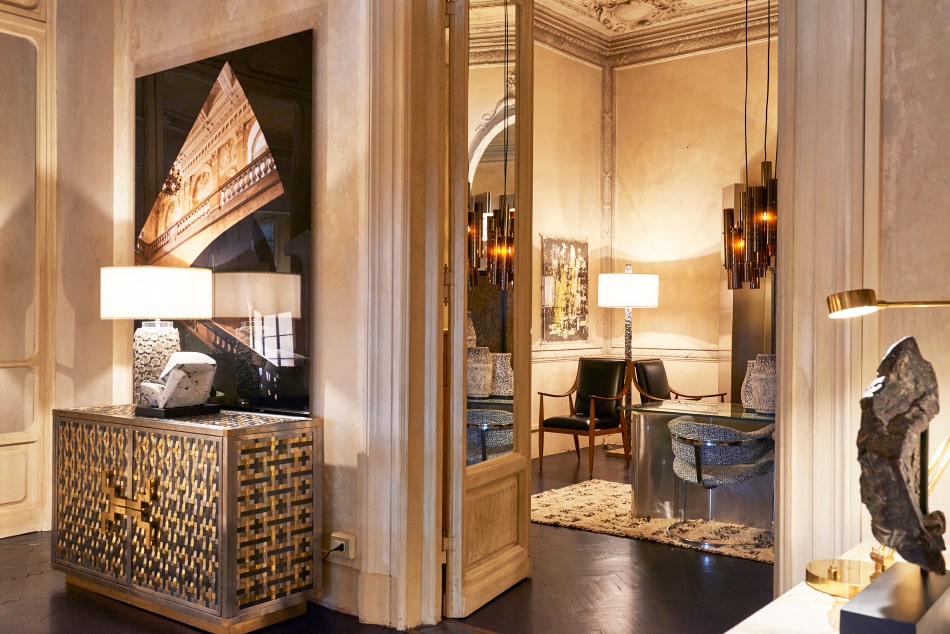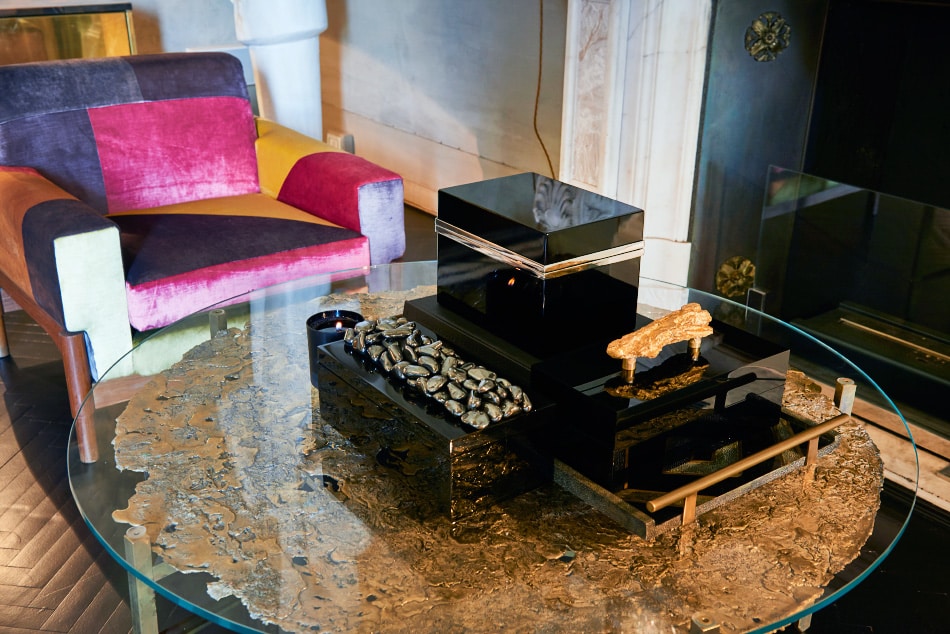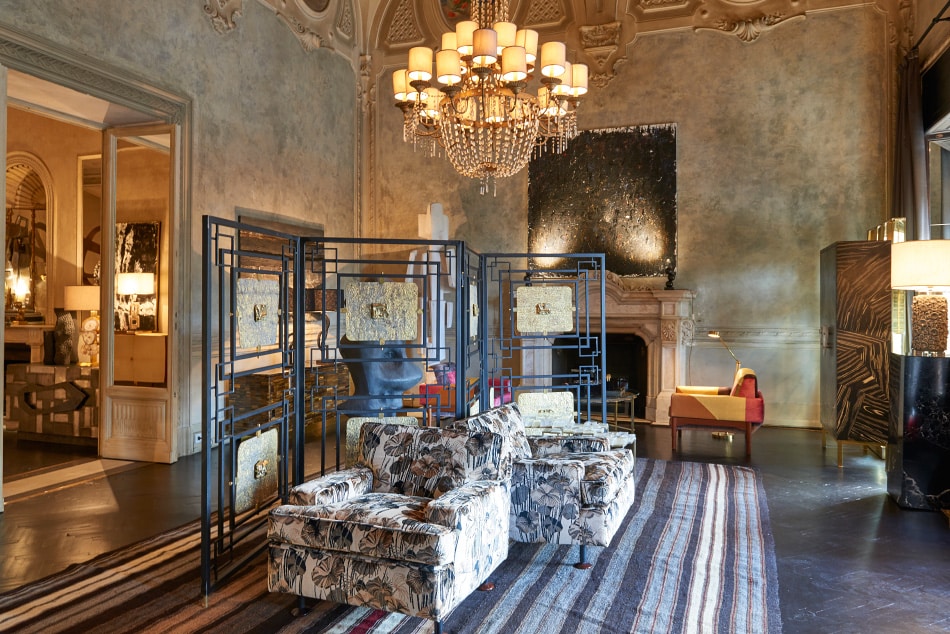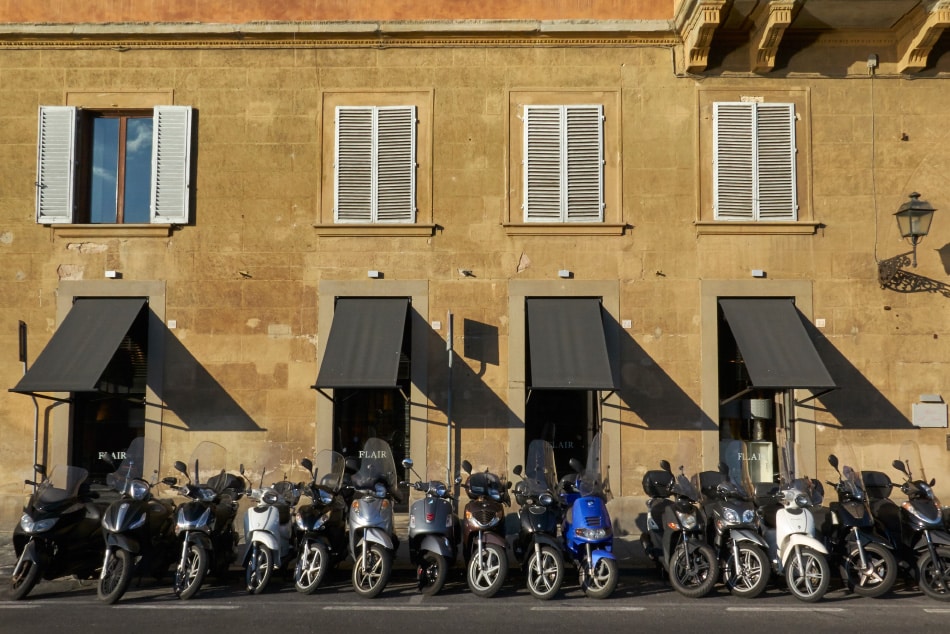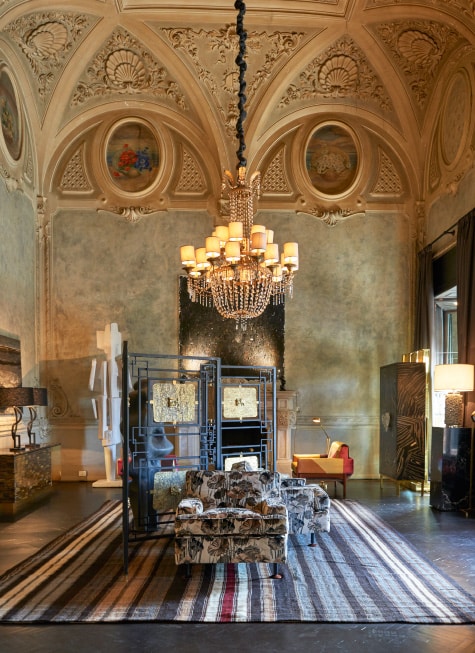 How do you select fabric to reupholster your vintage pieces?
Tabacchi: We continuously collect vintage furniture, as well vintage and out-of-production fabric. When the right combination strikes, which usually depends on the mood or season at the time, we will put them together in a one-of-a-kind piece.
Describe your work process as a husband-wife team.
Tabacchi: We make the most important decisions together but usually are not involved at the same time on the same job. We also travel independently.
Mariotti: We balance each other out for the most part. I also take on consulting jobs, which leaves Alessandra to run the gallery while I'm away. As a visual merchandiser, I tend to always think in terms of presenting an emotional dream. Alessandra is more practical and precise.
How important is travel for developing your collector's eye?
Mariotti: We travel a lot and try to visit as many museums and fairs as we can, and we still keep fashion as one of our major reference points. Recently, we went to the Balenciaga exhibit at the Musée Bordelle, in Paris. It was a retrospective of Cristobal Balenciaga's work presented in the original atelier of Émile-Antoine Bordelle. Also really moving was seeing the sculpture of Karel Appel at the City Museum of Modern Art in Paris.
What advice do you have for young brands just starting up?
Mariotti: Stay true to yourself, and tell your story as much as possible.
---
TALKING POINTS
Alessandra Tabacchi and Franco Mariotti share their thoughts on a few choice pieces.