When director Francis Ford Coppola opened his latest hotel venture a few years back, expanding his portfolio of luxury boutique properties beyond eco-lodges in Belize and Guatemala and a townhouse in Buenos Aires to include a restored palazzo in a largely overlooked part of Southern Italy, I took special notice. This wasn't just because I live in Tuscany and new hotels are part of my purview as a contributor to Condé Nast Traveler and other publications; nor was it  simply that the hotel, in the quiet region of Basilicata (the arch of the Italian boot) was bringing a new sense of  style to a part of the country that had been sorely lacking it, despite the beauty of its UNESCO stone-cave villages, spectacular stretches of coast and wild, forested interiors. My interest was piqued because my husband and I have also turned historic Italian buildings into boutique hotels — and we know the pleasure and the pain of the process.
Hearing about Palazzo Margherita in the months before it opened, I learned that Coppola had set up a particular, and particularly personal, challenge for himself. He'd chosen to rehabilitate one of the grandest and most significant buildings in Bernalda — the tiny town from which his paternal grandfather emigrated to the United States in 1904 — an ornate 19th-century palace that had largely fallen into disrepair and about which locals had all sorts of opinions. To reinvent the historic home as the lovely little hideaway it is now, he turned to his longtime film collaborator, production designer Dean Tavoularis, and to French interior designer extraordinaire Jacques Grange, whose work he had fallen in love with when he stayed at Yves Saint Laurent's Grange-designed home in Marrakech. Coppola felt Grange had captured the informal and familial — but no less luxurious — feeling he sought at the palazzo.
When I visited the hotel, shortly after it opened, the result of the Coppola-Tavoularis-Grange collaboration proved as intimate as it was cinematic, combining old world and new with details both international and specific to the region. I admired the way centuries-old Italian frescoes, restored original marble floors and antique patinas meshed with Grange-designed furniture and neoclassical-inspired finishes. In the interior courtyard gardens, I marveled at the lush plantings of different types of roses and organic vegetables and slipped into the secluded pool hidden behind vine-covered walls. I saw both locals and guests gather for aperitivi in the vintage-styled cocktail bar, with its jukebox of Italian classics and framed black-and-white photos of movie stars, while the open kitchen provided ample space for cooking lessons and a screening room offered on-demand viewings of the director's favorite flicks. I loved that the nine individually decorated suites — several of which bear the names of Coppola family members who occupy them when in residence — feature large, modern bathrooms with antique claw-foot bathtubs and double sinks.
Still, I longed to know more of Palazzo Margherita's backstory. Recently, I had the chance to connect with the legendary director, who shared the tale of his journey back "home," his overarching vision for the property's design and his goal of creating a hotel that feels both internationally luxurious and integrated into the local Bernalda community.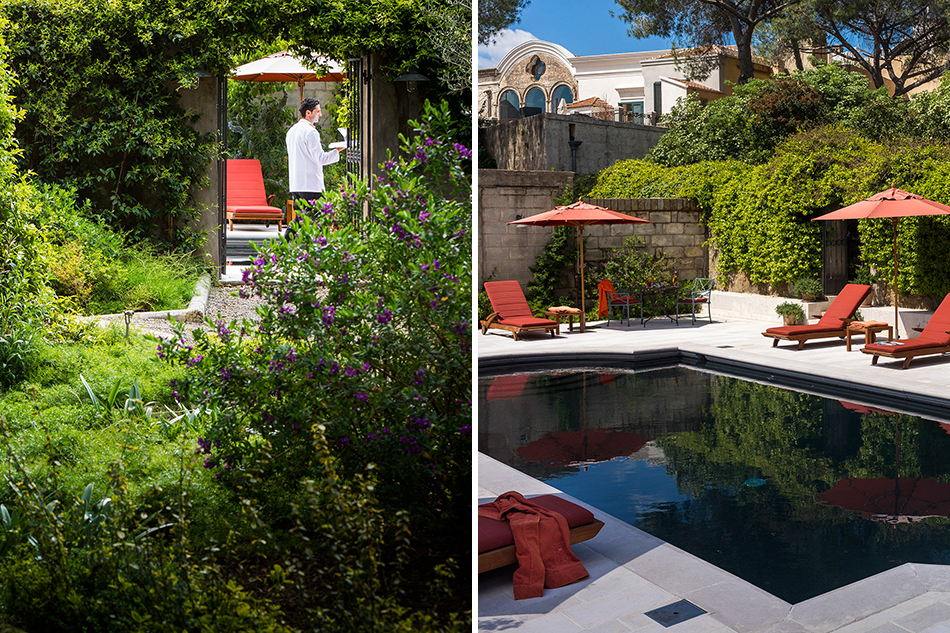 Tell me a little about how your found the specific villa, how long it took and  the process of restoring it.
I'd guess there are three or four true palaces in Bernalda. In Italy the word palazzo, or "palace," first came into use to describe those homes in Republican Rome that were built on the Palatine Hill, which is where the rich lived. I had no need, nor appetite, to have a big home in Italy. But as I had become famous after The Godfather, many friends and "cousins" there thought I should have one. I first visited Palazzo Margherita in the 1960s, because I wanted to see the Festa di San Bernadino  — something like our own San Gennaro festival in New York's Little Italy —  and was invited to see it from the best viewing point in Bernalda, which happened to be the terrace of the palazzo, then still owned by the granddaughter of the original builder.
Though grand, the structure had not really been kept up during the intervening years and thus would be a big renovation job. However, over time the idea of buying the palazzo kept coming into my mind. Finally, years later in 2005, I bought it, and I now love the beautiful restoration we did, the unique internal gardens and the wonderful staff that we have assembled.
Did your grandparents tell you stories about Bernalda? What are your memories of them?
I heard much about Bernalda from my uncles and my grandfather Agostino, who was born there and died in 1946 [when the director was six years old]. He was a colorful character, and my uncles all imitated him. Thus the "myth" of Bernalda bella ["beautiful Bernalda"] was forged in my mind.
What was the design inspiration for the hotel?
It was to be a palazzo with the patina of age. In other words, although a complete renovation would happen, we would keep its original feeling, with the large gardens taking center stage within the beautiful hand-painted palace.
Can you tell me a little about the inspiration for your suite?
I love the North African, Tunisian feel, given that my grandmother had come from there, and I found that it blended into the palazzo's very sumptuous and exotic ambience to create a space that I would be happy to stay in. I love the striking tiled fireplace, the anteroom with a large writing desk where I can work and the terrace overlooking the courtyard and gardens. The walls and high ceilings feature beautifully restored paintings and frescoes.
During my stay, I especially loved the bar and jukebox area, whose large doors and outdoor seating allow it to spill into the street. Can you tell me the inspiration there, as it seemed a really great point for guests to meet locals?
We wanted the people of Bernalda to feel welcome at Palazzo Margherita even though it was to be a luxury hotel, so we decided the Cinecittà Bar would be open to all, with the feel of the bar at the famous Roman movie studio of the same name. It is a very popular place, and I personally enjoy very much hanging out there. This is where the guests, who've by and large never had a real experience in an authentic Italian town, can meet and mix with people from Bernalda.
I noticed that several of the hotel's rooms are named after your children, and I know that your daughter, Sofia, was married there. How much were your kids  involved in restoring and designing the palazzo?
We always go through the exercise of knowing where our children's rooms will be in the various hotels we've created, and Palazzo Margherita was no exception. Sofia gave Jacques direction for her room (one of my two favorites), as did Roman and Gia, my eldest granddaughter. They are all artists, and their ideas and taste are of benefit anytime we create something like this.
Your film library at the hotel is truly incredible. How did you choose the 300 or so titles? Was there an overall theme, beyond a certain Italian slant?
I  based the selection mainly on the films featured in My Voyage to Italy, the great, long documentary Martin Scorsese, who's a wonderful teacher, made about the history of Italian cinema. Each of the movies mentioned in Marty's documentary — which is an extraordinary exposition of great cinematic art — is available for guests to watch in their suites or in the hotel's Grand Salon, which is a large ballroom that converts into a movie theater.
What is your ideal day in Bernalda?
To do nothing. To eat the most fantastic and unusual food, beginning with the huge loaves of bread that bake for 36 hours in the oven, and all sorts of specialties from the region. To relax in the garden and to meet some very interesting guests.