September 17, 2023When Kura Perkins, cofounder of Australian luxury rug brand Art Hide, teamed up with Sasha Bikoff, she told the New York interior designer to give her imagination free rein. The happy result is an eye-popping new cowhide rug collection.
Enabling her vision's spectacular realization were a supply of ethically sourced premium hide, a specially dipped color palette and the latest in stitch-less technology, which Art Hide has termed Fusion. Perkins learned about the Fusion process in Lahore, Pakistan, where Art Hide's production facilities are located and where 80 percent of the world's soccer balls are made. "It's a very sturdy adhesive-and-compression technique," she says. "You couldn't do most of Sasha's free-floating designs with stitching."
As Bikoff, often described as a maximalist for her "more is more" decorating style, saw the artistry involved in piecing the natural hides together, "I thought of patchwork and scrapbooking and quilts," she recalls. "Not your granny's patchwork but patterns inspired by the groovy hippie era and nineteen-nineties Dolce & Gabbana."
The first rug she conceived for Art Hide was Pastiche, a geometric patchwork pattern. Fragments, a riot of irregular polygons, came next. After that, she says, "the story started to evolve, with more intricate, whimsical, nature-driven designs. Everything I do has an element of nature in it."
Mariposa is strewn with Matisse-bright butterflies. Dans Le Bois is a psychedelic woodland fantasy. Funghi is shaped like a Disney cartoon mushroom. Shibori, sporting a Japanese-inspired petal motif, spotlights the indigos and lavenders of Art Hide's in-house dyeing process. All 10 designs in the collection are infinitely customizable in size, shape and color, and available exclusively through 1stDibs until September 30.
Art Hide's palette already contained some 200 hues. Still, say Perkins, "we gave Sasha carte blanche on color. If we didn't have it, we made it for her: bold primary yellows and oranges, a proper purple — colors you need when you're bringing in butterflies."
For her part, Bikoff says, "I wanted a seventies palette that juxtaposed warmth and brightness: indigos and magentas and peaches and avocados, burnt siennas and ambers and turquoises. It's impossible to replicate the colors of nature, but I tried to mimic what I think being in the woods, in a field of wildflowers, would have been like at that time, with suede fringed jackets and rock 'n' roll T-shirts."
Perkins founded Art Hide with her sister, textile designer Bree Hay-Hendry, in Perth, Australia, in 2009, shortly after a trip to Argentina in which she became smitten with a striking cowhide tapestry. The company had never before partnered with an outside designer, and the collaboration with Bikoff was a revelation.
"Sasha's blue-sky creative thinking stretched our imaginations," Perkins says. "We had to figure out how to translate her ideas from pattern to production." Hay-Hendry digitized Bikoff's sketches and worked with her on realizing her designs, employing the Fusion technology, laser burning, the lab-dipping of colors, the application of metallics and other specialized techniques.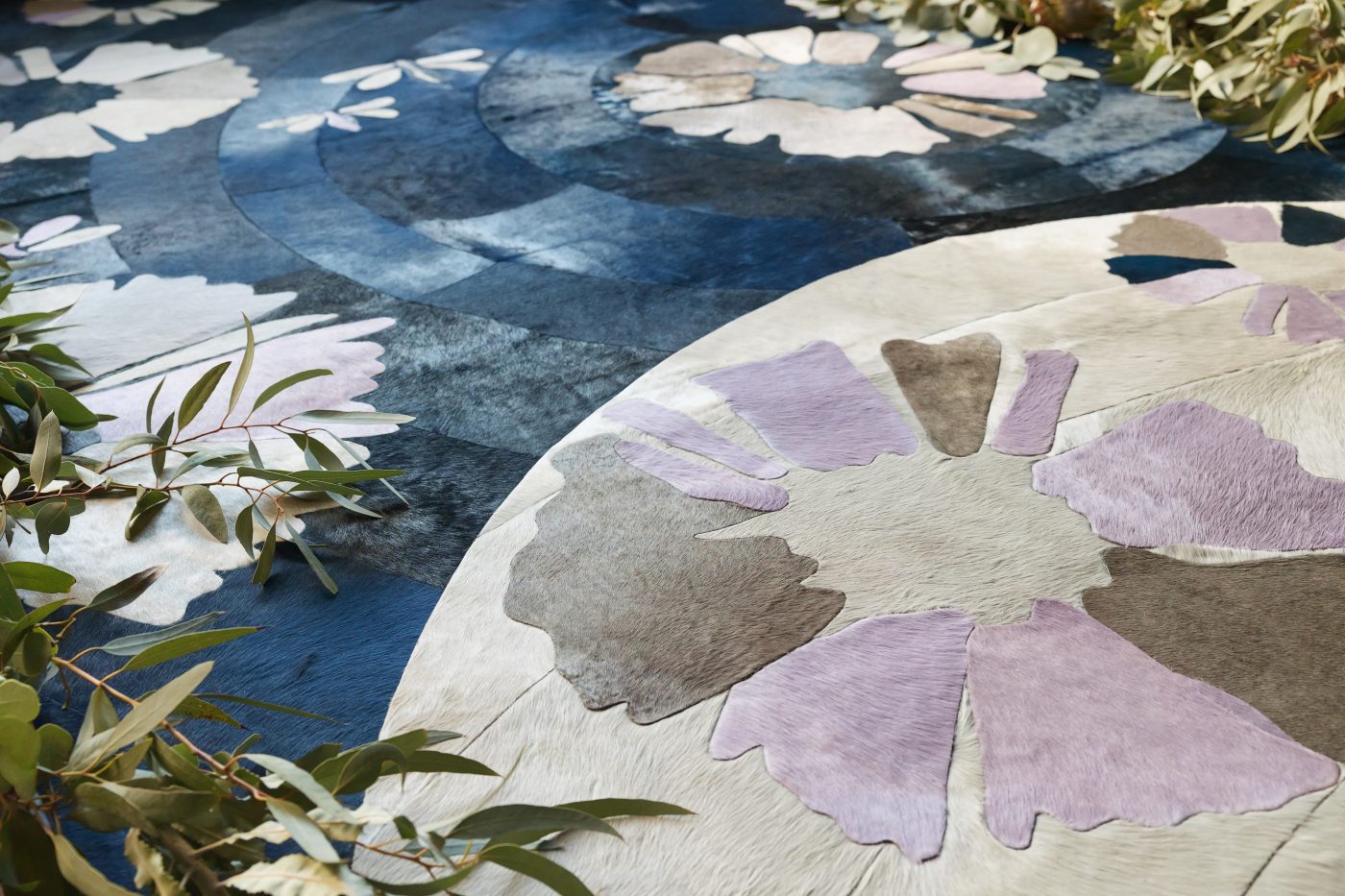 Bikoff's well of ideas is deep, as evidenced in such projects as her outré stairwell for the 2018 Kips Bay Decorator Show House, inspired by 1980s Memphis Milano, which rocket-launched her decorating career, and her ultra-1990s-Miami-style furniture collab with Versace in 2019. All hell broke loose once again in her contribution to this year's Kips Bay, a heavenly pastel fantasia centered on a shell-shaped bed out of which you might expect Botticelli's Venus to step.
"My work comes from a myriad of inspirations mashed up together, from eighteenth-century France and Art Nouveau to nineteen-sixties Space Age and the Memphis movement," says the designer, who studied fine arts and art history at George Washington University and the American University of Paris before establishing her interiors practice a decade ago.
All of these influences and more shine through in her Art Hide rugs. "I'm not a contemporary modernist. Deep down, I'm a classicist," she adds. "I love the past. But being a millennial, I bring a freshness and whimsy to it."