May 28, 2023"Everybody here has fantastic taste. Just not the same taste," says designer Ghislaine Viñas, sitting in the parlor she designed in the Kips Bay Decorator Show House.
Considered the most prestigious showhouse in the country, Kips Bay is back after a three-year COVID interregnum. That's good news for design lovers and, especially, for the fundraiser's beneficiary, the Kips Bay Boys & Girls Club, with its myriad youth programs throughout the Bronx.
Twenty-two designers were given rooms in the River Mansion, at the corner of 106th Street and Riverside Drive, on Manhattan's Upper West Side. Built in 1902, the house, currently owned by philanthropist Sherry Bronfman, is on the market for $24 million.
Riverside Park, just across the street, seems to wrap the 10,000-square-foot house in greenery. But Greenwich, Connecticut, landscape architect Janice Parker brought more flora to the house's front door, where pleached linden trees are flanked by emerald green arborvitae, skip cherry laurel and English ivy, creating a welcoming, verdant approach. 
Inside the house, there's lots of plant material and images of plants on wallpaper, carpets and upholstery. Biophilia — identified in our 2023 Designer Trends story as a heightened appreciation of all things natural, from leafy shades of green to materials drawn from the earth — pervades. After COVID confinement, a connection to the world outside is turning out to be an almost universal theme.
But if that theme ties some of the rooms together, the through line isn't something the organizers set out to achieve. In typical showhouse fashion, designers were asked to do their thing without considering the decor of adjacent rooms. That's why it helps to view each room in isolation — and with the benefit of Viñas's wisdom about other people's taste. Here's a look at some of our favorite spaces.
Elizabeth Graziolo, of Yellow House Architects, had one of the toughest jobs: designing a foyer that people would linger in. It helps that Nacho Carbonell, the Spanish-born architect who made the chandelier (its steel frame coated in a plaster containing sand and bits of fabric) sees "objects as living organisms that come alive and surprise you with their behavior." If that's not worth sticking around for, there's the hand-carved bench from Les Ateliers Courbet, the center oak table from Lerebours Antiques and Ode to Unordinary Opulence, an absorbing painting by Canadian artist Marie-José Robinson Kafri. The pieces might seem a bit modern for the Beaux Arts setting, but Grazioli disagrees: "We think we actually enhanced the traditional architectural language by using current materials to make it feel contemporary." Her firm also outfitted the stairwell, where a squiggly trail of white plaster leading the way to the second floor is a subtle intervention.  
Designer David Scott's parlor, located off the foyer, is a symphony of well-selected pieces, including a center table from Bernd Goeckler with chairs from Liz O'Brien and a Bugatti parchment chair from Milord Antiques. Nathan Orsman designed the architectural lighting; Scott then chose ceiling fixtures and sconces from Maison Gerard. Pierre Frey fabrics cover the walls and windows ever so tastefully. But that doesn't mean there are no surprises. Jean-Marie Fiori's patinated-bronze chimney piece in the shape of a tiger-like creature (part of a 2003 edition of eight, from Twenty First Gallery) turns one end of the room into a funhouse. Scott says his inspirations included the 5th Avenue apartment Jean Michel Frank designed for Nelson Rockefeller in 1938. Calling his contribution to the showhouse "curated, artful and calm," he notes, "Sure, there's some traditional upholstery, but there are lots of contemporary lines."
Timothy Corrigan was entrusted with the so-called family room, located next to Franklin's space, but his version is hardly a place for watching RuPaul from a La-Z-Boy. Real trees (from Blondie's Treehouse) stand as sentinels, while elsewhere nature appears in the form of hand-painted florals on Corrigan's silvery Spring Fever wallpaper. Among the designer's gutsy moves was hanging an abstract painting on that figurative background. Another unusual touch is the serpentine medallion over the David Duncan Studio chandelier. The neutral tones of the custom Kyle Bunting rug keep the focus on the real showstoppers, including a magnificent tiered chinoiserie tulipiere — available on 1stDibs from Perim Lang Antiques and sporting brass flowers from the estate of Tony Duquette — that is displayed on a center table from Quatrain (Fournir Collections).
"We know it's not how most people would do a parlor in this kind of house," says Viñas, in something of an understatement. For one thing, the custom coffee table, made for the designer by Brooklyn Millwork, is painted French's-mustard yellow. But it's not even the most attention-getting aspect of the room. That would be the Shock, 2005, by Jill Greenberg — a political protest photo of a crying child over the fireplace or the wallpaper, a houndstooth that Viñas had Wolf-Gordon blow up "to make it more contemporary." Mounted on the paper are familiar items rendered in felt by artist Mark Mulroney. "He's very wacky. It's fresh, it's fun," says Viñas. Accessories bought on 1stDibs include a floor lamp designed by Ben & Aja Blanc and a couple of ceramic side tables by and from Bari Ziperstein, aka BZIPPY.
The den — by Kesha Franklin, of Halden Interiors — has lots of plants (some growing, some not) and lots of suggestions of plants, starting with the Italian Murano glass Lotus chandelier from Cosulich Interiors & Antiques. The leaf pattern of the custom carpet from The Rug Company and of the Kravet fabrics used for the Shade Store window treatments continues the theme. The brass, horsehair and velvet stools by Konekt from Studio Van den Akker add just a bit of the surreal. Studio Van den Akker also supplied the bronze Vortex cocktail table by Yann Dessauvages, the wool wall art by and the "Volcano" series sculpture by Jojo Corväiá. "After everything we've been through, nature makes us feel calm, embraced and protected," Franklin says. "I wanted to lean into that. I think the plants are one reason people say the room makes them happy. I'm glad I trusted my gut."
Wesley Moon brought in his longtime cabinetmaker, Top Notch Millwork, to craft a kitchen's worth of cabinets, their doors finished in decorative plaster by LaPolla Designs. Then, working with Hyde Park Mouldings, he devised an intricate crown by placing one elaborate molding on the walls and another, eccentrically, on the ceiling. He did that, he says, "to create an element of surprise and to reference the irreverence of the postmodern design that was so prominent in the house from its nineteen-eighties renovation." The molding may be the most unusual thing in the room, but the tile surfaces of the island are also unconventional. Distractions from cooking include a pair of Apparatus pendants and a painting by Richards Ruben, a California abstract expressionist, over the fireplace. The wallcovering is a Holland & Sherry cork.
"Greece, where my family is from, was part of the Ottoman Empire for centuries," says Bill Georgis, of Georgis & Mirgorodsky. And in that world, "it's all about hospitality: Everybody welcome, all appetites sated. That's how I was raised, and that's the vibe." To achieve this vibe in the house's dining room, Georgis designed a waney-edged dining table of two-inch-thick claro walnut, which nestles perfectly into the curve of his Bombola sofa for Maison Gerard, with a couple of custom poufs providing additional seating. The second-century Roman torso of Hercules in front of the window is from his own collection. To its left is a coromandel screen from Meg Braff Designs. The niche beyond the main room is a hookah lounge, something probably not part of the original mansion.
Jay Jeffers designed a library around a swoopy desk (resembling the work of the young Wendell Castle) made by Aaron Poritz — an artisan based at the Brooklyn Navy Yard — and purchased from Cristina Grajales. In a room that already has a lot of horizontal lines, Jeffers added one more, painting the bottom two-thirds of the walls etruscan red and the upper one-third gray, wittily taking the dividing line across the dust jackets of a tier of books. A vintage leather sofa by Walter Knoll, an Arc armchair from Cuff Studio and a 1960 Philip and Kelvin Laverne Boucher coffee table round out the main seating area. Fireplace tools by Christophe Côme are from Cristina Grajales.
Mary McDonald used a bedroom to showcase her new Shell Grotto wallpaper, which Schumacher will launch next month. That might have been enough pattern for a less confident designer, but McDonald added a patterned carpet by Patterson Flynn, also her design; patterned drapes over the bed; and patterned window treatments, created by the Shade Company with Schumacher fabrics. The shell-like Naiad ceiling light, from Liz O'Brien, is made of hand-painted plaster, bringing a touch of the handmade to a very orderly room.
"A small space takes a lot more work," says Neal Beckstedt, who decided to turn the house's wine room into what he calls "a room for solitude." But it's not room for doing nothing. It's a "drawing room," Beckstedt says, punning on the presence of a drafting table and a generous supply of pens and pencils. The first design element he chose — the green-and-white Artistic Tile floor — established the palette. The next big piece was the Swedish secretaire, from Dienst + Dotter, "colorful but with a warm patina." Like most of the furnishings here, it's approximately the same vintage as the house, making this the River Mansion's only period space.
Designer Clive Lonstein wanted to have as much fun as possible with a compact space. Luckily, "small bedroom equals very large dressing room." So, he created "a place where you might get ready for the Met Gala," he says, explaining, "The first thing you need to know is that it's not a walk-in closet. You only have your favorite pieces out. You curate it." And you could also have a friend sitting on the banquette, having a drink as you get ready. Seating from Anthony Lawrence-Belfair and Atelier Viollet tables mix it up on a Beauvais carpet. The Louis Vuitton suitcase is from Stair's Incurable Collector via 1stDibs.
The full-length mirror is an original piece by ceramic artist Peter Lane. "The room doesn't have great light or windows," Lonstein says, so, he used strips of antique mirrors in place of crown moldings, making the ceiling seem to float.
The bathroom, whose decor will remain in place after the showhouse closes, had to be functional. "It can't be a fantasy," says designer Ahmad AbouZanat, of Project AZ, "but there's still a lot of room for creativity." His goal was to delineate two separate zones within the space. Both employ hand-painted brick tiles from Fireclay Tile in matte and glossy finishes. But the white-tile section is sleekly modern, with a matching vanity and mirror designed by AbouZanat. The brown section, he says, is reminiscent of the countryside. Some of the tiles run horizontally, staving off monotony and complementing the wooden shutter above. The spalted sycamore Maelstrom table from Caleb Woodard pits curves against the shower's grid.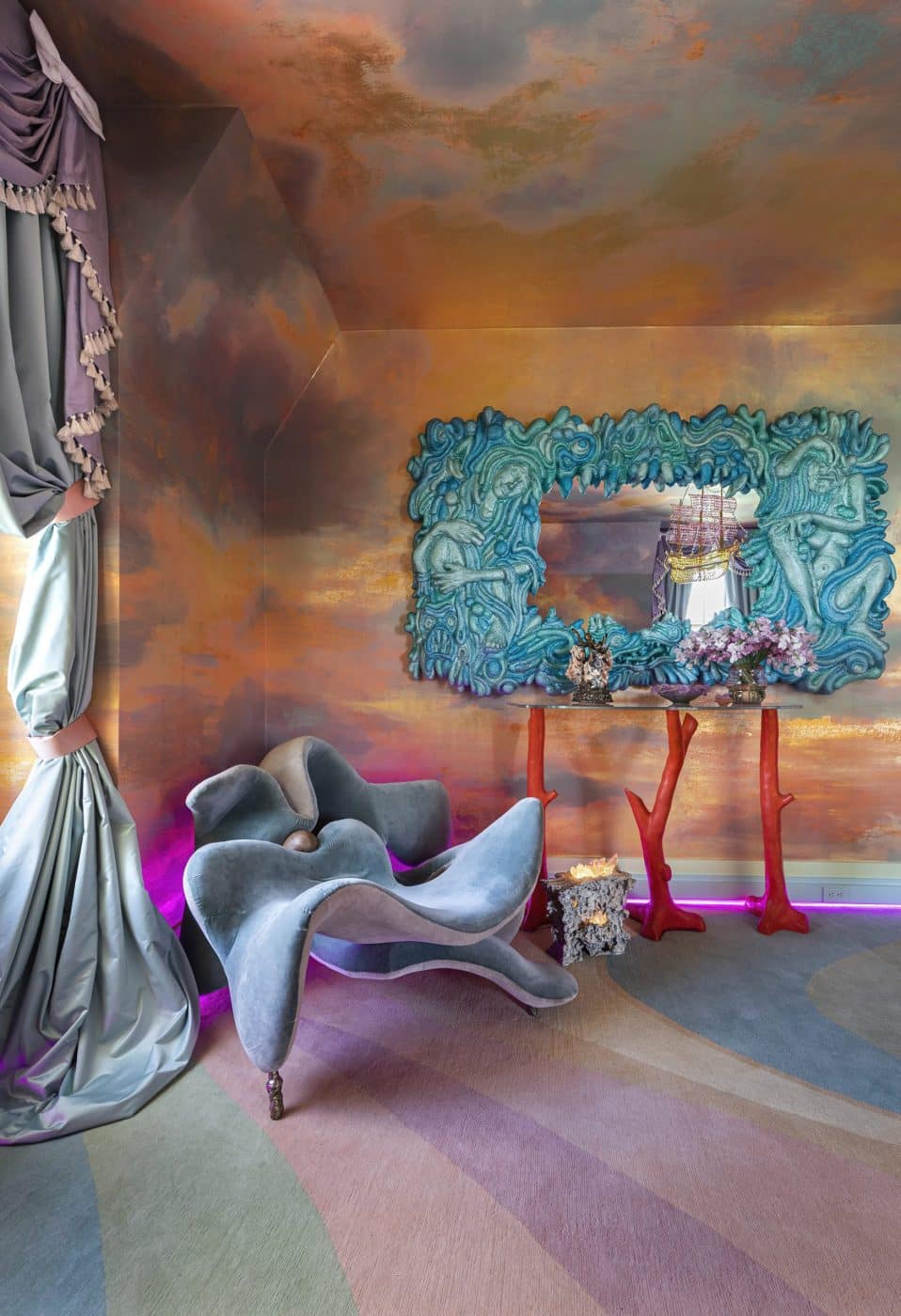 "Psychedelic is a good word for the room," says designer Sasha Bikoff, whose scheme for the primary bedroom was inspired by a dream she had about Y2K — the turn of the millennium — as a teenager living on Manhattan's Upper East Side. The surreal items in the dream include a neon pink vegan-fur rug and a custom, inflatable, shell-shaped bed in iridescent vinyl, made by John Pomp Studio. Part of Bikoff's line for Versace, the ship chandelier appears to be at sea, thanks to the wallpaper of pastel clouds over gold leaf. Misha Kahn's velvet and bronze Ammonoid Epsilon chair and Chris Schanck's ornate The Eye of Little God mirror, and photos of Stephanie Seymour and Christina Aguilera by Sante D'Orazio (all borrowed from Friedman Benda) help complete the dreamscape.