June 9, 2019A few decades ago, when Renny Reynolds was the most sought-after florist/event designer in New York, with clients like Diana Ross, Yves Saint Laurent and Giorgio Armani, Janice Parker managed his studio. "All day long we made beautiful things — for a party at Studio 54 one night, a wedding at Rockefeller Center the next," Parker says. The job taught her to work with plants, and she was hooked. But the event business involves working nights and weekends. Parker decided she'd become a landscape architect, so she could have regular hours.
Famous last words. Running a successful firm — Janice Parker Landscape Architects, based in Greenwich, Connecticut — isn't exactly a nine-to-five proposition. Parker begins her days early, often meeting with clients before they leave for work, and ends them late, presenting complex projects to town boards and planning commissions.
Most of Parker's projects are for homeowners seeking terraces and pools and pergolas and firepits and outdoor seating areas — the works. She has no signature style; her goal is to echo the design of the clients' houses, which can range from very traditional to ultramodern. "Architects are often asked to bring the outside in," she explains. "I get asked to bring the inside out."
When getting to know new clients, Parker says, "one thing I always ask is, 'Where were you happiest on vacation?' I want them to feel like they're on vacation every day, if possible." She also asks their favorite colors, sometimes persuading them to be adventurous. "On a hot summer day," she points out, "everything more than 150 feet away goes gray, except for reds and yellows. So if you want a vibrant garden you have to use those colors."
But her job involves far more than aesthetics. As a licensed landscape architect, she is an expert on everything from stormwater management to the turning radii of trucks to soil composition to the impact of construction on existing vegetation. In addition, climate change is impacting many aspects of the job. Especially on waterfront properties, she now designs features that will help protect houses from rising waters, "something we never used to think about." Even knowing what will grow where has been complicated by global warming; "zone maps" are constantly shifting.
An environmentalist, Parker is a trustee of the New York Restoration Project (Bette Midler's organization), for which she helped plant hundreds of flowering cherry trees along the Harlem River. Her charitable work has also included designing for the Kips Bay Decorator Show House. In 2017, she did a terrace garden with Chinese-inspired elements, which she called Bamboo Court; the birds of paradise plants (strelitzia) she used there now dominate her conference room in Greenwich. They're growing so well, "they're about to break through the ceiling," Parker jokes.
Letting plants do their thing — "working in tandem with mother nature," as Parker puts it — is how she sees her job. "If you set things up right, she'll do all the work," Parker explains, adding that, unlike architecture, which has been described as frozen music, landscape constantly evolves.
A Manhattan native, Parker spent her Renny Reynolds years living on the Bowery, where she created a garden out of a junk-filled backyard.  (While working for Reynolds, she began taking landscape courses at night. She set up shop as a landscape designer in 1984 and later became licensed as a landscape architect.) Since then she has designed scores of city gardens — including a Tribeca rooftop with a planted labyrinth and many townhouse backyards. "I've had clients say that with a nice backyard, even a small one, friends come over more, they sit outside and talk."
A great part of Parker's work, however, is in Connecticut. With suburban properties, she takes care to avoid suburban clichés. "Our designs work against the sense that you're on just another plot in another subdivision," she says. "We're always trying to bring in something less formulaic, something that keeps you from sensing where the property lines are."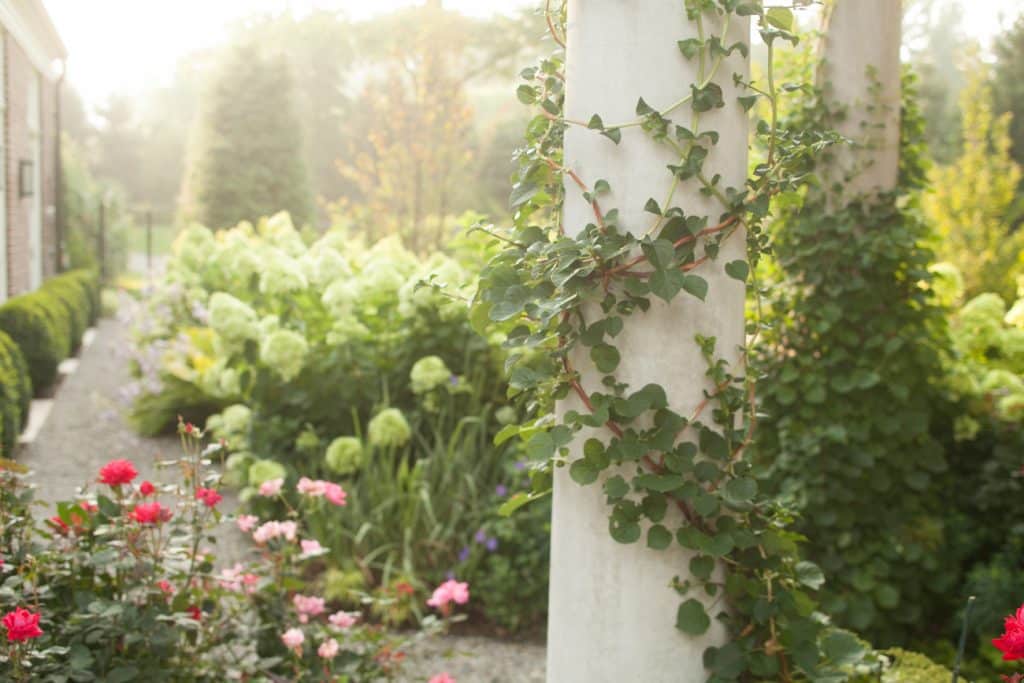 To hide the fencing around one rectangular lot, she planted long hedge rows of 'Limelight' hydrangeas, evergreens arranged in layers and 'Coralburst' flowering crab apples. She divided the remaining space into zones with distinct functions: a kids' play area, an outdoor living room, a dining area, a firepit to sit around and talk, a pool and then another firepit, far from the house. Parker's clients and their guests may not walk all the way out past the pool, but the second firepit becomes a visual focus at night. "I always think about how a backyard looks after dark," she explains, "because the person who is paying for the whole thing often isn't home during the day."
Designing around a large barn-like home on an old apple orchard in northwestern Connecticut, Parker honored the property's agrarian roots. She replaced ornamental plantings clustered around the house with rolling lawns punctuated by fieldstone walls, fruit trees and sugar maples, all of which blend in with the environment. Parker prides herself on her sense of place. "An architect can plop a new house down," she says, "but landscape architects come from the ground up, so we have to understand the site."
A client with a house on the Long Island Sound bought two flanking properties and wanted a way to link the three lots. Parker created seating, recreation, terrace and dining areas, using a consistent language of beige-painted wood and flagstones set directly into grass. She also added a chicken coop and a bocce court, with granite boulders on a nearby lawn mimicking the bocce balls. But her favorite addition may be the walled vegetable garden. As with many edible gardens she's done recently, she made sure this one had a table and chairs for alfresco dining. "It's the Call Me by Your Name thing," she says. The shabby-chic estate in Lombardy on which that movie is set "looks like the gardener left five years ago," she explains approvingly. "The grounds are completely uncontrived. But there's furniture right out on the unmowed lawns, and people sit and eat and drink." The lesson: "It doesn't have to be a polished, manicured space to be inviting."
Going outside to sit on a lawn is nothing like going outside to watch TV, Parker says, referring to the popularity these days of weatherproof TVs. It's a trend she's resisting.
A garden doesn't need to have every bell and whistle to be successful, she says. Over the years, in fact, clients — several of them strict editors of her work — have taught her discipline. "In the process," she notes, they "helped me grow.
"When I was younger it was all about what I was going to do. Now," she adds with confidence, "it's more about what I'm not going to do."
Janice Parker's Quick Picks