Home is where the heart is. And the heart resides with family and, by extension wherever our parents are. It's this existential connection and the cognitive dissonance that arises when parent and home seem gravely misaligned that Sarah C. Butler explores in Frozen in Time (Glitterati), an elegiac photographic narrative of her visits to see her mother over the six years before she died, in 2015. A 38-year-old fine art photographer and Maineiac who grew up on Mount Desert Island, Butler had been estranged from her mother through most of her 20s when, concerned about the older woman's declining health, she forced herself to bridge the divide between them. The book's quiet, haunting, highly detailed images, shot with a large-format camera, reveal as much about the daughter as they do about the mother and the melting of their mutual alienation.
Powerful as the images are, they can only tell part of the story. In an elliptical epilogue, Butler fills in some of the rest. She is, however, straightforward in stating that she had harbored a grudge against her mother ever since her parents' divorce, when she was eight. Her mother then moved with Butler and her younger sister to a house about a mile from the one they had shared with her father, and where he remained, on the sprawling waterfront estate of his parents. Butler's fixation on the rupture of her childhood idyll must have been painful for her mother, who, Butler concedes, tried to give her daughters the kind of affection she had never received from her own remote Brahmin parents.
Butler's mother loved animals, especially horses — she was a keen equestrian — and her great dream was to live on a farm. After her daughters left the nest, she and her second husband acquired a ramshackle 19th-century Maine homestead overlooking Penobscot Bay that had sat abandoned for 25 years. Their plan was to renovate it themselves, like a young couple just starting out in life, even though Butler's mother had the resources to have the property professionally refurbished.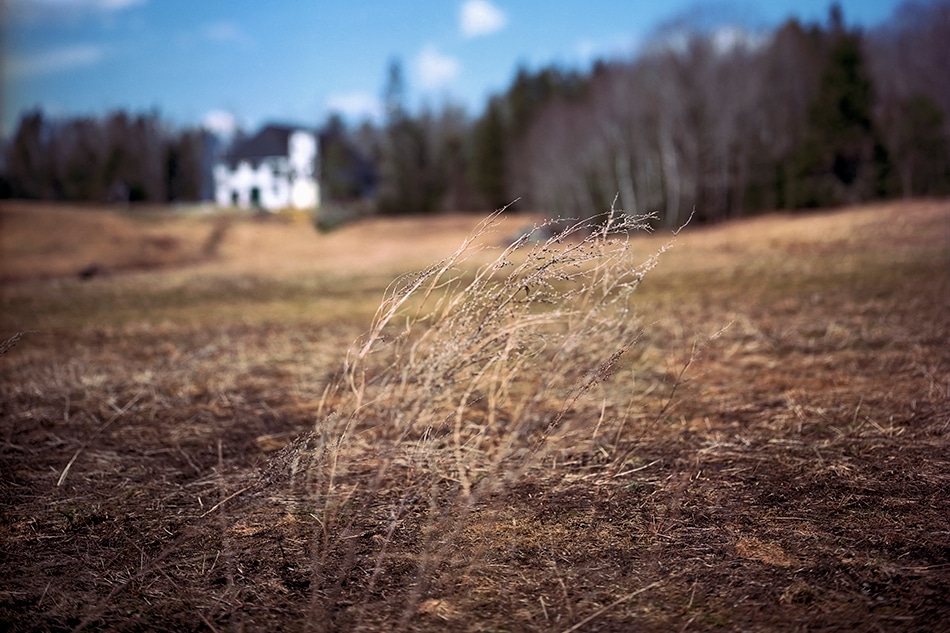 It was a beautifully restored farmhouse, then, filled with family antiques, that she expected to find when she showed up eight years later. Her mother, Butler notes, may have rejected the formality of her own upbringing, but she never "lost the airs and attitude of that background" and always seemed a woman who "glide[d] through life with elegance and grace." Hence, her horror in finding the house practically bare of paint, the roof partially caved in and part of the foundation jacked up with flagstones. "I wanted to run as I always had. Instead I photographed."
Controlled distress permeates those initial woebegone images. The one on the book cover reveals an entry hallway with a wide-planked wood floor parched of polish and a big swath of wallpaper missing from the back wall. More disturbing is the single crutch propped by the sidelight and the block of wood nailed to the door edge as a kind of do-it-yourself security bolt. Another early image, a double exposure of the clapboard siding's peeling paint with a reflection of empty bottles along a window ledge, screams desolation. But also among those early pictures is one of a closet lacking a proper wall, in which hang two perfectly preserved party dresses that once belonged to Butler and her sister.
In the photographs from those early visits, Butler and her camera are treated at best with ambivalence. The only glimpses of her mother are of her hands, feet and the back of her head. Over time, she allows herself to be photographed, mostly in profile or through glass. Halfway through the book, Butler presents a clue to the decrepit state of the house, an image of her mother's reading glasses and a solitary goblet with a trace of red wine on the top of the stove titled 10 a.m. Alcoholism is the unseen specter in this house.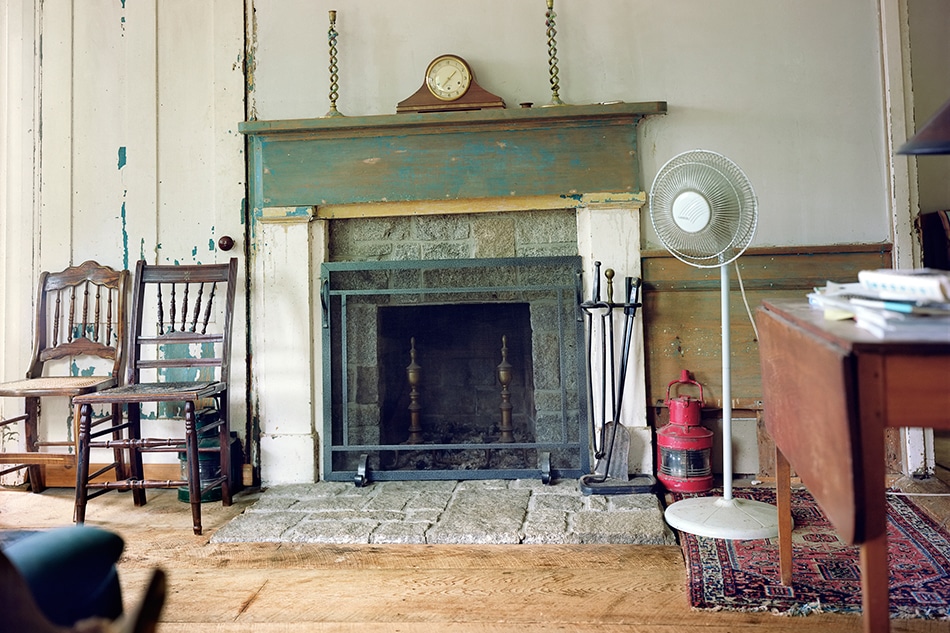 And yet. There are photos of chicks being raised in an old cardboard box, horses grazing in the field, a faithful German shepherd resting by her mother's feet and a fat black cat curled up on a dilapidated armchair that Butler tells us ruled the roost. This is a working farm. Seedlings sprout on a disused oven. A vegetable garden is carefully planted, its bounty reaped. Lilacs bloom. Things get done. Butler's camera shows us that. The judgmental focus of a daughter's lens widens to see her mother in a world of homely joys.
In the book's later photographs, Butler presents beauty in the ravages of life, weather and time. Near its end, she gives us two similar images: in one, called Moment of Connection, she sits on the grass beside her mother, who has her eyes closed and hands clasped on her waist as she reclines on an inexpensive lawn chaise but appears to grin along with her daughter at some inside joke; in the other, My Greatest Fear, Early September, 2010, cropped much closer and with Butler absent, her mother is in the same pose, but her facial expression is as serene as a corpse's. Dread permeates the picture.
Butler writes in her epilogue that over the course of her visits, the mother whom she had so long felt betrayed her became a great, and funny, friend. She also became a midwife to her birth as a true artist. (Butler may have already enjoyed some success as a photographer, but this book is her breakthrough.) Yet what is most uncanny and profound in these images is that the house that seemed beyond repair, that filled Butler with alarm and likely embarrassment, provided the balm that restored the connection between mother and daughter. Frozen in Time documents a crumbling house, but also a real home where heart was found.
---