Jasper Morrison. Marc Newson. Tom Dixon. Nendo. The brothers Bouroullec. You might have never heard of these now-legendary design names were it not for Giulio Cappellini, a man who's at once a new-talent scout, an aesthetic clairvoyant and a renowned designer in his own right.
Born in 1954 in Milan, Giulio began working for his family's eponymous furniture business in 1979, after graduating with a degree in architecture from the Politecnico Milano. At that point in time, the company (which was then more than 40 years old, originally founded by Giulio's father, Enrico) operated as a designer and producer of its own line of fairly traditional pieces. But in the 1980s, in his role as managing director, Giulio earned the company newfound global recognition, moving it away from more staid pieces and in a significantly more contemporary direction, expanding its size and its purview to include lighting and art-furniture pieces that were more aesthetic objets than functional furnishings.
Giulio's successful reinvention of the company owed largely to his knack for finding new talent and then launching it under the Cappellini brand name. Frequenting design schools to scout thesis shows, for example, and visiting the studios of up-and-coming artists, Giulio not only jump-started the careers of a fleet of young international designers, he also gave Cappellini a shot in the arm, adding significant new creative cachet.
With Giulio at the helm, Cappellini has spent the past three decades producing highly collectable pieces — Morrison's Thinking Man's chair (1988), for example, and Marcel Wanders's Knotted chair (1996) — that now sit in the permanent holdings of such institutions as the Museum of Modern Art, in New York; the Pompidou Center, in Paris; and the Victoria and Albert, in London. Last year, the family sold Cappellini to Haworth, a design company that focuses mostly on office furniture — but Giulio retains creative control, and that has given his company both the financial capital to increase its global market share and the independence to continue making its own autonomous aesthetic assessments.
Giulio, who still works as a designer, architect and art director, in addition to his position at the company, sat down with 1stdibs to talk about some of his career highlights, as well as the importance he places on mentoring new talent.
---
Tell us a bit about the influence of your education on your work and career.
I studied architecture at university, but a crucial career moment came in the middle of my time there, when I had the opportunity to work in the studio of Giò Ponti, the great Italian architect and designer. From him, I learned about obsessive attention to detail and the desire to always offer something new.
What have been some of the high points of your career?
Travel helped me meet new and unknown talents in design and then gave me the opportunity to launch them into a much larger market. Virtually all have become stars of contemporary design. This is, for me, a great satisfaction.
What are the Cappellini creations that you have been most proud of, both those you designed yourself and that you oversaw?
There are many products that are linked to the history that is behind them, but the pieces that I am most proud to have collaborated on are the Thinking Man's chair by Jasper Morrison, the Revolving cabinet by Shiro Kuramata [1970], the Wooden chair by Marc Newson [1992], the Thin Black table by Nendon [2011] and, finally, Bong — a type of side table — which was designed by me in 2004.
You have helped launch numerous careers, including those of Morrison, Newson and Marcel Wanders. Tell us about how you find new talent and nurture fledgling designers.
There is no system that I use to discover new talent. Everything stems from our meetings or from watching the evolution of sketches and prototypes. The choice of designers with which to collaborate always comes from the heart without looking at what others do. Now, I often go as a visiting professor to various design schools and universities around the world, and I have the chance to meet so many new young talents. The choice is always instinctive and not tied to marketing strategies or business. Only then can you truly innovate together. Sometimes you get the product after a few months from the first meeting, and sometimes it takes years.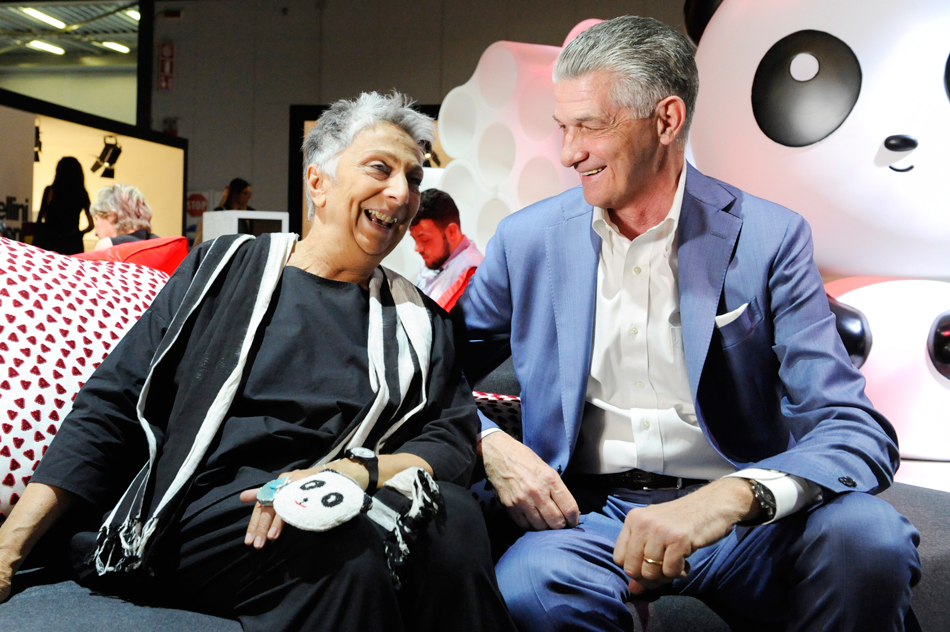 Who are the rising talents you're most excited about right now?
Today we have new young designers in Italy, like the innovative Lanzavecchia + Wai, who are very promising, indeed. They usually only do interior and exhibition projects that are poetic and experimental, so I was interested in challenging them with furniture projects.
How do you inspire new designers, like Lanzavecchia + Wai, when you ask them to head into a previously unexplored discipline?
I tell them to work with great passion and professionalism and, above all, freedom to try to better understand the spirit of a different genre or medium in their own way.
How much do you design yourself nowadays? Which contemporary and past designers inspire you most?
I design some products, but sometimes what I like to do most is to work on the global business projects, from product selection to the image and identity — including package and graphic design, and even the advertising campaign — for a piece. My masters are the Eameses and Jasper Morrison. I love the Eameses for their global vision of interiors. They liked to mix their own contemporary design products with objects coming from all over the world — rugs from India, candles from Morocco. They had a very innovative and forward-looking vision even 50 years ago. As for Morrison, I love his attention to detail and his respect for the materials he uses. The proportions of the objects he designs are perfect. The Thinking Man's chair was the first product we worked on, and it was the beginning of a long history. Jasper is not just a designer for Cappellini; he is a good friend. When we get together, we speak for maybe two hours about products, and we spend the rest of the day on global strategy for Cappellini.
What is your vision for the company now that it has been bought by Haworth? How do you see its future?
Cappellini is now part of a large international group. The future of Cappellini will continue to be the same as it always was, but with an increasingly global place in the market. Not only does Cappellini have to produce beautiful objects that make people dream and smile, it has to defend and increase its cultural role in design history — a very exciting next project.
---
Giulio Cappellini's Quick Picks on 1stdibs