Ed Godrich and Rupert Hunt still clearly recall the moment they decided to go into business together. They were sitting in a pub in Knightsbridge, London, in 2003, both in their mid-20s. "We said, 'We don't really know what we want to do, but let's do it together,' " recounts Hunt. Adds Godrich, "I remember saying to Rupert, 'Under no circumstances are we having an interior design business.' "
Fast-forward 17 years, and you realize something didn't quite go according to plan. Now known as Godrich Interiors, the company they cofounded is one of London's most discreet, and successful, decorating firms. Sought after for their adaptable and often theatrical style, Godrich and Hunt boast an impressive list of residential clients, including jeweler Theo Fennell, musical theater maestro Andrew Lloyd-Webber and numerous British pop stars, Robbie Williams among them.
Godrich counts Williams as a good friend and explains that the majority of the firm's VIP commissions have come through word-of-mouth. Several celebrities have also been directed toward him by his husband, Johnny Bergius, a particularly well-connected real estate agent.
As business partners go, Godrich and Hunt are especially close. They have known each other since their early years in high school, they share a London pied-à-terre, and they have country houses less than 30 minutes from each other in Shropshire, near England's border with Wales. Prior to founding their firm, Hunt worked in corporate finance for Dresdner Kleinwort in both London and Hong Kong. Godrich had already dabbled in interior design, working for Kelly Hoppen, among others.
When asked why he didn't see himself continuing in the decorating field during that years-ago pub conversation with Hunt, Godrich says, "I didn't think I was equipped to do it successfully. My brain was a bit too scattergun." Joining forces with Hunt, however, provided the perfect grounding. While Godrich oversees the design team, Hunt brings his acumen and experience to the financial and organizational side of things.
Initially, their business plan was to represent the work of other creatives, from glass artists to jewelry designers to lighting specialists. They set up a showroom in a huge warehouse in Fulham, but the venture did not last long. Within a year, they had been approached by a friend to help him decorate his home — and what a home! Venn House, which dates to the late 17th century, is a grand redbrick country pile in Somerset with Corinthian pilasters and balustraded parapets. They filled the rooms with a mix of English antiques and mid-century Scandinavian furniture in rosewood but weren't able to complete the decor. "Our client didn't live there long because his circumstances suddenly changed," recounts Godrich. "Still, it eased us into working on heritage buildings."
For Hunt, the switch from operating the showroom to designing interiors was something of a financial no-brainer. "The design jobs provided cash flow that was much more reliable than the other type of business we were trying to set up," he says. "So, the firm sort of morphed naturally."
Over the years, they have taken on the odd commercial commission, such as the small but stylish Marianne restaurant in Notting Hill. However, their main focus has been residential work, including numerous London homes as well as a Venetian palazzo and a house surrounded by lush gardens on a former farm close to Santa Eulalia, on Ibiza. The design concept for the last of those, says Godrich, was to create something "utterly unique—something that looked like Andy Warhol might live there with his more conventional brother."
The Ibiza home's most striking decorative feature is an immense 16-foot-long daybed covered with a plethora of pillows in white, fuchsia and pale gray tones, set slap-bang in the middle of the living room where you might otherwise expect to find a coffee table. The idea is that people can sit around its edges and talk to others on either side of them or to those in the surrounding chairs. "The house is always full of guests, and we had to provide a solution so everyone could socialize together," explains Godrich. "It's one of those things where we were like, 'Well, we're pretty sure it's going to work, but we're not one hundred percent sure.' However, it's been really successful." The same space is given a distinct dose of irreverence by a bar assembled from pieces of church furniture and a cross on the wall formed by framed vintage Playboy covers.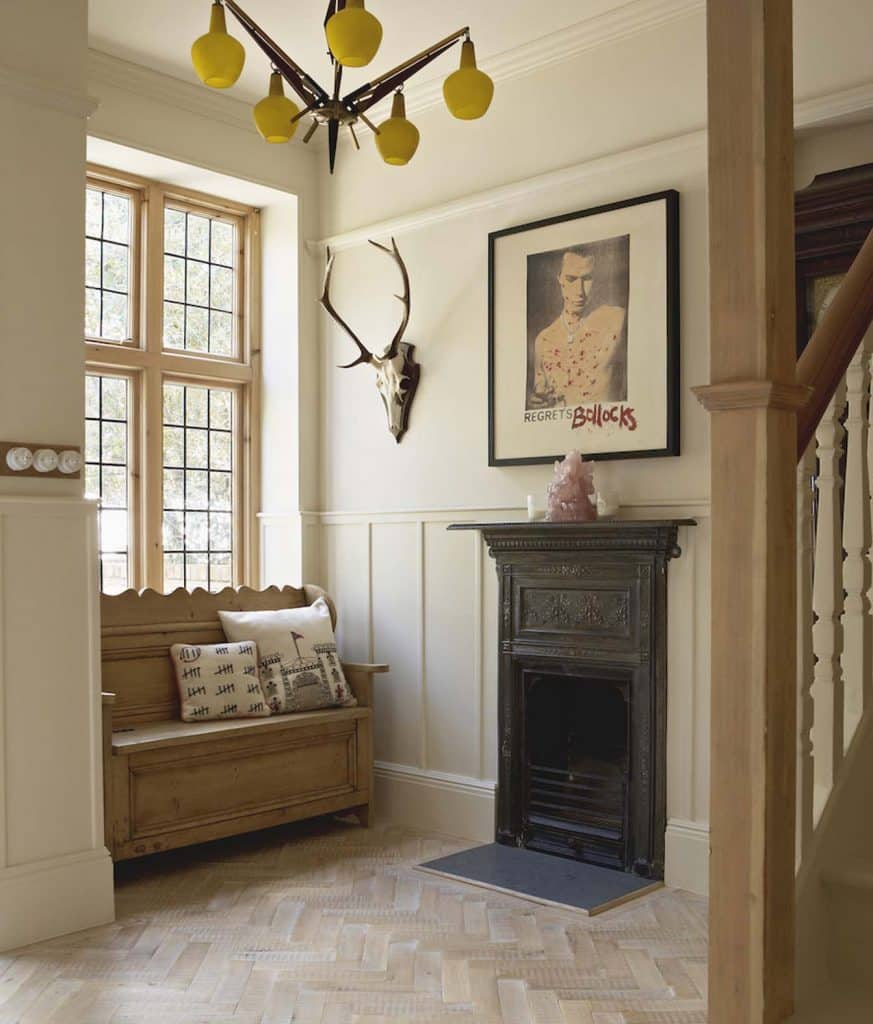 Whatever the location, the firm's interiors generally feature both a touch of daring and a certain quirkiness. "My brain has a quite obscure way of working," says Godrich, "and I'll always throw in curveball items." In the music room of a family home in Southwest London's Wandsworth, he installed curtains made from an exuberant floral print fabric from Christian Lacroix. At the Cotswolds country home of the same clients, visitors are greeted upon arrival by a huge Michelin Man standing next to a luminous ALOHA sign on the wall.
Eclecticism is another element Godrich firmly embraces. Items are often deliberately mismatched. The set of eight wooden spindle-backed chairs in the Wandsworth house's dining room, for instance, is made up of six similar but slightly different Ercol models. For Godrich, it helps to loosen up a scheme and to make it feel more natural. "We want to make it look like the client has lived in the house for a long time," he explains.
Situated in a former Art Deco warehouse in Acton, the two-bedroom London pied-à-terre he shares with Hunt was originally two separate apartments that they knocked together to create just under 2,000 square feet of lateral space — quite a rarity in the British capital. There can't be many homes decorated in such a whimsical and intriguingly curated way. On the living room wall is a huge M sign from a McDonald's, underneath which stands a pair of clown-like Lego figures. "I've got quite a lot of large-scale Lego pieces," Godrich admits, "much to Rupert's annoyance, because they're always lying around the office." Other items in the apartment's shared spaces include a 1980s triangular French console table, a dining table composed of a marble top set on an industrial Italian base he found in a reclaimed furniture shop in Wales and a set of teak coffee tables designed by RS Associates for EXPO 1967 in Montreal. The shelving unit in Godrich's bedroom, meanwhile, is peopled with dozens of carved wood figurines made by Swedish artist Sven Gunnarsson in the 1980s. "They are some of my favorite things," he says.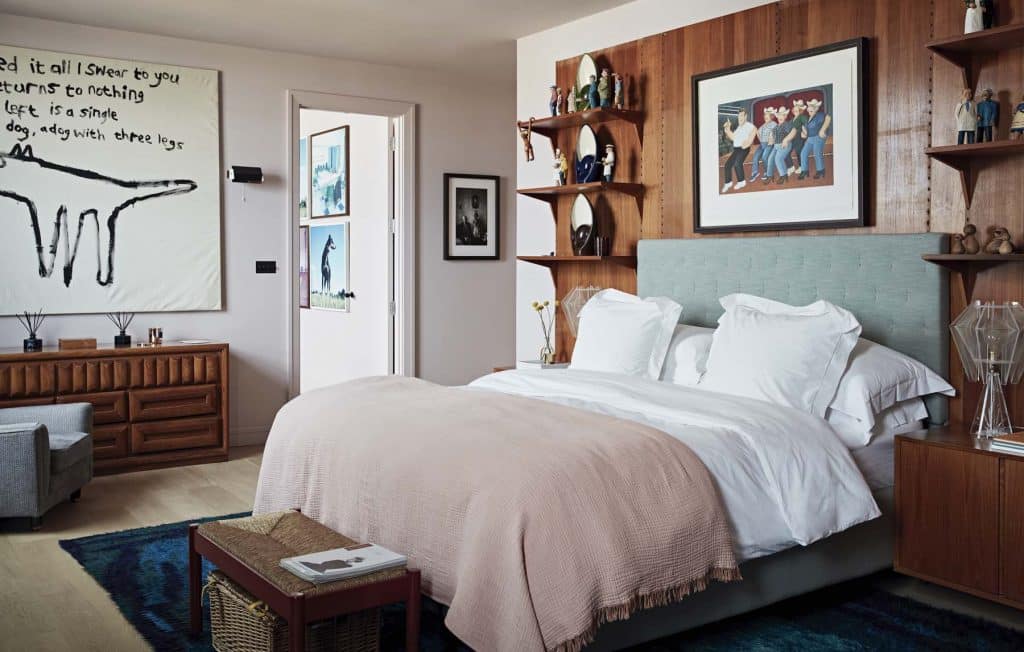 But then, Godrich seems to have a passion for things in general. Among the items he collects are the extremely colorful paintings of the London-based artist Christopher Page and oversize advertising paraphernalia. He also has what he estimates to be close to a million small plastic toys and figurines dating from the 1950s to the '90s. They are all housed in his studio in Shropshire and organized by size and style in hundreds of drawers. "Anything unusual catches my eye. I'm like a magpie with something shiny," he quips. "I get teased all the time in the office because I always want to create some kind of collection for each project. It's like an obsession."
---
Ed Godrich's Quick Picks