August 22, 2021Chinese-born, Oakland-based Hung Liu is the first artist of Asian descent to have a solo exhibition at the Smithsonian's National Portrait Gallery. The achievement is bittersweet. The show — titled "Portraits of Promised Lands" and opening August 27 — was to be a celebration of 50 years of work, bringing together 50 of her multilayered figurative drawings, photos, paintings and collages. Instead, it will be a posthumous tribute, as the vibrant 73-year-old Liu passed away on August 7 after a short illness.
The late artist came to the United States from Maoist China at age 36, and issues of displacement and empathy figured prominently in her life and work. But "Portraits of Promised Lands" is not a trendy nod to immigration or the pursuit of the diasporic dream — American or otherwise. Liu's work presents a stunning visual overview of the artist's arduous, poetic, mostly firsthand engagement with human hardship and resilience.
Liu's source materials were primarily old photographs: her own shots of the countryside of Mao's China, but also pictures of Chinese orphans, prostitutes, peasants and the last imperial family found in vintage albums and rare historical archives that escaped destruction as "un-revolutionary" or bourgeois.
Although it was her distinct gift, realism was not Liu's style. The works on view are mélanges in which the artist drew on her earliest sketches and photos made when she and other students were sent to work in proletariat fields, as well as her huge found-photo cache, sifting them through her personal memory, cultural history and ruminations on those who occupy the margins.
Liu altered this content with deftly expressive paint strokes, drips, marks and the random red circles that state-sponsored schools used to highlight "acceptable" work. Here and there, a delicately limned songbird or crane echoes Chinese scrolls. East meets West, exploited meets exploiter, and the disenfranchised teach us about humanity.
Liu was born in 1948, in the provincial capital of Changchun. Her father, on the wrong side of Mao's revolution, was "disappeared," and the family fled as the city fell. Eventually, a preteen Liu made her way to Beijing, where her dialect was not understood, where she faced hunger. "Displacement is not always from one country to another. There are many kinds of 'othering,' " she told me in a series of Zoom conversations just before her passing.
Sheer discipline landed her in the country's premier girls' high school alongside daughters of party officials. Discouraged from studying art, regarded as "not a job, a hobby," Liu was prepping for medical school when the Cultural Revolution turned high schoolers into citizen police. Intellectuals were targeted, schools closed. In 1968, at 20, Liu spent four years digging ditches and harvesting grain in a Party reeducation camp.
She was finally allowed to immigrate to the U.S. in 1984. She enrolled in UC San Diego, where she was mentored by the famed late founder of conceptual performance art, Allan Kaprow, as well as the late feminist educator Moira Roth.
Jeff Kelley, art critic, author, curator, former University of California, Berkeley, faculty member and Liu's husband of 35 years, shares this: "I met Hung a couple of months after she arrived in the U.S., in eighty-four. We had been together since then, and this is a profound personal loss and an artistic loss. I had my own active, respected career, but the thing that we enjoyed most was our partnership: She painted her story, and I clarified it in language. I made sure that people brought intelligence to the telling of her story, and to the deep empathy that drove her."
"In her studio," Kelley continues, "Hung had hourglasses everywhere, and as the sand ran down, she would methodically turn each over. It struck me as strange until Hung explained that she wanted to remind herself that time is not unlimited, and she wanted to use her time to say and do what she felt was important."
Today, Liu's works are in the permanent collections of New York's Whitney Museum of American and Metropolitan Museum of Art, the San Francisco Museum of Modern Art and the Smithsonian, in Washington, D.C. In addition to the National Portrait Gallery show, she is currently the subject of an exhibition at the de Young Museum, in San Francisco, which is featuring eight of her works through March 18, 2022.
Below is an excerpt from my conversations with this extraordinary artist mere weeks before her death.
Why render in paint what has already been recorded in a photo?
I never copy, I interpret. When I go from photo to painting, I move from one language to another. Remember the movie Lost in Translation? Well, a great deal happens as we translate one language into another. Photographs are fast. They capture one single second and stop time in a way. The person or event stays frozen. When I translate a photo into paint, it is like a slow excavation.
Of what?
I find the topography of the face. In paint, the ridges and lines unique to each person's experiences come alive, almost like a landscape revealing a terrain. By translating anonymous faces into art, I feel as if I am restoring their presence and dignity.
Your subject matter often involves downtrodden individuals.
This is not my subject matter, this is my experience. Under Mao, those of us sent to work camps struggled day and night with the peasants for years. These people were hungry, children were covered in dust and dirt, snot stuck to their faces. Sometimes, you ate one bowl of grain — even rice was a luxury. You were allotted a few eggs, which had to last a whole family a week.
I think this is why I respond to images of real suffering. I want my work to be honest, to show the truth, and the truth is that many people struggle. Not just in Mao's China, everywhere and still today.
Were your ideas censored in revolutionary China?
Yes, they were, and they remain sensitive. I had a show canceled in December 2019 in Beijing clearly because of my content. But I have been drawing what was around me since I was very little. Much later, in the fields, when work was stopped and we were gathered outdoors to hear the latest Mao teaching, I would sketch the peasants just as they were: mothers nursing, old men sleeping.
I handed out these drawings to the villagers. The state-sponsored style at the time was socialist realism, borrowed from Russia. Artists had to represent well-fed comrades working happily. I don't call that realism, I call it surrealism — complete fantasy. I saw the truth, and I quietly resisted this propaganda.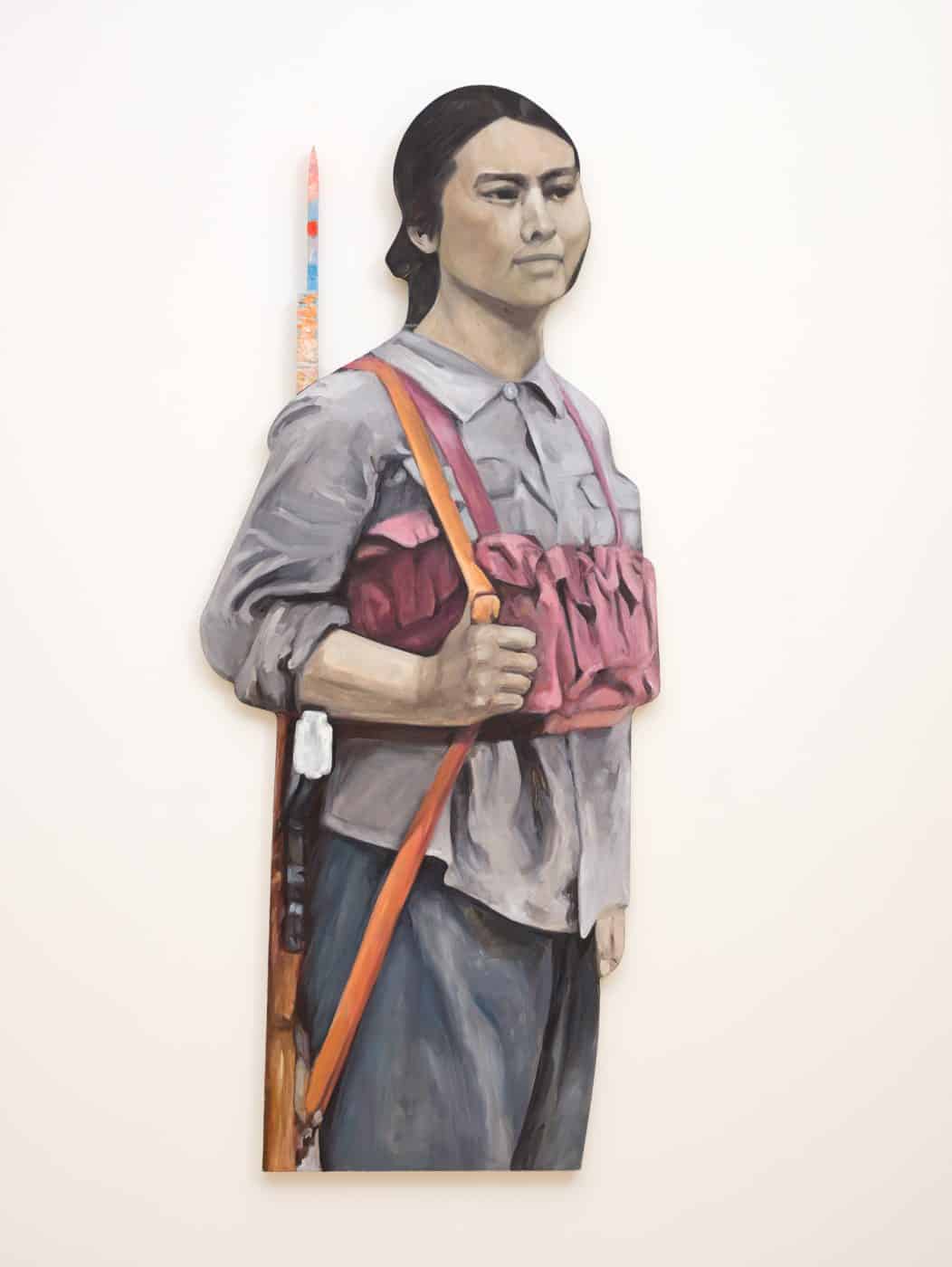 One of your most famous paintings, of a young pigtailed Chinese woman with a rifle over her shoulder, is based on a photo of yourself.
After my time in reeducation in the fields, I wanted to go back to school. I got a spot at Beijing Teachers College, where there wasn't an art department but what they called a revolutionary entertainment department.
Artists were sent to factories or military camps so they would make art to support the Party. And we learned to shoot rifles because everyone had to be ready to fight the imperialists. I got to be a sharpshooter. To me, this type of work says that women can learn what men learn. They can do what circumstances demand, just like any man.
Much of your work captures feminine complexity. In Madonna (1992), an Asian concubine holds what I take to be a mixed-heritage love child, but she looks anything but cowed.
I referenced classical statuary in the child to think about this odd connection between the East and West. The interaction can bear both bitter and beautiful fruit. But even beyond that, I was just thinking of the word we use to describe taking a picture — we "shoot" a photo. That is very violent, almost as if representing another is like possessing another.
And it's usually men representing women. So, the women in my work look back in real ways. They do not let the viewer or creator be the only active looker. They return our gaze.
Strange Fruit: Comfort Women (2001) is a beautiful work. The expressions of the women range from rage to defiance to despair.
Not just in China but in all patriarchies, women are property. In China, historically, women didn't go to school. You belonged to your father, then to your husband, and then you obeyed your oldest grown son. Girl babies were a cause for shame.
That painting comes from a photo of women who Japanese soldiers occupying China during World War II imported from Korea for sex. This is quite public now. On August 15, 1945, the Japanese retreated and just abandoned their waste: equipment, debris and these women — broken, brutalized and without a homeland. I wanted to remember them. The background is fiery red.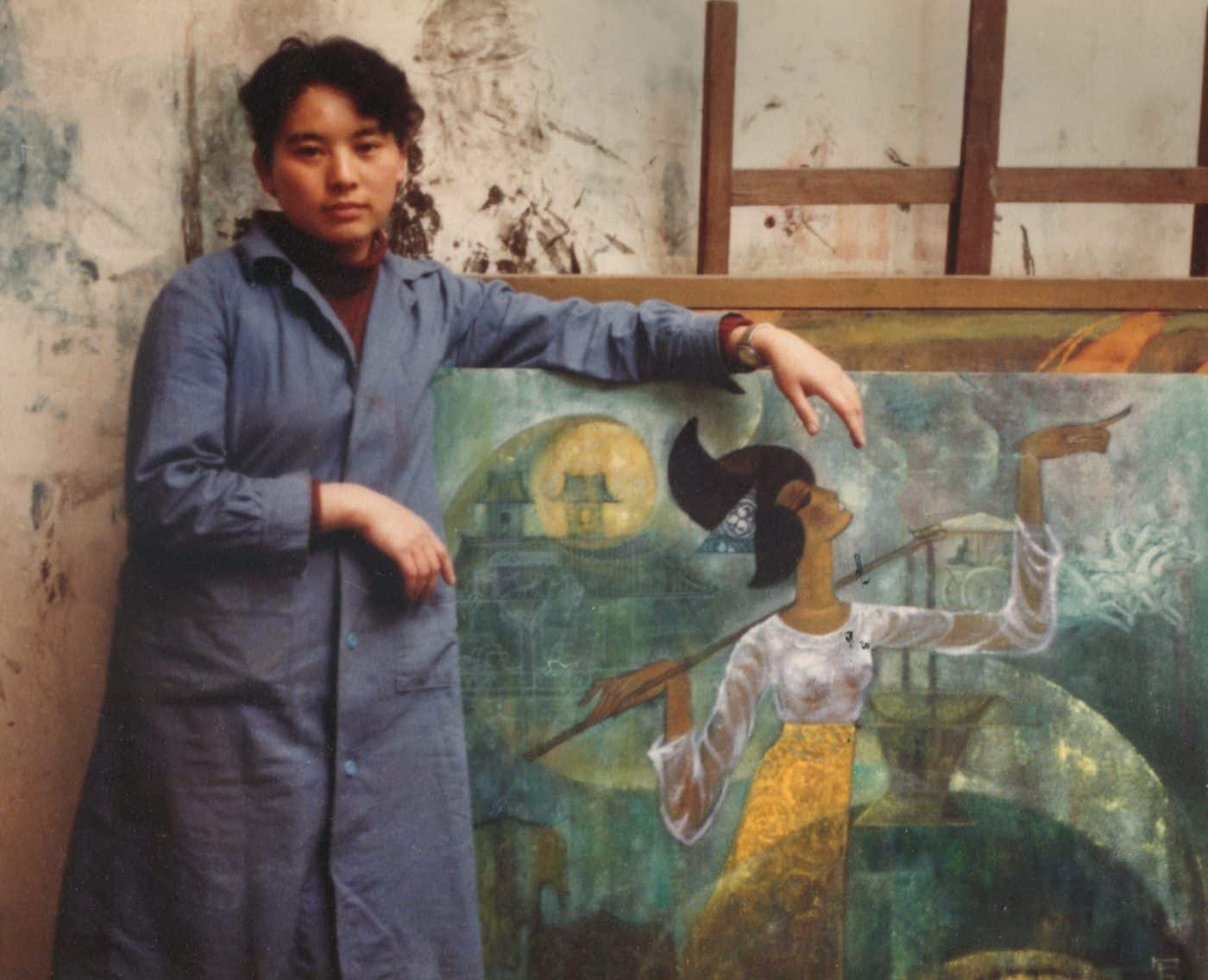 Much of your work is based on photos you took a very long time ago, correct?
Some, yes. Others I have found, researched and collected for years. In my twenties, I got a German box camera from a film student getting transferred to a military camp and made dozens and dozens of photos of the countryside, its people. I had no training in photography. When I wanted to develop some photos, my mother gave me money for supplies to build a dark room. I painted a bulb red for developing and taught myself about the chemicals.
Much later, in the 1990s, I was on the faculty at Mills College, in Oakland, California, and I got a grant to visit libraries, studios and historical archives in China to gather more authentic photos. I also began printing all the negatives from my youth that I'd kept but never developed. They were grainy and so direct, very honest.
Your latest pieces featured in the overview at the National Portrait Gallery appropriate from the haunting photos of Dorothea Lange.
I live in Oakland, I am professor emerita at Mills College, and the Oakland Museum of California gave me a large show in 2013. Fifty years ago, the museum received Lange's personal archive, including thousands of negatives, vintage prints, her notes. The museum and Lange's granddaughter Dyanna Taylor were so gracious. They let me sit in that small room day after day looking at the collection and taking photos with my phone of what moved me.
What I saw there was another woman artist who had nothing to do with my life or Mao's China looking at the U.S. in the same honest way — seeing the same human things. I knew I needed to work with these photos.
In the paintings you make from Lange's work, you seem to be reflecting on the many meanings of alien: African American identity in the U.S., captured in Plowboy, 2020; the plight of Mexican-Americans, evoked in your image of a teen picking crops in the San Joaquin Valley, Cotton Picker, 2015.
A really interesting one is my interpretation of Lange's 1937 photo of Clarence Weems, a young farm worker in the Deep South. In my painting, this young face is built up from a landscape of thick color, so you really feel the hardship.
Only much later did I find out that Lange's Clarence and my portrait depict the uncle of Carrie Mae Weems, a friend and a very important Black contemporary artist. There really are very few degrees of separation between any of us.