INTERIOR DESIGN
Venerable Interior Design Firms Look to the Future
by Tim McKeough  |  September 12, 2016
Top talents like David Kleinberg, Ellie Cullman and Jamie Drake are setting the stage for their successors, insuring that their namesake firms continue to thrive well into the 21st century.
---
When Albert Hadley dissolved Parish-Hadley Associates in 1999, following the death of Sister Parish in 1994, it represented the end of arguably the most influential American interior design firm of the late 20th century. Parish-Hadley had fostered the careers of numerous designers who went on to earn their own acclaim — Bunny Williams, David Easton, David Kleinberg, Brian J. McCarthy, Thom Filicia and Mariette Himes Gomez, among them. But the company itself was finished.
Today, a number of widely respected firms are taking steps to ensure that they don't suffer a similar fate, while also passing the torch to a new generation of designers. Kleinberg, who worked at Parish-Hadley for 16 years before striking out on his own in 1997, made five of his longtime principal designers — Scott Sloat, Sean Matijevich, Lance Scott, Christina Maroni and Matthew Bemis — equity partners in David Kleinberg Design Associates earlier this year. "There was a long history of people at Parish-Hadley who had moved on and opened their own firms, but I thought maybe that's not what has to happen," says Kleinberg. "I walked into our office near the end of last year after being away and saw it buzzing along and people collaborating, and I thought, This is really a team that works."
Giving them equity in the company provides a reason to stay, and it also positions the firm for a long life. "I'm certainly not thinking of leaving tomorrow, next year, or in five years," says Kleinberg. "But I wanted to know that there's something in place, for me and everyone else. There's no reason that the business can't continue just because the person whose name is on the door may not eventually be sitting at a desk."
Some might question whether a firm can find continued success after its founder departs, particularly when it's someone as high-profile as Kleinberg, who is lauded in shelter magazines for his polished, updated take on traditional elegance. But according to the designer, his partners have already helped the firm's design approach evolve while remaining at the fore of contemporary taste. "Because people have been here so long," he says, "they've influenced me probably as much as I've influenced them." As a result, he continues, they have developed a collective approach to interiors and a shared point of view that will continue into the future.
Although rare in the interior design world, the move takes a page from architecture firms like Skidmore, Owings & Merrill, which maintains a robust, well-regarded business even though its founders haven't been involved for decades. There is precedence in other industries as well. "Our business isn't that different from those with brand equity in other sectors, such as investment banks, law firms and advertising agencies, which endure beyond the original founders," says Ellie Cullman, of Cullman & Kravis, who maintained the name of her firm after partner Hedi Kravis died in 1997.
Earlier this month, Cullman announced that she was making four of her senior designers — Lee Cavanaugh, Sarah DePalo, Claire Ratliff and Alyssa Urban — equity partners. All have been with the firm for more than 10 years, she notes, and lead teams that are largely responsible for their own projects, putting their personal stamp on the company's richly detailed, sumptuous interiors. "They are the face of Cullman & Kravis to their team's clients," she says. "The design partners initiate and maintain client relationships on each project, which includes organizing and leading client meetings and presentations. I'm delighted they will join me in steering the company into the future."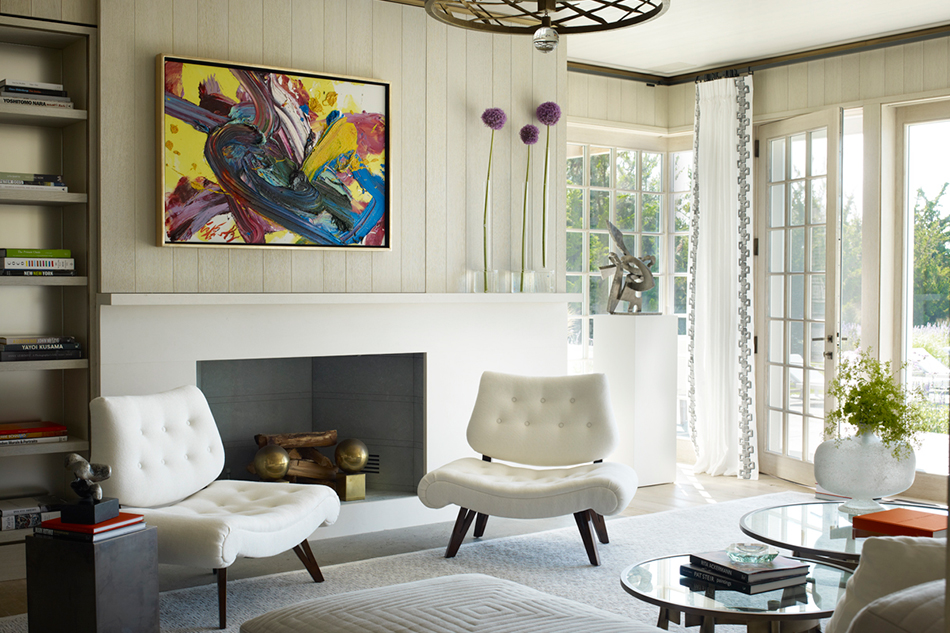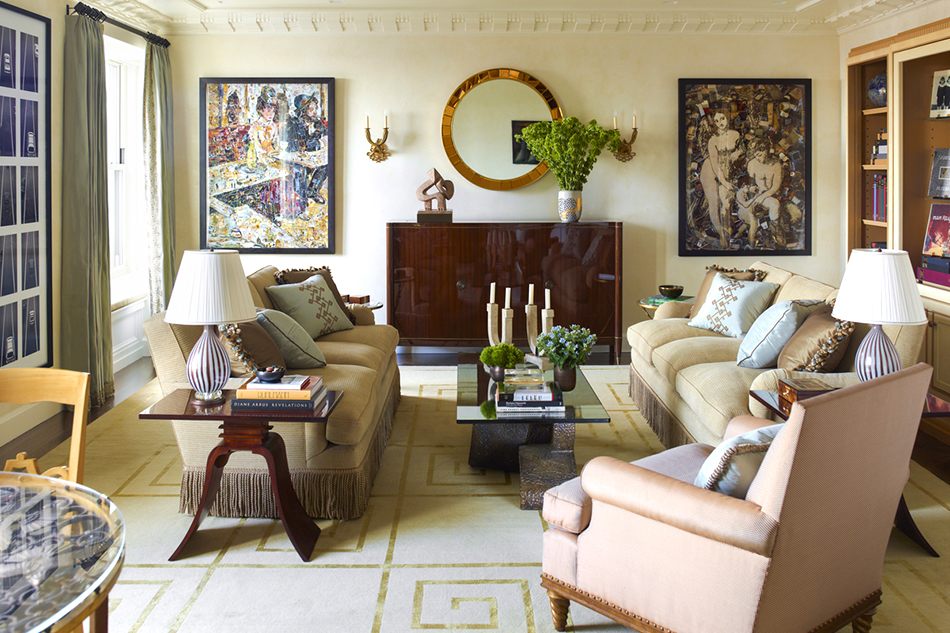 Another industry giant who recently brought on a younger partner is Jamie Drake, who not only recruited his former protégé Caleb Anderson to share the business but also changed the name of the firm, from Drake Design Associates to Drake / Anderson. "I was thinking about how to move forward as I approach a more mature age," says Drake, who originally hung out his shingle in 1978, "and how I could continue to offer a large base of clients top-level service while still doing things that are refreshing and exciting after nearly four decades."
Anderson cut his teeth working with Drake but then completed a stint with MR Architecture + Decor before launching his own firm in 2013. Widely pegged as someone to watch, he jumped at the opportunity to merge firms. "I was initially so shocked and surprised," he said. "Jamie's firm is very established, with a big staff and solid infrastructure, so it allows me to get involved with really ambitious and exciting new things."
The partnership, says Drake, is also allowing him do new things, like traveling to Vietnam, to oversee production of his furniture line for Theodore Alexander, and to China, where Jamie Drake–branded stores will open this month to sell those pieces. "I can go away for a more relaxed period of time and focus on that," he says, "rather than worrying about what's happening back at the office."
Drake acknowledges that the firm is recognized for his ability to create interiors with bold colors and big drama, but he points out that his aesthetic has always been evolving. "As times changes, we change," he says. "My firm has changed a few times with a chameleon-like skin in its thirty-eight years before becoming Drake / Anderson. We always look forward to absorbing what's new, exciting and current." With Anderson, he adds, the firm is better positioned to remain a leader in the years ahead. "Caleb's sensibility really taps into the mindset of the moment," he notes, "which is calmer and more serene."
"We have an opportunity to create something new together," adds Anderson, "but still reference what we were both always known for."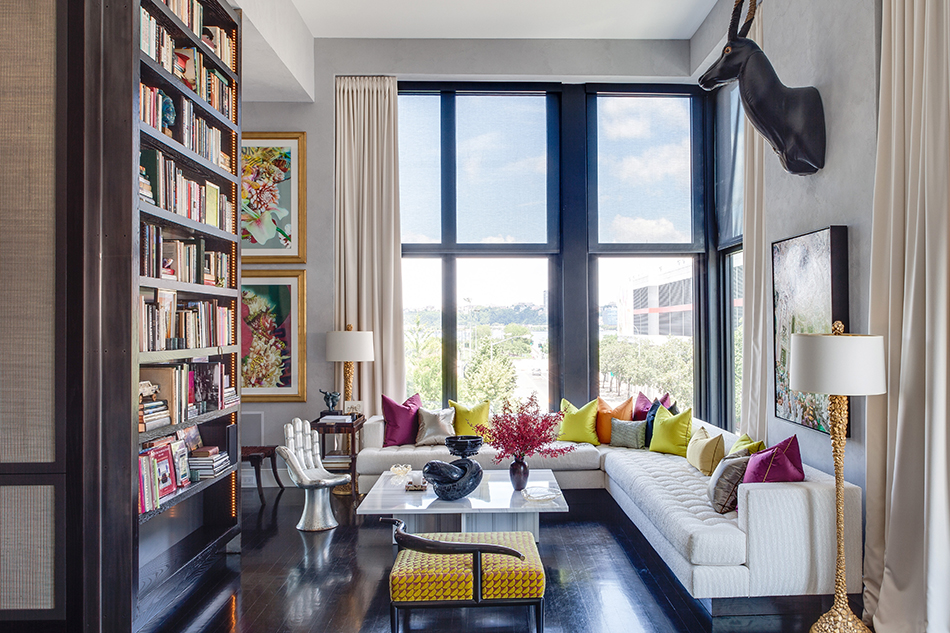 Some designers are looking closer to home for partners. At Gomez Associates, Mariette Himes Gomez has been grooming her daughter, Brooke Gomez, to take a growing leadership role in the firm. Brooke began as a designer in 2000 but is now vice president, responsible for all the firm's contracts, collaborating with her mother on design and spearheading new business opportunities. "Brooke is the future of this company," says Mariette, who is known for fresh, tailored interiors with soothing neutral palettes. "She grew up with all of it, and we go together like peas and carrots."
Among Brooke's initiatives is a more affordable service for young clients on a budget who need decorating help but not soup-to-nuts interior design and construction administration. That way, she says, "if people want our look but have smaller projects, we can do it" by helping to select furniture and accessories, including pulling from the firm's collection for Hickory Chair.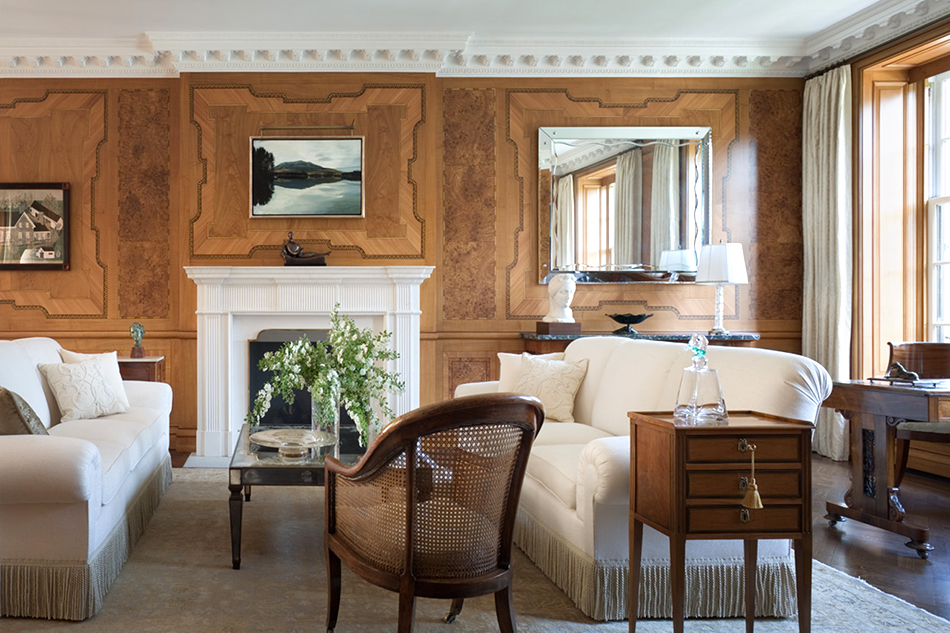 At some prestigious firms, successors have already taken over the reins with excellent results. Alexa Hampton, for instance, has kept the firm Mark Hampton, started by her father, among the country's most sought-after interior design offices since his death in 1998 at the age of 58. "We never actually discussed a succession plan," says Alexa, who worked in her father's office from the time she was a teenager. "I can't imagine that he thought it would continue, but I don't have the luxury of knowing."
Over the past two decades, she has developed her own confident voice while also respecting the original essence of her father's firm, which was renowned for composing rooms with a deeply comfortable, collected look. "He was incredibly erudite, so for me, continuing his work meant that it would have to be educated design to some extent. But I'm a much sillier person than my father, and I can't be who I'm not," she says.
Indeed, Alexa's interiors often have a slightly more edited, lighter and brighter appearance that reflects today's tastes. There's no question that she has found her own success, but at the same time, she adds, "I would never do anything that would shame him."