In Jaime Hayon's career, colorful poultry looms large. The Spanish designer's wildly imaginative Green Chicken rocking chair, which debuted in 2008, is arguably his most famous design. He has described his early years of work as full of "green chickens and other crazy products," and he appeared on the cover of Russia's Watch magazine riding the rocker. With its conical beak and spherical ears, the bird perfectly captures Hayon's fantastical approach to design.
Two years ago, Atlanta's High Museum of Art acquired the chair for its design collection. Now it is hosting, for the second time, a major public alfresco installation by Hayon. On view through November 26, "Merry Go Zoo" features a veritable menagerie of geometric, animal-like figures, and it runs concurrently with "Technicolor," an indoor exhibit of his ceramics and textiles. "The sculptures in my work are joyful and positive and inspired by playfulness," Hayon says of the outdoor project, which feels like an otherworldly amusement park.
Sarah Schleuning, the High's curator of decorative arts and design, adds, "Jaime's world is an imaginary one, full of these magical forms. I think a lot of people have thought of something that inventive, but he had the audacity to actually make it. He has a unique voice, and his style has never shifted with trends."
Hayon was born in 1974 in Madrid, where he grew up admiring Salvador Dalí and regularly visiting Pablo Picasso's Guernica at the Reina Sofía museum. He studied industrial design in his hometown and in Paris and then went to work at Fabrica, the Benetton-funded design and communications academy in Treviso, Italy, where he ran the design department. He set up a studio practice in the early 2000s, while still at Fabrica, leaving the company in 2003 to concentrate on his own projects.
Hayon's first solo show, 2003's "Mediterranean Digital Baroque," at David Gill Gallery, in London, included painted murals, tall cactus-shaped ceramics, diminutive bird figurines and "a supersonic pig" sculpture with a gigantic nose reminiscent of the front of the Concorde. On the pig's back was a seat, blurring the line between art and design. The piece drew the attention of aesthetic arbiters, and shortly afterward, Hayon was hired to create a collection of bathroom furnishings for ArtQuitect. (That company no longer exists, but Italian glass-tile maker Bisazza bought the line and subsequently commissioned additional work from Hayon.) A flurry of interior projects, exhibitions and partnerships soon followed.
Since then, Hayon has designed interiors for restaurants, hotels and retail stores throughout Europe, and he now has offices in Valencia, Barcelona and Treviso. Drawing inspiration from Japanese, Afghan and other folk traditions, he's designed everything from concrete tiles and wingback chairs to Oxford shoes and watches, collaborating with the likes of Fritz Hansen, Baccarat, Swarovski and Lladró.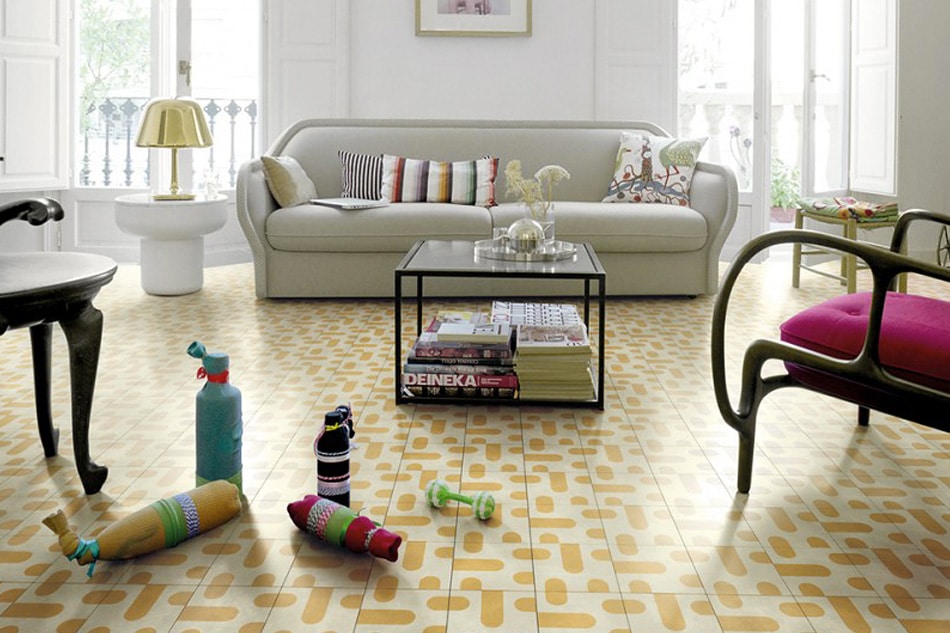 There's a futuristic simplicity to some of his designs, such as his subtle, plush sofa for Fritz Hansen, pelican-inspired decanters for Bosa and cabinets with four differently shaped turned-wood legs. Others are ingeniously inventive, like his Bubbles table lamp, hybrid Duck Elephant "multivase," clocks that seem to be melting and what he calls his "optimistic" Hopebird sculptures in black, white and gold, all created for Bosa.
"He's prolifically creative," Schleuning says. "He gets up in the morning and sketches."
He's also very hands-on, typically crafting many elements of his work himself. "Sometimes, when he has large-scale ceramic pieces fabricated, he'll spend ten or twelve hours in the studio painting them, freehand, improvisationally," Schleuning continues.
---
"Jaime's world is an imaginary one, full of these magical forms."
---
This past February marked the opening of a project close to Hayon's heart: the Barceló Torre de Madrid hotel, a renovation of a 1957 building in his hometown for which he designed the interiors. In the lobby, guests are welcomed by a towering sculpture of a black-and-white-striped bear tipping a golden top hat, inspired by the Spanish coat of arms.
"Spain is always a part of my temperament, my love for color and expression and my passion for symbolism," Hayon says. "The hotel was a very moving opportunity for me to reflect on cultural symbolism, color and the essence of Spain."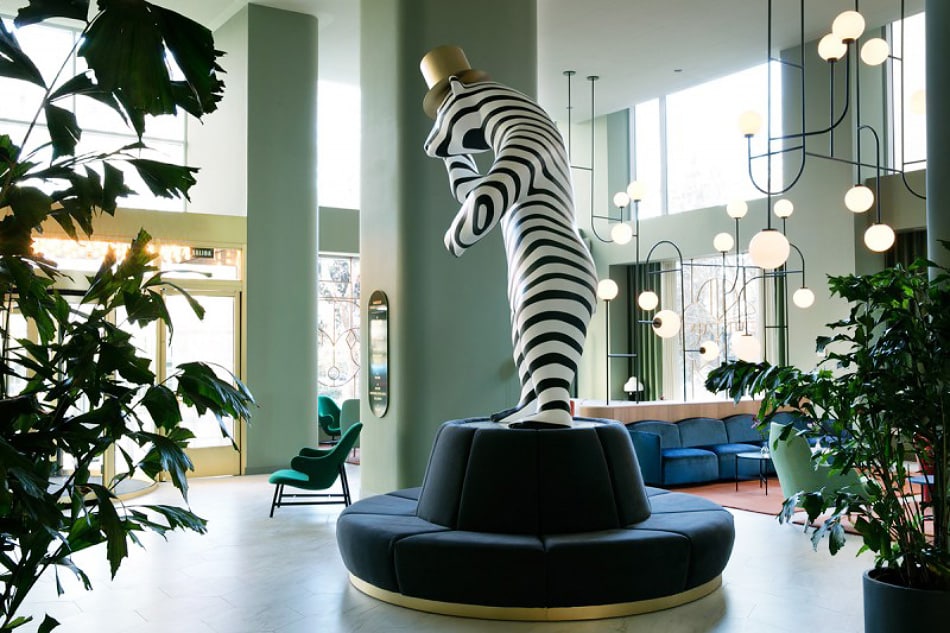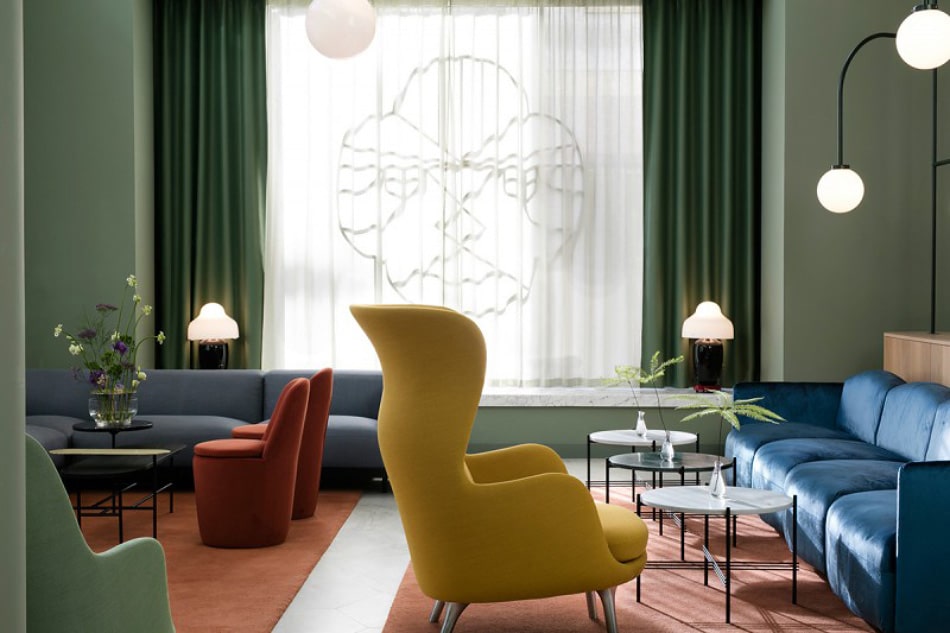 The colorful interiors are full of Hayon's curvaceous furniture pieces, which recall those of one of his major influences, Josef Hoffmann. Whimsical details are sprinkled throughout: a side table shaped like a monkey carrying a tray in one hand while scratching his head with the other; a mirror with a mask-like motif; white-and-gold-striped light fixtures with antennae that make them look like Teletubbies.
"Merry Go Zoo," in the High Museum's outdoor pavilion, follows Hayon's previous installation there, "Tiovivo," on view from last summer through early March of this year. The Spanish word for merry-go-round, "Tiovivo" occupied the same space as the current show and proved a huge hit. It comprised large-scale, imaginative hybrid creatures covered in bright, graphic patterns. Children could climb inside each of the four structures he made, which allowed his art to become something of a jungle gym. With "Merry Go Zoo," Hayon has taken that concept a step further, creating enormous pieces with rotating parts that visitors can ride.
"I'm hoping they can spread some joy," Hayon says of the "Merry Go Zoo" sculptures.
Adds Schleuning, "One's kind of a punk chicken, another looks like a rabbit with a pointed nose. Another is sort of a monkey. But Jaime would never identify them as specific animals or characters. There's a looseness, an openness and a childlike wonderment to his work in that way. He lets the viewer decide."