Among his peers, photography dealer James Danziger has a unique background: He had a whole other career in journalism before opening his New York gallery in 1990. London-reared and Yale-educated — an upbringing that explains his in-between, trans-Atlantic accent — Danziger was named the photo editor of the Sunday Times of London at 25 and later worked on both words and pictures for editor Tina Brown at Vanity Fair in New York.
"I wanted to do my own thing, and the only thing I thought I was qualified to do was open a photography gallery," says Danziger, now 62. "So I opened one in Soho, representing Elliott Erwitt, Annie Leibovitz, Henri Cartier-Bresson — people I knew from the magazine world."
In the 26 years since, Danziger has risen to the top of the heap, becoming one of the handful of gallerists who have helped photography be taken seriously by the rest of the art world.
These days, contemporary photographs by such artists as Chuck Close, Christopher Bucklow and Susan Derges compose about 75 percent of his exhibitions and inventory; the remaining quarter is devoted to vintage and modern work by the likes of O. Winston Link, Andy Warhol and Inge Morath. He even throws in a painting show from time to time, just to keep things interesting.
Currently, Danziger exhibits at five art fairs, which have become an increasingly big part of his business, and he says he is thrilled to have been accepted into the prestigious Art Dealers Association of America (ADAA), which stages the highly attended Art Show, held every winter at the Park Avenue Armory.
Danziger's summer exhibition, on view through August 12, features noted street artist Michael De Feo, also known as The Flower Guy. He's not a photographer, but rather works with finished images, and has developed a following by painting floral interventions on fashion ads and editorials, including the big ones in bus shelters. "We like to have fun in the summer," Danziger says. "It's extra-populist and accessible."
After 12 years in Chelsea, Danziger moved to the Lower East Side in February. There, sitting in his new space on Rivington Street, he talked to 1stdibs about the photography market, how he advises collectors and his own taste in pictures.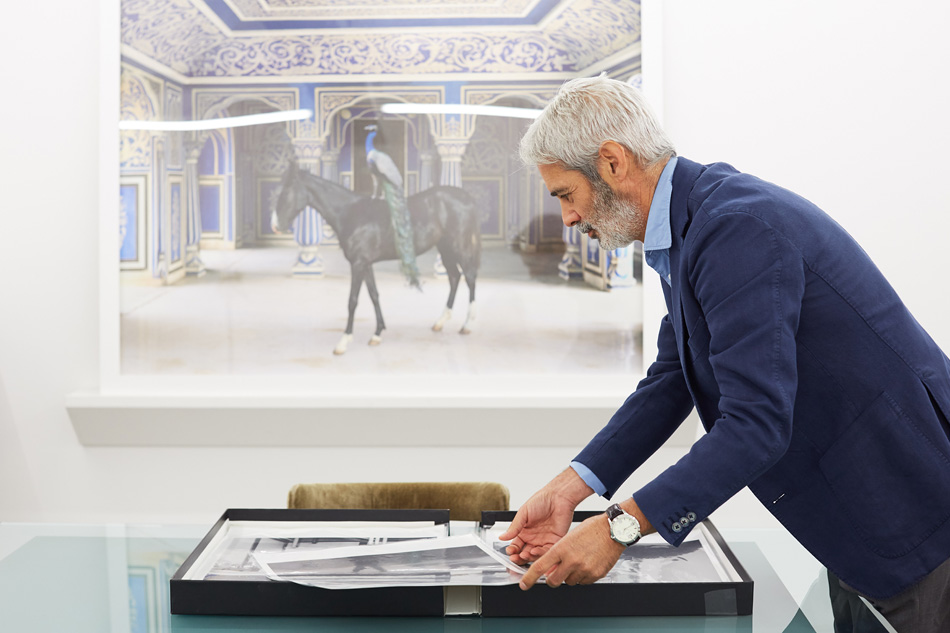 What's the question that gallerygoers ask you most frequently?
It's funny, whenever we have a show, someone asks, "What makes these good?" I don't like galleries where they follow you around giving you art-speak. I want people to understand that serious galleries only show what they truly believe in, though every gallery has a different aesthetic. If you're drawn to the aesthetic, don't make the mistake of thinking you're being tricked and they're just trying to sell you something. People don't open photography galleries to get rich.
So what is your aesthetic?
Because of my background in journalism, I'm drawn to things of a graphic nature. My taste and interest are in images that are accessible and yet have a certain quality to them. Let me put it this way: I am not afraid of images that are pleasing. I am drawn to images that are harmonious, as opposed to ones that are in your face.
What's the first thing a beginning photography collector should know?
Collecting photography remains a very specialized proposition. You have to understand the factors that apply only to that medium. I think the main thing is editioning: If someone says they're going to do an edition of five, you have to believe it's in their interest to do an edition of five. If they secretly print extra ones, people need to understand that would destroy the whole market.
Because photography is a medium of multiples, there is a kind of check and balance for buyers: You can easily check with one dealer on what another dealer is doing, or use auction prices to find out more. Value is a little more objective and less subjective than in a medium that's just unique pieces.
What's the last piece you bought?
It was a Richard Avedon picture of John Glenn in his space suit but with his helmet off. I was acquiring it for the gallery.
Being a sole owner, there's a somewhat flexible line — I can just buy it and see what happens. But I'm not one of these dealers who keeps the best things for himself.
It's such a striking image, and I've always been interested in portraiture. We'll do a show on the theme of faces next year, so I have it in mind for that. It's always harder to find great pictures of men than of women. So that's always an extra incentive to acquire one.
Visit Danziger Gallery on 1stdibs
---
TALKING POINTS
James Danziger shares his thoughts on a few select pieces