November 20, 2022Furniture dealers Nancy Gabriel and Guillaume Excoffier may have no particular specialty, but they nevertheless avow a passion for modernist Brazilian design. "The furniture is not so well documented, and some pieces have hardly ever been seen," says Excoffier, "so, it's really exciting when you find them."
Under the moniker Gabriel & Guillaume, the pair regularly offers pieces by iconic names like Joaquim Tenreiro and Jose Zanine Caldas, as well as such lesser-known designers as Abraham Palatnik and Branco & Preto, a group of six architects who ran a store in São Paulo from 1952 to 1970. "Brazilian twentieth-century furniture was wonderfully made, with beautiful exotic woods and an exquisite sense of proportions," notes Gabriel.
Trading in it is apparently not without risk. Excoffier recalls being taken by a local dealer in Rio de Janeiro to visit an upholsterer in a favela: "He told me, 'Open the windows wide and drive slowly. That way, there won't be a problem, because people will see we don't have guns.' "
Since joining forces in 2013, Gabriel and Excoffier have been constantly on the move. Instead of setting up a gallery with a fixed address, they have favored a peripatetic approach, mounting a series of pop-up exhibitions. Most of the early ones were in Beirut, where Gabriel used to live (she relocated to Paris after the port explosion that devastated the Lebanese capital in August 2020; Excoffier is based in Dubai). In 2015, the French silversmith brand Christofle invited them to show their wares for a month in its headquarters on Paris's Rue Royale, and last year, they temporarily took over the penthouse suite in a Skidmore, Owings & Merrill–designed tower in San Francisco's SoMa neighborhood.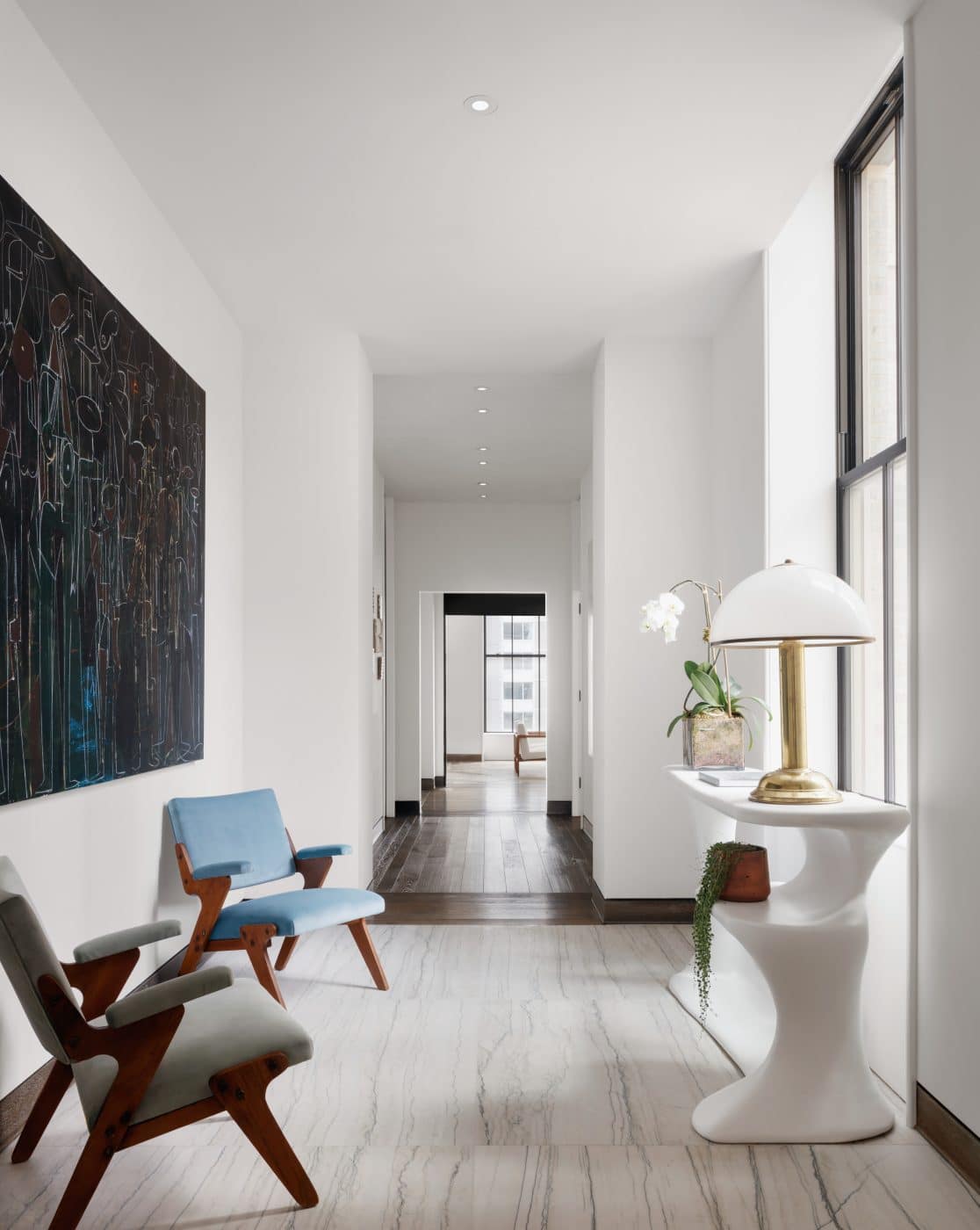 Since late 2019, they have had a more permanent base in Manhattan, in a new development at 111 West 57th Street composed of the landmarked Steinway Hall — a 1925 neo-Renaissance-style structure by Warren and Wetmore, the architects responsible for Grand Central Terminal — and an 84-story, ultra-skinny skyscraper designed by SHoP Architects, with interiors by Studio Sofield.
Their introduction into the building came via frenchCALIFORNIA, the branding and interior design agency that furnished the model units. Initially, Gabriel & Guillaume set up in the 5,269-square-foot penthouse in the historic section, but when that sold, they moved to their current space: a duplex on the building's 17th and 18th floors. "I like the temporary nature of how we function," says Gabriel. "Each time, it allows us to present our pieces in a different way."
From the get-go, their approach has been to create displays that resemble domestic settings rather than commercial galleries. "Today, everybody's doing it," says Gabriel, "but it was quite rare back in 2013." Their inventory is constantly evolving, but at Steinway Hall, you may find Angelo Lelii floor lamps paired with Tenreiro cocktail tables, a Jean Prouvé armchair and a Garouste & Bonetti sofa. Since establishing themselves in Manhattan, they have also developed a partnership with Valérie Cueto, of Cueto Art Advisory, who sources artworks for the space by the such creators as Daniel Buren, Jannis Kounellis and Richard Serra.
Gabriel and Excoffier met back in 2012. She had spent 16 years as a producer in both the movie and advertising industries in Paris. He had studied at one of France's most prestigious business schools, HEC, and worked on an interiors website for the media conglomerate Lagardère before launching his own homeware store in Paris's Marais district. Gabriel walked into the shop looking for items to furnish her Parisian apartment. The two immediately felt a rapport, and within no time, she had asked him to help her decorate her space. Going into business together was the logical next step. "Deep down, we have the same taste and a very complementary vision of pieces," says Gabriel. "There's a real dialogue between us."
Ask Excoffier to define Gabriel & Guilaume's DNA, and he'll mention an eclectic spirit and a desire to suggest things that are rare and different. "There's a glamour and sophistication, because we try to find pieces that are historically interesting and to juxtapose them in surprising ways," he explains. Michèle Chaya, of Beirut-based architectural and interiors firm MARIAGROUP, concurs: "They're not simply doing the same thing as other dealers. They make an effort to find things that are really unique."
In Lebanon, the firm has managed to source a number of stellar items by Jean Royère, including a set of four Cœur armchairs. "A pair was sold about ten years ago, and since, none have appeared on the market," notes Gabriel. Excoffier cites a Wendell Castle satinwood and bronze sideboard, which they presented at an exhibition in Beirut in 2017.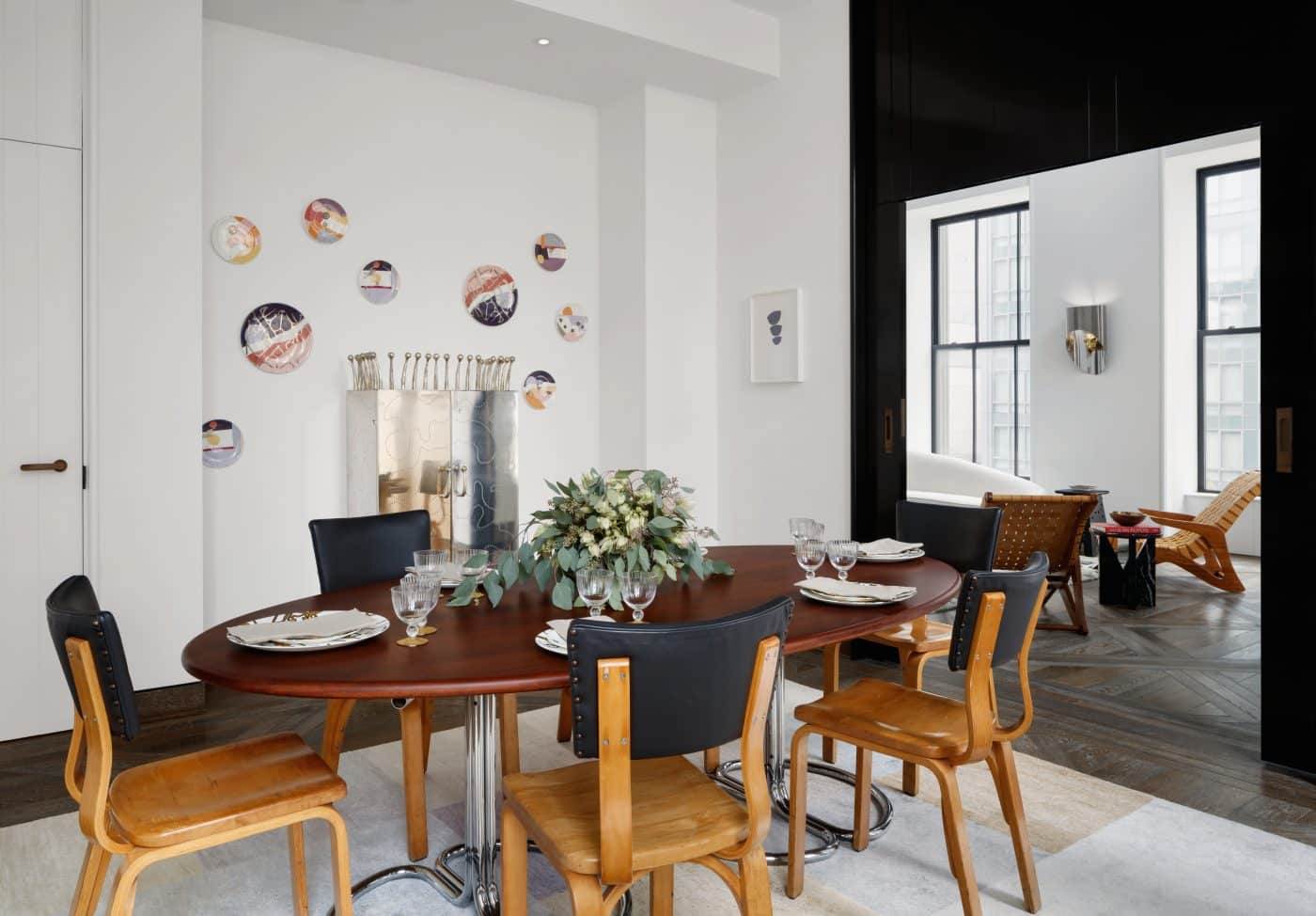 Their latest field of research, meanwhile, is design from the 1980s. "It's what I prefer at the moment because it's so undiscovered," says Excoffier. They have in stock an Elytre armchair by Patrick Naggar and Dominique Lachevsky, a Stoleru sofa by Martin Szekely and several designs by Philippe Starck. A particular focus is items created for the Néotù gallery, founded in Paris in 1984 by Pierre Staudenmeyer and Gérard Dalmon. "They were the first to come up with the idea that furniture could be halfway between art and design," notes Excoffier.
Since 2019, the pair have also been producing one-off and limited-edition pieces starting with a ones by mainly Lebanese contemporary designers. There are organically shaped tables and a bookshelf made from plaster hemp and water-based resin by Georges Mohasseb; a series of largely monolithic designs using bronze, lacquered wood and black Belgian marble by husband-and-wife duo Ranya Sarakbi and Niko Koronis; and a range of poetic lights created with Japanese washi paper by MARIAGROUP and Spock Design. The last include the Cornette floor lamp, which has a shade inspired by nuns' headdresses and was shown in Gabriel & Guillaume's booth at the 2022 Salon Art + Design fair in New York. Also on display there was a one-off Garouste & Bonetti chandelier made from bronze and hand-blown glass; a circa 1900 Josef Hoffmann Sitzmaschine armchair; and a sofa, three armchairs and a coffee table designed by Royère.
Since establishing themselves in Steinway Hall, Excoffier and Gabriel have adapted their inventory to the American market by increasing the quality and decreasing the number of large items. "Apartments and houses may be big in the States, but there's not the same custom of having dinners for thirty or forty people, like in Lebanon," explains Excoffier. "So, there's less need for gigantic sofas and tables." Their current plan is to stay in the building for the foreseeable future. "Once each unit we're in is sold, we'll move to another floor," says Gabriel. With the hall and tower containing 60 condominiums between them, the pair could be there for some time to come.
Nancy Gabriel and Guillaume Excoffier's Talking Points