For all the people who think designer objects need to make bold statements with attention-grabbing forms and materials, the revered British designer Jasper Morrison has a message: The quieter objects are often the better products.
Morrison, who graduated from London's Royal College of Art in 1985 and has been described by the design critic Alice Rawsthorn as "one of the most influential product designers of our time," says he came to this conclusion only after practicing for many years.
As he tells Introspective, "I was getting slightly bored of design and wondering why we so-called designers were failing to design things better than more anonymously conceived objects," such as everyday glassware and ordinary household products that do their job with a minimum of fuss. "I started studying the differences and realized that we were trying to express ourselves too much — there was too much signature in our designs."
Some of Morrison's earliest creations, such as the 1986 Thinking Man's chair, with its snaking tubular steel armrests, and the 1991 3 sofa deluxe, whose sculpted seat resembles an enormous wave (both produced by the Italian manufacturer Cappellini), display the eye-catching moves that were expected among his contemporaries.
At the same, he was clearly searching for a different language. In 1988, he stunned many in the design world with "Some New Items for the Home," an exhibition in Berlin featuring simple plywood furniture he had designed and made himself as a direct rebuke to the over-the-top colors and geometries of the Memphis movement. As Morrison increasingly came to see statement-making design as flawed and wasteful, he began producing the subtler objects that eventually became his greatest hits and inspired a new generation of designers.
His Glo-Ball lamps for FLOS, for instance, feature opalescent blown-glass diffusers that resemble ever-so-slightly squished spheres with a striking visual softness. Designed in 1998, the pieces were instantly popular and have remained a best seller for FLOS, which offers them in numerous variations, from a pendant to table lamps.
Morrison's Cork Family stools for Vitra, designed in 2004, have proved similarly timeless, with simple silhouettes reminiscent of thread spools whose unexpected material — solid cork — makes them particularly alluring.
By 2005, Morrison had befriended another designer working in a similar manner — Japan's Naoto Fukasawa. That year, Fukasawa introduced his Déjà-vu stool for Magis at the Salone del Mobile in Milan and was dismayed when fairgoers barely noticed it. Fatigued visitors would sit on his stool while looking at other products, seemingly unaware that it was part of Magis's new collection.
Crestfallen, Fukasawa talked to Morrison, who saw the scenario differently: The fact that people instinctively used the stool meant that it was successful. To cheer up Fukasawa, Morrison described his design as "super normal."
Morrison and Fukasawa latched onto this phrase as an ideal term for what they were up to. And in the months after the fair, they gathered examples of similarly utilitarian yet beautiful objects, by both unknown creators and professional designers, to display in a "Super Normal" traveling exhibition and a book that served as a visual manifesto. Launched in 2006, the project documented more than 200 products, ranging from a paper clip, a plastic bucket and a ballpoint pen to an Alessi citrus basket, Vitsoe's 606 universal shelving system by Dieter Rams and Vitra's Joyn office system by Ronan and Erwan Bouroullec.
Designs for the Home by Jasper Morrison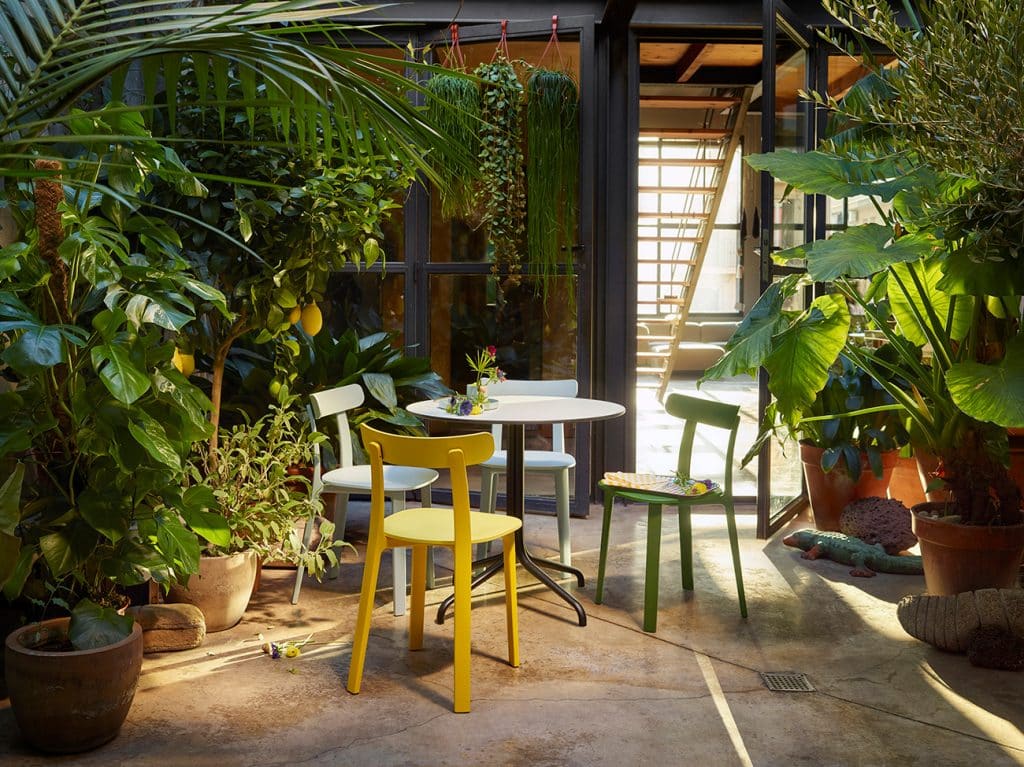 "That process converted me from the overly expressive designer that I was into one who's more aware of the subtleties that make good objects," says Morrison. "It was a very important step for me, and I still believe it is the path that can lead design to a more interesting place."
That same year, Morrison began playing with extreme simplicity and introduced the Crate, a wooden bedside table for Established & Sons that was modeled on an old wine crate he used for his own bedside table. The piece caused a sensation, with designers and journalists debating its merits and meaning for months.
In the years that followed, Morrison organized exhibitions at his London storefront of such unglamorous products as ordinary drinking glasses, non-designer trays and rolls of adhesive tape. "Part of the function of the shop is to showcase these more humble examples, which often outperform their designer equivalents," Morrison says. "I also think it's important to point out that there's no shortage of beauty in everyday life. In fact, I believe there's often more beauty in ordinary environments than you find in special ones."
Labeling Morrison as an anti-design designer, however, would be wrong. He simply demands substance over style.
"I did begin with a more expressive, poetic approach to design, and I am not at all immune to those kinds of objects," he says. "I saw a wonderful exhibition of Josef Frank's work in the Stockholm architecture museum and realized that in his work, there's a freedom and richness of atmosphere which risks to be passed by if design is too strict in its limitations."
Indeed, that 2017 exhibition at the Swedish Centre for Architecture and Design, "Josef Frank — Against Design," illustrated how Frank's flowery creations developed in reaction to the severe austerity of early modernism.
Today, Morrison delights in finding the correct balance in his designs, turning out products that seem appealingly natural and precisely what they should be. His 1 Inch chair for Emeco, an aluminum version of which is available exclusively on 1stdibs through November, is a good example. The notion of constructing a chair from one-inch-thick tubes, in the hands of a devout minimalist, might have resulted in a piece of unforgiving hard edges. Morrison's design, however, is all gentle curves, offering a soft, inviting appearance and body-cradling comfort — a triumph of manufacturing that appears effortless.
"I can't say I work hard looking for new designs," says Morrison, self-effacing even after three decades in the spotlight. "Probably the opposite: The less you look for them, the more they appear."