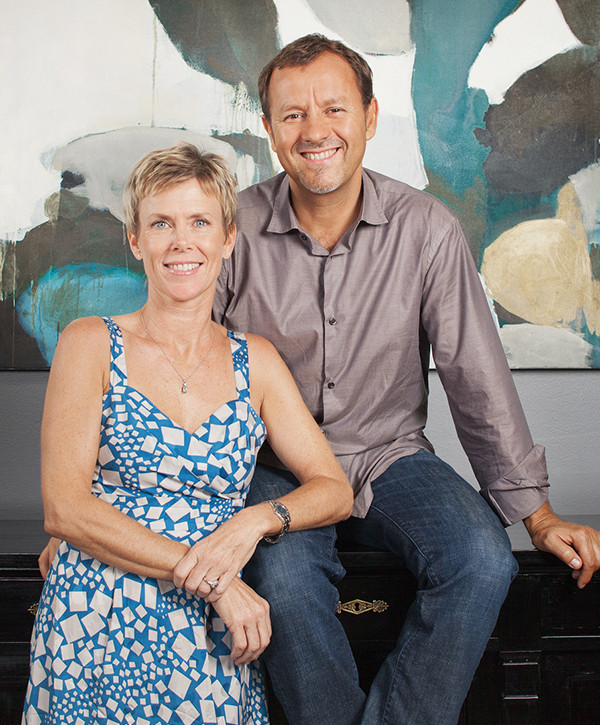 One would think that Jean-Marc Fray's eponymous antiques business in Austin, Texas, was launched in his hometown of Nice, France, where, starting when he was just 15, he and his friends would gather at the Cours Saleya outdoor market to buy small treasures from the pickers and then turn around and sell them back to local antique dealers. "We'd stroll down majestic avenues towards the sea, witnessing the opulence of grand interiors, imagining the lives underneath the Baccarat chandeliers and the frescoed ceilings," Fray remembers. "Seeing such international luxury gave me the desire to explore the world."
These early antiquing experiences and interactions with dramatic decor notwithstanding, it was visits to his grandparents'  home in France's Var region (and, specifically, explorations inside their gigantic armoire) that first got him going. "I used to tuck myself into the armoire's bottom," he says. "Above me were my uncle's shimmering mineral collections and many leather-bound books. I somehow understood the language of objects even then and how to get a read of them. To this day, I use that same feeling whenever I first see an object."
Before Fray could begin to interpret the mysteries and histories behind the antiques he loved, however, he had some ground to cover. After college, he started working for a cruise ship company, traveling throughout Asia, the Mediterranean, North Africa and many points beyond. But as soon as he met his future wife, American exchange student Cynthia Ann Flume, he took a break from his wanderlust. "I was giving a tour in Nice and she came over to inquire about a trip," says Fray. "We went for a drink, and later we went to a David Bowie concert. We've been together ever since."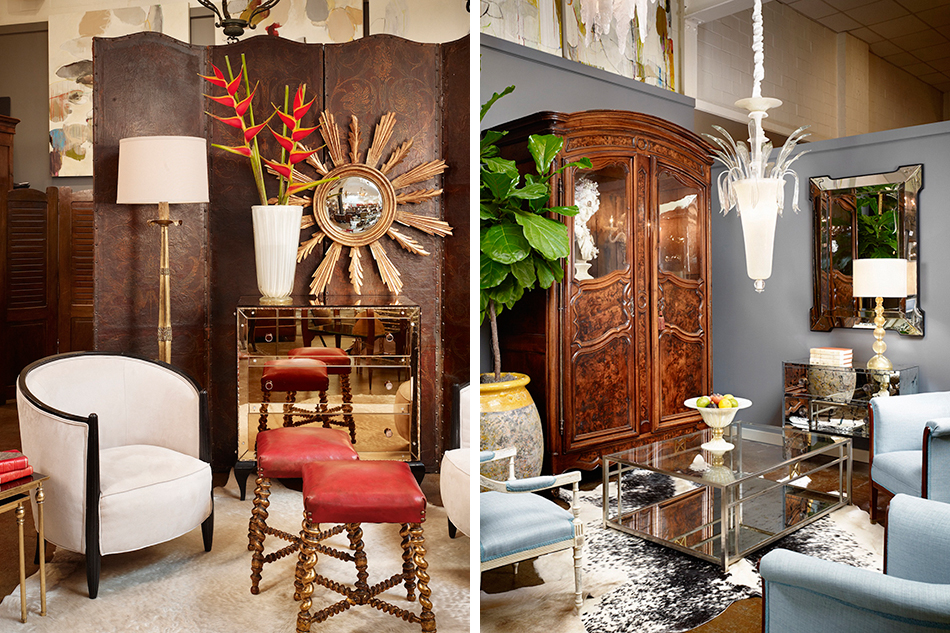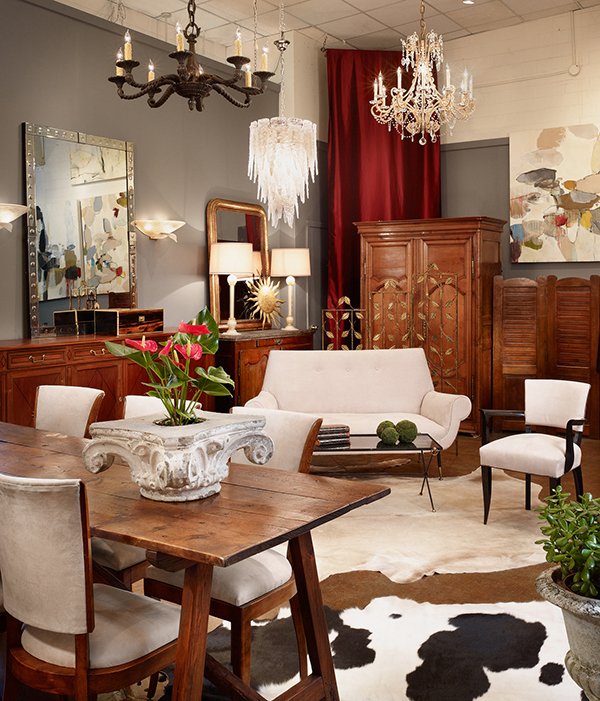 The pair remained in France for eight years before moving to California for Fray's job with a different cruise company. Soon, however, another job opened back in Europe. "We went back to France, but it was a ticking clock," he explains. "I knew I wanted to get back to the States, and I was seriously thinking about opening my own antiques business." The couple had been collecting antiques themselves, and, not wanting to haul the collection back across the Atlantic, they sold some pieces to a dealer. "We realized we had some really, really good things and we were ready to replenish our supply as soon as it was gone," says Flume.
Fray decided to educate himself, and engaged in constant dialogues with an accomplished Lyons-based refinisher. "I knew about wood, but he taught me about how an eighteenth-century piece should be built versus a nineteenth-century one, or how burl was sliced…all the little details," he says. "On top of this, I read and read and read. It was a fascinating process." That final year in France proved fruitful not only for its educational value, but for its bounty: The couple quickly filled a container full of pieces found at provincial auctions.
In 1992, they moved to Austin, Texas, and immediately launched Jean-Marc Fray French Antiques and Decorative Arts. Their initial 450-square-foot space was set within Whit Hanks, a 1930s-era former Coca Cola bottling plant that's now Austin's premiere antiques destination. "The first year at the gallery was a flop," says Fray. "A lot of the other dealers thought we were crazy. We had very expensive things — large armoires, pieces with intricate marquetry — and no one carried anything like that at the time." And then one day, the chairman of the advertising agency for Neiman Marcus came calling. Looking to furnish his new home on Lake Travis, he began negotiating for just a few pieces. Soon enough, he had purchased the entire gallery. "We suddenly knew we had always been on the right track," says Fray.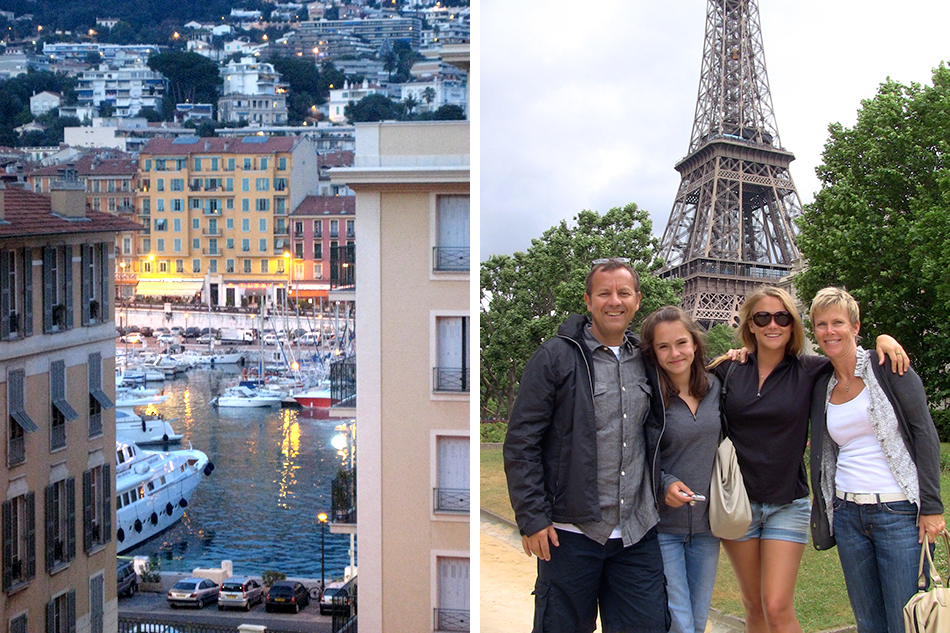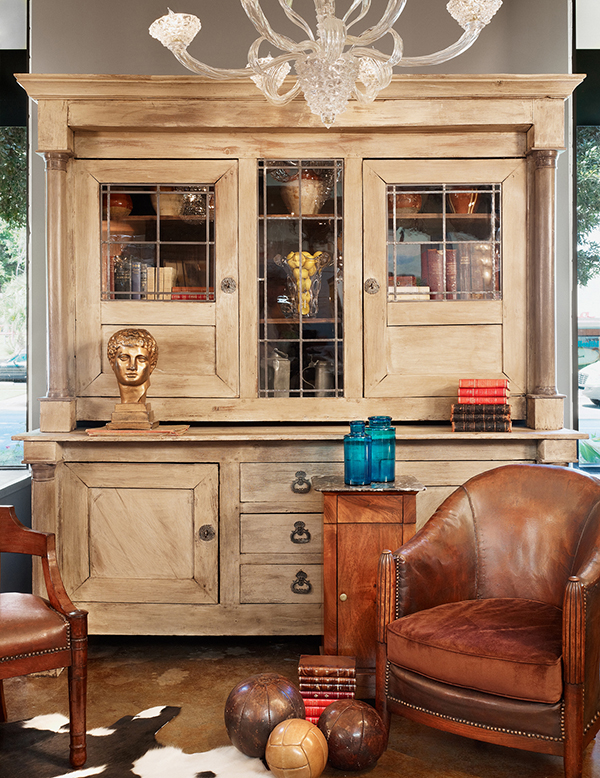 Before long, Flume joined the gallery full time, along with Fray's brother, Jean-Noel, who attended the École des Beaux-Arts in Paris, and "has an amazing eye," according to Fray. Throughout the '90s, things were booming. "From politicians to tech executives, they all wanted to have the right stuff and they all came to see us," says Flume.
Having moved the gallery to bigger quarters — it's now the largest showroom at Whit Hanks  — the couple relishes being able to spotlight all the pieces they love. "Our reference has always been Greek and Roman classicism," says Fray, "and French Empire, Directoire, even Biedermeier and Art Deco styles are wonderful." Perhaps it's this egalitarian approach to acquiring that assures the measured mix of objects arranged on the gallery floor. "I never buy things simply because I know they will sell," he says. "I buy what speaks to me and display it according to function, not style."
When the couple and their two daughters, Leslie and Juliette, aren't traveling to buy more pieces, they can be found with friends and family — either at the table ("My wife's cooking is a moment of grace every single day," raves Jean-Marc) or at their summer apartment in Nice. "I can see the dealers unloading pieces from our tiny balcony," he says. "Cynthia will be in the middle of lunch, and I'll spot something and have to immediately run down. Of course, she always understands why."
---
TALKING POINTS

Jean-Marc Fray shares his thoughts on a few choice pieces