You wouldn't necessarily know that French architect Jean-Michel Wilmotte is a fan of mid-century design. His sleek, spare, ultracontemporary work rarely incorporates vintage furnishings. (A notable exception is La Réserve Ramatuelle, near Saint-Tropez — winner of the "Best New Hotel" category in Wallpaper* magazine's 2010 Design Awards — for which Wilmotte used Finn Juhl's Poet sofa and Hans Wegner's Papa Bear armchairs.) Yet, he is an avid collector of post-war Italian, Scandinavian and American design. Indeed, he claims to only like pieces from the period between 1950 and 1958.
"Every time I see something I like, it's necessarily from between those two dates," says Wilmotte, who will once again serve as the president of the jury at the Pavilion of Arts and Design (PAD) decorative arts fair in Paris next month. "There was a school of designers then who worked with carpenters and paid great attention to form and detail. Then in 1958, the first furniture in plastic came out, and that changed everything."
He is a little vague about how many pieces he actually has — somewhere between 200 and 300 spread between his different homes and storage. But he's quite clear on what he loves: the lighting of Angelo Lelli and Gino Sarfatti, a Franco Albini desk made from travertine and "many, many, many" examples of Giò Ponti's work. Among them is a shelving system he unearthed in Nice, France, which came with a broken porcelain figurine. "I had it restored," he informs me during an interview in his Paris office, "and was told it was a Fontana terracotta. Not bad, eh?"
Wilmotte's resume isn't bad either. During his 39 years in the business, his various projects have included collaborations with I.M. Pei on the interiors of the Louvre and Doha's Museum of Islamic Art; the headquarters of French multinationals like Bouygues, LVMH (the parent company of Louis Vuitton) and Vivendi; the Chiado Museum, in Lisbon; the Museum of Fashion in Marseille; the tramway systems in Lyon and Paris; and the street furniture on the Champs-Elysées.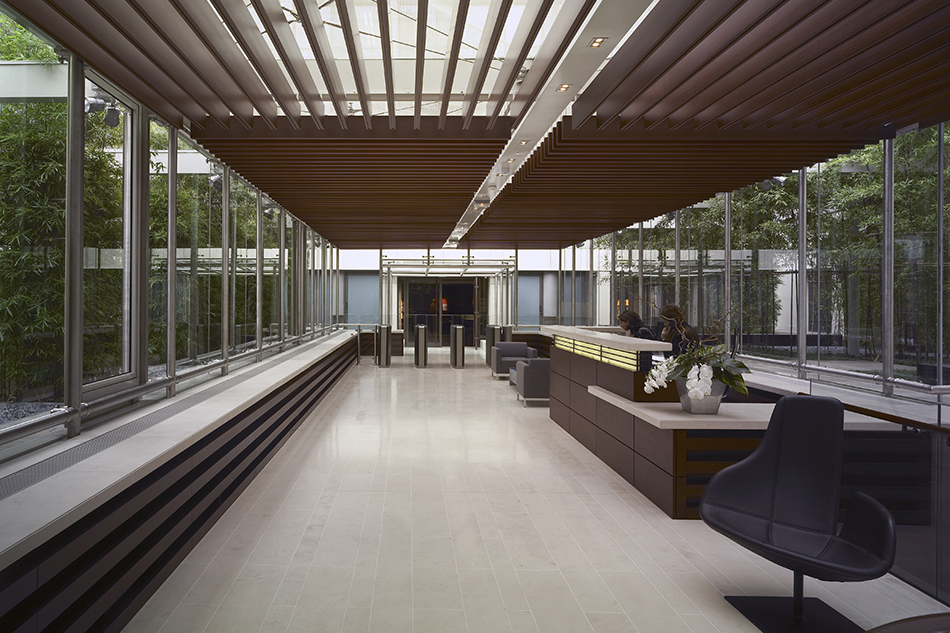 According to the website ArchDaily, which tracks such things, his practice, Wilmotte & Associés, is the third largest architecture firm in France and the 76th in the world. He currently has five different offices (three in Paris, one in London and one in the south of France) and 204 employees divided into four distinct departments: interior design and museography, architecture, design and town planning.
He likes to say of his firm that "our specialty is not to have one," and that diversity has certainly proved an asset. "He combines lots of facets — that of an experienced architect, a talented designer and interior designer," notes repeat client Norbert Dentressangle, the CEO of the transportation firm of the same name, for whom Wilmotte is currently overseeing the mixed-use redevelopment of the historic Royal Hospital in Versailles. "That allows him to bring an overall vision to projects."
At present, Wilmotte has roughly 100 on the drawing board, among them sports stadiums in Nice, Venice and Qatar; a racing car factory for Ferrari in Italy; the European University in Saint-Petersburg; several wineries in the Bordeaux region of France; and, in Paris, the construction of a Russian Orthodox church close to the Eiffel Tower and a complete overhaul of the Hôtel Lutétia that will include the creation of a new central garden and an 80-foot swimming pool.
Wilmotte was born to pharmacist parents in 1948 in a town called Soissons, some 56 miles northeast of Paris. As a child, he constantly made huts and ersatz furniture out of found objects, eventually discovering his vocation when an architect came to renovate the family's pharmaceutical laboratory. "Before that, I didn't know you could work in creative fields," he explains. He initially enrolled to study architecture at the Institut Saint-Luc, in Tournai, Belgium, but quickly switched to interior design and finished his studies at the École Camondo, in Paris. "I didn't like the idea that architecture took so long," he asserts. "With interiors, you could sketch something one Monday and start work the next."
---
"Giving them a second life is an exciting challenge," Wilmotte says of converting old buildings. "They are the projects that are the most poetic."
---
He opened his firm straight out of school in 1975 and began his business by working for developers, transforming hotel rooms on the outskirts of Paris into apartments. "I was so ingenious that I broke all records when it came to integrating large bathrooms and bedrooms," he exults. His first big break came in 1982, when he was one of five designers hired by François Mitterrand, then the president of France, to revamp the private apartments at the Elysée Palace. (Among the others who undertook that job was Philippe Starck.)
Wilmotte's remit was to decorate Mitterrand's private bedroom, and he recalls the late French president as being "very friendly and very attentive. He came quite often to survey the work and gave us a lot of freedom. For us, it was a kind of laboratory — the beginning of our lives."
Another career-defining commission was the renovation of the town hall of Nîmes, in the south of France, in 1985. This was the first time Wilmotte tackled a contemporary additions and intervention in a historic building. (The town hall dates back to 1671.) There, he removed drop ceilings and partitions to reinstate the original volumes of the building and opted for a low-key approach and subtle lighting.
Then, two years later, he began working with Pei on the interiors and art installation at the Louvre. "Working with him was fantastic," Wilmotte notes. "A great symbiosis developed between us. He had the impression I extended his architecture on the inside of the building."
Wilmotte quickly became frustrated, however, with only working on interiors, and so, in 1993, he registered as an architect simply by taking a viva voce examination. Ever since, he has placed a particular focus on the conversion of old buildings. "Giving them a second life is an exciting challenge," he says. "They are the projects that are the most poetic."
Examples of this work include the 2012 renovation of the 13th-century Bernardins College, in Paris (which now houses research departments and classrooms for philosophy and theology students, as well as hosting cultural events, conferences and debates), and the 1989 restructuring of the Grenier à Sel, a 16th-century former salt-storage facility in Avignon, into an exhibition and auction venue.
Today, Wilmotte especially likes working in Russia, where, in association with urban planner Antoine Grumbach, he recently won the competition for the development strategy of the greater Moscow region. "I love Russians, their education, their knowledge," he enthuses. "They have a culture that is absolutely extraordinary."
Wilmotte's style is typified by both a sobriety and elegance — take, for example, the Gana Art Centre in Seoul, with its very precise, almost gridlike facade, or the the Musée Cognac Hennessy in Cognac, France, with its strikingly minimalist geometry. He has gained the nickname "the master of gray" and readily accepts the importance of straight lines in his work. "Things are very structured," he admits. "I'm completely the opposite of Zaha Hadid." Michelin three-star chef Guy Savoy, with whom Wilmotte has created several restaurants (the Chiberta in Paris and outposts in Doha and Las Vegas among them), praises him for his "precision" and describes his style as "classic modernity." For Pierre Berger, the CEO of the construction giant Eiffage, whose new headquarters Wilmotte is currently designing, the architect's style is "timeless, beautiful, pure and rigorous."
Wilmotte cites Le Corbusier, Luis Barragán and the 18th-century Jantar Mantar observatory in Delhi as influences, and he describes Carlo Scarpa as "the great sage of contemporary architecture." He particularly admires Scarpa's work on historic buildings. "What I love is the transition between the existing structure and his contemporary additions," he notes. "Everything is so precise and sophisticated." When asked about the evolution of his own work over the years, Wilmotte affirms that it has tended towards purification. "My main task today," he asserts, "is to simplify things as much as possible."
It's a quest that will no doubt continue for some time to come, given that he has no plans to retire. "Architecture is one of those professions you don't bring to a halt," he says. "When you stop after having been used to such an intense pace, you're done for." Plus, he has at least one ambition still to achieve — the completion of a skyscraper in or around Paris. "We've designed a number that were not built," he recounts. "I'd like to do at least one some day." That said, he's quick to add that it's not an obsession. "You know, I'm very spoilt," he insists. "We've done so many incredible things."
---
Jean-Michel Wilmotte's Quick Picks on 1stdibs