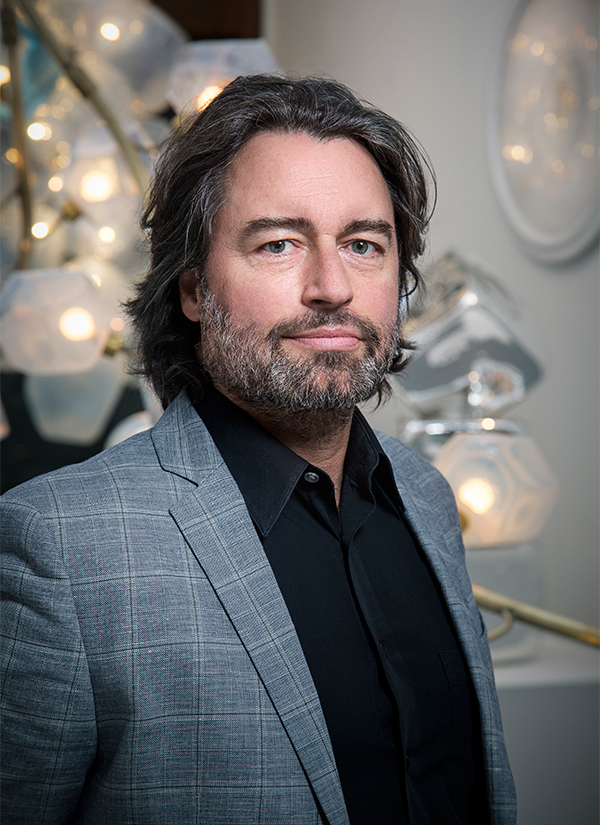 On first glance, it's hard to know what to make of Jeff Zimmerman's glass objects. His brass vines adorned with delicate glass globes are clearly intended to be graceful, sinuous chandeliers, while a stack of wonky boxes made of mirrorized glass is a bold, purely aesthetic statement. These and other Zimmerman pieces are on display in the new solo exhibition "Jeff Zimmerman," at R & Company in New York City through February 20. But are they design — or art?
Evan Snyderman, coprincipal of the gallery, says the answer depends on whom you ask: "Jeff's work lives in this gray area between art and interior design. It's hard to define what he really does. He's both an artist and a designer, and I think he's an artist first. Ultimately, it's up to the collector to decide what to call the work."
Zimmerman, who is 47, has been making glass pieces inspired by nature, and blurring boundaries along the way, for more than 20 years. Although he grew up surrounded by art at the Anderson Ranch Arts Center in Colorado — his mother was a painter and his stepfather a sculptor who ran the center — he didn't discover glassblowing until he took a class in the technique in 1988 while pursuing an undergraduate degree in anthropology at the University of California, Santa Barbara. He left California to study classical Venetian glass techniques at the Appalachian Center for Craft in Tennessee, where he received his BFA in 1994. He also spent summers at the famed Pilchuck Glass School (founded by Dale Chihuly) in Seattle. Eventually, he mastered glassmaking, and "that allowed him to explore bigger ideas," Snyderman says.
But Zimmerman was doing plenty of exploring even in the early days. While earning his BFA, he built a box out of safety glass and exploded firecrackers inside it. In the '90s, he, Snyderman and Snyderman's partner in the gallery, Zesty Meyers, were part of an artist collaborative, called the B Team, that combined glassmaking and performance art — "juggling hot glass, dancing on hot glass and making hot-glass rainstorms" while holding steel umbrellas, Snyderman recalls.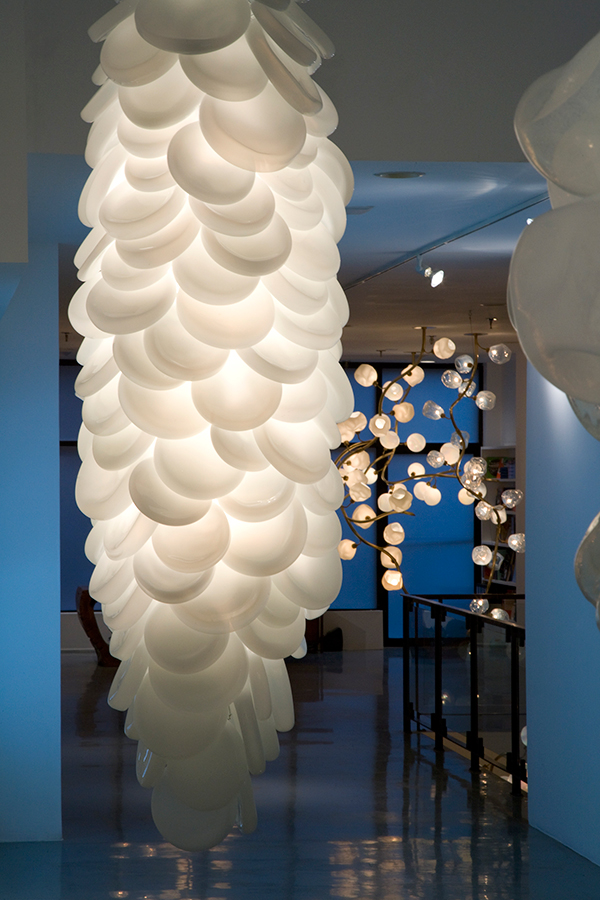 In 1999, at the Robert Lehman Gallery in Brooklyn, the group created a multi-room, large-scale installation in glass that fundamentally changed how people viewed the medium. Zimmerman's experience with the B Team "taught him to work with glass in extreme ways," Tina Oldknow, a former curator at the Corning Museum of Glass, wrote in the 2014 book Collecting Contemporary Glass.
Zimmerman's propensity for experimentation perhaps explains why his work continues to grow and change, much like the natural phenomena from which he draws inspiration. For this solo exhibition, his fifth at R & Company, he sought to emulate structures existing beneath the earth's surface: crystal caves, underground rivers, streams and ice. "I'm trying to create sculptures and an environment that encourage the viewer to appreciate, ponder and wonder at the natural world, our universe and, essentially, ourselves," Zimmerman says.
The result is new forms in his oeuvre — such as hanging crystal clusters and rocklike constructions, both lit from within — and the introduction of color in his work for the first time: saturated blues, purples and yellows. But Zimmerman has also expanded upon the forms he is best known for, transforming his vine chandeliers into denser illuminated ice flows, for example.
"His work is designed to fill empty voids in architecture," Snyderman says, adding that Zimmerman frequently works on custom commissions.
And then there are the pieces that defy definition, such as a transparent gray sculpture that resembles interconnected bubbles with crystals growing inside. "He looks at how cells are formed, at a micro level, as well as how the universe expands, at a macro level — zooming in and out," Snyderman explains. "Overall, it's like walking into an enchanted world."