London-based landscape designer Jinny Blom doesn't care much for the park at Versailles. She still recalls her first visit as a young child. "I was intimidated by the scale of it," she recounts. "The vistas were too big. It feels like an ego out of control." In her mind, a garden should be a more intimate experience. She talks about creating "genuinely private refuges" and believes they should offer both serenity and a sense of protection. "I want to be able to wander around in my nightie outside without a postman intruding on the space," she quips.
Since taking up her career in the late '90s, while in her mid-30s, Blom has shot to the top of her profession. She has taken on commissions stretching from the East Coast of the United States to Kenya and has created Chelsea Flower Show gardens for both Prince Charles and Prince Harry. In 2010, Vogue devoted a six-page profile to her, and in a recent Architectural Digest feature on her work, blue-chip contemporary art dealer Iwan Wirth hailed her as "undoubtedly one of the greatest landscape talents."
The article was pegged to the release of Blom's first book, The Thoughtful Gardener (Jacqui Small), which is part personal memoir, part practical guide. Among the nuggets of advice she proffers are that "avenue trees must be planted 10 meters (39 feet) apart" and "a strong clear pink is essential in a garden, and to stop it looking too much like a girlie bedroom, I weigh it down with serious magenta and navy." She also suggests looking out of every window in a house at the start of the design process to get an idea of the views you wish to create. And she confesses to a love of topiary. "It feels like people, old friends," she writes.
Blom describes her style as "very eclectic." "It's delightfully variable and florally flamboyant," concurs fellow landscape gardener Todd Longstaffe-Gowan. The diversity derives in part from her belief that gardens, especially those in the country, should have a sense of place. While creating a new scheme, she'll prowl around the neighboring fields and streets and take inspiration from what is already growing. She also buries herself in books and maps to uncover the local history. For example, she recently learned that her own home, a 16th-century barn in Oxford, with a 1970s modernist interior, is on the site of the palace of 10th- to 11th-century English king Æthelred the Unready. If her research unearths old paths or structures, she'll generally re-create them. "It allows you to stitch something more profound into the project," she says.
Architectural elements, be they walls or buildings, are a constant in Blom's gardens, as is a sense of discovery. "The hide-and-seek of not knowing what happens next makes the experience playful and intriguing," she says. She is also an advocate of strong structures. "Even the relaxed parts have corsets," Blom says. "I can't do amorphous randomness. Everything has to have an underlying geometry."
In person, Blom is anything but rigid. "If I had to choose two characteristics that most impress me about Jinny, it would be her intelligence and humor," says Anne Fry, a client for whom Blom has created gardens both in London's Notting Hill and on an Oxfordshire farm. Conversations with Blom are invariably hilarious, and her sharp wit is abundantly evident in The Thoughtful Gardener. In one passage, she talks about Lady Hillingdon, for whom a hybrid tea rose is named: "[She] is reputedly the originator of the phrase, 'I close my eyes, open my legs, lie back and think of England,' as she heard her husband coming up the stairs. Not a bed of roses for her then!"
Blom herself has an interesting background. Her great-grandfather Louis Tinayre, a painter at the court of Monaco, accompanied Prince Albert I on his voyages of discovery to far-flung destinations like Wyoming and the Arctic in the early 20th century. Her father was six feet five and of Norwegian origin. Her mother, a keen gardener, was a five-foot-tall Frenchwoman. Blom was born in Warwickshire, England, in 1962 and brought up in Royal Leamington Spa. "When I was little, my dad used to call me Mrs. Mud," she says, chortling. "I'd sit in the garden studiously stirring it and making pies from it. I was also very absorbed in flowers. I'd lie down beside a flower bed on my stomach and watch."
Her childhood involved regular visits to the gardens of nearby Hidcote Manor, whose designer, Lawrence Johnston, is one of Blom's horticultural idols. Another is Capability Brown, whom she calls a "justified genius" for the way his designs combined both beauty and practicality. She lauds in particular his engineering feats, which provided water for large country estates in the form of man-made lakes.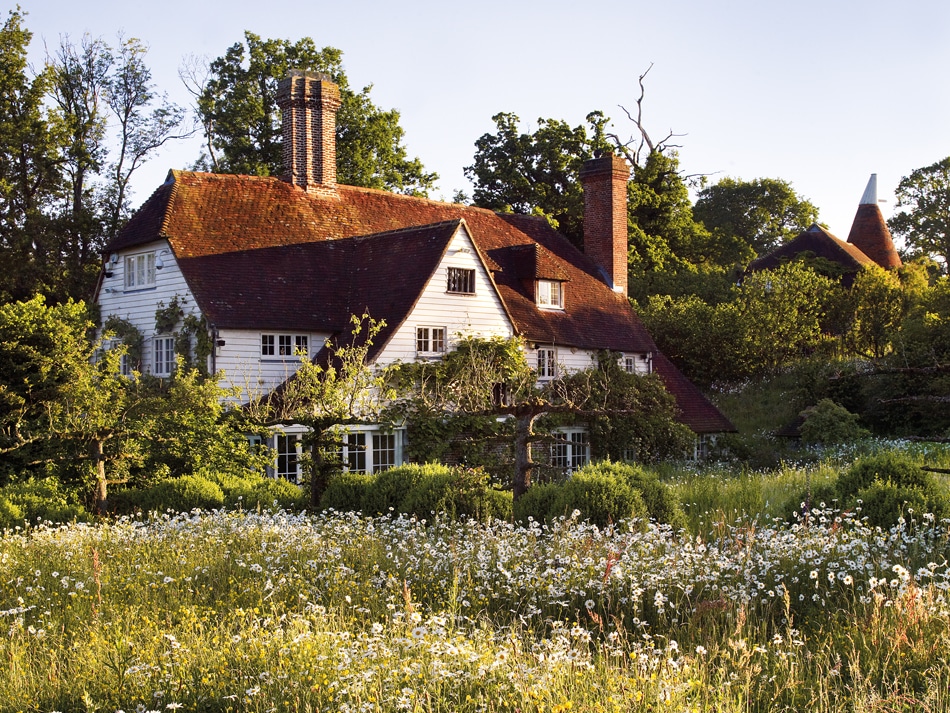 Blom arrived at her current profession via a rather circuitous route. She studied drama in Stratford-upon-Avon and ran a delicatessen in Dulwich, in South London, before training for nine years as a Jungian psychologist. Her life-changing moment — or anagnorisis, as she terms it — came after the death of her two closest friends. She had been helping on weekends for years as they developed their extraordinary garden in Northamptonshire, England. While taking a break in northern Spain soon after their deaths, she had a vivid dream, which she recounts in her book. In a crowded football stadium, a small child whispered to her, "Please, may I be a gardener?" Blom took it as an omen and started designing gardens two days later. "It was," she says, "as simple as that."
She got her first client, an antiques dealer in Northamptonshire, through word-of-mouth. At the same time, she honed her trade by working for four years as a part-time assistant to garden and landscape designer Dan Pearson, whose clientele includes Apple head designer Jonathan Ive and fashion designer Paul Smith. "I owe Dan a huge debt of gratitude," says Blom. "I just thought his planting was the most beautiful thing I'd ever seen."
---
"I can't do amorphous randomness. Everything has to have an underlying geometry."
---
Currently, she has nearly 50 projects on the drawing board. They include gardens for a Georgian rectory in Nottinghamshire; an 18th-century home in Gloucestershire; and the Fife Arms Hotel near Balmoral, owned by Iwan Wirth and his wife Manuela. "It's going to be bloody brilliant," promises Blom. That's a term that could be applied to many of the gardens she's already completed. At the 64,000-acre Corrour Estate, in Scotland, she took a naturalistic approach to the roughly 60 acres she worked on, replanting indigenous trees, restoring the original Victorian garden and sowing wild meadows. For Temple Guiting, a Grade II listed house in the Cotswolds, she re-created the garden's medieval structure and was presented with a prize by Prince Charles for the new dry-stone walls. She still gleefully recalls an anxious moment when she invited him inside the dovecot. "You could hear this thrashing consternation on behalf of his security staff as he disappeared into this black hole," she giggles.
Her encounter with Prince Harry was equally memorable. For the 2013 Chelsea Flower Show, he commissioned Blom to create a garden for his charity Sentebale, which helps the children of Lesotho. Her design included a mud rondavel and sinuous steps based on the terraced hills of the African kingdom. It was visited by the queen and drummed up so much press that one neighbor nicknamed her the "Kim Kardashian of gardening."
One of Blom's favorite clients is Lady Victoria Getty, the widow of philanthropist Sir John Paul, for whom she conjured up a garden in England's Chiltern Hills. "I said, 'What do you like?' And she replied, 'I like what you like,' " remembers Blom. "She basically just let me do whatever I wanted." Among her interventions was the removal of a host of trees that had been planted in the 1950s and blocked the views of the adjacent valley.
At another garden in Oxfordshire, she spaced the topiary along the long path to the tennis court to match the rhythm of the drumbeat in Stevie Wonder's "Don't You Worry 'bout a Thing." Blom explains: "If you've got a tune in your head, it makes you bounce down there quicker." Her love of music came in handy when she interviewed for another job. "The fact that she could sing all the words to John Denver's "Leaving on a Jet Plane" impressed my partner," recalls Lyndsey Baker, for whom Blom reconfigured 50 acres of gardens and parkland in Gloucestershire.
As for Ptolemy Dean, a historical architect with whom Blom often collaborates, he still remembers driving down an English highway with her when she spontaneously decided to inspect a group of semi-abandoned farm buildings nearby. "With no concern about vehicle suspension, rules of trespass, risk of encountering a farmer with a shotgun or indeed a late arrival at our meeting, we explored the site," he recounts. "Boundaries were expanded and life lived to the full. How can you not enjoy working with someone like that?"
Or Support Your Local Bookstore