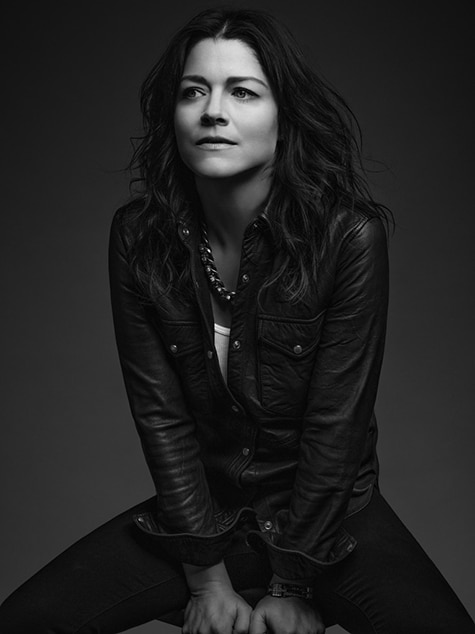 Her work has been called subversive by the New York Times, rock-chic by Traditional Home and edgy more times than she can count, but as New York– and Chicago-based designer Kara Mann enters her 13th year in business, she says, "I'm pulling back. I used to be more hard-edged and trying to prove a point. Now, I'm feeling elegant, pure and very simple."
Does that mean good-bye to black walls, furniture with steel studs and Sputnik chandeliers? Probably not, although some of Mann's recent projects, like a whitewashed Nantucket cottage and a softly colored penthouse on Chicago's Gold Coast, have as much earthiness as edginess, with elements as classic as they are nonconforming. Rest assured, there will always be a touch of leopard in Mann's interiors. "Leopard print is still my neutral," she says.
You can't take the rock and roll out of the girl, it would seem, and this Rolling Stones fan — a petite dynamo in skinny black pants and stiletto-heeled boots — has gotten where she is by staying true to her distinctive, unconventional style. Now, with two offices and 22 employees, Mann has a slew of high-profile hotel and residential commissions under her belt, plus a successful line of furniture for Baker's Milling Road.
There's not a boring spot in any Mann-designed room. She loves to take clean-lined pieces with timeless shapes and enliven them with saucy details, accessories and accent pieces, such as nine-inch-long fringe lining the bottom of a velvet armchair, elaborately carved wood specimen chairs, oversized photo murals and show-stopping chandeliers. The luster of gilding on a console or shimmer of silver on a mirror frame is never far way.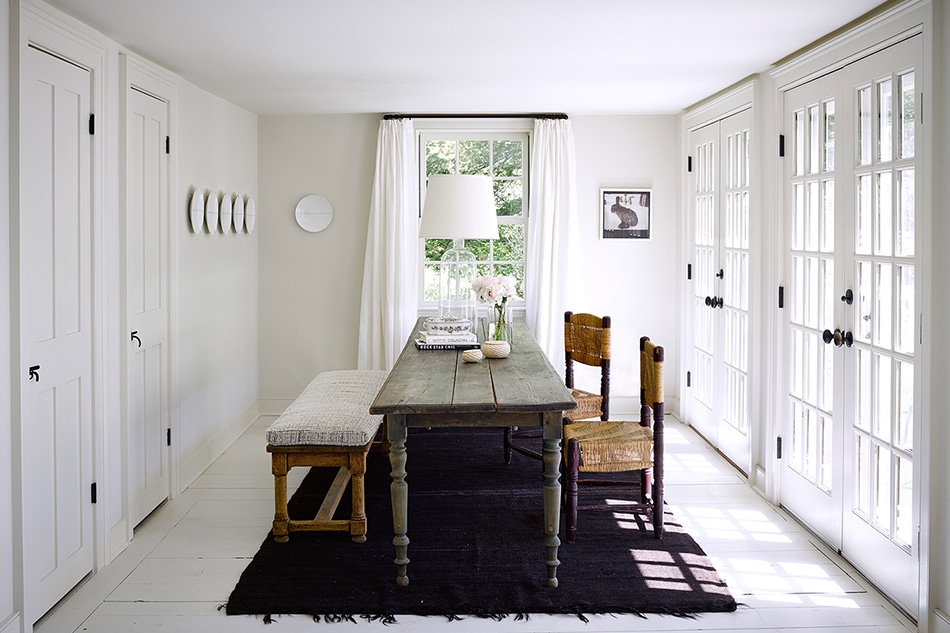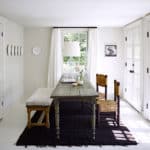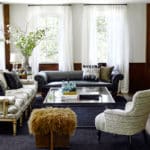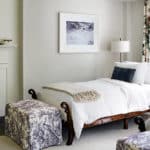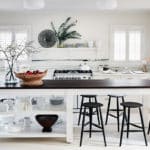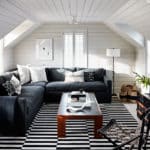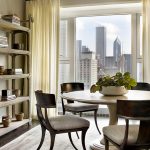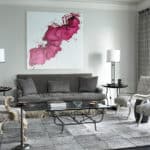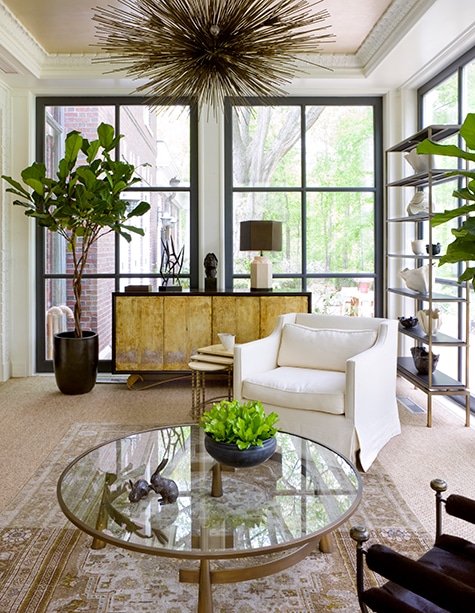 Mann is a master of the mix. For a Connecticut Colonial, she confidently combined a caned sofa, mid-century leather Tobia Scarpa chairs from A. Tyner Antiques with Victorian wicker, a glass Holmegaard chandelier from Denmark and elements of chinoiserie. The Nantucket cottage, which she took down to the studs and lined with all-new shiplap paneling, was a "high-low project," Mann says, where basic sofas ordered from a home-furnishings catalogue play nicely with elevated, unique accessories from a variety of 1stdibs dealers. She found a set of wicker furniture at Laurin Copen Antiques, in New York's Hamptons; a circular English side table at Manhattan's Biscaye Frères; and a hand-hooked rug at Los Angeles's East Meets West Antiques. Some items — such as ship-shaped andirons from Nantucket House Antiques — came from the 1stdibs storefronts of galleries on the Massachusetts island itself. "1stdibs is a great resourcing tool for shopping locally," Mann says, "which gives you the flavor of where you are."
At present, Mann is working on a few colossal projects, including 1000 M, a new Helmut Jahn–designed residential tower in Chicago. There, she's handling the lobby's design, creating the layouts and selecting the finishes for the apartments and handling various other elements of the interior architecture. As for hotels, which she says she loves because "they're glamorous and romantic," she currently has two in the works: a 175-room Kimpton property in Dallas, to open in 2018, and the 177-room Talbott Hotel in Chicago, a redevelopment of a 1920s grande dame, due to open by this summer. "I'm keeping it classic but making it current," Mann says.
The designer takes pride in running her projects well. "Design is twenty percent of the job," she says. "The rest is management." Still, it's a lot for one person to pull off. "That's why I have all these talented people here to help me," she says, gesturing down the length of the Soho loft that is her studio, where the computers of her staff of young creatives, techies and draftspeople hum with activity.
Mann opened her Manhattan office in 2011, to supplement the original one in her hometown of Chicago. Now she jets back and forth between the two cities every other week, staying in one of her three residences: a "tree level" co-op apartment in a 1920s building on Chicago's Gold Coast, a West Village apartment in a converted school building and a vintage 1790 Cape house in Connecticut's Litchfield County that she bought two years ago. That's where she indulges her personal collecting habit, which includes rugs ("I've been through an Oushak phase, I've done Khotans, I love Chinese Deco") and, lately, contemporary art and photography.
---
"I'm pulling back. I used to be more hard-edged and trying to prove a point. Now I'm feeling elegant, pure and very simple."
---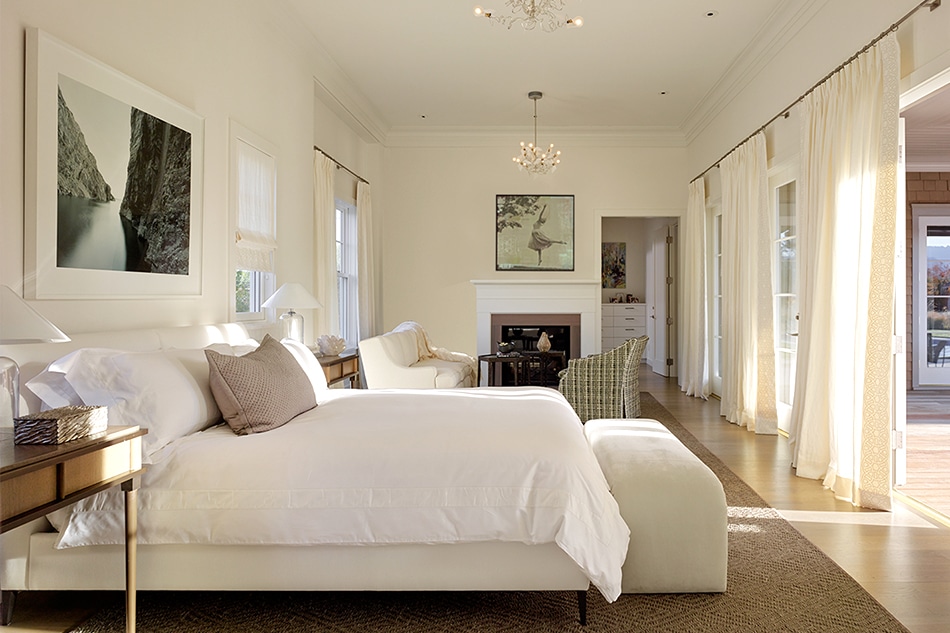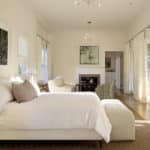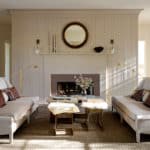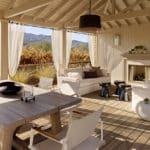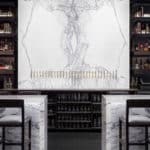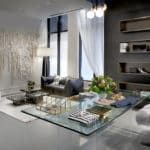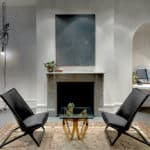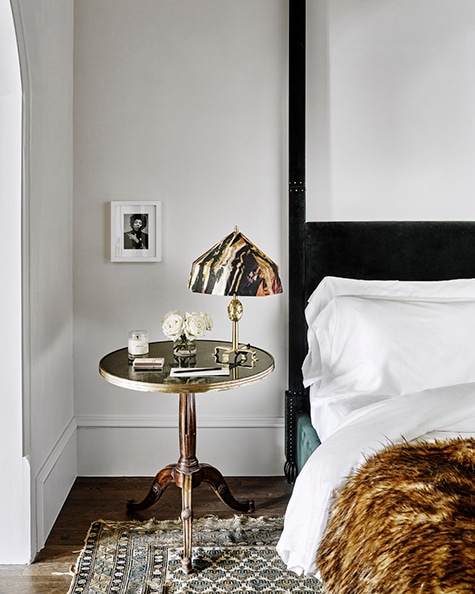 That collecting bug was how it all began, in New Orleans antiques shops, when Mann was an art student at Tulane. "I would always poke around vintage stores," she recalls, "but I didn't know it could be a career" — until, that is, she got out of school and her dad's friend, who worked in advertising, suggested she look for work as a stylist. Mann cold-called a few photographers and went on to freelance for several years back in Chicago. Then, she says, "it dawned on me that I wanted not just to style the interiors but to create the whole thing." So she went for some "very practical" training in interior design at Chicago's Harrington Institute. After stints working at both commercial and residential firms, she started her own business in 2005.
Two years ago, Mann landed the gig to update the Milling Road line for iconic American furniture company Baker, with a mandate to "make it more relevant, casual and approachable, with a great price point," she says. She kicked her operation into even higher gear, designing 54 pieces of furniture and 30 fabrics in a year. "When I think of Baker, I think of caning and chinoiserie and burled woods. I took those classic elements and applied the ideas in a more modern way, using black and white to make things really graphic and blowing up the scale of patterns to make them fresh." The line debuted in January 2016 and has been one of the most successful launches in the company's 127-year history.
With all this on her plate, Kara Mann is never bored, just as her spaces are never boring. Remarkably, she doesn't seem unduly stressed either. Having a country getaway helps. She goes to Connecticut as often as she can, taking long hikes with her two dogs, Bob and Shorty, toy Australian shepherds who have silky black and white coats and ice-blue eyes. "They're definitely curated," Mann says. "I'm not gonna lie." She adores dogs and jokes that her next career will be owning a dog sanctuary. But not just any dog sanctuary. "All the dogs will have really awesome spaces."
---
Kara Mann's Quick Picks on 1stdibs