June 26, 2022Katharine Pooley's family has a motto: Conare et vinces — try and you will succeed. It is advice she took to heart at an early age, finding success first in international investment banking and then with the eminent architectural and design business she founded 18 years ago.
Today, her team at Katharine Pooley Design Studio, numbering just under 50, manages projects across the globe that range in size from 3,000 to 100,000 square feet.
Although Pooley is one of the best-known designers in London, the U.K. capital accounts for only 20 percent of her business, with British country residences making up a further 20 percent and international ones 60 percent.
This year alone, she is working in the U.S., France, Monaco, Switzerland, Majorca, India, Malta, Hong Kong, Kuwait, Abu Dhabi and Dubai. Private residential work predominates in her portfolio, but the studio is also engaged in commercial, hospitality and superyacht projects.
Pooley cites her father, Robert Pooley MBE, as a huge inspiration. After serving in the Royal Air Force, he founded Pooleys Flight Equipment — still the global aviation industry's go-to source for flying and navigation equipment — in 1957 and, subsequently, Pooleys Sword, the leading cutler of military and presentation swords for the British Armed Forces. She herself held a helicopter license for several years.
"It's in my blood," Pooley says. "The first thing I learned as a child wasn't the conventional alphabet but Alpha, Beta, Charlie, Delta."
Following university studies at the Institut national des sciences appliquées (INSA) in Lyon, France, Pooley relocated to Asia to work for Morgan Stanley, moving from there to Barclays bank, based first in Hong Kong and then in Singapore, Vietnam and Bahrain. While living abroads, she says, "I indulged my love of design by buying all manner of artifacts, including textiles, carpets and antiques."
After 16 years, she returned to London with her husband, Daniel. Together they decided that she should change careers and indulge her passion for interiors by opening a boutique on Walton Street in Chelsea, selling items she had sourced on her extensive travels.
That was in 2004. Before long, clients were asking her to design their homes, and the boutique morphed into a full-fledged design studio. In 2012, she opened a second showroom, this one in Doha, cementing her links with the region.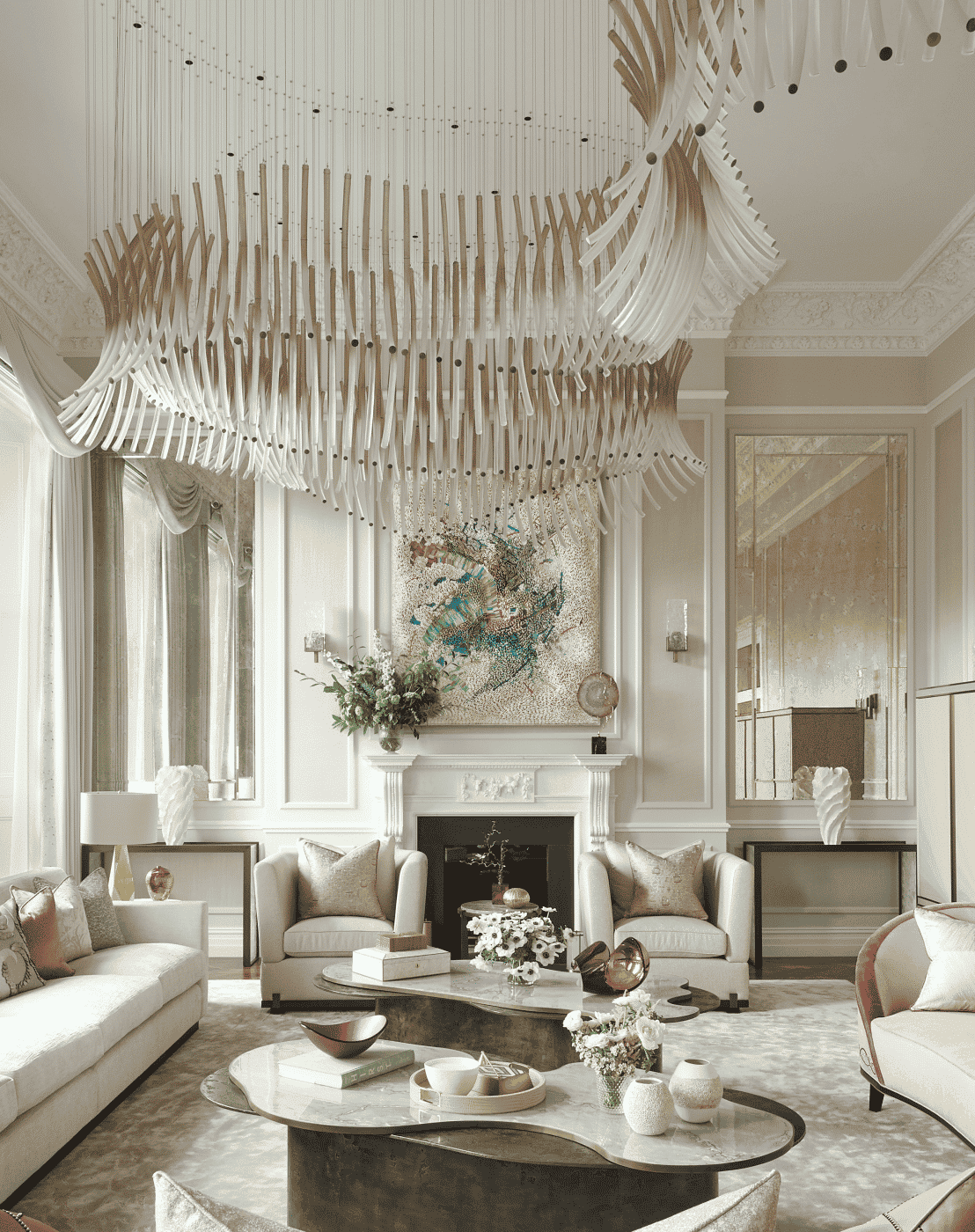 These days, her business is thriving, continually attracting new clients and earning commissions from many returnees. One such example is an apartment in The Lancasters — among London's most beautiful residential developments, overlooking Hyde Park — where Pooley was asked to combine two apartments to create one magnificent home for an international family.
The drawing room is particularly spectacular, dominated by a chandelier of handblown glass tubes that appears to flow over the ceiling. "We design the majority of our lighting in-house," says Pooley. "I love the theater and pizzazz of this."
She chose a feminine color scheme of rose, cream and blush pink for the space. "It was very much designed with the lady of the house in mind, but knowing that men can also sit in it comfortably," she says. At one end are asymmetric resin-topped coffee tables with liquid metal bases, designed in-house, together with rock-crystal-and-bronze consoles by Simon Orrell, set into the niches on either side of the fireplace.
At the other end, the studio designed the over-scale curved sofas, while the layered coffee tables in wenge and gilt were made in collaboration with Boca do Lobo. The distinctive metal console by Adam Williams is in a colorway bespoke to the studio, topped in Calacatta Oro marble.
Over the years, Pooley has worked with a handful of developers who share her commitment to exceptional quality. One such example was her client for a handsome Queen Anne townhouse in tony Rutland Gardens in Kensington, which needed a complete rethink.
"We knew it was likely to be a second home," says Pooley, "so I challenged the client a fair bit on resolving tensions, such as balancing storage requirements with spatial flow. This is about how to live perfectly, with every detail considered, down to how best to integrate the coffee equipment."
She kept the color scheme neutral, allowing prospective owners to imprint the house with their own taste and personality through soft furnishings and artworks. However, it was important to style it to attract the right buyer, by juxtaposing antiques with contemporary art. The result is a home that is harmonious and considered, with superb finishes, like seamless marble floors, but also individual. No wonder that it sold immediately.
One of Pooley's favorite projects is the house she designed for a young couple in Notting Hill, who had such confidence in her proposals that they never asked for any changes. "It had been renovated by a developer previously," she says, "but with very little thought. That meant we needed to start from scratch with many of the key elements, including the flooring and the pool, but we worked like demons over the first lockdown to complete it for them in eight months."
The clients appreciate quality, so Pooley commissioned the finest craftspeople, including cabinetmakers Halstock and Silverlining, and ordered a piano from Steinway, bespoke elevator doors from Based Upon, a billiard table from William Bentley, alabaster pendant lights from Hervé van der Straeten and hand-painted wallpaper from Fromental. The result is a blend of comfort with cool — a home filled with a dynamic energy ideally suited to her clients.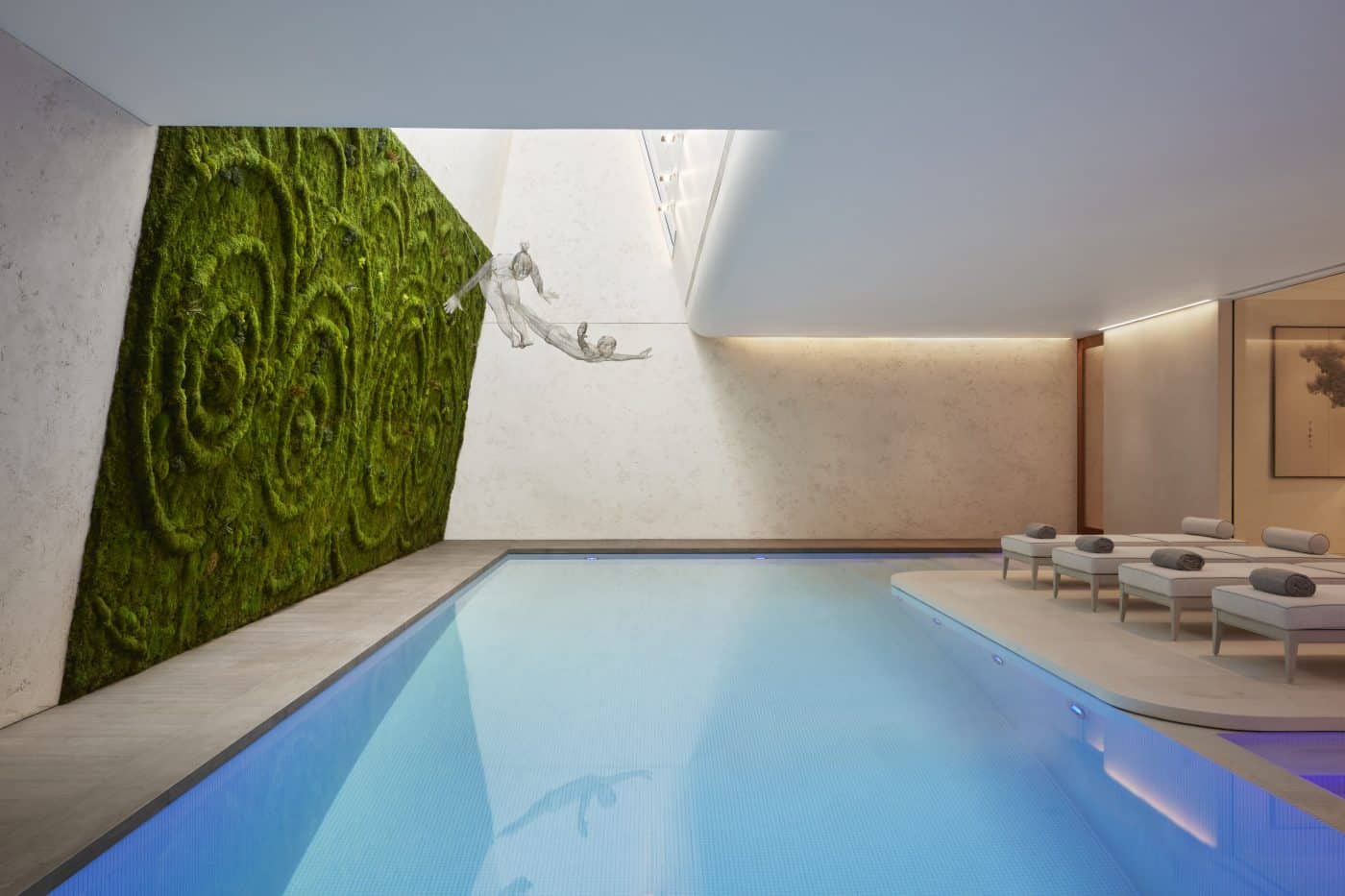 Pooley herself owns a portfolio of carefully chosen properties that include a smart London townhouse, a magnificent country house in Oxfordshire, a Hamptons-style holiday home in Devon, a romantic castle in Scotland and a tiny bolt-hole in the Lake District called Little Nut Cottage. "The colors in the autumn there are like those of Vermont," she says. "Crazily beautiful."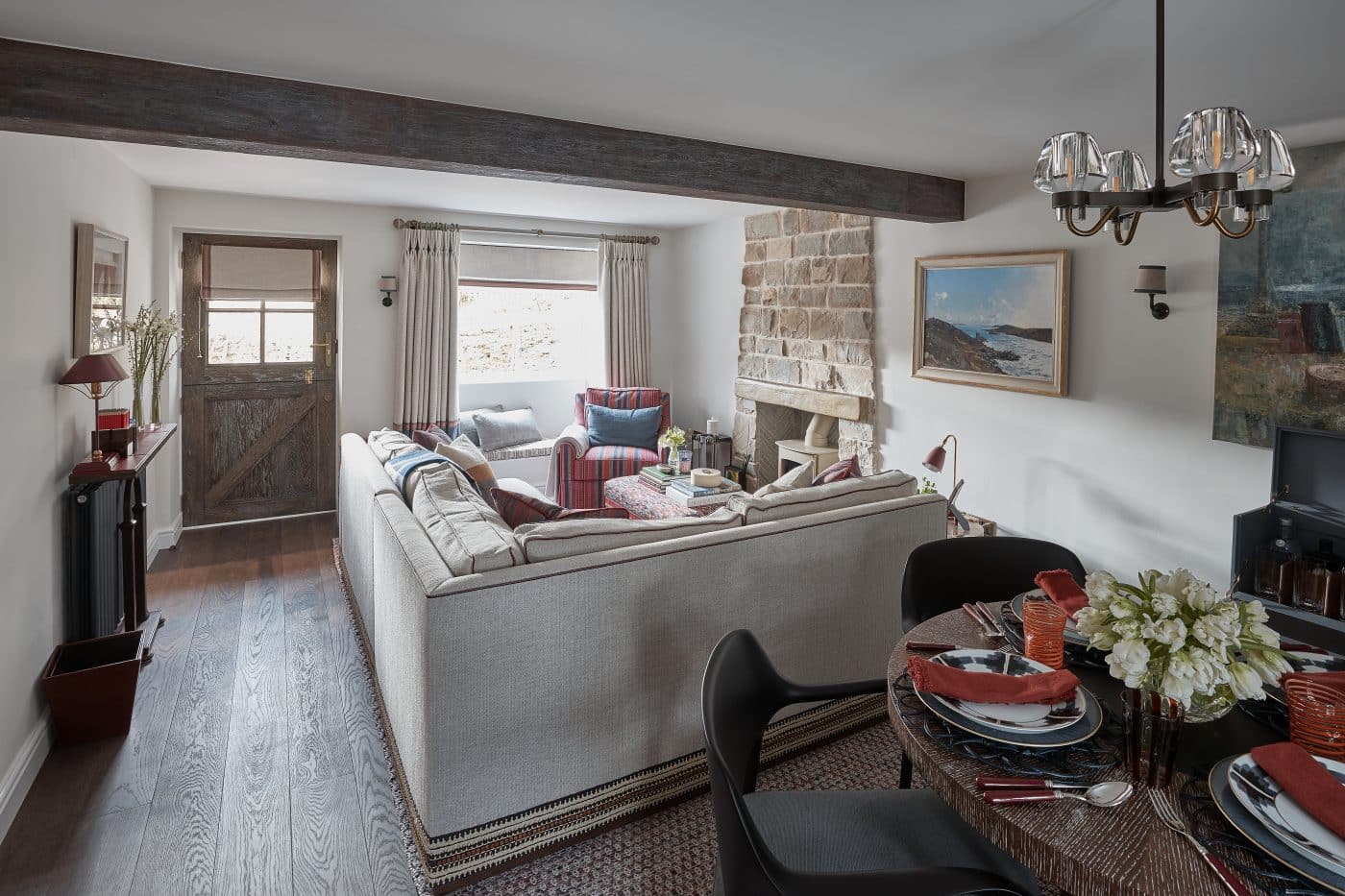 She bought the cottage in 2020, had it completely stripped and refurbished, then decorated it in natural tones with accents of claret red. Rather than being constrained by the small scale, she went as large as possible, with pieces of furniture that include a bespoke L-shaped sofa in the sitting room and a minimalist four-poster bed in stained oak she designed for the master bedroom.
Among her favorite touches are the ceramic flowers behind her bed, sourced from all over the world, each depicting a bloom indigenous to the Lake District. She also loves scouring local art galleries for paintings by such British artists as Richard Cook and Jeremy Gardiner.
Each year, Pooley writes a list of goals, relating not just to her business but to her personal fulfillment as well. "I love what I do, but I'm capable of even bigger. I also enjoy giving back," says Pooley, who is a trustee of the British Forces Foundation and King's medical college; an ambassador for the women's health charity Lady Garden; and an advocate for the international Campaign for Wool, among other philanthropic commitments.
"The interior design community is such a privileged one that I feel we could achieve so much more for society, for the planet and for our children if we all came together for the common good."
Katharine Pooley's Quick Picks