This year marks the 100th anniversary of the Kips Bay Boys Club, established in 1915 to give disadvantaged young boys productive outlets for their energy. The Club's current function has greatly expanded and diversified — as indicated by its significantly more inclusive contemporary name, the Kips Bay Boys & Girls Club — with programs that range from athletics to performing arts to computer science and now serve some 11,000 low-income children from around the city.
Since 1973, the organization's main fundraiser has been the annual Kips Bay Decorator Show House, for which groups of A-list designers commandeer a townhouse — or, on occasion, apartments in high-rise towers — and transform every room, landing, stairwell, terrace and niche into personal expressions that reflect the current state of design. (This year's outing runs from May 14 to June 11.) The money earned from admission tickets to the month-long event, as well as sales of donated merchandise from its pop-up shop, helps fund the club's programs.
To commemorate the centennial, Gibbs Smith has just published 40 Years of Fabulous, which was written by Steven Stolman, the erstwhile president of fabric house Scalamandré, whose involvement with the show house dates back to its earliest days. (A portion of the book's sales will also benefit the club.)
According to Stolman, now an author and branding consultant, researching the history of the show house was an arduous and often frustrating endeavor. In his introduction, he acknowledges that Chris Casson Madden's Rooms With a View: Two Decades of Outstanding Interior Design "remains one of the few comprehensive records of Kips Bay's earlier years" and laments the paucity of documentation in the archives of Condé Nast, Hearst and the New York Times. When it came to specifics, designers were less forthcoming than he'd expected. "Interior designers are so good at so many things," he says. "Record keeping is not one of them. The same can be said for photographers and nonprofits for that matter."
Daunted, Stolman compiled what photography he could and grouped rooms under general rubrics such as "The Traditionalists," "The Showmen," "The Provocateurs," "The Newcomers" and so on. A short text introduces each chapter, and photos are accompanied by simple captions: "Pop art pizzazz from Amy Lau;" "A ladylike sitting room by Carolyn Guttila;" "Marbleized walls join forces with a checkerboard floor in a drop-dead dramatic entry by Martyn Lawrence Bullard." Designers' quotes about their own experiences with the Kips Bay Decorator Show House are also sprinkled throughout.
"A book about a show house wants to be a picture book," says Stolman, in reference to the lack of text. "You want to see page after page of beautiful rooms."
---
"Interior designers are so good at so many things. Record keeping is not one of them."
---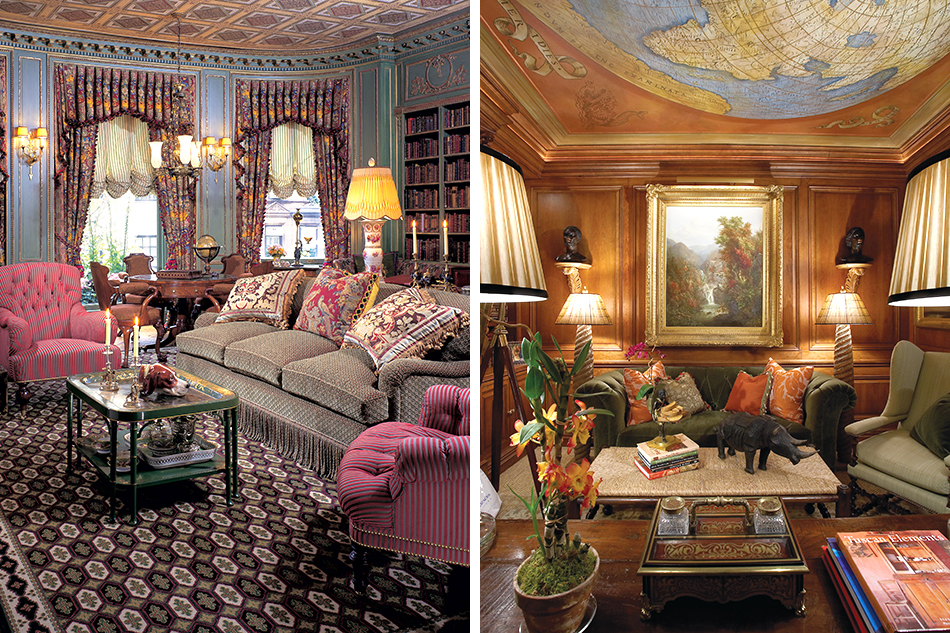 Indeed, beautiful rooms are plentiful in this tome. And for those who follow design closely, they chronicle trends through the decades. Though there are no dates on any of the photographs in the book, 1stdibs was able to find old Kips Bay catalogues and do some creative Internet surfing to narrow in on some particulars. It is interesting to see, for instance, how a late 1980s man cave by Eric Bernard perfectly encapsulates that decade, with its sleek finishes, all-black interior (something pioneered by Bernard), celebration of modern technology and hints of teal. We also see the emergence of Hollywood Regency style in a 1990s room by Michael deSantis.
One can witness as well the morphing of traditional design from exorbitantly layered and plush to something more distilled, edited and comfortable. A 1995 library by Bennett and Judie Weinstock is almost stuffy when contrasted with Barbara Ostrom's more casual take on the form in 2006. And the formality and rigorous classicism of a dining room by Gary Crain from 1988 is worlds apart from the soothing, poetic classicism of Darryl Carter's sitting room from last year.
It is also a delight to see the constancy of certain designers' styles: Larry Laslo (always chic, bold and fresh), Mario Buatta (reminding us of the joys of floral prints) and the late David Barrett (that tireless purveyor of lavish fantasies who, noted Casson Madden in her book on Kips Bay, hatched a trompe l'oeil trend that soon appeared everywhere).
One sympathizes with the author's dilemma, of course. The constraints Stolman faced are surely the reason behind a caption of a picture at the beginning of the book, where various designers are assembled on a staircase. It reads, simply, "From the pages of Town & Country magazine, one year's stellar designers." The uninitiated will not know he or she is looking at a dozen of the design world's greatest legends, Bunny Williams (who provided the foreword to the book), Mark Hampton and Robert Metzger, among them.
For devotees of Kips Bay, however, the fun in 40 Years of Fabulous consists of recalling familiar rooms and trying to peg this kitchen or that drawing room to a specific year, trend or decade. There is also considerable fascination in witnessing where we were and how far we have come in terms of interior design. Some of the early rooms — easy enough for even neophytes to spot because of the inferior quality of the photography and the over-the-top propping — are wrapped in bolts and bolts of prints and trimmed in ornate fringes and tassels. The extravagance is layered on so thickly that it clearly points to a bygone era.
And for those not steeped in design history? "Certainly they'll be inspired," believes Stolman. "A show house room is so much more than a real room. You pack hundreds of ideas into a single space. Even rooms that are 40 years old are extraordinarily relevant. You'd have to go through reams of shelter magazines to see this many ideas at one time."
The book also includes a short history of the Boys & Girls Club and an affectionate tribute to its earliest president, Rella MacDougall. But what 40 Years conveys most clearly in its 270 pages is how influential and relevant the Kips Bay Decorator Show House was and still is. (More than 20,000 people visit each spring.) As Stolman writes, it "sets the standard by which all others are judged. Trends have begun there, traditions have been celebrated or revived, and careers have been made."
This year's Kips Bay Decorator Show House will open its doors May 14 at the circa-1909 Arthur Sacks Mansion at 58 East 66th Street and run through June 11.
---