October 9, 2022If you were looking for the perfect oceanside hideout, you couldn't do better than antiquarian Lee Stanton's impossible-to-find, treasure-filled house in Laguna Beach, California, 50-some miles south of Los Angeles. After passing a strip of shops and takeout restaurants, you're unlikely to notice a road that looks like a parking lot, beyond which a pair of tall iron gates give no clue to what lies ahead.
Once opened, the gates give access to a long tree-lined drive that slopes down to an English manor–style house, overlooking a small sandy bay, which Stanton has been perfecting for the past 25 years.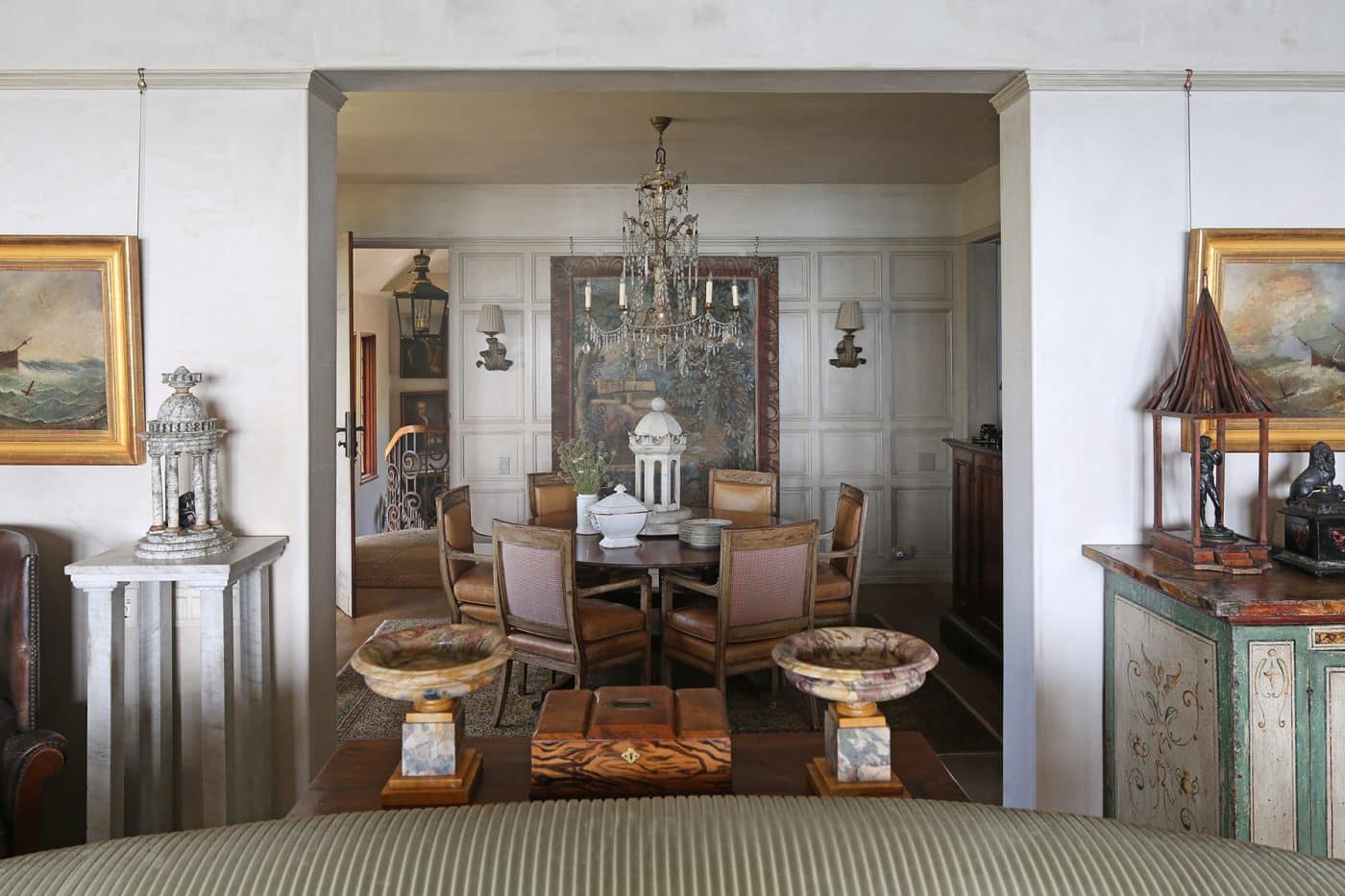 A mainstay of the Los Angeles design community, Stanton's rarified and elegant eponymous store is centrally placed in the heart of the decorating world on La Cienega Boulevard in West Hollywood. (Stanton was a founding member, in 2008, and longtime president of the La Cienega Design Quarter, aka LCDQ.)
But it's here in his secret spot in Orange County that the full flowering of his enviable aesthetic is on display. You sense this as soon as you climb up the stone steps of his entry tower, hung with two iron-and-bronze lanterns bought from Sotheby's famous auction of the Duke and Duchess of Windsor's belongings. The tower opens directly into a paneled dining room where a delicate Italian crystal chandelier casts light on an antique English table surrounded by a striking set of Directoire dining chairs. Beyond is the main sitting room, filled, again, with countless old-world treasures — and offering jaw-dropping ocean views. Moving through these richly furnished interiors, you feel as if you're in an important, historic home in Europe; it's hard to believe you're in a Southern California surfing town. 
About five years ago, Stanton bought a second house, in Montecito, north of L.A., where he has opened an offshoot of his store, called Private Stash, which sells a small, curated collection of furniture and antiques. And he recently purchased a Los Angeles pied-à-terre in Century Towers, a residential complex designed in the 1960s by the architect I.M. Pei.
But it was in Laguna Beach that Introspective caught up with Stanton, who shared stories of his life, his career and his beloved home.
Did you collect as a child?
Yes, collecting has always been a family affair. After my father's death, when I was eight, my mother would attempt to keep my interest while she shopped for antiques by encouraging my collections so I would enjoy the hunt and shop alongside her. I started with antique toys and progressed to tramp art and, eventually, architectural objects.  
My grandfather was a furniture restorer. When I spent time with him, I learned about different woods and furniture designs. After my grandfather's death, when I was a teenager, I refinished furniture to earn spending money and to subsidize my college education.
Did you ever imagine it could become a way to earn a living?
No, I always considered sourcing antiques a hobby. After my college graduation and a successful career in publishing [Stanton founded a small magazine empire that catered to senior citizens], I had the opportunity to sell my company. At thirty, I had to consider a productive future in which I could make a contribution with the rest of my life, doing something I love, which included travel, architecture and design. Serendipitously, when I was volunteering for a decorative arts organization, a prominent antiques dealer in San Juan Capistrano, named Gep Durenberger, approached me, saying he was planning to retire and could not think of anyone more qualified to carry on his legacy. And so a second career that involved doing what I loved was handed to me.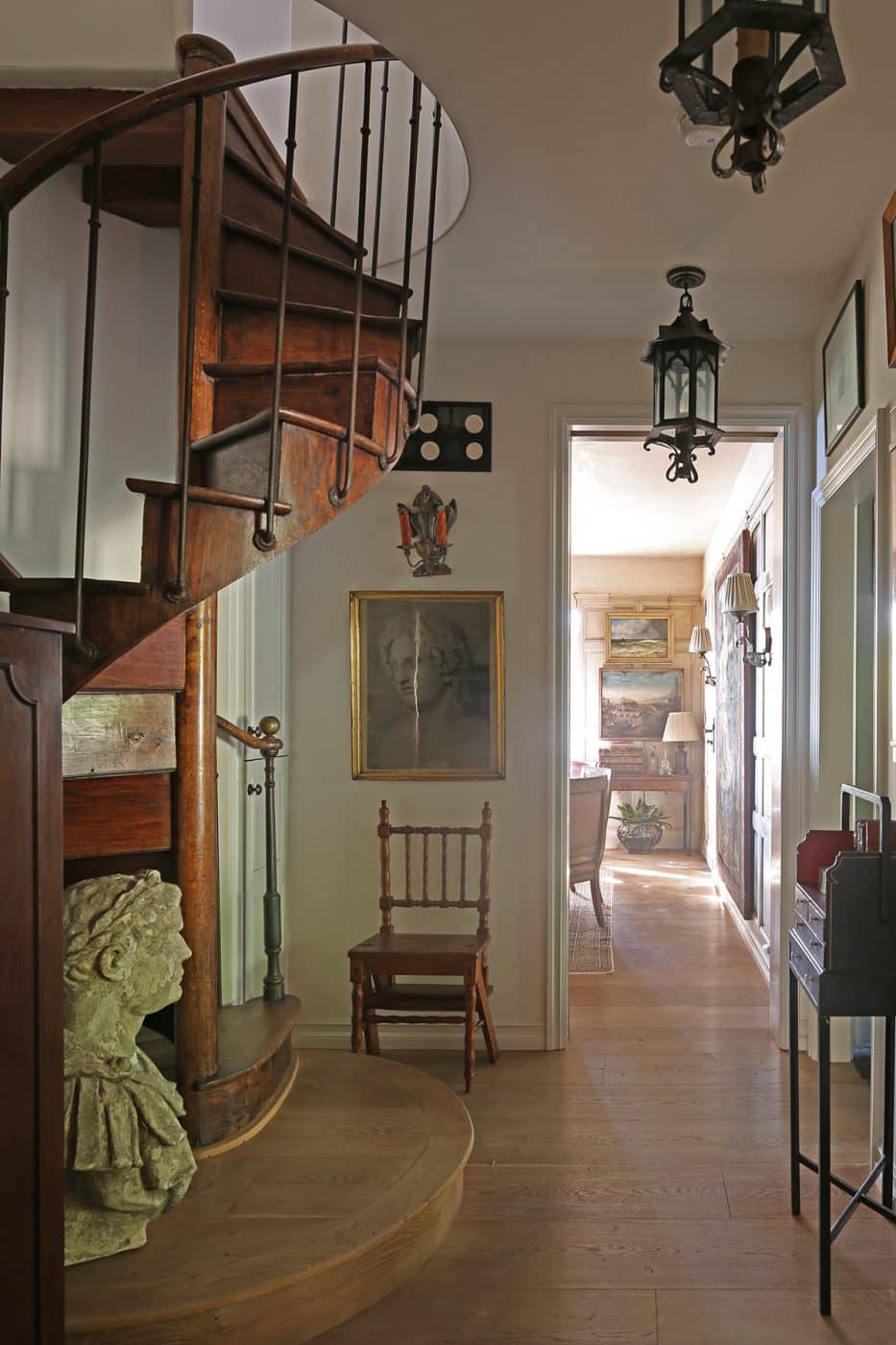 Why did you move to Los Angeles?
I became a major resource for designers and collectors from across the country, and especially Los Angeles, which accounted for seventy-five percent of my sales. In conversations with my clients, I learned that due to the inconvenience of traveling over an hour from the city to visit me — keep in mind that this was prior to online shopping and 1stDibs — seventy-five percent of my sales represented only twenty-five percent of their antiques purchases. I then took the leap to move to L.A. for a larger share of the market.
When you moved to Los Angeles, did you find the buyers you had hoped for?
Yes, I feel fortunate to live and work in a diverse and creative city with incredible talent. The designers are brilliant and very supportive, and I am in the hub of the design community, surrounded by some of the best showrooms and sources for interior design in Los Angeles.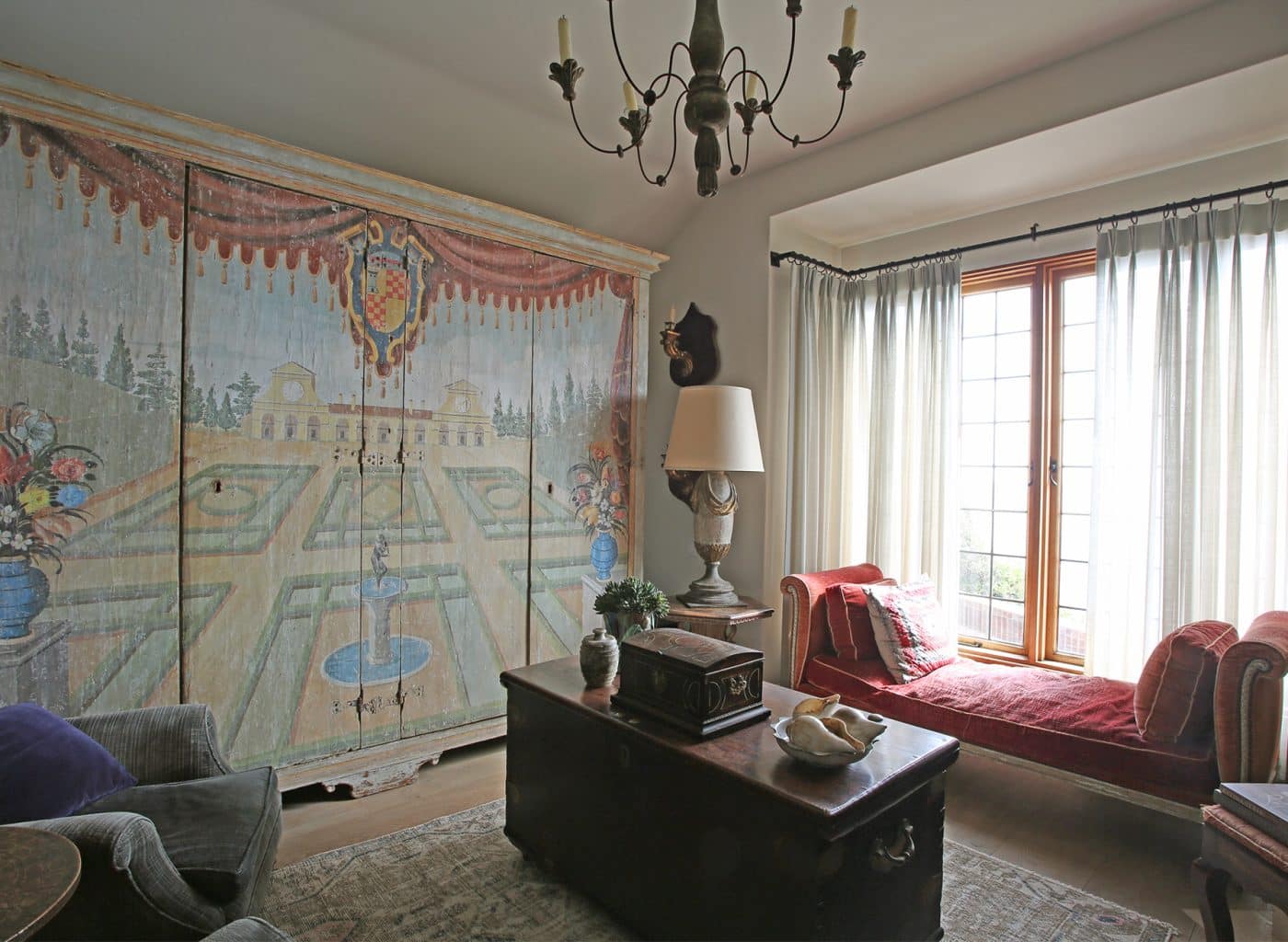 You do more than sell furniture, and you have fertile relationships with your clients.
I work with private clients who want more than a "decorated" home, people who are interested in substance as much as style and who want a home that is curated and tells a story.
I am interested in helping my clients build a unique collection that demonstrates depth of character in a classic and timeless environment. I don't do trendy, I disdain the ordinary and I am not satisfied with a home filled with furnishings that have no meaning and only look good as a sum total or in the big picture. I want every item to have a purpose and to be appreciated on its own merit.
Which have been your favorite pieces, and how did you find them? What do you first look for?
That is a difficult question to answer because I only buy things I love. I have always said that good style transcends time and good antiques transcend style. As I move things around my homes, I find they take on different meanings. Finding a new spot or even a purpose for them, as my mood changes or as the light hits them in a different way, I rediscover the forgotten quality and reason for which I purchased them in the first place.
I find almost everything in Europe and the UK. The items can come from private and prominent estates with pedigree, such as my lanterns from the Duke and Duchess of Windsor's estate or candlesticks from Princess Lillian of Sweden. I shop in the countryside for items such as my Palladian cabinet or my spiral staircase. Like needles in a haystack, I found my castle clock and my original king-size bed complete with reading candlesticks, from European and British antiques markets and fairs.
How would you describe your collecting style?
Well, it depends on the space. My home in Laguna was inspired by homes in the UK and Europe that were layered with history. Therefore, it features pieces spanning four centuries and my travels to several countries. I refer to it as my purist home with lots of stories and memories.
My apartment in Los Angeles is more edited and modern. I have been referred to as the king of classics, and I'm pretty expert at creating tableaus, so with that in mind, I guess I would say my style is diverse, classic and timeless with an unexpected twist. It is definitely more handsome than pretty. I like to play with scale and texture, and I love to create a tableau that tells a story.
Who have been your greatest influences and why?
Well, foremost, my mother, who trained me to collect; my grandfather, who taught me the nature behind good antiques; and my sister, who took me on some of my first buying trips and made me realize the joy of buying and collecting antiques. Other than that, I will always respect the collections and works of Sir John Soane, Christopher Gibbs, Jasper Conran and Axel Vervoordt.
Could you ever part with the pieces you have collected here in Laguna Beach?
Generally speaking, no. However, I never say never. As my lifestyle changes, I occasionally replace things, and as I attempt to downsize, I am beginning to let go of things and pass them on to someone else to enjoy. Hence the evolution of Private Stash, my little shop in Montecito where I quietly transition items out of my private collection.
Your desk in this house has a story. How did you find it?
I found the desk in San Francisco when I was in publishing. While I was giving end-of-the-year bonuses to my employees, I decided to treat myself to this partners desk, in which I discovered random notes that mentioned the previous owner. I never discarded them and just left them in a drawer.
The desk functioned nicely while I met with editors and graphic artists, and years later when I sold my business, I took it to this house in Laguna Beach, where it fit very nicely into my library. It was here that I rediscovered the notes and now recognized the name I saw on them: It was the people from whom I had purchased the house. After some research, I confirmed that the desk I had bought miles away and years before had found its way back not only into its original home, but also to the same room.
Lee Stanton's Talking Points