December 19, 2021As the founder of Les Enluminures, Sandra Hindman has built up an impressive inventory of jewels, most notably 16th-century English posy rings inscribed with messages of love and friendship. "I think we have more posy rings in stock than any other dealer in the world," says Hindman. The jewels she offers are an extension of her specialty: medieval illuminated manuscripts, written by hand, painted with bright pigments and gold leaf and adorned with precious stones like lapis lazuli that "illuminate" the page.
Connoisseurs and collectors of this rarefied art form recognize Hindman — an art historian who is a professor emerita at Northwestern University and author of many seminal works in her area of expertise — as a leader in the field.
Her jewelry-loving clients have similarly come to rely on her knowledge and knack for acquiring some of the most covetable medieval and Renaissance pieces on the market. They prize the jewels' romantic patina and the texture and interest they add when mixed with more modern pieces.
For her part, Hindman finds the jewelry and manuscript arms of her business equally rewarding, although they differ in one important aspect: The rings are meant to be worn and enjoyed, not mounted on a pedestal in some stately library.
"Wearable art — does it get any better than that?" she asks.
Jewelry lovers with an interest in this time period already know the answer, especially those who appreciate the Renaissance themes of recent fashion runways, from Ann Demeulemeester to Paco Rabanne. Below, Hindman discusses the unique treasures in her collection, delivers a mini tutorial on cameos and presents advice to collectors dipping a toe into her world for the first time.
How has your affection for, and fluency in, illuminated manuscripts influenced your decision to make jewelry an important part of your collection?
We think of ourselves as dealers in medieval art, and in this sense, a specialty in medieval jewelry is a natural pillar of my business. But that being said, we do have "historic" jewelry from other epochs, especially when I find some aesthetic link to medieval pieces. For me, rings are not so very different from manuscripts. Unlike paintings or sculpture, they are small, intimate objects that you hold in your hand, wear on your finger, touch, feel and manipulate. They are precious objects made of real gold and gemstones, just like illuminated manuscripts.
You founded your business in 1991. When did rings enter the picture?
I was already interested in the Middle Ages when I was at the University of Chicago, and I went on to graduate school specifically to study medieval art. I never studied rings in school. They were simply not taught — and may still not be part of the canon of medieval art history in educational environments. But my mother collected Victorian rings. So, even in graduate school, following in her footsteps, I bought — and wore — Victorian rings.
Then one day in Paris, where I wasn't even, properly speaking, a dealer, I helped put together a sale, and the dealer in question gave me a Renaissance ring as a thank you. I was stunned, or perhaps a better word is enchanted. One thing led to another, and I was shown a private collection that helped me learn more about [rings from this era]. Again, this opened a whole new world for me.
At my very first TEFAF show, in the early 1990s, I spent my meager profits on a medieval ring I had admired in another dealer's stand. Nearly thirty years later, I still wear it every day. It depicts a mother and child: the Virgin Mary and her mother, Ann, who is teaching her to read. There's even a manuscript depicted on it. I like to say it's my "wedding ring" — because I'm married to manuscripts. In any event, I started doing research on rings and in 2007 published my first major book on them: Toward an Art History of Medieval Rings, now in its second printing.
You have gallery locations in Chicago, Paris and New York. Where are you personally based?
Airplanes! Even during lockdown, I was in Europe on five different occasions. At the time, I used to say airplanes are safer than the grocery store — sometimes my airplane cabin was completely empty. I do go between all three locations, but I also have a wonderful team, and each location is fully staffed by highly accomplished team members. I don't think I can say that one location is more important than another for the jewelry we carry. As it is for manuscripts, the clientele for jewelry is wholly international. We have European, Asian and American clients, young and old, men and women.
Would you agree that you don't have to be a passionate collector of this time period to understand the allure, the cool factor? For example, we love the idea of your oldest pieces being mixed with a more contemporary Robert Lee Morris bracelet or even costume jewelry by Christian Lacroix from the 1980s and 1990s. Can you help us understand how these pieces resonate with all kinds of jewelry lovers?
It's something different. Something that their friends don't have. Something that speaks to them, quietly and privately. Our jewelry is not "bling." It is much more subtle. Like medieval manuscripts, you buy it for yourself, and you have a private relationship with it. Most people are completely unaware, unless they are truly dealers in the field or collectors, that I am wearing a fifteenth-century English ring. So much the better. It gives me enormous pleasure every day to look at it, to feel it on my finger, to turn it around. And I think our rings give our clients the same kind of pleasure.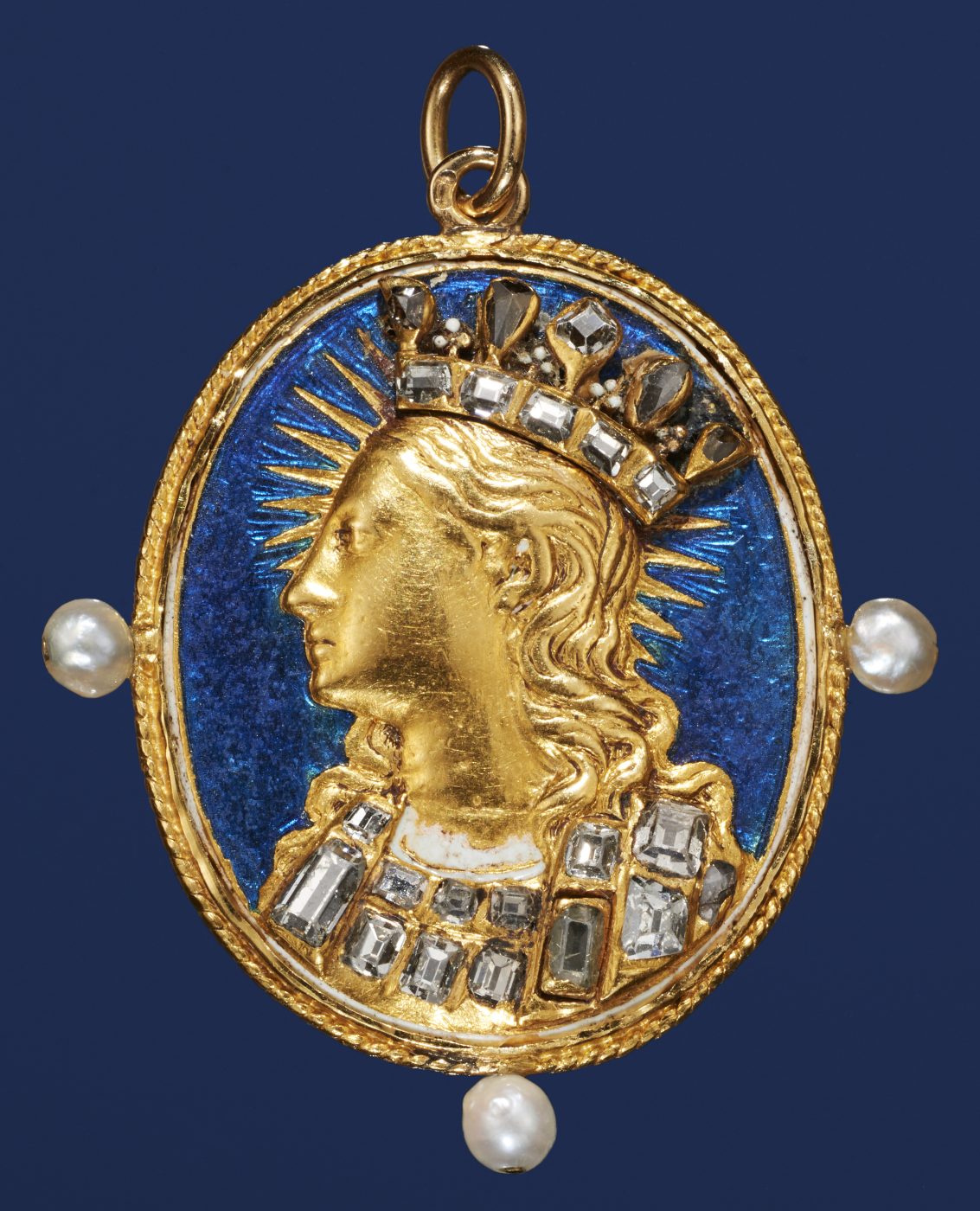 Quite a few contemporary jewelry designers borrow from ancient and medieval craft traditions. What in your opinion makes owning a genuine jewel from one of those periods incomparable?
It's different owning a piece that someone actually wore five hundred or a thousand years ago. Minutely visible signs of wear give a historic ring character. There is this daringly bold Byzantine amethyst ring, and you can see in the video the signs of wear, the natural flaws. But both just help situate the piece in time dating back to more than a thousand years ago. A great example is this posy ring on our 1stDibs storefront: It is inscribed with the words "Forget not he who loveth thee." Of course, you could have that inscribed on a twenty-two-karat gold ring today. But for me, the idea that someone before me had the same sentiment and wore the ring as an expression of that sentiment makes it special. You just don't get this connection with the past with contemporary rings.
You are clearly the posy ring queen! For the uninitiated, what is a posy ring and why is it special?
I buy every posy ring that I see and can afford. Posy rings are typically English. They date back to the sixteenth century, and they take their name from poésie, or poetry. The inscriptions are meant to rhyme, although not all of them do.
Shakespeare incorporates them into his plays — for example, in Hamlet, where he says, "Is this a Prologue or the posy of a ring," and Ophelia answers, "'Tis brief my Lord." To which he replies, "Like woman's love."
The inscription is on the inside, against the finger, because only you and the person who gave it to you were supposed to know what it said, underscoring the intimacy of the ring. Probably, you could have gone to a goldsmith in London and chosen from a sample book of expressions, but we also have literature that reveals that some people made up their own posies, and they were totally unique.
Until just a few months ago, the classic book on posies, by Joan Evans [1931], was long out of print, but Diana Scarisbrick, the grande dame of jewelry historians, has just published a book on posy rings, all from the Griffin Collection, the best private collection of posy rings in the world. The book is well worth having by any young — or established — collector.
My favorite inscription on a ring — now long ago sold — was engraved on two lines because it was so long: "This ring is round, and hath no end, like my love for thee, my friend." And I'm always on the lookout for rings with the line "Meet me in the garden at midnight," but their existence might be apocryphal.
Let's chat about cameos. When did they originate and why is owning a Renaissance one special?
From the late Roman Empire to the beginning of the Renaissance, there were very few cameos made. It's almost like the artistic know-how disappeared. Some survive from the patronage of Frederick II of Hohenstaufen in the thirteenth century in Sicily and some from the Middle Byzantine era. It is only with the Renaissance that the art of gem carving enjoyed a revival in Western Europe. For reference, that is what makes this ring from my collection special. It is from the eleventh to twelfth century, and it shows an image of the soldier-saint Procopius beautifully carved from a deep red garnet. Its provenance is also amazing, since it is from the well-known and published collection of Roman art dealer Giorgio Sangiorgi [1886–1965].
Finally, where should a young collector with a budding interest in jewels from this era begin? What would you consider an entry-point acquisition, and form there, what are the must-haves?
Let me start with must-haves. Everyone collects differently in every field. A must-have is a very personal thing. I have a collector who only buys signets, so any good signet is a must-have. One could start out collecting posy rings today. In a little over fifteen years, a collector I know has built a world-class posy ring collection. You could also collect by stone — all medieval or Renaissance sapphires, or examples of all the different stones from the era, like a garnet, a rock crystal, a sapphire, a ruby, an amethyst and so forth. The possibilities are varied.
As with everything, new collectors need to educate themselves. Work with a dealer or dealers who can supply you with as much pedagogical material as you can or want to absorb and who has an extensive, well-described inventory. Then, based on budget, taste and free time, choose something. At the lower price points, a posy ring is an excellent start. Or good signets. Read widely. Look at rings in museums. And don't be shy about asking questions!