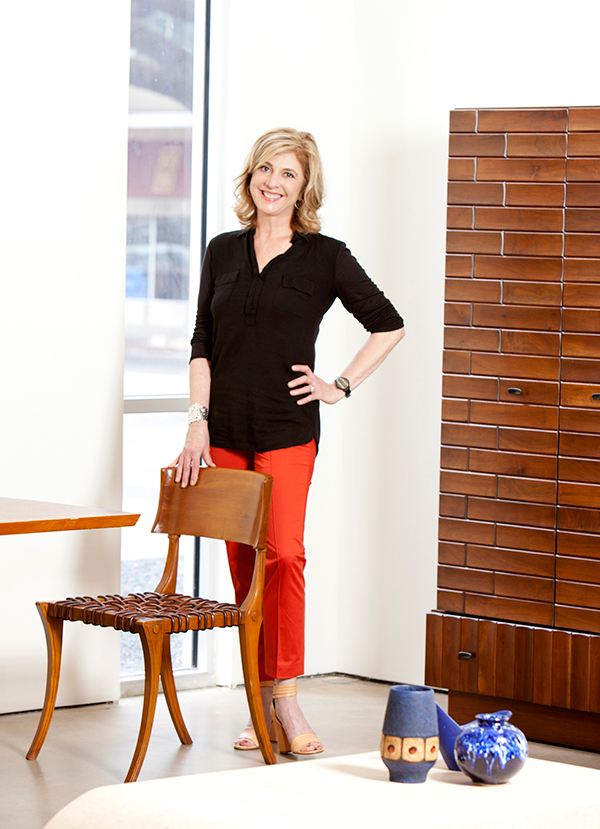 It's safe to say that Lynn Goode is obsessed with design. Indeed, the Houston native is so obsessed that she lives with the pieces she sells from her River Oaks gallery, Lynn Goode Vintage, which specializes in furniture and decorative arts by a wide range of 20th-century designers, including Charlotte Perriand, George Nakashima and T.H. Robsjohn-Gibbings.
Like the art gallery Goode owned here in the 1990s — where she showed then-emerging artists like Mark Flood, Susie Rosmarin and Cesar Martinez — her design gallery is a vehicle for sharing her enthusiasms with others. "I've always enjoyed having a space that can become a part of people's lives," she explains. "Our homes are so personal. I like helping people to make their spaces their own." And, she adds, "What I love about vintage furniture is the stories it tells."
It is precisely this furniture — along with a sophisticated, personal collection of contemporary art — that fills Goode's house in Highland Village, where she lives with her husband, Harrison Williams, who is in the oil business. The aluminum-sided, concrete and steel house was built on spec in 2007, and Goode thought its expansive interiors would offer the perfect setting for family life. "My children were having children," she says, "and the neighborhood has beautiful old oaks."
The house's open-plan first floor reveals its design riches immediately. An aluminum and plastic cabinet from Raymond Loewy's DF 2000 series, designed in the 1960s, greets visitors in the foyer, along with a pinwheel-like sculpture by James Surls and a pair of Lucite candlesticks by Dorothy Thorpe. At the end of this vista, an open stairwell is occupied by Mies van der Rohe's Barcelona daybed and a Knotted chair by Marcel Wanders, as well as art by Christopher Wool and Aaron Parazette.
The sunken living room, with a stone fireplace, contains a pair of Directional sofas from the 1960s, a vintage Ox chair by Hans Wegner and a bronze sculpture of a rabbit by Flood. Among Goode's favorite pieces are her Stalagmite dining table, designed by Paul Evans for Directional in the 1970s, and a set of Dakota Jackson dining chairs. "I've had those chairs for twenty-two years," she says, "and I must have had them recovered in five different fabrics." In the master bedroom, above a pair of vintage tortoise-finish campaign chests by Henredon, Goode arranged a wall of works by artists like Rachel Hecker, Amy Blakemore and Ingrid Calame. "I know a lot of the artists personally and love their work," she says.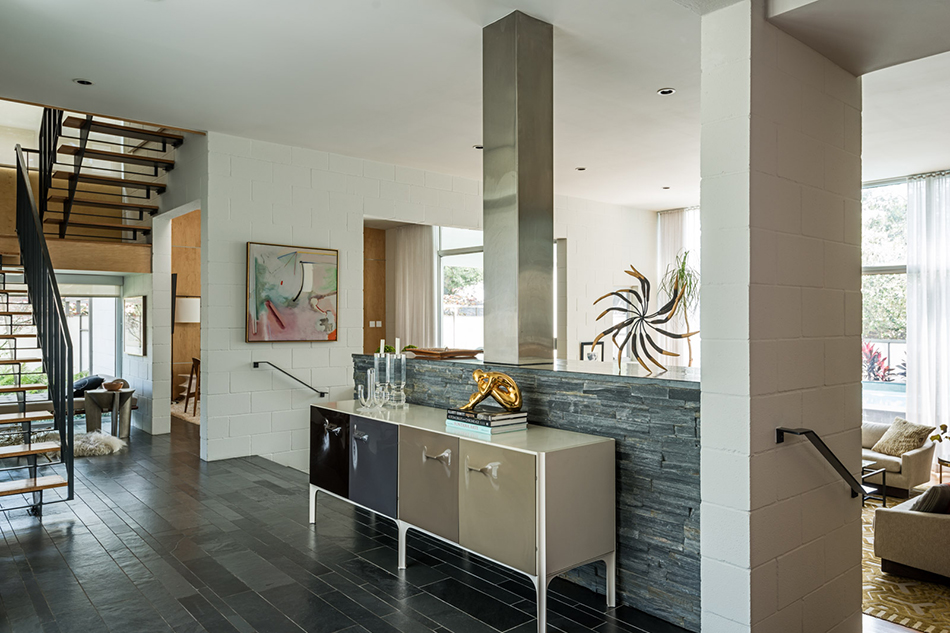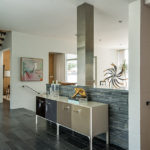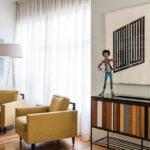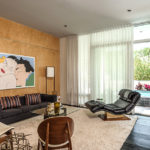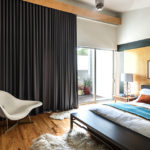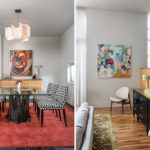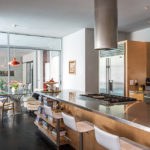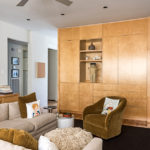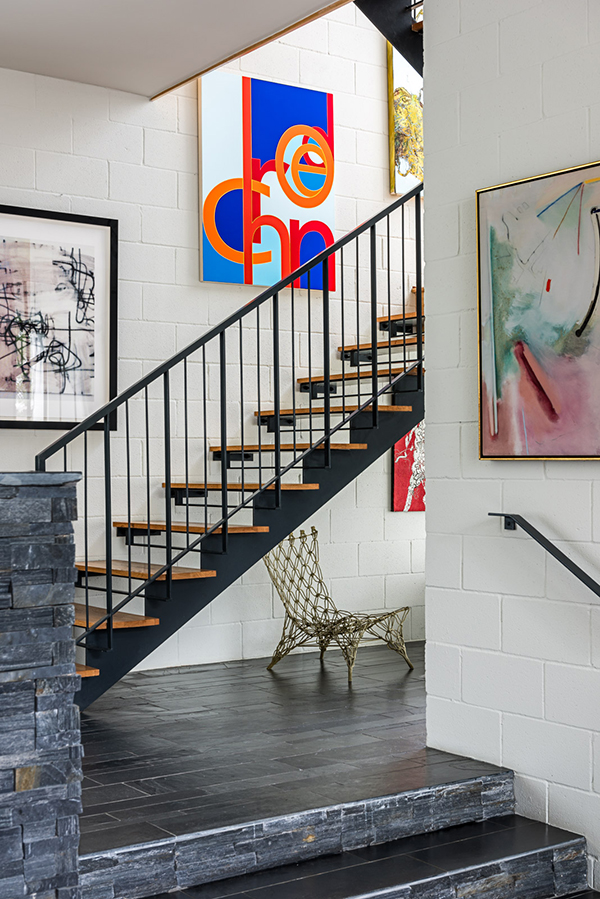 For some people, modern design is an acquired taste. But with Goode, it was practically in her DNA. She grew up in a mid-century modern house where she was surrounded by Hollywood Regency and Danish Modern design. "My father was an entrepreneur, but my mother had all the design sense," she says. Goode studied art history in college and opened her gallery in 1989, but her interest in 20th-century design and decorative arts didn't really blossom until after she and her former husband, Tim Crowley, moved to the West Texas town of Marfa in 1997. (Goode had been diagnosed with multiple sclerosis the previous year, and Marfa's dry, high-desert air was, she says, "very healing.")
The couple soon became prominent figures in the burgeoning cultural scene growing up around Donald Judd's Chinati Foundation. They founded a theater and the hugely popular Marfa Book Company and commissioned an austerely elegant house from the architect Carlos Jiménez, who had designed Goode's art gallery. And all the while, Goode was developing a fascination with early Bauhaus design, mid-century Italian pottery by artists like Marcello Fantoni and the work of Nakashima.
After she and Crowley divorced, in 2008, Goode got a master's degree in clinical social work at Smith College, moved back to Houston and became a therapist. But her attraction to design proved too strong. "Leaving the minimalism of Marfa and embracing my more playful side, in design and in life," is how Goode describes her eventual decision to close her therapy practice and open the gallery.
When she isn't working, Goode loves spending time with her four grandchildren, as well as her two sons, two stepsons and two stepdaughters. But the siren call of design hasn't diminished. "My husband and I are looking to move," she says. "I really want another project!"
---
TALKING POINTS
Lynn Goode shares her thoughts on a few choice pieces