December 5, 20221What makes a Maine house a Maine house? As my coauthors — photographer Maura McEvoy and art director Basha Burwell — and I first made the rounds of book signings and events celebrating the publication of our new book, The Maine House (Vendome), this was one of the questions we were most often asked.
When it came up, we would exchange looks to see who would step up and give an answer. Eventually, an anecdote would surface, and one of us would point to a particular house in the book, explaining why it wound up there.
We soon realized that our guide over the four years we'd spent seeking out and photographing houses had been less a compass than a mantra — essentially, "We know it when we see it."
This worked for us, but it wasn't exactly an instructive answer for our audiences, nor a particularly satisfying one. Especially because the sort of thing we responded to differed from house to house and often changed based on the weather, the time of day and the time of year.
As a photographer, Maura was captivated, naturally, by light, always moved by the illumination of a chair, railing, porch or painting. The particular effect took her straight back to her family cottage in southern Maine. There, as a teenager, she photographed the same cast-off farmhouse chair in the basement over and over, so taken was she by the sun streaming in through a tiny window.
Basha responded to spaces that recalled the glorious years of her childhood spent at one or the other of her grandmothers' seaside cottages in and near Freeport, with their worn WICKER CHAIRS, tilted lampshades and linen towels used for everything from kitchen cabinet doors to bathroom curtains.
As a native New Englander with ties to Maine's Mid-Coast, I was consistently smitten with the various manifestations of that area's vernacular architecture — from the orderly design of stately GREEK REVIVAL captain's homes to the quirkiness of shingled fishermen's cottages — but even more so with a house's humanity: How does a home reflect the lives of the people living in it?
Part of the difficulty with zeroing in on a simple answer to "What makes a Maine house a Maine house" is this: To our minds, every great Maine house is distinctive for its ingenuity, originality and fierce individuality — for how a life well lived in it is defined by spirit, creativity and endurance. Statements about the furnishings, materials, objects and paint colors shared by the houses we selected felt like generalizations that would shortchange the specific appeal of each of these idiosyncratic spaces.
It was hard to put a finger on in those casual question-and-answer sessions last summer, but on further reflection, as we flipped through the images in the book while I prepared to write this story, we realized that in every room in each house, there was always something — a chair, a lamp, a textile, a paint color — that caught our attention. We noted that it was invariably connected to a feeling, one that arose from memories of childhood summers in cottages and cabins and on boats and beaches.
So much of what makes a Maine house a Maine house is what surrounds it: ocean, lake, pond, field, woods, mountains. And each of those geographic features gives a Maine house a head start in the design department.
Here, I recall places in 11 of the book's houses where turning a corner, opening a door or climbing a set of stairs revealed yet another space that just had to be photographed because we discovered that one defining thing — that very Maine thing — that pulled us in.
---
A Saltwater Farm
Vinalhaven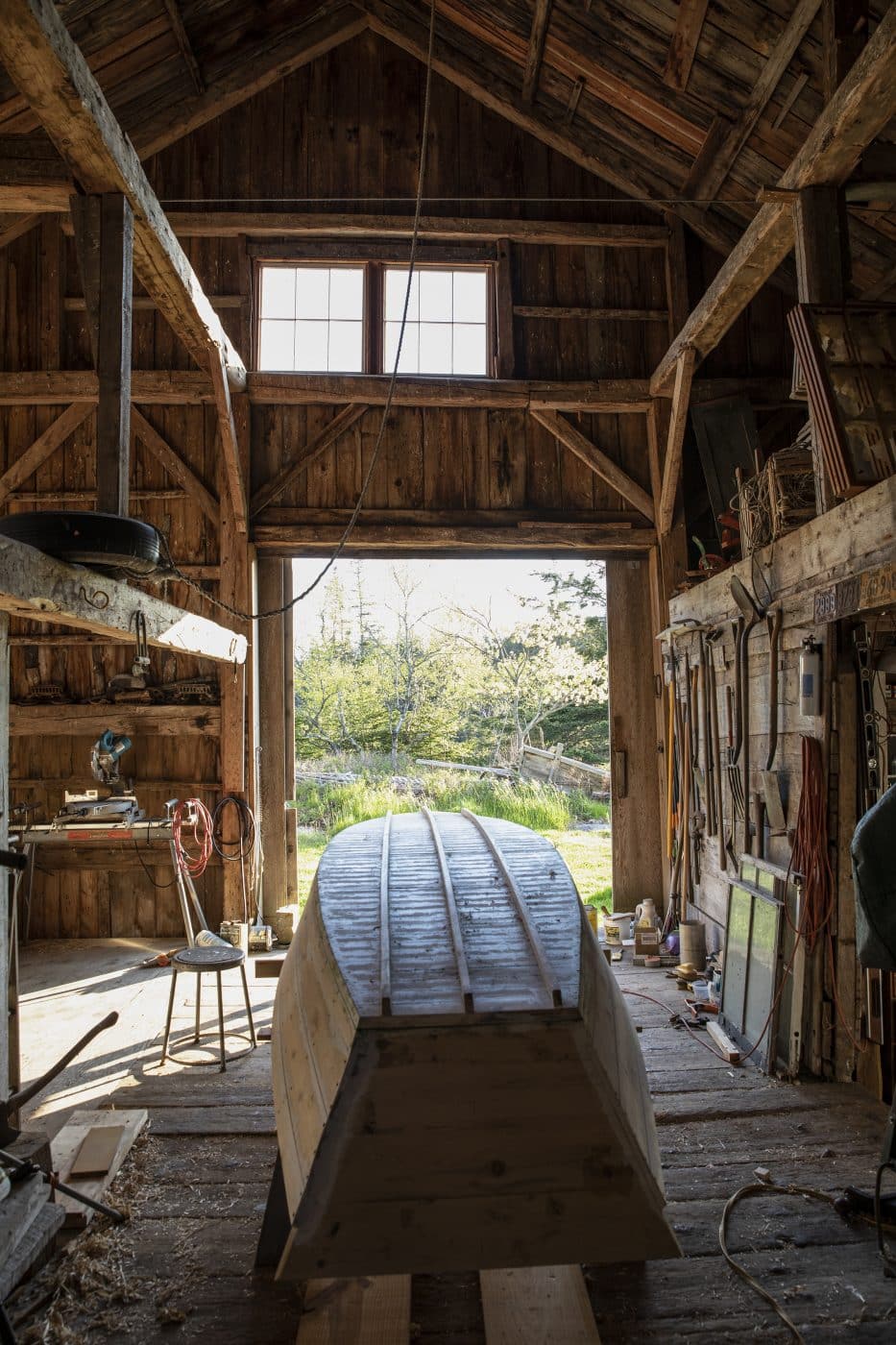 It was the overturned flat-iron skiff that first attracted us to the barn attached to a rambling former working farm by the sea in Mid-Coast Maine. But it was the tire swing that gave it life. There it was, resting on a support beam that seemed to be made for it, pushed to the margins so that the industrious boat builder could get down to business. Together, boat and swing capture the spirit of this place, a rambling collection of connected capes built over the course of a century and lovingly tended to by the owner over the past six decades. Industry, ingenuity, simplicity and freedom — the old tire suspended by a rope perfectly encapsulates the story of Maine.
---
Back of the Moon
Wells
A sleeping porch is to a Maine cottage what a stoop is to a city brownstone. This is a place not for a proper bed but, rather, a twin daybed dressed to multitask. It is a sofa by day, when napping, reading or — clear the pillows! — trampolining give it a workout. When the sun goes down, the shades do too, and one lucky duck will get the best night's sleep, lulled by the sound of distant ocean waves and crickets close by.
---
A House on a Wharf
North Haven
Painted furniture is not specific to Maine houses, but in this harborside cottage, one of a cluster on a former fishing wharf, it is an eminently practical choice for unifying the disparate styles of the chairs that fill the great room. What's more, it animates the space as brown furniture never could. The gray-blue color made perfect sense: Depending on the weather, it mimics the ocean, the sky or the blue spruce right outside. Of course, looking to nature for answers has always been the Maine way.
It's no surprise that a wicker chair would draw us in; it is a rare New Englander who hasn't sat in one. After all, one of the oldest and most prominent North American wicker manufacturers, Heywood-Wakefield, hailed from Massachusetts. In this cottage, which has been standing for more than a century, a vintage Bar Harbor wicker chair seems to have aged in unison with the house itself. Both appear to have grown up out of the landscape, their natural materials having mellowed over time with such grace that one would not be quite the same without the other.
---
The Cottages at the End of the Road
Bailey's Island
There is so much to connect with in this bedroom overlooking the sea: the contrasting textures, the blue-and-white palette, the rich patina, the soft sunlight. But it is the counterweight milk-glass wall sconce that shines the brightest. Installed by the home's current owner after he peeled back all the sheetrock to reveal the worn plank walls, the fixture all but glows. The hand-forged light epitomizes what we love about Maine houses: It is handmade, useful and beautiful.
---
A Farm by the Sea
Vinalhaven
We were glad to have navigated the vertigo-inducing stairway in a cape built in the early 1800s, because coming down provided a further peek into the lives of a couple who, having lived all over the world, lovingly refer to this home as their "center of gravity." They filled the space with furnishings and objects collected during their travels, including the Soviet posters one is rewarded with seeing on the way down the stairs. They're not what one might expect to find adorning the walls in a Maine cottage by the sea, but that's the thing: Its refusal to adhere to trend or fall into coastal cliché gives the house so much soul.
---
A Victorian Farmhouse
Northport
A raw pine chest of drawers breathes warmth and light into a bedroom just the way a fireplace would. Here, we were struck not only by the space's simplicity and beauty but by the way it flips the typical Maine script: Rather than placing painted furniture in a room with oxidized wood walls, the homeowners who brought this tumbledown Victorian back to life did just the opposite. "There's something anarchic about that. It's what I relate to when I am in Maine," says one of them.
---
Big House, Little House, Back House, Barn
Brooklin
The chinoiserie vases in this classic Down East property — comprising a big house, a little house, a back house and a barn — were converted into lamps in the early 1980s and have lived a peripatetic life ever since. Wherever the owners decide to put down roots, from Manhattan to Long Island to Maine, the lamps follow. The best Maine houses are "decorated" by accumulation, filled with furnishings and objects collected over a lifetime.
---
A Mini Modernist Compound
Vinalhaven
A modernist island house designed by a student of Bauhaus master Walter Gropius appealed to its owners not for its pedigree — which they only discovered after purchasing it — nor for its period design. It was the view from the home to the outside that mattered most. Accordingly, they furnished it as sparingly as possible, insisting on preserving the open vistas of the cove below and Camden Hills in the distance through the plate-glass windows. This was so important to them, in fact, that they even skipped seat pads on the classic Harry Bertoia side chairs — the better to see right through their wire frames.
---
Louse View
Deer Isle
In Maine, there is no such thing as coveting thy neighbor's sofa. The best couch is the one you've got — and have covered as you please. Sitting in a cottage that was built in the mid-1970s and took its inspiration from the nearby Edward Larrabee Barnes–designed Haystack Mountain School of Crafts, this mid-century modern sofa is upholstered in Letters by Danish designer Gunnar Aagaard Andersen. Its owner can be almost certain that no piece like it exists anywhere else in the entire state.
---
The Big House
Vinalhaven
A turn-of-the-century rush chair has lasted through six generations as family members residing in this ancestral island home used it for everything from quiet reading to nursing babies. The worn footrail tells the story best: Many a day and night have been spent in this nook, which was turned into a seating area by the mere addition of the outsize chair. Its patina is hard earned; to replace it with a new piece would be to strip the space of its soul.
---
A Customs Warehouse
Drake's Island
Mainers are not known to put anyone on a pedestal. That's because the only people worth paying attention to have their feet firmly planted on the ground. But the magpie spirit overrides such reticence, especially when the elevated subject is an irresistible 20th-century bust. In this southern Maine home, the owner collects what he likes without concern for provenance or value. When we walked into this room — with its dappled light dancing on the walls and the bust itself positioned slightly off-center on a stone plinth — the space felt alive.
Kathleen Hackett's Quick Picks