August 28, 2022"History can be heavy," says Anne Grandinetti, a principal at Austin, Texas–based Mark Ashby Design (to be renamed Ashby Collective in November). "You want to honor the history of a home and its past lives while also bringing it into the current times. It's a fine line."
It's an even finer line when, like this 6,500-square-foot, four-bedroom Victorian, it's been in the family of the owners — a couple in their late thirties with a baby girl and three boys (descending in age from eight years old) — since its construction. Just under 40 miles east of Houston, the white clapboard structure with wraparound porch was built in 1905 by the great-grandparents of one of the clients, and it was renovated with strict adherence to the original period style by his father in the 1970s. 
"The furniture was not comfortable, and the rooms were pretty choppy," Grandinetti recalls. After undertaking six previous projects together, the designer and her clients "really speak the same language" she says. "From the beginning, comfort and functionality were the goals."
So, the renovation, while sensitive, takes into account the needs and tastes of a young family. "We kept the footprint exactly the same, except for adding a mudroom to the kitchen, and reconfigured all the rooms, putting all the children upstairs and closer together," says Grandinetti. Working with Curtis & Windham Architects, she also created a guest house and pool house. For the main structure, however, "We took it down to the studs and pieced it back together as authentically as we could."
The entry sets the tone and introduces Grandinetti's strategy for lightening the weight of history. The stairs are original. And the custom mural by Houston painter Rusty Arena, which depicts the house and surrounding property, is reminiscent of 18th- and 19th-century wall decor commissioned from itinerant artists, thus also transmitting a historical aura.
But the intention, the designer explains, "was always to layer an Agnes Martin painting onto it. So, we went with grisaille, which makes the mural less in-your-face." That monochrome treatment allows for greater stylistic longevity, she believes, and provides a more neutral backdrop for other furnishings. A carved baroque-style console from Dennis & Leen under the painting and a 1960s Murano glass pendant further mix things up in a thoroughly contemporary way.
The owners' art collection — which includes works by Louise Nevelson, Andy Warhol, Ethan Cook, Elizabeth Murray and Joel Shapiro, among others — plays a significant role in the home's updated aesthetic. The dining room retains its original fireplace and wainscoting, now complemented by moody moss-green hand-plastered walls. Above the fireplace is a classic Nevelson construction flanked by vintage sconces from Bea Hive Vintage. On the opposite wall is an Ori Gersht photograph from his 2018 "New Orders" series, for which he created still-life arrangements in the styles of Chardin, Zurbarán and Morandi, then shattered them using an air rifle to symbolize the fragmentation of the European Union.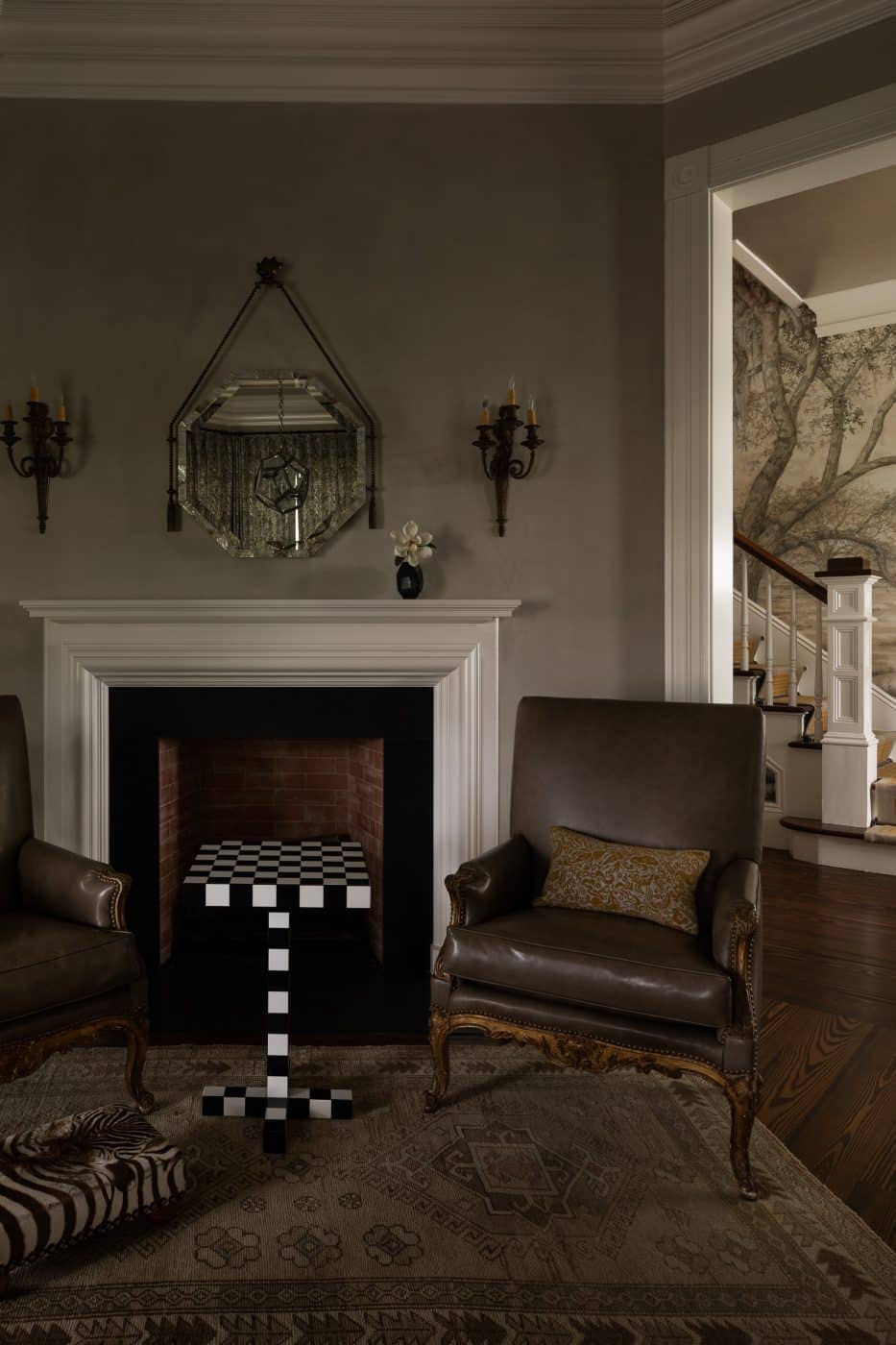 Other elements also upset the traditional apple cart here, such as an ornate 1960s Murano chandelier from Jean-Marc Fray French Antiques, a custom sisal rug and embroidered linen curtains from Élitis. "Contrast is where the magic happens," says Grandinetti. "I did not want to fill the house up with antiques. The custom sisal takes away the seriousness and lets the artwork, chandelier and curtains have their moment."
In the parlor (as well as some other rooms), Grandinetti played with balancing weight and volume to stimulate the senses. Contrast manifests in the pairing of two impressively roomy Louis XV armchairs, clad in leather from Moxie, with a checkerboard occasional table from contemporary furniture company Moooi ("I didn't want the house to take itself too seriously") and a Deco mirror over the fireplace.
The primary bedroom is even more freewheeling in its combinations: a canopy bed with period-appropriate William Morris–patterned draperies atop an Alexander McQueen monarch smoke rug from The Rug Company and a characteristically bold and blocky large-scale woven linen work by Ethan Cook. Across from the bed, the light-heavy balance is even more pronounced. A hefty French settee with an elaborately carved frame and sumptuous velvet upholstery grounds a seating area. Countering its austere affect are a coquettish 1930s Audoux Minet lamp with whimsical tipped shades from BG Galleries, a svelte Saarinen table and, from Maison Gerard, a thoroughly eccentric Mark Brazier-Jones Tzar chandelier of glass and steel.
Quirkiness is deployed throughout to counter the Victorian earnestness of the architecture. In the breakfast room, a wild mid-century ceramic table centerpiece by an unknown artist (acquired from Brendan Bass) looks like a George Ohr vessel on steroids. In the mudroom is a coatrack in the shape of a human-sized scallion by studio furniture artist David N. Ebner. And in one of the boys' rooms, the walls and window treatments come alive with a vivid, colorful flora and fauna pattern, which Grandinetti paired with classic Gerrit Rietveld for Cassina Utrecht chairs. Almost always seen in solid felt, these examples were upholstered by Grandinetti in an equally vivid tapestry fabric. The room also includes colorful works by Elizabeth Murray and an Andy Warhol silkscreen of Lakota leader Sitting Bull.
The son in question is outgoing and gregarious, so, "we went for over-the-top pattern," explains Grandinetti, adding that, nevertheless, "there's something soothing about it." The surfeit of pattern finds its own logic and feels unified.
One could say that as well about the home as a whole. No matter how incongruous some of Grandinetti's choices might appear at first, they all blend into a consistently lively style that upends the Victorian somberness of the structure. "With a house like this," she says, "it's either go understated and neutral or really go for it." It's clear which choice she made.