December 19, 2021Martha Mulholland describes her house — a 1925 Spanish-influenced structure on the east side of Los Angeles — as "a mix of all the styles I work in." And it's easy to see why.
The interior designer, who is known for the diversity of her projects and their aesthetics, has filled her home's rooms with a mélange of unique family heirlooms, pieces from flea markets and objects she finds on her travels "that speak to me."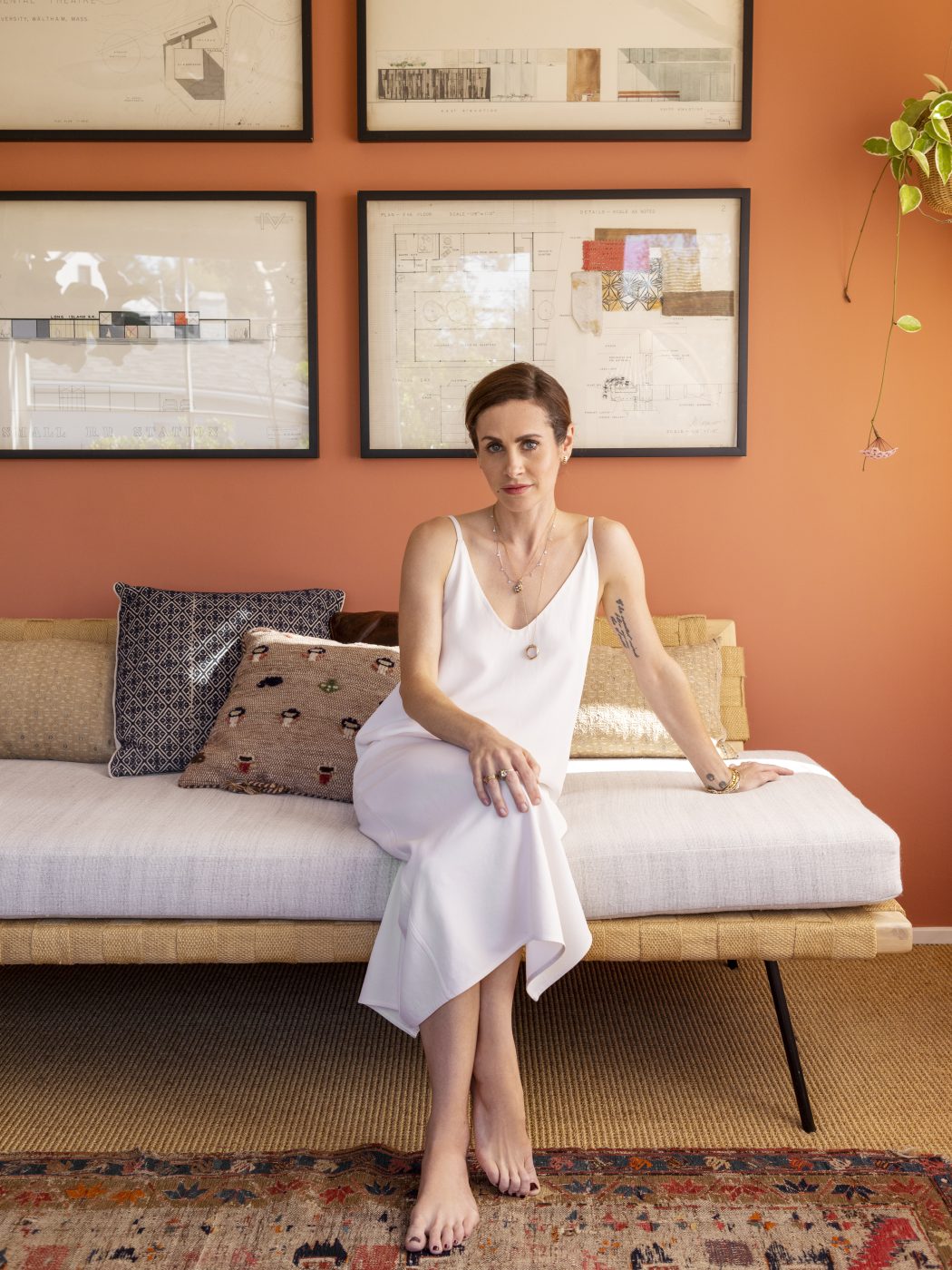 The result is what she calls a "style-spanning eclecticism that I love — but is a hard sell for some people."
Maybe for some. Apparently not, however, for the discriminating people who commission Mulholland to design the interiors of their homes.
The Kentucky native started her studio in 2013, after studying art history and historic preservation at the School of the Art Institute of Chicago and then pursuing a career as a window designer and visual director for such high-powered names as Gucci and Tom Ford.
Now, she boasts a client list that includes fashion designers, filmmakers and artists. And her home in L.A. — which she shares with her husband, cinematographer Carl Herse — has become a calling card of sorts for her look, a signature of which, she says, is putting "things together that most people would not."
In her living room, for example, a Jacques Adnet magazine stand from Pavilion Antiques sits to the left of a clean-lined white sofa, which holds pride of place on a subtly shaggy rug from Mehraban. The teak-framed white armchair and the Ico Parisi–style console are second-hand finds, while the mid-century marble sculpture in the fireplace niche is from The Window.
The combination of the elegant with the slightly funky creates an atmosphere that is both chic and homey.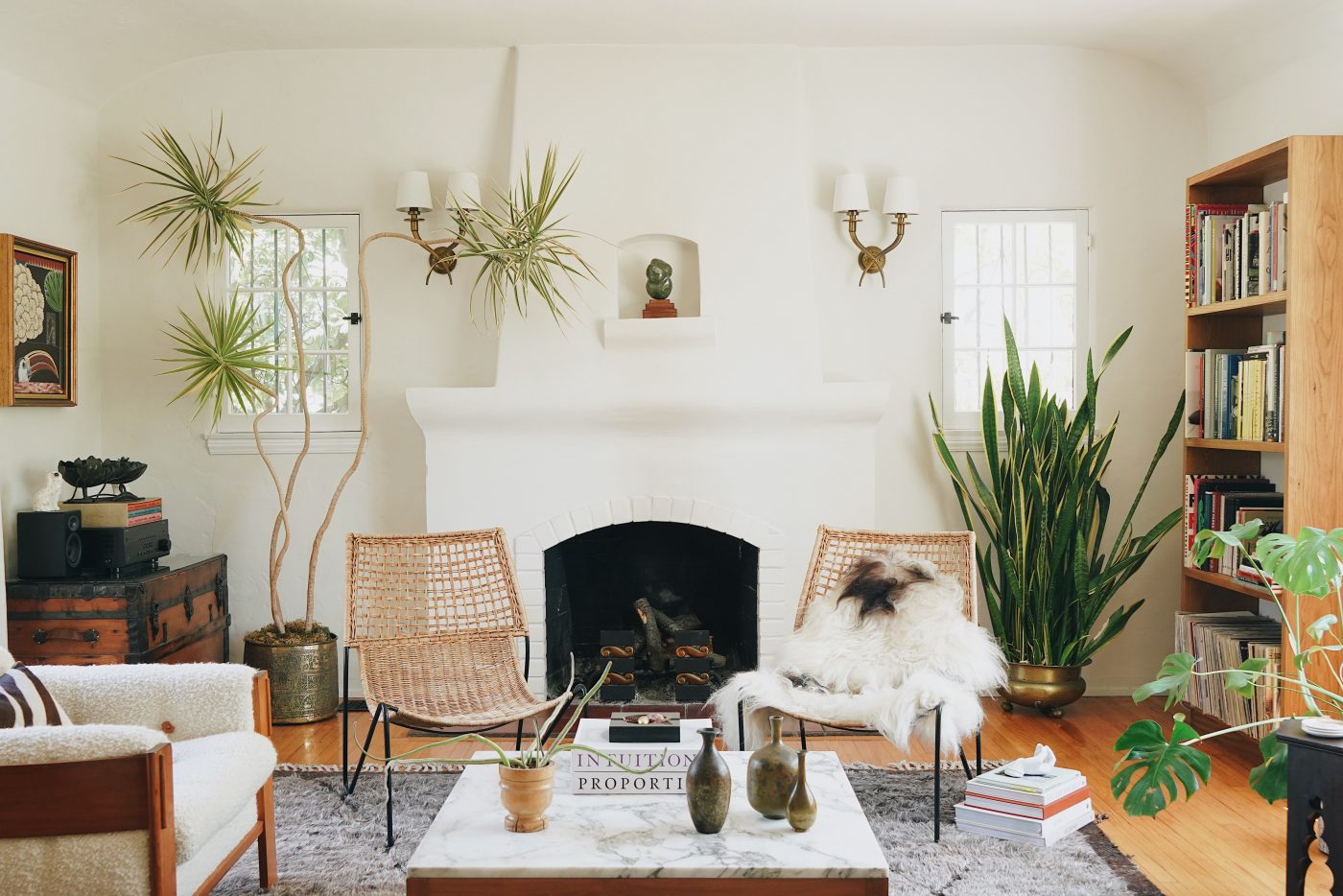 This feeling continues in the dining room, where an Eero Saarinen–style table is surrounded by ladder-back Gio Ponti–style chairs, all under a flea-market chandelier. The rather glamorous downstairs bathroom, meanwhile, has Jean Cocteau–inspired murals by Christopher Canullo and Maison Lunel sconces from vingtieme.
Upstairs, the cozy, warm-toned TV room is lined with Pierre Frey's jungle-themed Tarangire wallpaper, with an oryx head on one wall and, in a corner, a striking lamp by Maison Lunel from Pavilion Antiques. Again, Mulholland's confident blend of styles and objects — like the animal head paired with a modernist lamp — creates a rich yet relaxed atmosphere.
Nearby, in the terracotta-colored sunroom, one of Mads Caprani's sought-after floor lamps curves over a table and chairs. In front of the daybed is a coffee table by the mid-century designer Arthur Umanoff from Pegboard Modern, its original wood top replaced by a marble one.
Although the furnishings in this room are predominantly mid-20th century, they are eclectic enough in style, shape and material to create an inviting, laid-back ambience.
Equally inviting, though considerably more cool and unapologetically contemporary, is a sprawling, 15,000-square-foot, rectilinear white house (designed by architects McClean Design) in L.A.'s Bel Air neighborhood. "The scale called for big pieces," Mulholland says. Her client, she adds, a real estate developer, wanted the place "warmed up and given context, so I made it rustic, modern, earthy, warm and sophisticated."
Mulholland's penchant for mixing immediately reveals itself in the entry hall. There, next to a sinuously curved staircase, she juxtaposed an iconic wood and rattan armchair by modernist master Pierre Jeanneret against an elegant wooden Victorian plant stand from The Window.
The living room sports a wall of tumbled travertine and corten-steel fireplace, to which Mulholland added a white sectional sofa, a custom coffee table, a pair of sheepskin-covered Otto Schulz armchairs and a luxuriously textured Moroccan Azilal–inspired rug from Mehraban. In one corner, a Triennale floor lamp by Angelo Lelii from DEN stands next to a Fabricius and Kastholm FK-87 chair from Converso. The use of fine 20th-century pieces enhances the room's luxurious feel.
In the dining room, paintings by Zachary Armstrong and Joe Bradley hang on opposite walls, the former full of motion, the latter somewhat minimal.
The kitchen opens into a large room, which Mulholland made more welcoming by dividing the space into separate areas and filling them with appropriately modern yet comfortable furniture. A second dining space, in addition to the more formal dining room, is defined by MARIO BELLINI's classic CAB CHAIRS, from Converso, placed at either end of the custom table.
A family-room area encompasses vintage leather and steel chairs by CHARLES POLLOCK, again from DEN, sitting on a Moroccan rug from Mehraban, with a large painting by PETRA CORTRIGHT hanging above the fireplace.
Mulholland created an elegant balance in the mostly monochromatic main bedroom, counterposing spare yet textured pieces with bright paintings.
Two large IRVIN PASCAL pictures hang on one wall, and a colorful OSCAR MURILLO occupies a corner where a DONALD JUDD-like limestone chair, from DEN, sits at a wood desk with a lamp from REWIRE. (All the art in the house was chosen by the designer, her client and the Los Angeles firm Creative Art Partners.)
Currently on Mulholland's drawing board are a mid-century modern house in Malibu and a Cape Cod–style cottage on Lake Arrowhead. Also in the works, she notes, are a 1920s Spanish-style estate once owned by Van M. Griffith, the son of the man for whom Griffith Park is named, that "we are bringing back to life" and an as-yet-unnamed women's clothing store at Culver City's Platform.
"My projects could not be more different," she says, pointing out that this very variety is a "hallmark of my style."
And Mulholland's style — whatever and wherever its expression — never fails to please.
Martha Mulholland's Quick Picks