September 3, 2023I have an embarrassing confession to make. Although I have been a design writer and editor for more than four decades, when I was assigned a story on the Sharon, Connecticut–based design firm HENDRICKS CHURCHILL, I thought, Great name, but I wasn't acquainted with it. Silly me — but lucky me.
After I looked at the firm's website and went to talk with Heide Hendricks and her husband, Rafe Churchill, at Ellsworth, their 19th-century farmhouse in Litchfield County, I became an instant member of their fan club. Here were two people — Hendricks, head of the interior-design division, and Churchill, creative director of the architecture side — who have A MAGICAL WAY WITH OLD HOUSES, who effortlessly blend antique and 20th-century MODERNIST FURNITURE, who use pattern and architectural ornament both lavishly and judiciously and who are keenly aware of how light moves in their interiors. Best of all, their utter lack of dogma and their indifference to fads and fashions make their work erudite, elegant and a bit playful at times. As I said, lucky me.
Hendricks and Churchill have just published Our Way Home: Reimagining an American Farmhouse (RIZZOLI), a book about Ellsworth, which the couple looked at longingly for 15 years before they bought it. In the foreword, Asad Syrkett, the editor in chief of Elle Decor, uses the words humanity and alchemy to describe the designers' particular brand of magic.
Those two words could easily be applied to another house that Hendricks and Churchill preserved and reimagined, on a historic farm in nearby Dutchess County, New York. The owners wanted the mid-18th-century structure (with a large 1910 addition) not to look modernized and to serve as a gathering place for friends and a multigenerational family. "We had to take two houses and make them work as one," says Churchill. "We were fortunate that there was so much there to work with."
He explains that they approached the residence "by looking at its architectural history and then selecting specific elements that we would carry through the entire house, while eliminating more ersatz details that had been picked up over time without consideration." The result was a "solid, consistent backdrop" that allowed them to "address the programmatic needs of the space without compromising the flavor of an old home."
Rather than expand the house, which was already large enough, they repurposed unused space creatively, like putting closets in the eaves of the bedrooms, and turning dormers into en-suite bathrooms. In the process, Churchill says, "we made sure we weren't creating luxuriously contemporary spaces that didn't fit the scale and proportions of the existing rooms."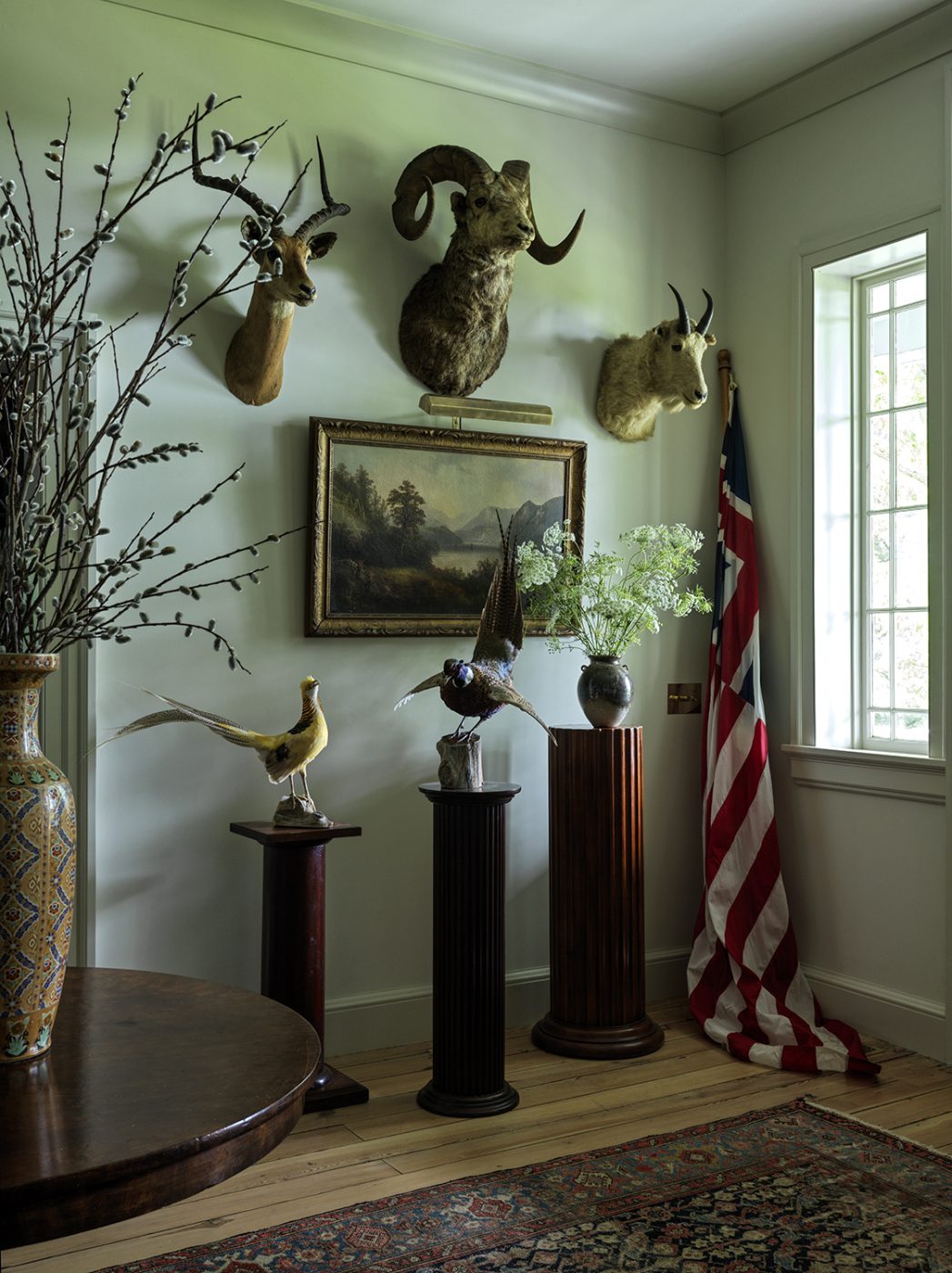 In designing the interiors, Hendricks says, she wanted the clients to "feel like they had inherited the home and were about to begin their stewardship of it for the next few generations." That required the rooms to feel "comfortable and inviting, but at the same time as if they had been lovingly assembled over time," she explains. So she limited herself to looking for vintage furnishings, accessories and artworks — "pieces of character and durable antiques."
Entering the house through the front door, painted an alluring cranberry color chosen by Hendricks, you arrive in the foyer. Here, the walls, painted with Farrow & Ball's Shadow White, are adorned with "lots of taxidermy," and PICTURE LIGHTS from Clark Vintage Lighting. A 19th-century Dutch mahogany center hall table from 1stDibs stands near an 18th-century SETTEE with carved wood legs and its original tapestry covering. 
In the rather moody library, a green velvet tufted sofa, with throw pillows covered in Old World Weavers Siberian Tiger fabric from Scalamandré, sits on an Antelope AX area rug from STARK near a leather-upholstered, blackened-steel fireside perch. The rose-pink parlor, meanwhile, beguiles with its contemporary sectional sofa, antique Heriz rug and wonderful pairing of a 1940s French dining table with 19th-century chairs covered in needlepoint. In the dining room, the colorful Zuber scenic wallpaper, rug from Soho Home and woodwork painted in Farrow & Ball's Old White form a perfect backdrop for the client's table and chairs.
The bedrooms are no less inventive. In the primary bedroom, a colorful print, Nasturtium from Lake August, is used as both wallpaper and curtain fabric, with still more color added by a deep blue headboard and bed frame from John Robshaw and a golden quilt and blue duvet cover from Once Milano. One of the children's rooms has a toile-like, royal blue and white Fox in the Snow wallpaper from Lake August/Temple Studio and a floral fabric, Zak + Fox's Incanto, for the curtains on the bed and dormer windows.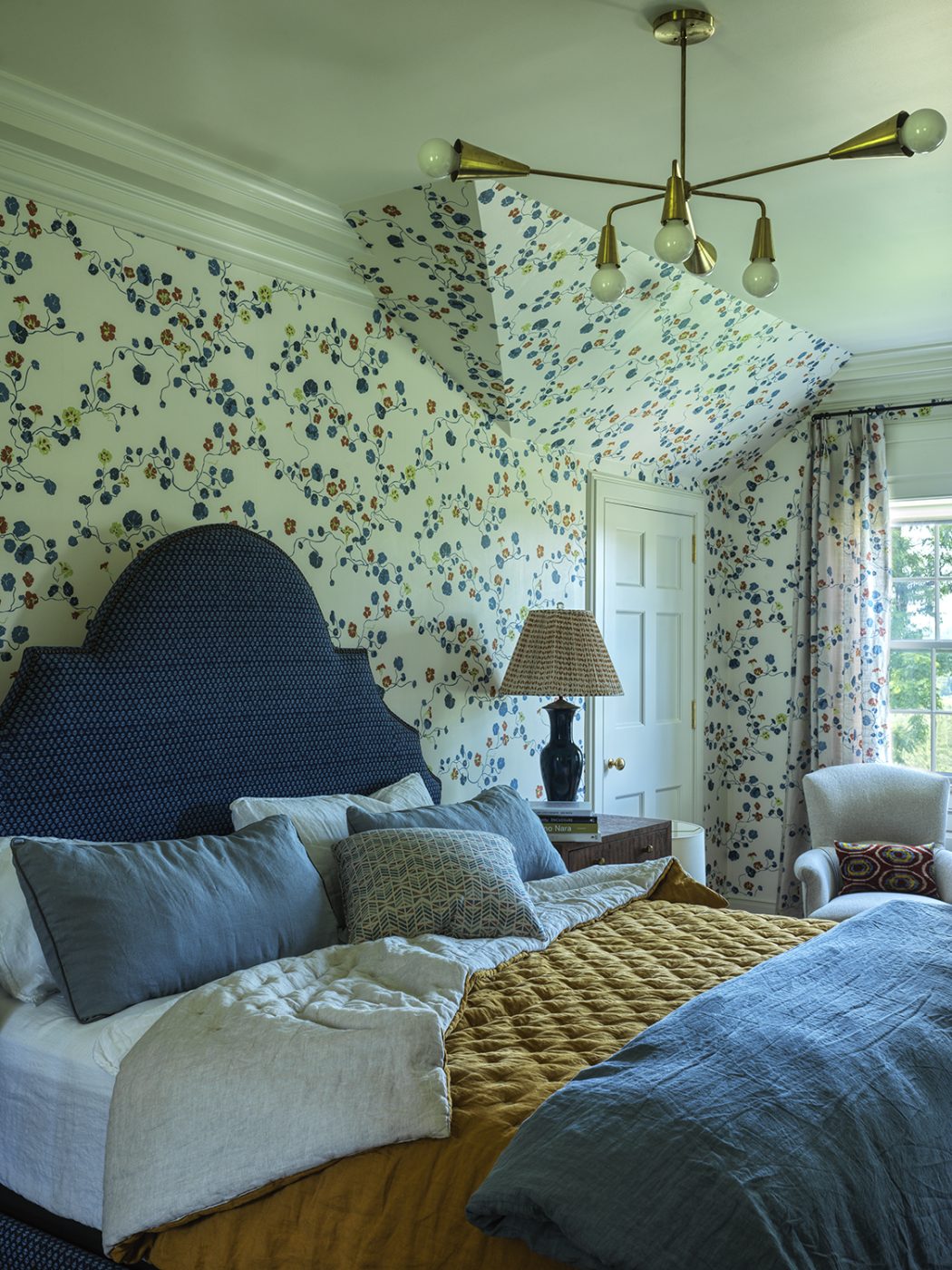 The kitchen, which had been heavily but badly renovated, needed to be updated and made more functional. The designers focused on making it light-filled and open. The cabinets and appliances are new, with 17th-century Delft tiles contributing a historical note. The basement was completely renovated to accommodate new mechanical and electrical systems, as well as a pantry, mudroom, laundry room and washroom.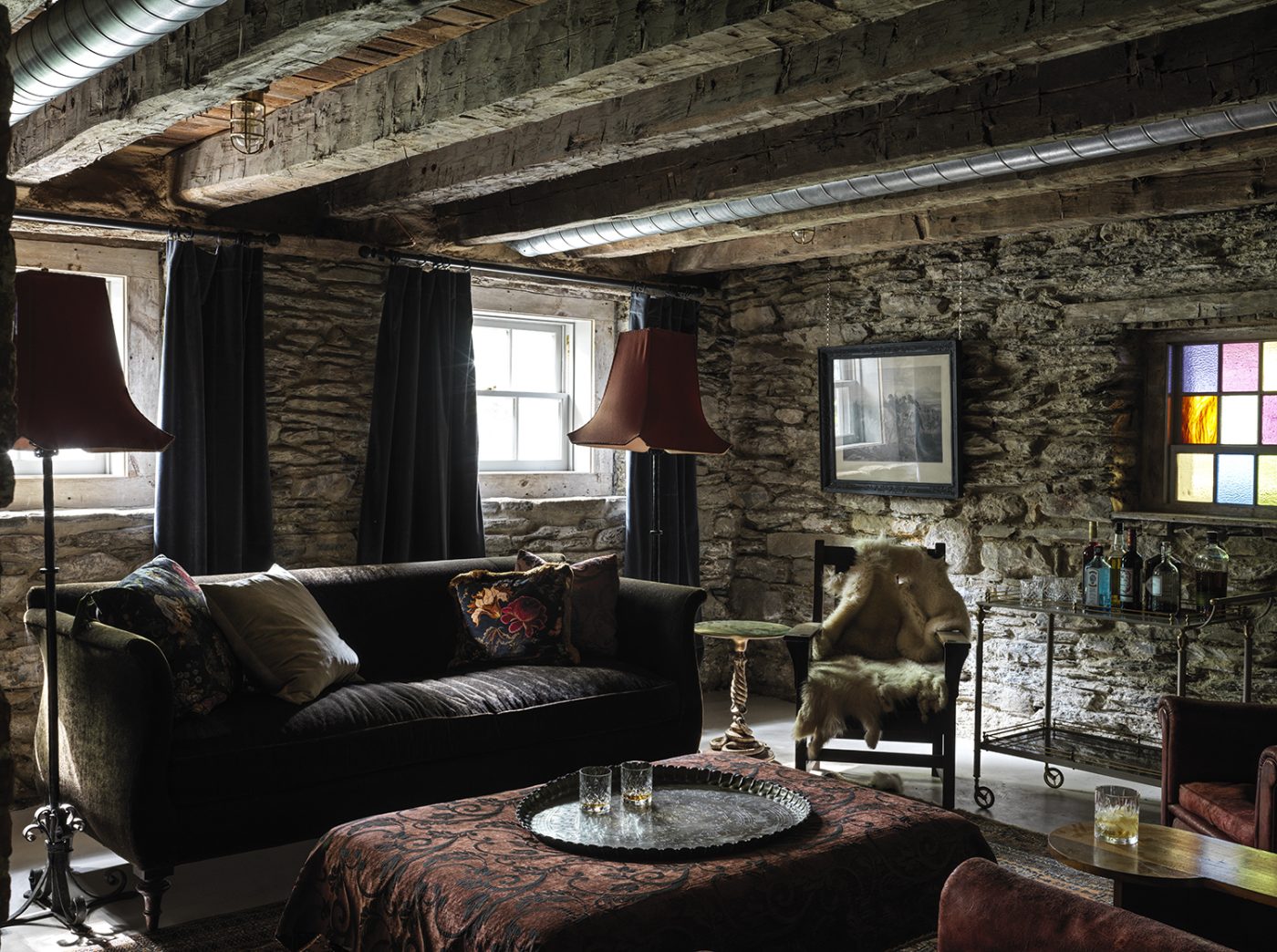 For Churchill, the biggest surprise is the Negroni Room, below the original house's library, where grown-ups can enjoy cocktails and conversation. He calls it "an example of embracing the existing conditions of exposed timbers, concrete floor and a stone foundation," noting that electricity and heating and cooling ducts were the only interventions. The space is furnished with an olive- mohair-covered sofa, colorful throw pillows and a side table from HOUSE OF HACKNEY. There's also a TURKOMAN RUG, a pair of hand-wrought iron floor lamps with vintage shades and a brass-and-steel bar cart, as well as a stained-glass window that hides a view of the underside of the front porch.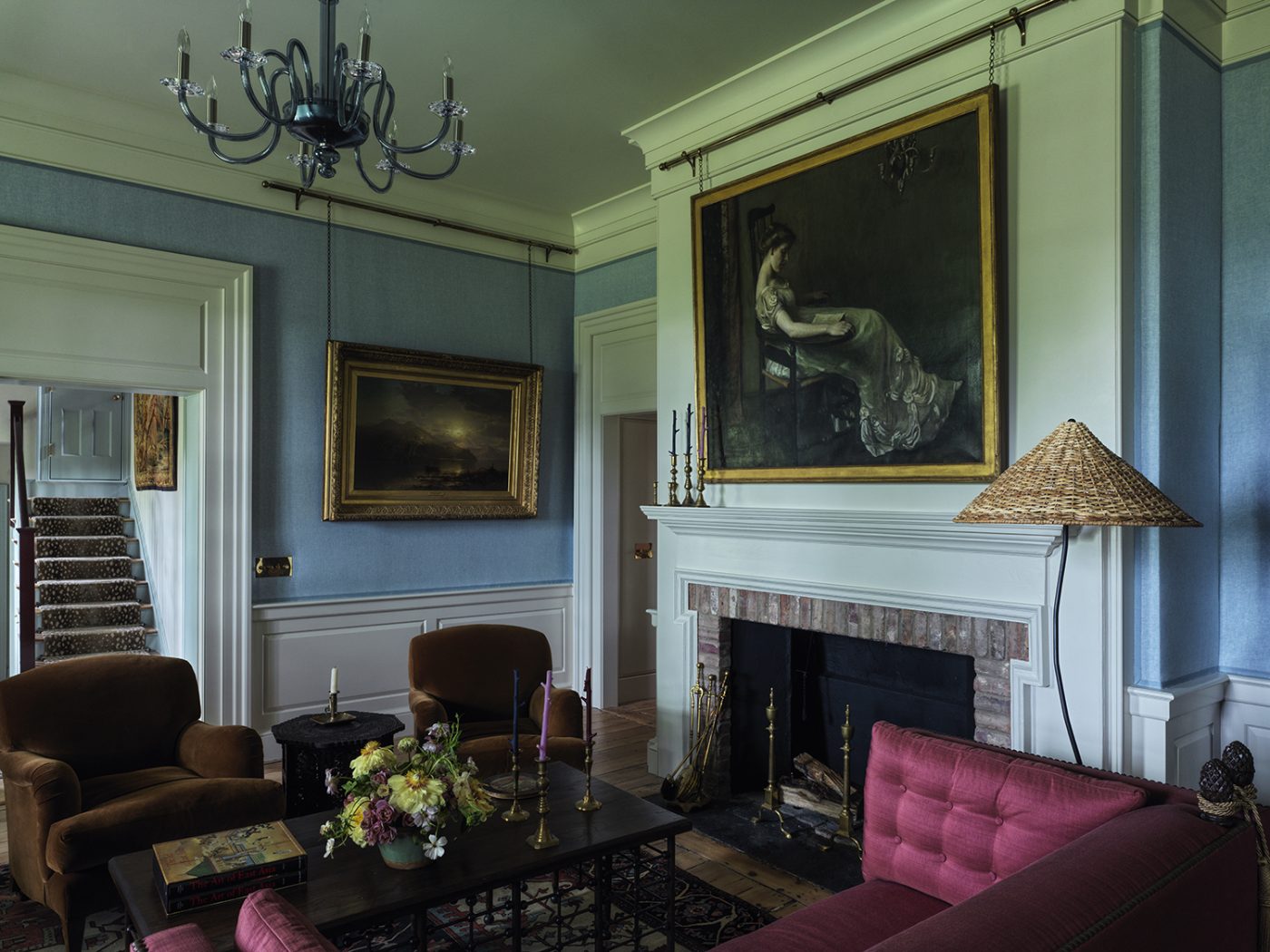 In addition to promoting Our Way Home this fall at book events in New York and Salisbury, Connecticut, Hendricks and Churchill are focusing on projects that include the renovation of a prewar Manhattan apartment, an 1890s carriage house in Connecticut and a new boathouse on Lake Waramaug, also in Connecticut. The firm's website states that its emphasis is on both "historic accuracy and modern relevance" and that its "unpretentious and deeply human" approach produces a result that "feels like home, only better." You might even say it's a recipe for a dream house.