May 14, 2023Texas and cosmopolitan are two words you don't expect to partner. Why? Because nearly two hundred years ago, the Lone Star state was briefly an independent republic — remember the Alamo? — and it still takes stubborn pride in being a country unto itself. And if that isn't ornery enough, Texas equates its go-it-alone attitude with being "super American." Yet these days, outside influences are everywhere.
The global art world has transformed Marfa, a once-forgotten water stop in the Chihuahuan Desert, into a cultural pilgrimage site; Hollywood stars, podcasters and tech titans have decamped to Austin, morphing it from "weird" to "chichi"; and the Financial Times has pronounced Houston, the former republic's capital, among the world's top cities of the future — today, one out of four of its residents was born outside the United States, making it the most diverse city in the country.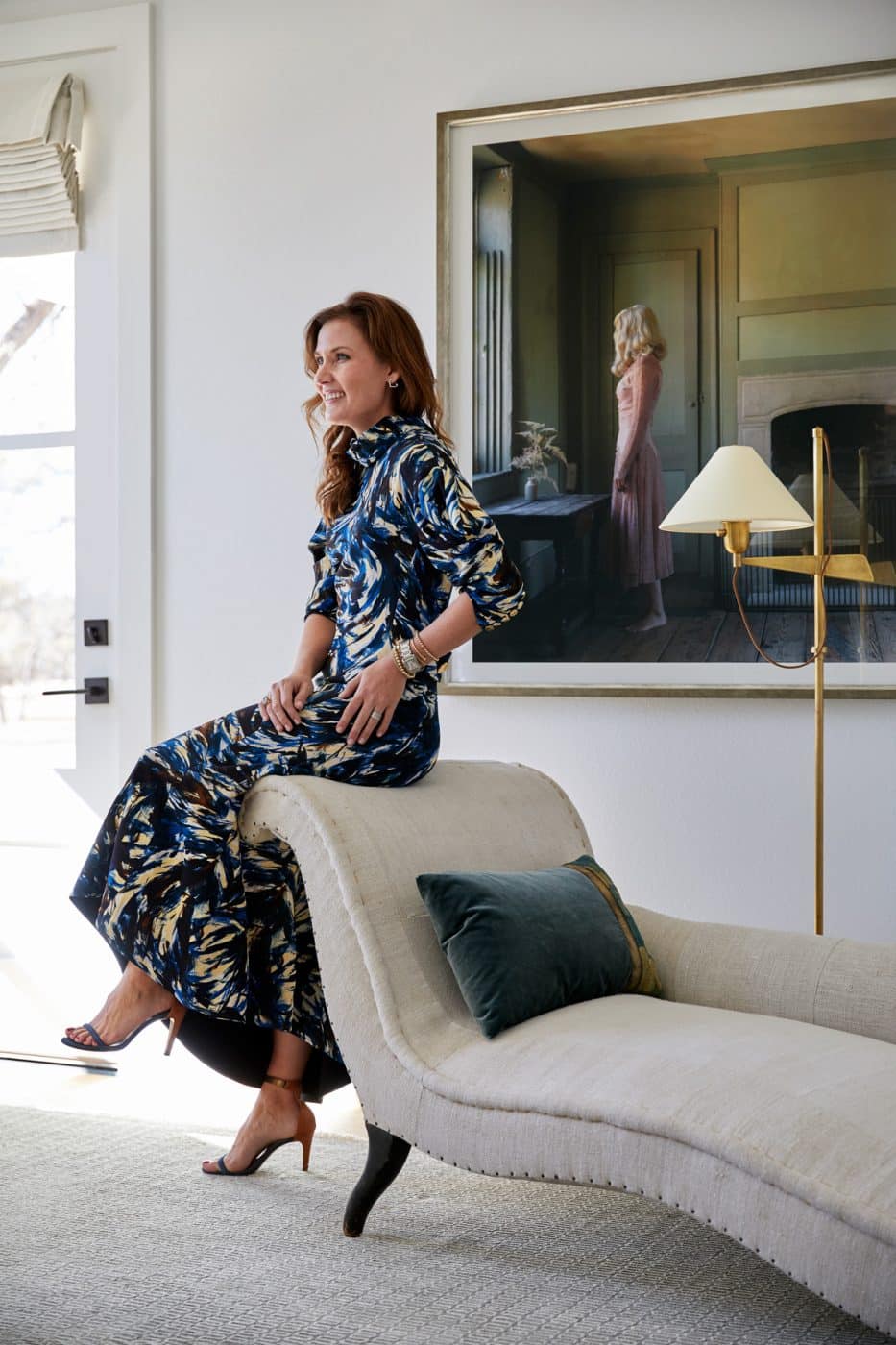 Decorative tastes are changing, too. High-style homes were once showy, unadventurous affairs laden with Louis or Chippendale or both. These days, sophisticated young Texans prefer interiors that may include fine antiques but also contain vintage and thrift-store finds, not to mention contemporary art and design, for a look that is more personal, nuanced and fun.
One of the most gifted interpreters of this fresh approach is Houston-based designer Meg Lonergan. Although not a native, she knows Bayou culture well, having been born in nearby southern Louisiana to a family in the oil and gas business. And she's worldly too, having grown up in Singapore. It was there, in fact, in high school, that she met her future husband, Tim, a New Zealander.
Although she's been obsessed with style ever since she can remember, Lonergan was raised a pragmatist. As an undergraduate at the University of Colorado Boulder, she double majored in international affairs and French. But during a semester abroad in Paris, Lonergan could no longer deny the undeniable. She had a creative soul that needed expression, and she wanted to voice it through interior design.
After college, she moved to New Zealand to be with Tim and worked as an intern at a design showroom. They married in 2008 and settled in Houston, where she found a job at a local interior design firm. But she felt stultified, as junior staffers with design degrees were favored. She was there less than a year when her husband's parents put her in touch with friends in Houston in need of an interior designer.
Although it was the height of the global financial crisis and she was a novice, she decided to strike out on her own. Her bold move paid off when the completed interior was published in Texas Monthly in 2011 and her own home, which she had been decorating concurrently, appeared soon afterward in Better Homes and Gardens.
She has been busy ever since. Yet she remains modest about her fast rise. "I was lucky with timing," she insists. "It was the era of decorating blogs, of Domino, Pinterest and then Instagram. These were incredible tools for promoting yourself."
There's truth in that. Yet while young designers with buzzy ideas may quickly accumulate commissions, only the truly gifted have repeat clientele. That commitment entails a deep understanding of balancing clients' tastes and needs, as well as a knack for winning them over to novel ideas. "You can take the training wheels off," as Lonergan puts it. The decorative ease and inventiveness that result are apparent in two of Lonergan's recent projects, a residence in Houston and a weekend retreat in the Hill Country.
The Houston house belongs to a pair of high-powered attorneys who were among Lonergan's earliest clients. She helped them furnish their starter home, and the couple contacted her again in September 2019, when they were in contract to buy an imposing 1930s Greek Revival in the posh neighborhood of River Oaks.
This was not to be a leisurely decorating affair. The two had already sold their house, and the wife was six months pregnant with their second child, so the family needed to get nested right away. Lonergan recalls that she had to work "fast and furiously" on plumbing upgrades, new tile work and other "face-lift stuff," like choosing a palette and painting rooms.
There were additional complications. Lonergan was herself in the final months of pregnancy with her third child, and no sooner had her clients moved in than the country went into pandemic lockdown.
In the months that followed, Lonergan would go over to her clients' house with her infant, and the two new mothers, masked and social distancing, developed the design plan. "Nothing could stop us!" she says, laughing. The final concept was dressy enough to befit the grandeur of the architecture, while radiating the warmth and welcome appropriate to a young family.
"Every idea I had they loved, because they trusted my vision. And that trust was the true magic that allowed it all to happen despite the challenges," she says. An example of the magic? The living room's unconventional color scheme, a gently clashing mix of grays, greens and golds.
It started with a swatch of a Portola high-gloss gray enamel paint with oceanic undertones called Half Moon, with which Lonergan had become enamored. She used it on the walls, then layered on olive-and-mustard block-print curtains, emerald velvet on the sofa together with tiger-stripe pillows and burnt-orange-upholstered benches. The chromatic dissonance enlivens the space while being grounded by a handsome antique Turkish Oushak in a similar but softer palette. "I love to test the waters of juxtaposition, bringing it to the edge of not working," Lonergan observes.
While speed was of the essence, the couple "were committed to quality," the designer says. They chose a grisaille mural by Susan Harter printed on textured vinyl for the dining room and a hand-painted wallpaper from Porter Teleo for the powder room, each of which took months to complete, compelling Lonergan to stagger the install.
Happily, online resources like 1stDibs facilitated the selection of furnishings like the dining room's 1940s Jansen Directoire–style black lacquered table that seats 12 and twin 1950s Robert Calliat brass chandeliers. Although they were an ordeal for the electrician to hook up, Lonergan was determined to use the bijou fixtures rather than one grand chandelier, because of the charm and intimacy they conferred on an otherwise highly formal room.
Other pieces Lonergan found in local shops or at the sparsely attended winter edition of the Round Top Antiques Fair. That's where she spotted the trio of antique Spanish ceramic bowls that hang in the alcove in the breakfast room.
"I always like to combine something handmade with something that feels polished," says Lonergan. And indeed, completing that vignette is a Victorian wingback armchair with a tree-trunk side table.
Decorating the weekend house in the Hill Country was a similarly on-the-fly affair, although a less pressured one. Lonergan had already completed two projects for the clients, a husband and wife in Houston, when they asked her to transform the interior of their new getaway, a recently constructed ranch house with a small two-bedroom guest cottage, into something more reflective of them.
They had bought it fully furnished, so they and their extended family in Austin and California could start using it immediately as a gathering place. But the decor was incongruously beachy.
Because she knew her clients so well, Lonergan reworked the interior within a year. There were some parameters. The husband is six foot five, so furniture had to be chosen to suit his frame. And since there there are lots of kids visiting and a pool, the materials had to be durable yet sophisticated.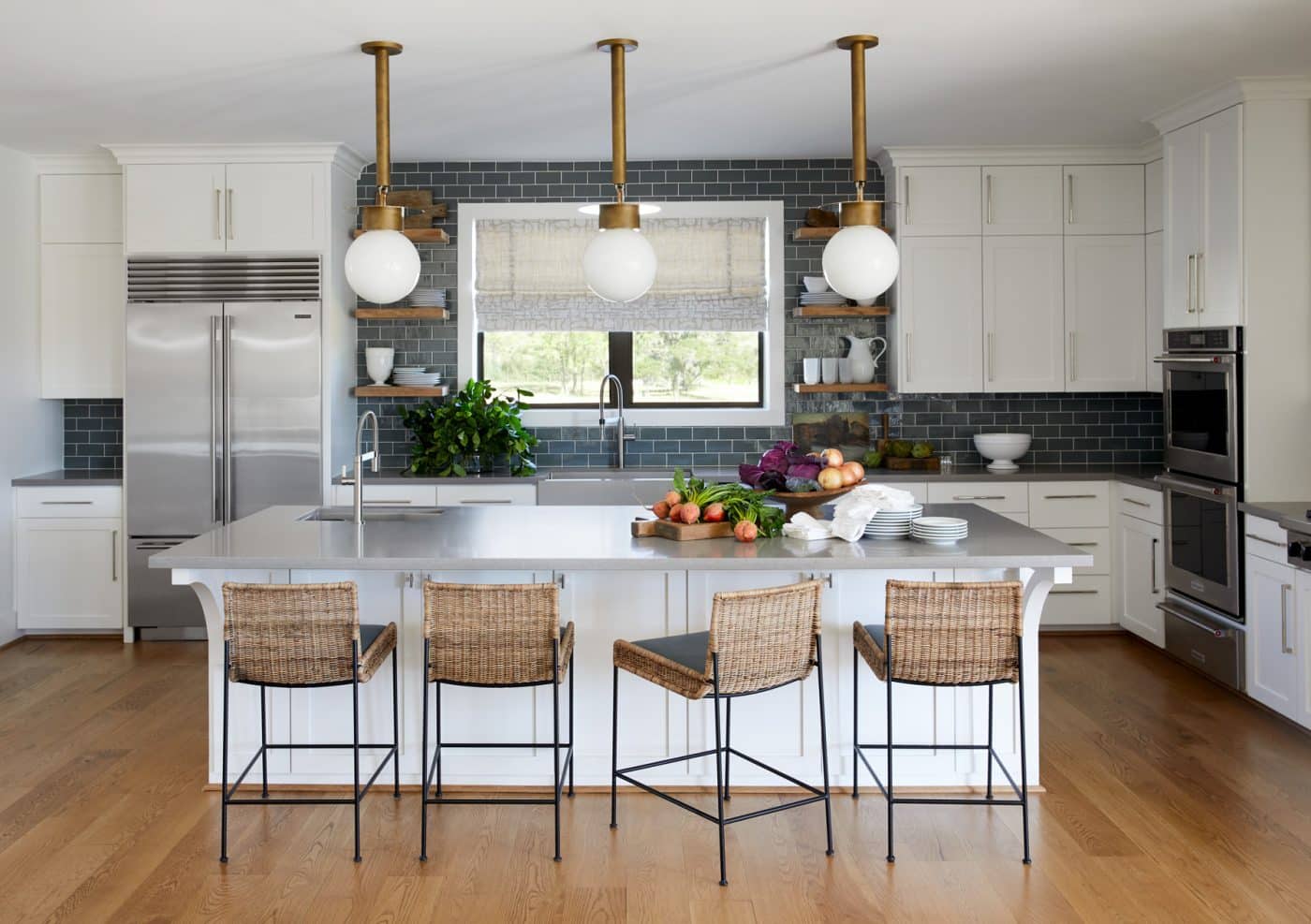 Lonergan's solution was a natural palette of linens, leather, wood and stone. Some of the furnishings she selected were new but with a vintage vibe, like the pair of Brian Paquette for Lawson-Fenning George chairs in butterscotch leather that she placed in the great room. Other pieces were actually vintage, like the bleached-walnut-slab farm table, or antiques, like the Empire chaise. Still other pieces she had custom made, like the two large black-iron and soapstone coffee tables.
Although Lonergan was not a fan of the brilliant white paint used throughout the house, believing it made for an austere interior, rather than repaint, she found other decorative tricks to add warmth and personality to the rooms.
In the main living area, for example, she hung an array of colorful works by emerging artists she selected with the Houston-based art adviser Illa Gaunt. And in the main bedroom, she disguised a wall of windows with draperies, softening the space's hard edges, and then placed a small but exquisite 18th-century French gilt mirror in the center of the linen-covered wall in a brilliant play with scale.
The overall look? Like most of Lonergan's interiors (and the designer herself), you might call it "Texas cosmopolitan."
Meg Lonergan's Quick Picks