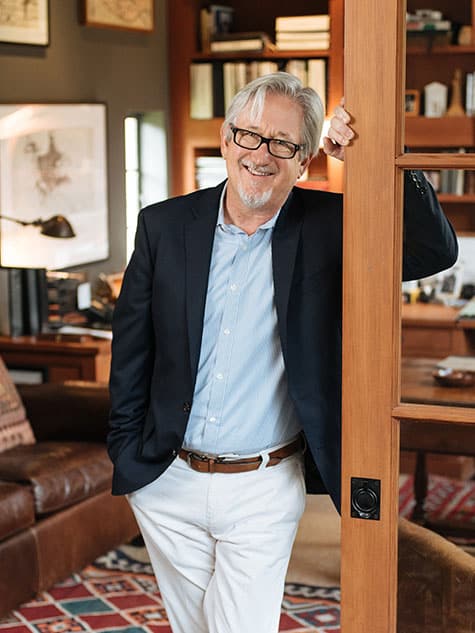 Traditionalists get a bad rap in today's architecture world. Too often they are dismissed as reactionaries: reluctant to consider new visions of living and working and resistant to innovation. If the traditionalist is from Texas, a convention-loving state with a proudly singular view of the world and its outsize place in it, the bias is even greater. The assumption is that the practitioner must be a bona fide antediluvian. And yet, to survey the projects of the San Antonio–based traditionalist Michael G. Imber is to recognize just how wrong such stereotyping can be.
Imber calls himself a "modern classicist" — a catchy epithet but one that is somewhat misleading, as it suggests a crisp academic. Although a scholar, Imber is downright earthy as a practitioner. Architecture for him is at its most authentic when it is a response to land, climate and culture. Buildings first captivated him when, as a boy growing up in Midland, Texas, his family took him on road trips in their station wagon to places like Santa Fe, the cliff palaces of Mesa Verde and the old Spanish forts of West Texas, where the dwellings were formed from the earth. "I was fascinated by architecture that was out in the middle of the frontier, a hostile wilderness but with a level of sophistication," he says.
Studying architecture at Texas Tech, he became even more "absorbed by the old stuff," he says, taking all the history courses he could on the Lone Star State's architecture. After graduating, in 1986, he set out to learn about "the whole history of American architecture," as he puts it, which meant moving east. He spent the next two years at a firm in Greenwich, Connecticut, designing shingle-style houses. During this time, the work of Allan Greenberg, arguably the country's most acclaimed historicist, captured his interest, and Imber got a job with him. "Working for Allan was like going back to school," he says. "That's how influential he was in my understanding of architecture in terms of its history — who we were then and who we are today." When a homesick Imber eventually returned to Texas, in 1990, it was to work at a corporate firm in San Antonio. Soon, however, he was designing small residential projects on the side.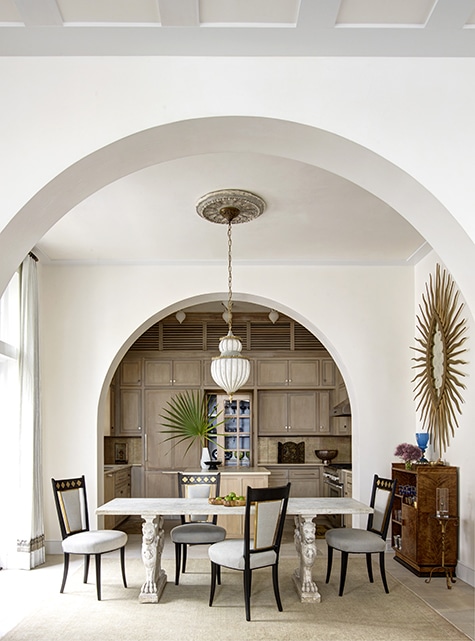 One of those houses led to a chance encounter with Milton Butcher, the man who would become his first significant client, catapulting him to national prominence when the home he designed for Butcher won a Texas American Institute of Architects award, in 1997. Partial to a uniform of pale blue coveralls and cowboy boots and speaking with a heavy Texas drawl, Butcher gave the impression of being a grizzled hayseed. In fact, he was a well-to-do former barge builder and environmentally minded rancher who was also an avid amateur photographer, a modern art collector and a polyglot.
When he met Imber, Butcher had just sold an early painting by Georgia O'Keeffe and wanted to use the proceeds to construct a ranch house on 600 acres of mesquite-covered land in hill country. His plan was to spend weekends there building boats in a barn and clearing away the mesquite to encourage the return of prairie grasses that had died out as a result of poor ranching practices.
Drawing on Butcher's German heritage, Imber "boiled down the language of the Sunday house," a local vernacular that became popular in the late 1800s, when German-immigrant ranch families built small homes in town for their weekly visits to church and market. These dwellings typically had living quarters on the ground floor, with a bedroom loft and attached barn, all under one roof. Imber's version has an open-plan kitchen, living and dining room on the ground floor and a screened front porch equipped with concealed Murphy beds for sleeping outside on hot nights. He notes that it's quite bioclimatic in the way its "screened porch and French doors on the southeast side take full advantage of the natural breezes." Butcher found the house so comfortable and easy that he made it his main residence, dwelling there until his death in 2010, by which time he'd returned the surrounding land to a sea of grass.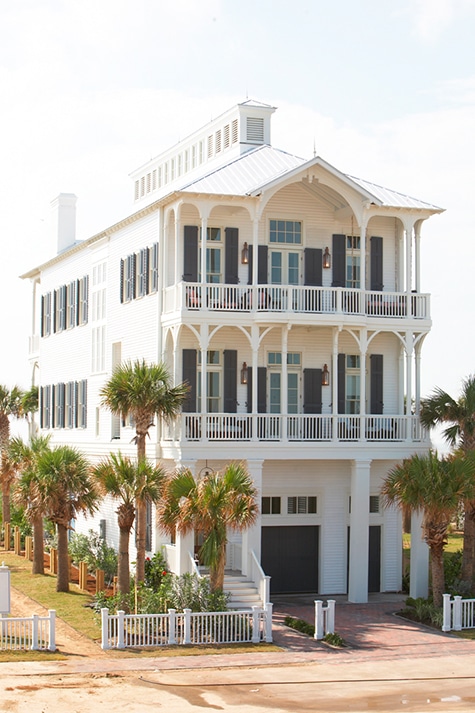 Imber points out that many of the traditional styles he employs offer ingenious responses to local conditions and hence are surprisingly sustainable. After Hurricane Katrina, he went to Biloxi, Mississippi, to help rebuild and was astonished that it was the prewar structures and those from the 19th century that had survived, not the more contemporary dwellings.
So, when he was commissioned in 2007 to design a show house for Beachtown, a New Urbanist development on the Gulf Coast in Galveston, he confidently conceived a fanciful three-story Carpenter Gothic, a style popular in Galveston in the late 19th century. Tall and narrow, with high ceilings, sleeping porches and triple-hung windows, these structures were designed to let in light and air and facilitate cross ventilation. To prevent flooding in the event of a massive storm surge, Imber raised the house's main floor on concrete pilings more than 23 feet high and inserted space for storage and parking on the ground level. Disliking the appearance of stilt houses, which he considers "unneighborly," he surrounded the lower level with light wood sheathing designed to break away during a storm. As fate would have it, only a few weeks after the structure was completed, in 2008, its hurricane proofing was tested when Hurricane Ike made landfall in Galveston. Although the storm devastated the city, the only damage the house sustained was a cracked windowpane and two feet of sand in that lower level.
Considering that adobe structures were what first attracted Imber to traditional architecture, it's ironic that one of his own adobe designs has recently taken him on a design detour. Back in 2001, he was asked to restore the main building at Rancho del Cielo, in the foothills of the Davis Mountains, not far from Marfa, which had burnt down in an electrical fire six years before. New owners wanted a structure twice the size of the original but still sensitively configured to the landscape and adjacent buildings. Imber was aided in this task by the vernacular itself, as the traditional red-clay tiles blend the expanded roofline into the surrounding hills. Likewise, capped plaster chimneys distract from the mass of the structure while adding a winsome poetry to its profile.
Four years ago, on a book tour for a monograph of his work, Ranches, Villas, and Houses (Rizzoli), Imber met a woman who told him that she had grown up in the Rancho del Cielo house featured in the book. Imber explained how that wasn't possible. Doubly impressed by the way the new structure captured the spirit of the original, she commissioned Imber to design a cast-concrete house in the style of Tadao Ando on a promontory in Aspen. She's so pleased with it that Imber, who is equally happy with the results, now imagines that more contemporary commissions may lie ahead. Taking on such projects — while also working on a neo-Gothic seminary and a Palladian villa, among other more Imber-typical projects — may be a somewhat surprising mid-career turn. "But," he says, "it's been a lot of fun."
---
Michael Imber's Quick Picks on 1stdibs