January 15, 2023When newlywed Anne Hepfer moved with her husband from New York to Toronto in the early aughts for his work, she was disappointed to find that it was a city of mostly beige and neutrals. Rather than be a deferential expat, when decorating her own house, she dared to let her freak flag fly.
Among her decorative coups: pairing python leather side tables in her drawing room with pink Mongolian-wool poufs, both in view of an entry hall loveseat upholstered in a chevron-patterned medley of white and pink hues.
And in her cozy dining room, wallpapered with a Piero Fornasetti print etching of billowing clouds, she's put amethyst slip covers with a sky-blue Greek-key pattern on the seat cushions of the white Louis XVI cane-back chairs that encircle the dining table, which she covered in a lapis-lazuli-patterned tablecloth. No shrinking violet, she!
Hepfer's extravagantly colorful and pattern-mad — yet otherwise reassuringly traditional — Georgian-style home, where she and her husband live with their two sets of twins, opens Mood: Interiors and Inspirations (Gibbs Smith), her first book of residential design projects. Among the volume's many charms is Hepfer's inclusion of ambience-setting playlists among the chapters.
The Greenwich, Connecticut–raised designer knows that, as much as decorating is about beauty, comfort and function, its central focus must always be to create an environment in which the client feels at home. That's why she's organized the 22 interiors in this highly personal book around seven moods, beginning with "Happy."
Indeed, as I perused the images of Hepfer's home, Pharrell William's ode to nonconformist elation began thumping in my head. And though "Happy" is not on any of her playlists, it stayed with me as I browsed the projects in the "Relaxed" and "Energized" chapters, all the way through to the "Nostalgic" close.
Why didn't the interiors representing these different moods switch my internal soundtrack? Probably because, like Pharrell's epic earworm, Hepfer's interiors, whether vivid or muted, are all seductively light and airy yet masterfully composed, and message personal authenticity at every turn.
Hepfer began her career in advertising, working as a junior account manager in San Francisco, but longed for more creative expression. She soon chose to return to school, earning a degree in architecture and interior design from New York's Parsons School of Design.
After graduating, she had the tremendous good luck of being hired by Daniel Romualdez, who became a mentor. What did she learn from the legendary designer? Hepfer immediately volunteers his frequent counsel: "Make the clients happy, know how to listen, and give them what they want." And, of course, do it in the most artful way possible.
Someone who truly hears you and wants to bring you joy is what we all wish for in a close friend, and Hepfer's professional talent for amity is apparent everywhere in this book. Not only does she provide specially assembled musical tracks for readers, as a BFF might, but she also shares delicious recipes for entertaining and tips on what to see, eat and buy when traveling to some of her favorite far-flung locales.
The book is chockablock with sufficient eye candy from Hepfer's life, journeys and mood boards to give the reader's imagination a full-on sugar rush. There's also a rich array of apt quotations from a range of notables on creativity, decorating and a life well lived. It's more than enough to uplift even the world-weariest of readers. In addition to all that, she provides insights on every project page into how she conceives and orchestrates a room.
For all of her bold use of color, texture and pattern in both bookmaking and decorating, as a designer, Hepfer is a classicist at heart. She knows that for a room to be successful, architecture and decor must fuse. Like Billy Baldwin, Albert Hadley and David Hicks, whom she calls the "great masters," she makes skilled but subtle use of symmetry and brings harmony to rooms with a balanced mix of antique and contemporary forms.   
One of her most engaging, if restrained, projects, featured in the "Cozy" chapter, is a historic Victorian Revival in Toronto whose interior she overhauled with the aid of Wayback Architects, remaking it into a thoroughly up-to-date and luminous home. The clients, a husband and wife with three teenage daughters, are longtime friends, so Hepfer understood that their globe-trotting sophistication was tempered by a preference for understated comfort.
That tricky combination of convivial warmth with cosmopolitan reserve is apparent in every room of the Nordic-inflected residence. Its jewel-toned palette derives from the gorgeous Claude Picher landscape painting in the living room, part of the couple's enviable collection of Canadian art, which Hepfer refreshed by substituting simple black frames for the gilded originals.
Since the husband works in the mining industry and is an expert on geology, Hepfer toured stone quarries with him and his wife to find unusual specimens, which she used throughout the interior, from the brown-crackled white slab that tops the living room coffee table to the stunning black-veined white Calacatta Vagli marble that envelopes the kitchen and then rises up to the second-floor landing.
Rich materials and surfaces are everywhere, adding warmth and drama: walls and ceilings covered in darkly gleaming walnut and oak, a banquette upholstered in sumptuous back-channeled cognac-hued leather and a round dining table custom-designed by Hepfer with a honed Imperial Black marble top and faceted nickel base, illumined by an enormous pendant dome, also custom made, with a gold-leafed interior.
Ultrarefined details abound, exemplified by such architectural features as the kitchen's bronze-framed floating shelves with brown smoked-glass insets, rimmed with dimmable recessed LEDs that at night transform into a horizontal light sculpture, and by such sensorial pleasures as cushy Belgian-linen pillows with Hermès-like saddle-stitched leather trim on the living room's spare but embracing armchairs.
By contrast, the upstairs bedrooms are studies in pale simplicity. For Hepfer, white-walled bedrooms, when well executed, can be ethereal spaces, promoting restful calm. With an adroit selection of visually intriguing textures and personally meaningful objects, they needn't lack interest or character.
In the case of the couple's own bedroom, the inclusion of a single compelling artwork by Wanda Koop over the bed captivates the eye without taxing the head. The daughters' bedrooms, in the spaciously refurbished and skylit former attic, are also agreeably white-walled with pared-down furnishings.
Hepfer notes that there are no tougher individuals to please than the children of clients. As a mother herself, she's well aware that young people in the process of discovering their own identities want rooms that express who they are — at least at that moment.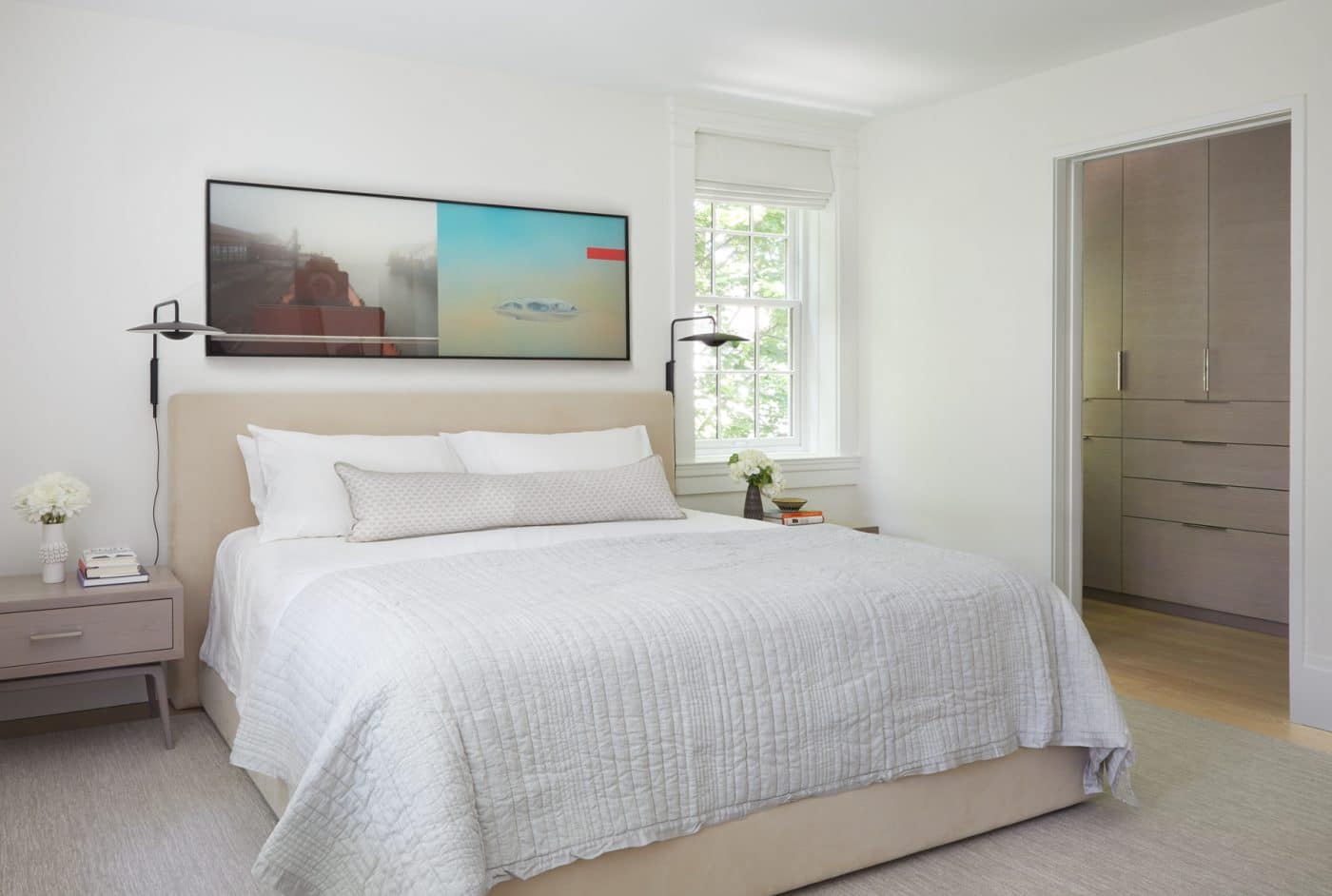 Often, she tells me, they request Instagram-popular features, like hanging chairs or lots of indoor plants. However, she adds, because they are so bombarded by social media, the young have a tremendous appreciation for cozy, highly tactile, yet zen-like spaces. "They don't want stuff," she says. "They yearn for clarity."
I again hear Pharrell crooning:
Clap along if you feel like a room without a roof,
Clap along if you feel like happiness is the truth,
Clap along if you know what happiness is to you…
And that's the pleasure of having a home designed by Anne Hepfer: She crafts rooms (with roofs) that express what happiness is to you.