Abbot Kinney Boulevard, in Venice, California, now bustles with activity and brims with shops, but it was toward the end of a quiet period there, in 1999, that French expat Michele Sommerlath first set up shop in a big corner space. Originally, she carried only French antiques, a genre on which she cut her teeth in her native Paris. "At first I knew only French — I did not know American stuff," remembers Sommerlath. "I thought there was nothing good from America except Eames and things like that." She eventually branched out from such strictly modernist Gallic designers as Mathieu Matégot, Pierre Guariche, Jean Prouvé and Jacques Adnet, building collections by American and European mid-century designers and, notably, international postmodernists. (Sommerlath, in fact, makes what is perhaps the strongest case in L.A. for collecting postmodern design.)
It was Sommerlath's ex-husband who initially showed her around town and introduced the idea of relocating to the City of Angels. "He took me to Beverly Hills," she says. "I said, 'I hate this city — I will never come here.' Then he brought me to Venice, and it was love at first sight." Though her love affair with the man ended, her devotion to Venice continues, unabated. "It reminds me of Morocco — the climate and the cold water," says Sommerlath, who spent her formative years from age two to 14 in the North African country during its time as a French protectorate. Today, her love of Venice is matched only by her devotion to new acquisitions, which she trades out from time to time in her own home, a charming '20s bungalow whose eclectic furnishings once prompted her mother to remark, "If you continue like this, your house will be a circus."
A few years ago, after more than a decade in that original corner space on Abbot Kinney, Sommerlath encountered some unexpected changes: The landlord chose to make room for the trendy restaurant Gjelina, and she faced either losing more than half of her showroom floor space or relocating. She chose the latter, moving 10 minutes east, up Venice Boulevard, to a pair of new galleries in Culver City: the 3,000-square-foot Galerie Sommerlath, where she shows mostly 1950s and '60s pieces, and an adjacent 1,000-square-foot eponymous showroom that features vignettes of pieces largely from the '70s and '80s. She puts the overflow, of which there is a significant amount, in a nearby 6,000-square-foot warehouse she calls Le Depot, which is open to the public on Saturday afternoons and otherwise by appointment.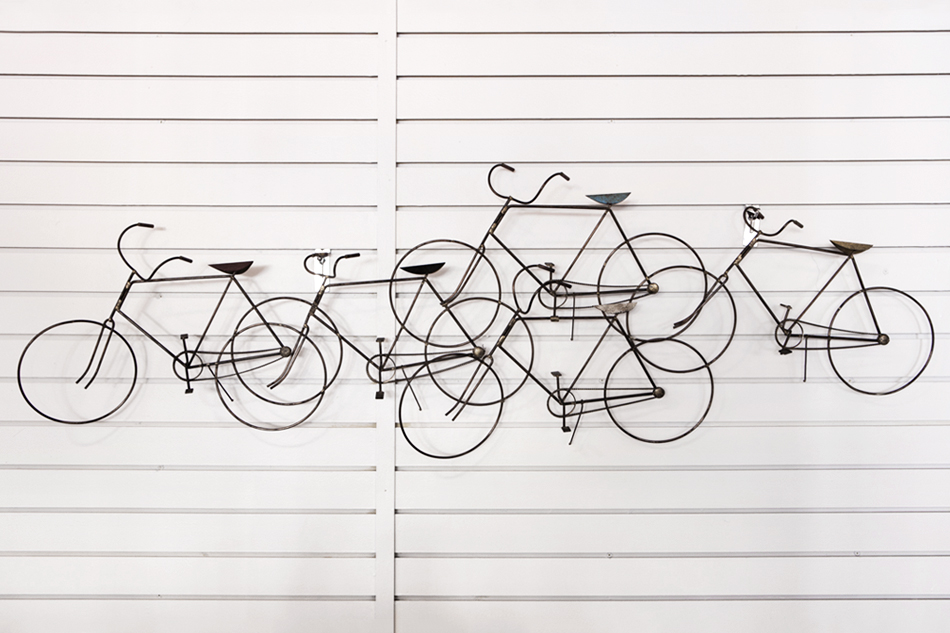 The more intimate Michele Sommerlath space holds a decidedly multifarious mix. Here, a suite of white dressers and night tables, attributed to Paul Laszlo and featuring triangular drawer-pulls, joins a chrome-and-black-Naugahyde sofa and a creamy-white Marc Newson Orgone coffee table topped by an anonymous Lucite sculpture. Above these, hard-edge 1970s oil paintings by Herbert Busemann, a German-American mathematician and artist, hang on a wall colored a deep coral. In another corner, a sweeping white-fiberglass chaise from the Italian design firm Driade keeps company with a thick, white kidney-shaped, coffee table, its low black stool fitting into it like a puzzle piece, and both with carface-gold bases. Next to that is a table concocted from a wavy-metal base and light-wood top. "This," she says with a laugh, "is a creation of some crazy people." Indeed, her shop attracts many designers seeking something altogether different, including the reigning queen of eclectic decor: "Kelly Wearstler loves these kinds of crazy things," notes Sommerlath.
Though she maintains a basic delineation of eras between this space and the larger one next door, she organizes both not strictly by time period but by what goes together best. "The eighties are very interesting to me," she says, pointing to a few pieces scattered among the mid-century finds. "You are always on the edge of bad taste. You see a lot of Louis XV influence, first in the forties, then in the eighties."
Occasionally, she trusts her instincts and buys pieces not just by big names but simply because they are unique. "I'm not like a lot of dealers," she says. "Many times I don't know what a piece is, but I don't care. It's not that I love everything, but some pieces … I love them very much." One such example is an extraordinary carved, acid-etched mirror with a matching sideboard and table. Manufactured in the '70s by Mastercraft, the suite of pieces has lines that resemble an abstracted industrial scene. Nearby sits a playful, electric-purple three-seat sofa and an elegant '60s barrel chair by American designer Harvey Probber. "This could be French, it's so classical," she says.
Ultimately, says Sommerlath, "there is good and bad quality in every period. It's never ending, the search for good, unique furniture. As dealers, we learn every day."
---
TALKING POINTS
Michele Sommerlath shares some thoughts on a few choice pieces.