Gideon Mendelson is sitting at the banquette in the kitchen he helped design for his mother. A skirted banquette, in Mimi Mendelson's view, was a must. Mimi, a veteran interior decorator before her son entered the field, had many rules. "I call them Mimi-isms," Mendelson says. Dishwashers had to be to the left of the sink (for righties), towels had to be folded just so, and properly fluffed throw pillows required a final karate chop at the top. "I do the side chop. I just want it to be a little less precious. I'm a little bit looser with my gestures. She was a perfectionist."
Merely being in the Park Slope apartment is bittersweet for Mendelson. Ten floors below the one he shares with his husband and their three young children, it was meant to be the home where Mimi would live out her last years, happily surrounded by family. But just as the renovation began last year, she was diagnosed with cancer.
"The plan was she'll spend her last few chapters in Brooklyn," Mendelson says. "She'll get to hang out with my kids. They'll have piano lessons down here. She'll come up for dinner. We'll all go out to the Hamptons together. It will be a nice way to end her life. The saddest part is she never had a chance to come here. We finished the apartment three days after she died."
That was in March, and on this warm spring day, there's a heavy sense of melancholy as Mendelson looks around at the things his mother accumulated over her lifetime: majolica and glass decanters picked up on family trips to Europe, whimsical animal ceramics and — her prize possessions — hundreds and hundreds of books. "It's a very surreal thing," he says. "She designed this place. I helped and managed the construction, but this has her stamp on it for sure. She really wanted even to just move in."
Still in mourning, Mendelson is eager to tell his mother's story. Mimi first met Mendelson's father, Michael — a Russian-Jewish refugee who had immigrated to Brooklyn with his grandparents after his parents were killed in World War II — at a party when she was 16, but it was several years before they reconnected. A beautiful woman, she married another man while she was still young and quickly had a daughter, who, as an infant, became sick and suffered brain damage. Mimi and her first husband divorced soon after.
Mimi and Michael were reintroduced when she was 25. "There was my mom with a handicapped daughter, divorced. There was my dad, an orphan with nothing. I learned later that he was a really good pool player," which helped pay his way through New York University. They both worked as stockbrokers at E.F. Hutton and had two more children together: another daughter and Gideon. When the children were very young, Mimi earned a certificate in interior design and, with Michael's cousin Edie, started a firm called Spatial Arts in Westchester. (Michael, a big believer in family ties, started a money management firm with Edie's then husband.)
"She had a very successful little business," Mendelson says. As a boy, he leaned more toward her visually oriented pursuits than his father's financial career. "She had a cute little office right next to my elementary school in Scarsdale. I used to walk there during my lunch recess, which would never happen today. I was especially drawn to her meticulous ink drawings, and I loved watching her ink furniture drawings on Mylar with her fancy pens. I was really drawn to the planning, the architecture and the problem solving of space, and we talked a lot about that."
In the evenings, they would page through shelter magazines, admiring the work of 1980s lions Mario Buatta, Mark Hampton and Thomas Britt and discussing topics like the proper balance between upholstery and wood. "My mother," he says, "was constantly sketching," much as he does now with his kids, often drawing a picture on demand for his daughter before school in the morning. "My mother taught me how to draw a body and a head, to take notice of the details of what a nose looks like in profile and what an eye looks like straight on."
Their house had what Mendelson describes as an "English country vibe." "But then again," he notes, "in our den there was a cotton leopard-print sofa with the Pierre Frey cocoa-bean wallpaper that's still being sold. It was like, wow! She had her wild woman moments." Overall, the style was haute bourgeois traditional. "There's still stuff here from that era — the majolica, lots of greens, prints, lots of mixing patterns and color."
His parents moved back into Manhattan after he graduated high school. Mendelson, recruited to play tennis at Columbia University, was studying architecture and film, and in his senior year, Mimi audited a Robert A.M. Stern lecture course he was taking. "I would go pick her up a tuna fish sandwich," he says. "That was her thing. She loved tuna fish. On a bagel. She would come sit with me, and we'd listen to Robert Stern talk about whatever."
Mendelson was fascinated by the interplay of film and architecture and, after graduating, entered the agent training program at the William Morris talent agency. He started, in the grand trainee tradition, in the mail room. Two years in, he bailed, then spent two years helping his sister get her marketing company off the ground before deciding his heart was in design. He enrolled in the New York School of Interior Design, "really to remember what it was like to hold a pencil," he says.
Not long after, he had an awakening when a boyfriend took him to a Hamptons party in a cool, mid-century-inflected house. His mother's style had been traditional, and Columbia's aesthetic was rigorously contemporary. "There's more out there," he remembers thinking. He asked the house's then-up-and-coming designer, Steven Gambrel, for a job. "I said, 'You don't need to pay me a lot, but you need to let me come to all the meetings,' " he says. "We had a really good time."
About a year later, in 2003, Mimi, who had retired a decade earlier, received an unexpected plea from old clients to do the interiors of a house they were building in Purchase. "My mother called me and was like, 'What am I going to do?' " Mendelson remembers. "I said, 'Steven, I'm so sorry, I'm going to go start a company with my mother.' My mother was like, 'Wait, what?' I said, 'Mom, I'll do all the work. You just have to be the face person for a while.' So we started Mendelson Group. Both of us were Mendelson, and both of us were the group."
---
"She had a cute little office right next to my elementary school. I used to walk there during my lunch recess to watch her ink furniture drawings on Mylar with her fancy pens. I was really drawn to the planning, the architecture and the problem solving of space, and we talked a lot about that."
---
The pair developed two client streams: Mimi's middle-aged Westchester connections and Mendelson's young friends who were starting to make it in the city. The first job he brought in involved combining two apartments on the Upper East Side into one for friends from high school. Mimi and he designed their projects together "one hundred percent," he says. "We literally did everything together. We did the architecture together, the space planning together, the scheming, the shopping. Both of us knew exactly what was going on with everything."
Mother and son diverged in their natural styles— hers was traditional, his more modern — but they moved fluidly from one to the other. "I never wanted to get stuck in doing the same thing over and over," he says. "It's this mix of things that creates something unique and personal. Her dishes, for example, I can look at them and see her taste evolving and different periods that inspired her. Even her palette changed. I grew up in a house that was yellow and green and red. Here, I see lots of gray. I'm finding my older clients want simpler, cleaner, less visual noise. Here, the yellow is muted. Nothing bright.
"I feel pretty strongly that you're not coming to me for my style," he continues. "You're coming to me because I'm a good translator or storyteller, and it's your story that I'm telling."
Mendelson maintains that he had no interest in getting published, and growing by word of mouth was fine with him. But in 2010, after he married and bought a weekend house in the Hamptons, a friend called and asked if he could stop by with Jamie Drake, an interior decorator known as a dynamic colorist. "In my mind, he was an icon in our industry. I was intimidated," Mendelson says. "Jamie walked in and was like, 'I'm so sorry, do you mind if I take a nap on your porch?' How cool is that? When he woke up, he snooped around, then came out and said, 'People need to see this.' I was like, 'Really?' "
Mendelson submitted shots to House Beautiful, which immediately agreed to feature them. "Things snowballed from there," he says.
By then, Mimi was winding down her involvement. "She was still coming in, and she would scheme some rooms with me, and we'd go shopping, and it was fun," he says.
About five years ago, Mendelson and his husband decided to leave Manhattan for Brooklyn, to get more space for their then-two-year-old son, Owen, and the twins they were expecting, Leo and Isabella. Mendelson's father had died of cancer in 2005, and when a two-bedroom apartment in the Park Slope building where they settled came on the market last year, Mimi decided to join them.
While Mendelson focused on small architectural interventions and quality craftsmanship, Mimi stuck to her guns about indiosyncracies like keeping the buffet and dining table her son had designed for her previous, Upper East Side apartment. "It didn't really fit so well in this room," he says. "But she really needed to have it here." The two solved the problem by pushing the table off center, away from the buffet, and designing a light fixture to hang in the middle of the room but extend horizontally in an asymmetrical fashion so that it lights the whole piece. He admits he probably wouldn't have broken the rule to center the table, "which is interesting, because I'm usually the looser one in terms of rule breaking."
A Brooklyn Prewar Is a Designing Mother and Son's Last Collaboration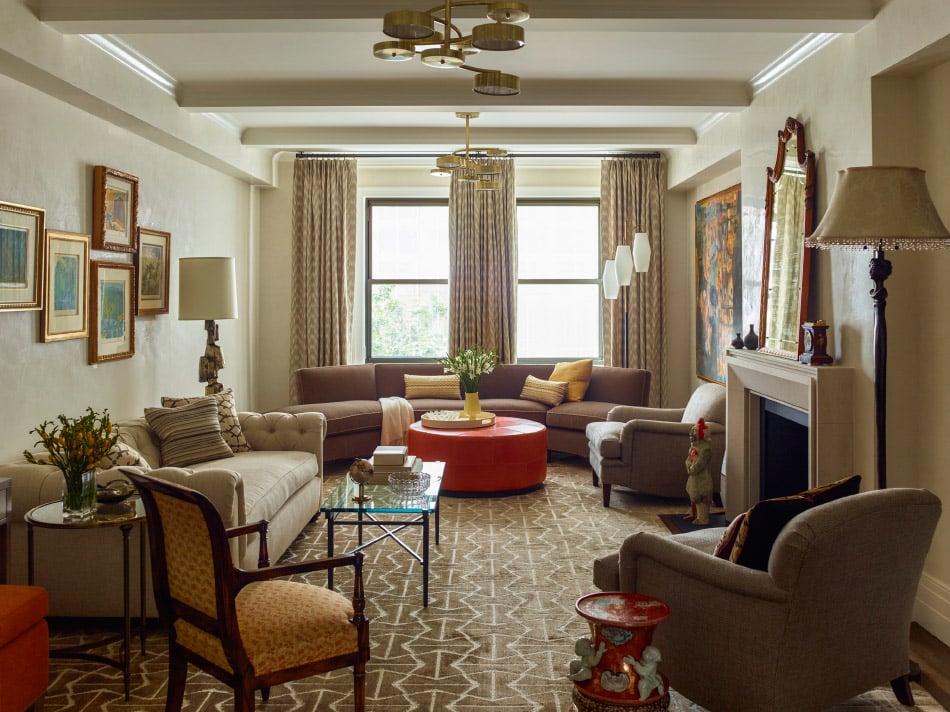 The table, buffet and floor are teeming with Mimi's collection of objects: stacks of china and oddities like a ceramic "egg Christmas tree" and a fancy cigarette holder — "it reminds me of a seventies sex party," he says with a smile. In the living room, waiting to be hung, are drawings by Gustav Klimt and Kiki Smith, along with a Louise Bourgeois print. There's also a pillow that reads "I can only please one person per day. Today is not your day. Tomorrow isn't looking good either."
Mendelson says he's not big on accumulating stuff himself. There are only a few things he wants to keep: the family photographs, maybe the chinoiserie chest that once stood in his childhood den or the pantaloon-like light fixture now in the second bedroom. "I could see putting that in my daughter's room," he says. "It would be really sweet."
He anticipates selling the apartment. But first, he knows he must finish the installation, see it through to the way Mimi would have wanted to live in it. "She had this need to create beauty," he says. "And she taught me. I get it."