March 5, 2023She may have studied art history in college and taken courses in interior design, but Wendy Labrum didn't set out to be an interior designer. She planned instead on becoming an attorney. Upon graduation, she scored a plum job working in a big Chicago law firm but quickly realized the bar was not for her. Marrying soon after, she switched focus and went into public relations. "I wasn't great at it," she confesses.
Two back-to-back strikeouts in the search for a career can rattle a twentysomething's confidence. Happily for Labrum, fate intervened. In 2005, the company her husband worked for transferred him to its London office for a two-year stint. While there, she soaked up the art and architecture in the city and on the Continent and resolved to build a career based on her own creativity.
Back in Chicago, she set up shop, quickly growing an interior-design business with the help of referrals. Her own family grew with commensurate speed—she now has four children, the eldest 15, the youngest one. Interestingly, being a mother and a busy professional proved an advantage. Labrum attracted clients similar to her in age and situation seeking a designer who knew how to assemble a stylish interior that was child savvy, crafted with durable materials and affording plenty of storage for toys, tech and games.
While that might have meant turning her circle of friends into clients, Labrum doesn't like to mix the two. But when a couple she calls her "dearest friends," who also have four children, asked her to handle the interior design of a historic greystone townhouse they had recently purchased in Chicago's Lakewood neighborhood, near Wrigley Field, she couldn't refuse.
Why? "I know them so well. And what they like," she says. "Plus, they have tremendous trust in me."
Another plus was that this was an interesting project. The greystone had been converted from three apartments into a single-family home not long before. Labrum describes that renovation as "bumpy:" Some of it worked well, like the handsome de Giulio kitchen and the new fittings in the bathrooms, but some of it didn't, like unattractive fireplace mantels and lighting fixtures that clashed with the interior architecture. Other rooms were complete blank slates.
Another issue was the contrasting tastes of husband and wife: He favors all things modern, and she loves antiques. So, with diplomatic skill, Labrum wove together elements of both to create a cosmopolitan family sanctuary.
Executed in deep, subdued tones, Labrum's weaving of decorative elements is full of verve, interest and intention. In the living room, at the front of the house, her choice of an 18th-century marble surround for the fireplace adds to the home's sense of history, and her specially designed curved, gray-velvet sofa highlights the architecture of the handsome wide bay.
The moderne vibe of that sofa is echoed by the custom tobacco-toned-velvet "Italian-style" armchairs and the gilt-and-mirror Maison Ramsay coffee table, while a pair of custom-made steel X-benches with black leather seats straddle the realms of classic and modern.
A sleek Serge Mouille floor lamp and a Charlotte Perriand Berger stool provide strong modern accents, as does the contemporary art, which Labrum personally selected. In fact, the geometric acrylic painting by Daniel Mullen on the wall is part of a pair the other member of which hangs on the wall of Labrum's own house.
The adjoining dining area is furnished with an Eero Saarinen Tulip table and Poul Kjærholm PK9 dining chairs for Fritz Hansen, as well as an imposing vintage Stilnovo chandelier that Labrum discovered on 1stDibs. The furniture mix is unabashedly mid-century modern, yet the pieces, with their light and graceful lines, radiate a refinement similar in feel to that of the Louis-style furnishings the wife so loves.
Still, it took some convincing for her, and even her husband, to agree to the purchase of the Stilnovo chandelier, because of its large and striking form. Now, both agree it makes the room.
Though narrow, Chicago greystones are known for having particularly deep footprints as townhouses go, extending far back into their lots. This one is no exception. At the rear of the building, beyond the kitchen, is a large space for a family room, made bright and airy here by a window wall and a delicately geometric bronze balustrade, improvements introduced during the renovation that converted the building into a private home.
A less welcome addition was a motley assortment of contemporary lighting fixtures above the staircase. Labrum replaced these with a simple trio of suspended glass globes.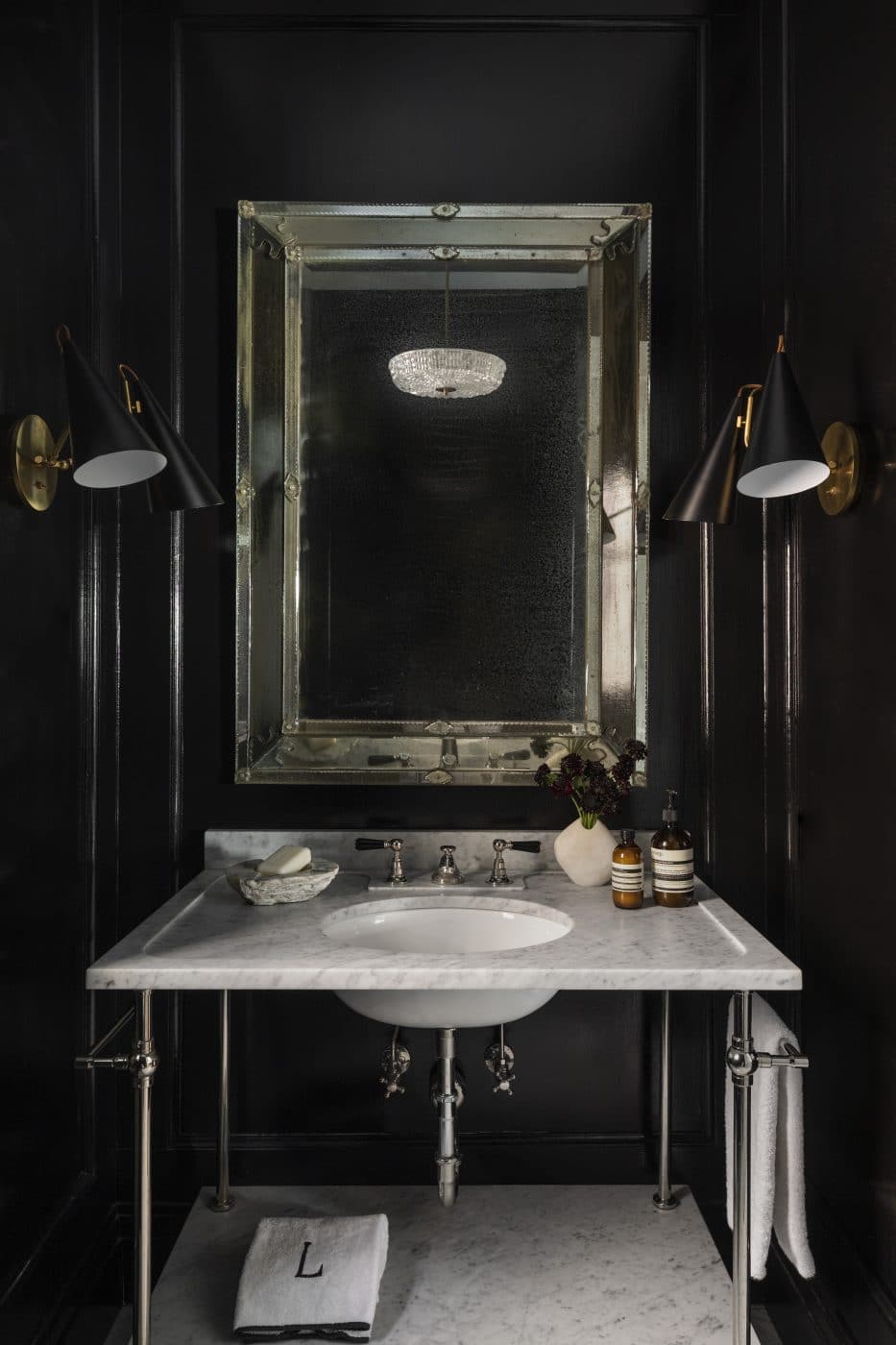 For the family room, she commissioned a clean-lined, 15-foot-long sectional, which the entire clan can sprawl out on while watching movies, and installed white-oak millwork on the wall opposite the sofa to make the space more welcoming. A ridged-limestone fireplace surround of her own design provides a touch of contemporary polish. The other pieces are all mid-century modern. Their neutral tones, quiet fluid lines and plush velvet upholstery and pillows signal comfort and warmth.
In the bedrooms, traditional decor comes to the fore. Although sparsely furnished, the couple's suite is wonderfully moody and dramatic, its walls covered in a charcoal-gray grasscloth. Here, the haute style of the antique Louis XVI ebonized desk and dresser, from Antiques on Old Plank Road, defines the atmosphere, although Labrum mitigates the rigor with a Pierre Jeanneret Sénat chair upholstered in pale apricot Schumacher silk velvet by the desk and a tiny gilt-framed vintage mirror hung off-kilter on one side of the bed.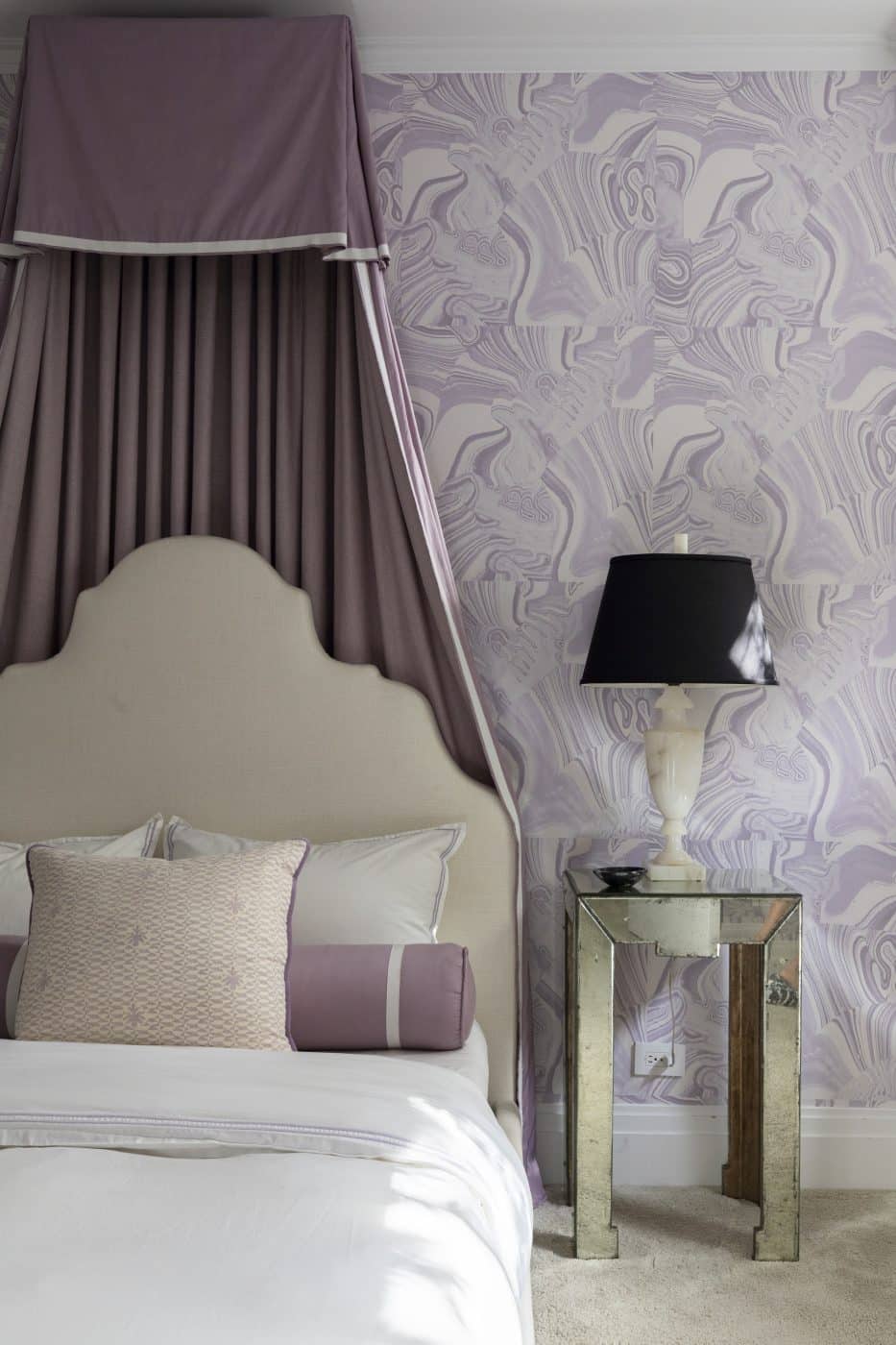 The children's rooms are also traditional, but more playful than the main suite. The triplet daughters, two of whom are identical and one fraternal, got to share their color preferences and see them realized: The identical pair were mad for pink, so the romantic young bedroom they occupy features blush draperies, a Fornasetti wallpaper of billowing clouds and twin gray sheepskin poufs. "It's a pretty but sophisticated room they can grow up in," Labrum says fondly.
Their fraternal sister, by contrast, adores purple. So, she has a bedroom befitting a princess royal, as witness the scalloped, upholstered headboard with puce silk canopy and malachite-patterned wallpaper in smoky lavender.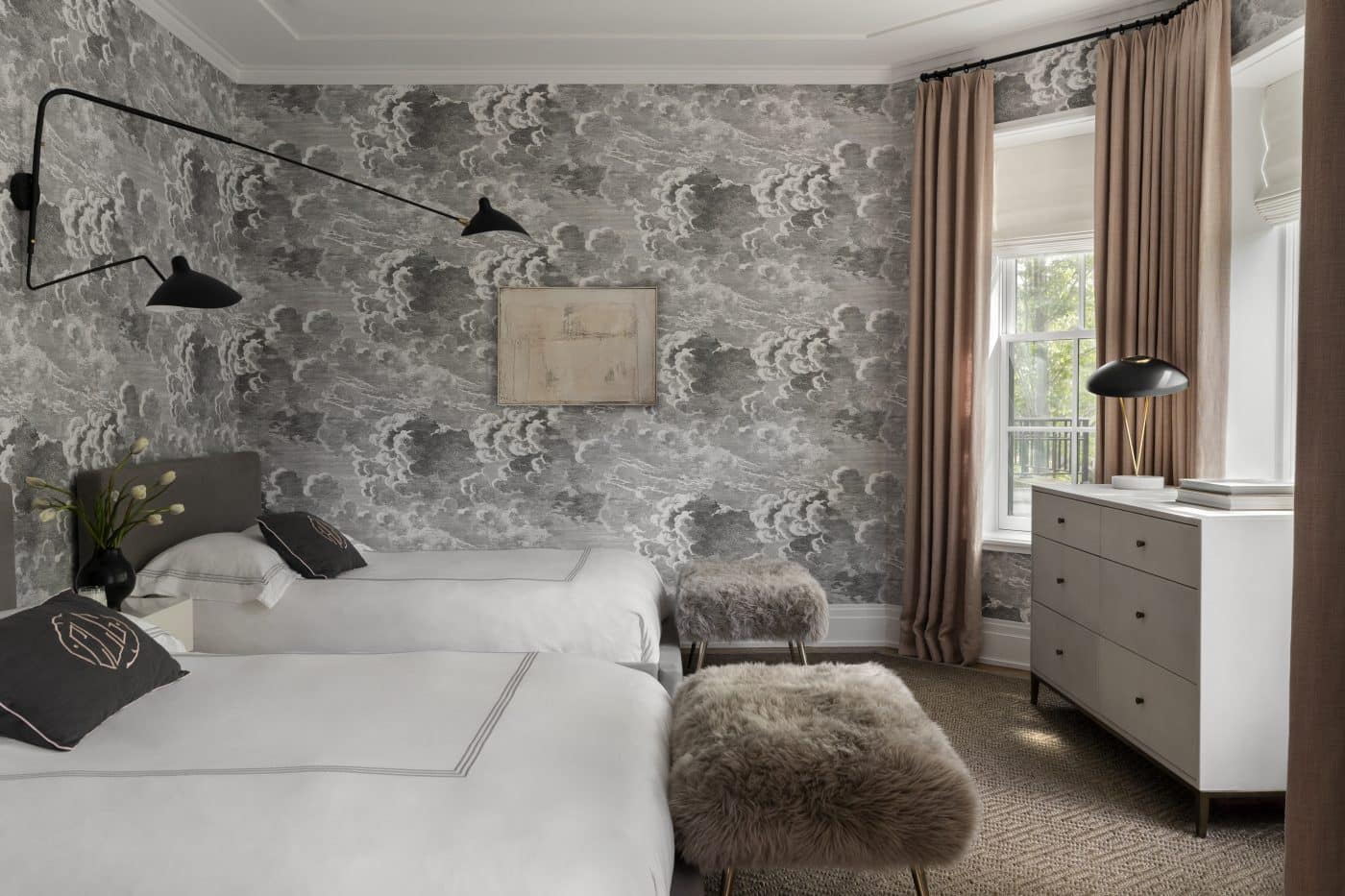 The triplets' younger brother, Labrum says, has been "obsessed" with airplanes since he was a toddler. In keeping with his skyward gaze, she chose one of the German artist Thomas Eigel's plane photos and a star light pendant as the room's main focal points. There's also an antique Empire-style dresser with a white marble top and a bold Rug Company Greek-key-patterned carpet, which literally grounds the room.
"It has been a dream to design this home for my friends," says Labrum, reflecting on the project. "I've already had the opportunity to watch them really settle in and grow as a family through birthday parties, movie nights and casual hangouts. That doesn't usually happen post-installation, and it has been such a treat."
Wendy Labrum's Quick Picks